From shooting jumpers to asking personal questions, Carson Wentz is fitting in with Colts – Indianapolis Colts Blog
INDIANAPOLIS — Quarterback Carson Wentz arrived in Indianapolis earlier this spring with questions surrounding his character as a teammate in Philadelphia. That was only part of the questions when it comes to Wentz, though.
There also were physical questions on what he could do on the football field as the Colts' new starting quarterback.
Wentz has a relationship with head coach Frank Reich and receivers coach Mike Groh, because they were together at different times with the Eagles. He has taken the time to get to know his new teammates, asking about their personal and professional lives.
"He comes in and asks about my family, my sister and things like that," running back Nyheim Hines said. "As a new guy, it's pretty cool. It shows that he's caring and trying to take care of us."
Wentz looked like he was fitting in just fine when he was going jump shot for jump shot with tight end and former Division I basketball player Mo Alie-Cox in a shooting game on a portable goal on the practice field recently.
The biggest showdown of OTAs:@cj_wentz vs. @MoAlie81. 🏀 pic.twitter.com/gKXo4pUOGS

— Indianapolis Colts (@Colts) May 24, 2021
From knocking down deep jumpers to throwing deep passes to his teammates in California and Indianapolis, Wentz has brought some excitement to the Colts in just a short period of time, albeit with no pads or defensive players trying to chase him down.
Second-year wide receiver Michael Pittman Jr. noticed something about Wentz when they were working out in California back in March. Pittman was a running post route where Wentz threw the ball 65 yards in the air, and on the money.
"I was like, 'Oh, my gosh, I really gotta dig down and run," Pittman recalls.
Sixty-five yards in the air is nothing. Fellow receiver Zach Pascal thinks his new starting quarterback can "probably throw the ball 80, 100 yards," and Hines believes Wentz "throws one of the prettier deep balls I've ever seen."
"I don't know where it [ranks] in the league, but I've played with enough quarterbacks," Hines said. "He has a really pretty deep ball. I've liked everything I've seen from him so far."
This is no knock on 2020 starter Philip Rivers, because his efficient season helped the Colts finish with an 11-5 record and get back to the playoffs, but Wentz has brought a different offensive dimension to the offense.
Rivers excelled at making quick throws to avoid getting sacked. That's something Wentz will have to do too, after being sacked 50 times in just 12 games last season. Wentz is more mobile and can throw the ball farther than Rivers.
"I love Philip," Hines said. "He's just not as mobile as Carson. Carson will probably be able to get out of a little bit more jams and pressure situations in the red zone and third down."
Wentz has spent countless hours breaking down offensive film of his new team. He noticed how much they like to spread the ball around so that everybody gets touches, which also doesn't allow defenses to scheme for just one player to stop. Andrew Luck, Jacoby Brissett and Rivers, the Colts' past three starting quarterbacks, had a career-high or second-highest completion percentage under Reich because they were able to rely on so many different options in the offense.
"I see that completely being the same way this year," Wentz said. "Because it's never a one-man show out there. I'm gonna throw the ball where it's supposed to go on each play."
The Colts won't be back together as a team again until the start of training camp in late July, after offseason workouts ended Thursday. But Wentz isn't done working to bond with his teammates. The goal is for him to work out with them at some point before camp starts.
"I'm not 100 percent sure of the details yet," he said. "We'll get together maybe even here in June and then probably in July as well. I've done that in the past in Philly as well and it's just a great time to not just get the physical work on the field, but to get together and bond outside of football and get to know the guys. I look forward to that every summer and I look forward to doing that again once or twice this summer as well."
Bruce Arians to Tampa Bay Buccaneers
TAMPA, Fla. — Tampa Bay Buccaneers coach Bruce Arians hasn't felt the need to bring in a specialist to talk to his players about the COVID-19 vaccine, which some players leaguewide have expressed skepticism about in recent days.
While Washington Football Team coach Ron Rivera brought Harvard immunologist Kizzmekia S. Corbett in to speak to his players Tuesday night, Arians said Thursday, "I'm the specialist."
He told players, "If you want to go back to normal, get vaccinated."
Arians said the Bucs are holding a vaccine drive for players and their families at the facility.
"There's going to be a long line over there right now," Arians said. "We were pretty short up until now. Hopefully we have a pretty good line."
Previous vaccine drives have also taken place at the facility for coaches and support staff members. The goal is to have 85% of the team vaccinated, which Arians feels they'll be much closer to after the drive.
"Everybody's tired of meeting out here and eating outside, and doing all those things we had to do last year," Arians said. "It's still a personal choice, but I don't see a reason not to be vaccinated."
When asked if any players expressed concern or skepticism, as Washington's Montez Sweat did Wednesday, Arians said, "I haven't spoken to anybody that's resisted it. They're just too lazy to get one."
Outside linebacker Shaq Barrett said he and his wife, Jordanna, both received the vaccine. Their four children aren't old enough to qualify for the vaccine at this time, as the CDC currently recommends children ages 12 and older receive vaccines.
Barrett missed the season finale against the Atlanta Falcons because he was a close contact of a teammate who tested positive, despite never testing positive himself. Still, he was forced to quarantine for five days. His children were home-schooled in 2020 and did not have play dates with other children because of concerns about the virus.
"It's 'to each their own.' I recommend it," Barrett said Thursday. "I don't know why people wouldn't get it. But whatever makes you comfortable, whatever helps you sleep at night, you do that. But I would like for 85% of the team to be vaccinated."
Kansas City Chiefs hope Kyle Long back by start of regular season after leg injury in practice
KANSAS CITY, Mo. — The Chiefs are hopeful guard Kyle Long can return for the start of the regular season after he injured his leg Wednesday, sources told ESPN.
Long was signed by the Chiefs in the offseason after he ended his retirement after one year. He wrote about the injury on Thursday on his Twitter account.
"I did everything I could to get back for football," Long said. "Zero regrets. … Focusing on controlling the things I can control. Yesterday was not one of those things!"
I did everything I could to prepare to get back for football. Zero regrets. I've been getting better everyday and having so much fun with my new team. Focusing on controlling the things I can control. Yesterday was not one of those things! Thanks for the well wishes.

— Kyle (@Ky1eLong) June 10, 2021
Long, 32, was working as the starting right guard at offseason practice. Other candidates to start include Laurent Duvernay-Tardif and rookie Trey Smith.
Drafted 20th overall by the Chicago Bears in 2013, Long missed just one game over his first three seasons, in which he was selected to three consecutive Pro Bowls, but appeared in just 30 regular-season contests over his last four years with the team because of a variety of injuries. He announced his retirement in January of last year.
NFL Network first reported that Long had suffered a leg injury.
Fantasy Football cheat sheets – Updated 2021 player rankings, PPR, non-PPR, depth charts, dynasty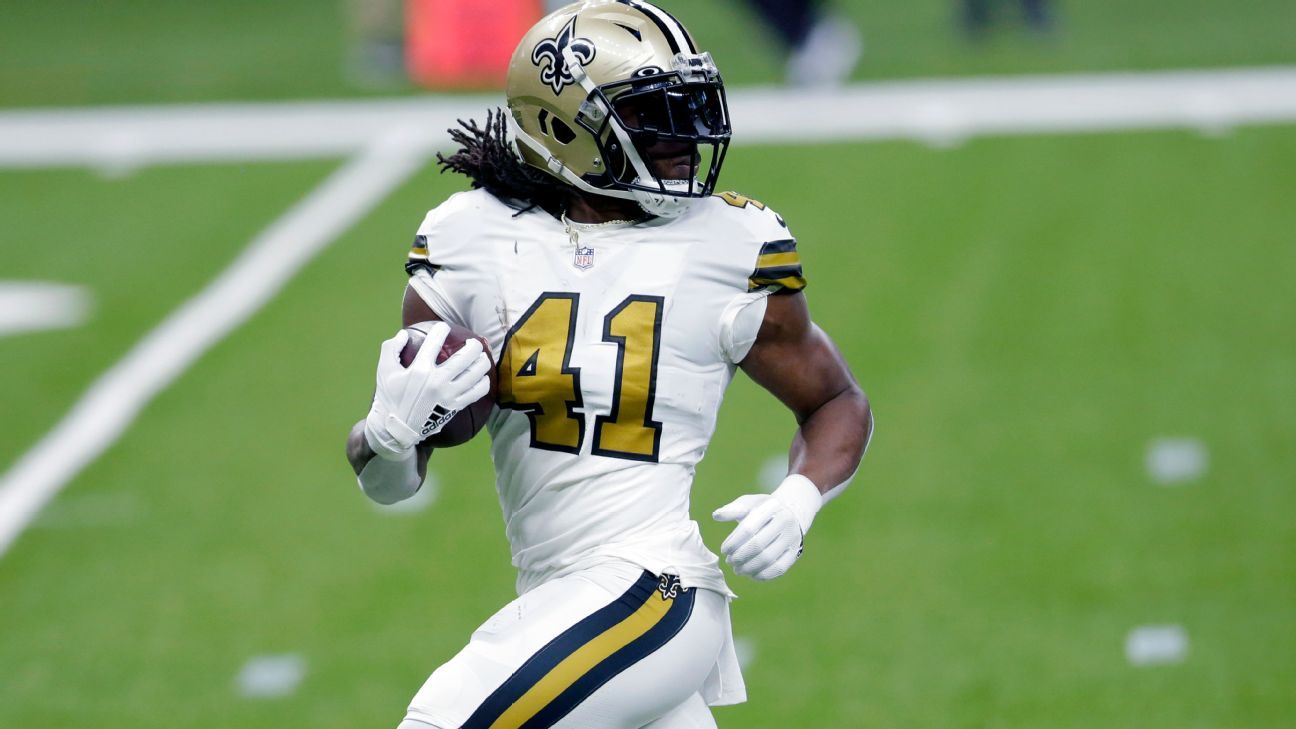 If you're seeking a one-stop shop for updated 2021 fantasy football rankings and cheat sheets throughout the summer, you've come to the right place. Below, you will find them for PPR and non-PPR formats, as well as dynasty leagues.
PPR positional cheat sheet
One sheet with players broken down by position, including overall rank, salary-cap value and bye weeks for leagues that award one point for each catch. Download »
PPR top-300 cheat sheet
This sheet features 300 players in order of overall draft value, with positional rank, salary-cap value and bye-week information for leagues that reward each catch with a point. Download »
Non-PPR positional cheat sheet
For leagues using the scoring format that doesn't award an extra point for each reception. One sheet with players broken down by position, including overall rank, salary-cap value and bye weeks. Download »
Non-PPR top-300 cheat sheet
This sheet features 300 players in order of overall draft value, with positional rank, salary-cap value and bye-week information. Download »
Mike Clay's team-by-team projection guide
If you want the full breakdown for all 32 teams, you've come to the right place. Download »
NFL team depth chart cheat sheet
Fantasy depth charts for each NFL team: top two QBs, three running backs, four wide receivers, two tight ends and a kicker. Prioritized by fantasy value in PPR leagues rather than role defined on a traditional NFL depth chart, includes players' positional ranks. Download »
Dynasty cheat sheet
Features the top 240 players and 60 best rookies to make all of your keeper and dynasty league decisions. Includes the age of players at the start of the 2021 season. Download »
*All cheat sheets are in PDF format. Your device must be equipped with a PDF reader for you to access and print the cheat sheet.