Italian Grand Prix results, Jason Dupasquier death, crash, standings, grid, Fabio Quartararo win, tribute
Fabio Quartararo dominated Sunday's Italian MotoGP at a sombre Mugello circuit shaken by the death of Swiss 19-year-old Moto3 rider Jason Dupasquier who succumbed to injuries sustained in a multi-bike qualifying crash.
Yamaha's French world championship leader held up a Swiss flag on the podium in honour of a "friend" whose promising young career was cut short in brutal fashion.
"This one's for Jason," said Quartararo.
Stream Every Practice, Qualifier & Race of the 2021 Moto GP Championship Live & On-Demand on Kayo. New to Kayo? Try 14-Days Free Now >
The Swiss teenager's death was announced around midday by MotoGP organisers.
"We're deeply saddened to report the loss of Jason Dupasquier," MotoGP said on Twitter.
"On behalf of the entire MotoGP family, we send our love to his team, his family and loved ones. You will be sorely missed, Jason. Ride in peace," the statement added.
Dupasquier, in his second season in Moto3, fell and was struck by at least one bike, before sliding along the track, during qualifying, at turn nine, on Saturday.
Doctors rushed to the scene and after attending to him for 40 minutes on the circuit had him airlifted to hospital.
The rider described as "a leading light of Swiss motorsport" passed away in hospital in Florence after suffering severe brain damage and undergoing chest surgery overnight.
Quartararo said: "It was a strange day, a lot of emotion, every time I passed turn nine I was thinking about Jason.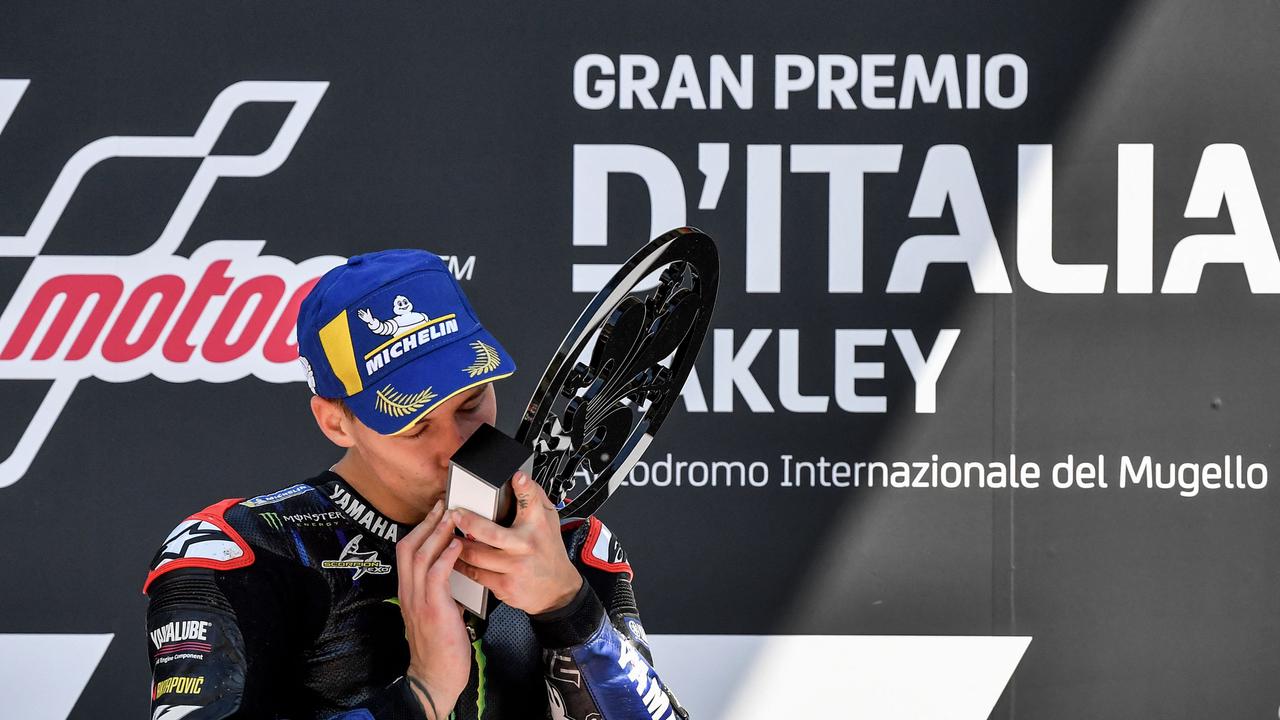 "It's not a great feeling, you achieve a win but we lose one of our friends."
Quartararo crossed the line with over two and a half seconds of daylight back to Portugal's Miguel Oliveira in second, with reigning world champion Joan Mir completing the podium.
The sixth leg of the season was preceded by a minute's silence for the sport's first fatality since Luis Salom died in practice at the Catalonia Moto2 Grand Prix in Barcelona in 2016.
As the MotoGP roadshow persevered despite the tragic circumstances, it was Quartararo, who had set a new lap record when securing pole on Saturday, who emerged with his third win of the season to tighten his grip on the riders' standings.
He now has a 24-point cushion over Zarco with Francesco Bagnaia, an early faller Sunday, a further two points back in third and Australian Jack Miller, winner of the two races before Mugello, in fourth.
One dead and two injured in incident at off-road race
A man has died and two others have been injured after a group of spectators were hit by a vehicle at the Finke Desert Race near Alice Springs on Monday morning.
NT Police confirmed the death of a male spectator in his 60s, and serious injuries to a male spectator in his 50s.
The navigator of the vehicle, a woman in her 50s, sustained minor injuries in the crash.
The two-day Finke Desert Race is an off-road event for bikes, cars, buggies and quad bikes through the central Australian desert from Alice Springs to Aputula, held each year on the Queen's Birthday long weekend.
"At 9:38am police received a report of a group of spectators being struck by a vehicle racing the Finke Desert Race track, 35km from the start/finish line," a police spokesperson said.
"A male spectator aged in his 50s was seriously injured as a result of the crash and medevaced to the Alice Springs Hospital, and the navigator of the vehicle, a woman aged in her 50s, received minor injuries.
"Another man in his 60s who was a spectator at the event and was struck by the vehicle has died at the scene."
Police are calling for witnesses to the event as investigations continue.
The area has been cordoned off and competitors have been diverted from the area, which has been declared a crime scene.
An NT Health spokesperson said the two injured people were in a stable condition after sustaining non-life-threatening injuries.
Organisers said vehicles had been stopped on the course and would be recovered by crews.
The car section of the race and the presentation night have been cancelled, they said about 1pm on Monday.
"Motorsport Australia and Event Organisers have advised that as the NT Police are still carrying out investigations at the scene of today's incident, the Clerk of the Course has declared the Car Section of the Finke Desert Race concluded," they said in a Facebook post.
"Arrangements will be made in conjunction with NT Police for vehicles stopped on the course at various locations on the Finke Track to be recovered by crews.
"Competitors and crews will be advised in due course."
Police are investigating the circumstances surrounding the cause of the incident and calling for any spectators who may have witnessed the incident, or have dash cam or video footage – to contact police immediately on 131 444.
Romain Grosjean tries to put out car fire Detroit, Formula 1, news, video, Bahrain GP, crash
Seven months ago, Romain Grosjean's Formula One career ended in horrifying fashion as his Haas erupted a scorching inferno that shook the motorsports world.
The Frenchman was lucky to escape the 192km/h crash at the Bahrain Grand Prix with severe burns on his hands and a sprained ankle from yanking his foot from a trapped racing boot to escape the blaze.
The 35-year-old subsequently moved to IndyCar this season – only to see his Dale Coyne Racing vehicle catch fire in overnight in a Detroit race.
Far from running away, Grosjean stunningly reacted to the fire from his left-front brake by grabbing a trackside fire extinguisher and running back to deal with the flames himself.
Stream Every Practice, Qualifier & Race of the 2021 FIA Formula One World Championship™ Live & On-Demand on Kayo. New to Kayo? Try 14-Days Free Now >
Grosjean tries to douse car fire himself | 01:20
Romain Grosjean opens up on 'crazy' impact of F1 explosion
Officials soon arrived to save his car, but were forced to hold Grosjean back – such was his desire to help.
Given his previous incident, Monday morning's (AEST) stunning effort drew plenty of praise from the racing community.
But Grosjean played down the incident, posting a photo of himself wearing a Detroit Fire Department shirt on social media.
He also joked online: "I care about my racing cars."
After retiring from the race, he told media at a press conference: "Eventually we had a brake fire, and I had to extinguish a fire, but we're all good here."
Stream Every Practice, Qualifier & Race of the 2021 Moto GP Championship Live & On-Demand on Kayo. New to Kayo? Try 14-Days Free Now >
Daniel Ricciardo set for McLaren boost in triple header, Lando Norris
Three races in three weeks is a gruelling prospect for most F1 drivers, but Daniel Ricciardo believes the chaotic schedule is exactly what he needs to "fast track" his progress at McLaren.
Ricciardo's transition from Renault to McLaren — his third team in four seasons — is proving to be tricky as he tries to come to terms with the car's unique driving demands.
Difficult assignments at low-grip street circuits Monaco and Baku led to the widening of the gap between the Australian and his teammate Lando Norris, who has 40 more championship points after six races.
But the French, Styrian and Austrian Grands Prix — all at conventional, purpose-built circuits — will take place on consecutive weekends, allowing Ricciardo to log valuable track time in a condensed period.
Stream Every Practice, Qualifier & Race of the 2021 FIA Formula One World Championship™ Live & On-Demand on Kayo. New to Kayo? Try 14-Days Free Now >
Perez claims wild GP victory! | 03:41
"(I'm) looking forward to a triple-header actually," he said per the F1 website. "Getting into a rhythm, getting into three races in a row. Bit more conventional, bit more run-off room, won't do us any harm.
"When you're trying to learn any sport, the best way to learn is practice and doing it and that's the unique thing with our sport, we can't do it every day, we can't just go out tomorrow and go and run a few laps, so I think having three consecutive weekends and putting in the practice consecutively will fast-track my progress.
"We've got the simulator and these things help but in the simulator, the walls don't hurt. So it's never quite the same."
Ricciardo crashed during qualifying in Azerbaijan with the 13th-fastest time before he finished the race in ninth.
Asked if he could take comfort in the result, he said: "I can. Just getting the laps in and completing the race – that sounds so basic – but just to keep learning with the car.
"I think there's moments in the race that took a bit more from it but I think that's important and yes, a couple of points."
The French Grand Prix is on June 20 before the Styrian GP on June 27th, and Austrian Grand Prix on July 4.
Verstappen crashes out from FIRST! | 00:48