Family cries foul after Chicago White Sox change name of food area to honor Tony La Russa
The family of a former Chicago White Sox stadium worker is crying foul after a lounge named after her was renamed in honor of Tony La Russa.
A food area is now called La Russa's Lounge — a change from Loretta's Lounge, in honor of Loretta Micele, who sold beer and hot dogs for more than six decades.
"For them to not even notify us, you know, it's a shame," Lou Soto, Micele's great-grandson, said of the name change.
The White Sox said the change was made after the 2019 season, long before La Russa returned for his second stint as manager. The team said no one noticed last year because fans couldn't attend games.
"Prior to Tony La Russa becoming manager, a space that had been named after La Russa for many seasons was relocated to the current area on the 100 level during the 2020 season," a team statement said. "Loretta Micele has always been a treasured member of the White Sox family and a plaque in her honor remains in the space to honor her memory despite the name change."
Micele worked at the old Comiskey Park and the current stadium, which opened in 1991. She died in 2014.
The White Sox said they are planning to give a replica of the Loretta's Lounge sign to the family.
The Associated Press contributed to this report.
United States routs Israel to open Olympic baseball tournament in Tokyo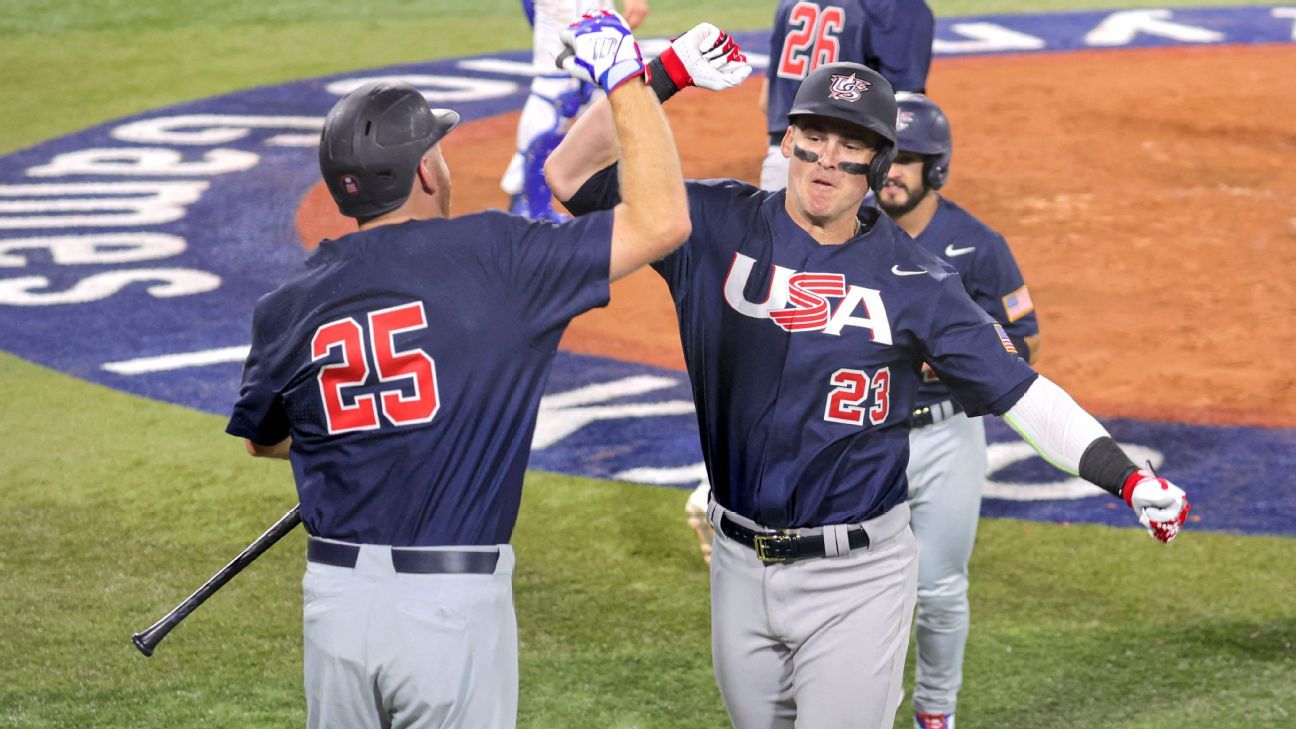 YOKOHAMA, Japan — Japanese league players and different generations of Major League Baseball talent secured wins for the United States and the Dominican Republic on Friday.
In their first game at Tokyo 2020, the U.S. thrashed Olympic newcomers Israel 8-1. Joe Ryan, 25, a prospect who was traded to the Minnesota Twins from the Tampa Bay Rays last week, struck out five over six innings, allowing only a solo home run.
Eddy Alvarez, a minor leaguer with the Marlins who was a silver medalist in speed skating during the 2014 Games, drove in two runs on two doubles and scored two runs.
Tyler Austin, 29, playing at the ballpark he normally calls home for the Japan league's Yokohama BayStars, added a two-run blast and an RBI double.
The U.S. will next face South Korea, with the winner of Saturday's game advancing to the quarterfinals.
Earlier, former MLB players Melky Cabrera and Jose Bautista, along with current Japanese league pitcher Angel Sanchez, led the Dominican Republic to a 1-0 victory over Mexico.
Cabrera, 36, pushed a liner to the left-field wall in the fifth inning to bring home the lone run.
"It wasn't only me. It was all of us," Cabrera said. "All 24 of us are heroes."
The 40-year-old Bautista, playing left field, prevented Mexico from tying the score in the sixth inning by throwing out a runner at home.
Sanchez, who plays for Japan's Yomiuri Giants, combined with four other relieves on a four-hitter.
Adrian Gonzalez had a single and a walk in four plate appearances for Mexico.
"Unfortunately, we hit a lot of balls at them," Gonzalez said. "But the way this whole format is, we control our destiny."
If Japan (1-0) beats Mexico on Saturday, the hosts can rest until Monday's quarterfinals. Mexico could steal that privilege with a two-run win over Japan.
The bottom team amongst Japan, Mexico and the Dominican Republic will face Israel on Sunday.
San Diego Padres finalizing deal to acquire RHP Daniel Hudson from Washington Nationals, sources say
The San Diego Padres are finalizing a deal to acquire right-handed reliever Daniel Hudson from the Washington Nationals, sources told ESPN's Jeff Passan.
Hudson is currently on the COVID-19 injured list. He's 4-1 with a 2.20 ERA in 31 appearances this season.
He was activated earlier this month from the injured list after recovering from right elbow inflammation.
The 34-year-old Hudson does have a history of injuries, including two Tommy John surgeries between 2012 and 2013 while with the Arizona Diamondbacks.
He joined the Nationals in a midseason trade with the Toronto Blue Jays in 2019 and recorded the final three outs in Game 7 of the World Series a few months later.
The news about the trade was first reported by FanSided.
Information from The Associated Press contributed to this report.
Blue Jays roll Boston Red Sox before heading back to Toronto for first time in two seasons
BOSTON — The Toronto Blue Jays are finally heading home — and they're doing it on a high note.
Toronto crushed the Boston Red Sox 13-1 on Thursday night in what will be their last game as a team without a home.
The coronavirus pandemic and health protocols have kept the Blue Jays south of the Canadian border the past two seasons as they played "home" games in Buffalo, New York, and Dunedin, Florida, but the club was headed back to Toronto after the game and are scheduled to host the Kansas City Royals at Rogers Centre on Friday night.
Vladimir Guerrero Jr. led the way in Thursday's romp, hitting a three-run homer all the way out of Fenway Park. As a team, the Blue Jays tagged the Red Sox for 16 hits and scored in six of the first seven innings while building a 12-0 lead.
Every Toronto starter had at least one hit and drove in at least one run as the Blue Jays went 9 for 20 with runners in scoring position. Cavan Biggio was the only Toronto starter who didn't score a run.
Hyun Jin Ryu (10-5) held Boston to two hits over six innings, struck out five and didn't walk a batter.
The Blue Jays split the four-game series at first-place Boston, which still leads the AL East heading to second-place Tampa Bay for a weekend series.
The Associated Press contributed to this report.