UEFA Europa League final 2021, result, Manchester United, Villarreal, penalties, score, Ole Gunnar Solskjaer, transfers, gossip, rumours
Just as officials were scrawling through the rule books to see just how long a penalty shootout could actually last for and whether players would need to keep taking them until one-by-one they dropped dead from exhaustion and malnutrition to leave a single player left standing, David De Gea finally missed.
The Manchester United goalkeeper failed to stop any of the 11 penalties Villarreal had fired at his goal up until that point and then became the only player on the pitch not to do the same.
But in truth, the game was up well before that.
You can't be angry at a goalkeeper for not scoring a penalty, the likes of Ederson and Allison are the exception with their scoring abilities, but there were some question marks over why, when Ole Gunnar Solskjaer was making a flurry of late substitutions, De Gea's number wasn't one of the ones up.
The Spaniard has now failed to save any of the last 35 penalties he has faced and with Solskjaer bringing on Alex Telles and Juan Mata to take his first two spot kicks, a thought must have gone to Dean Henderson too, who has saved eight penalties since De Gea last did, most recently in the 0-0 second leg Round of 32 clash against Real Sociedad in the same competition just three months ago.
Watch every Socceroos World Cup Qualifier in June Live & Free on Kayo Freebies. Join now & start streaming instantly >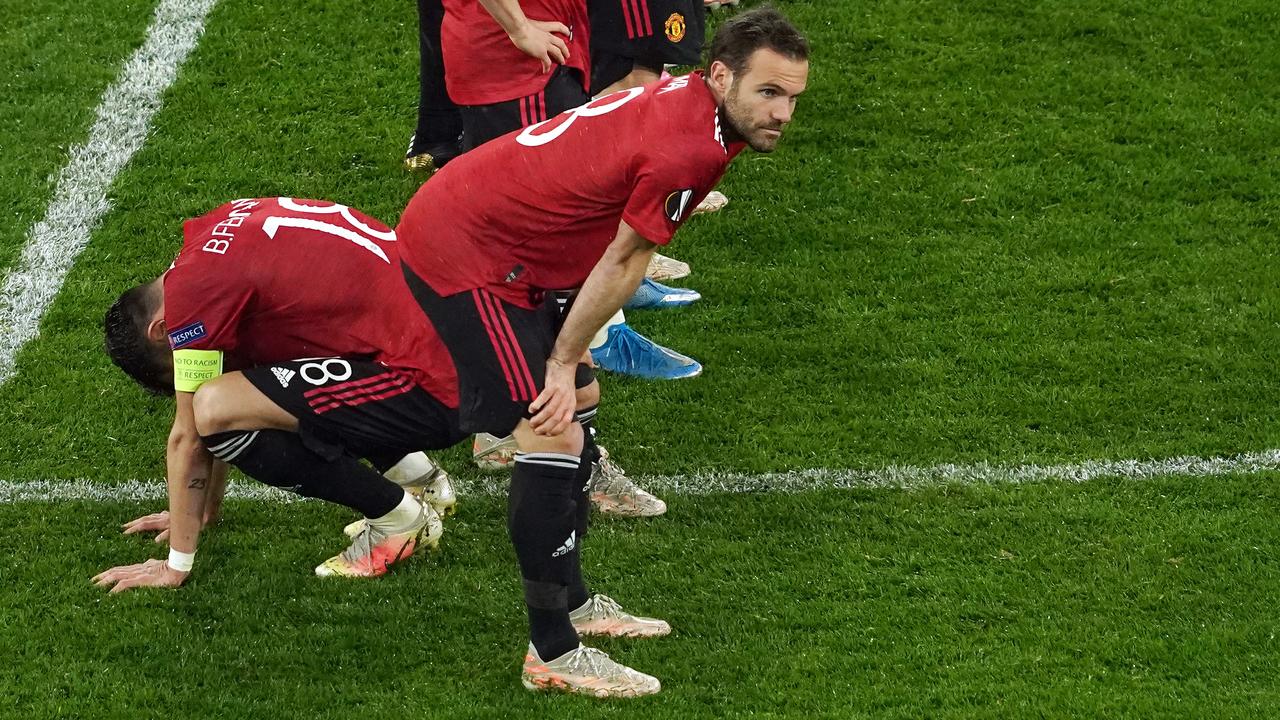 But that was the problem with Solskjaer the whole game: substitutes.
There is a painful irony not lost on many of the Manchester United fans watching that as arguably the most famous substitute in English football history, Solskjaer is so against making any of his own. And it's not because he wants to selfishly preserve his own legacy.
It's been an underlying problem from his Manchester United career so far, that as good as he has been as a man manager, Paul Pogba has attested to the difference in attitudes between Solskjaer and predecessor Jose Mourinho towards a benched player, his in-play game management is severely lacking.
In their 61st match of a very long season, with a very short preseason, it took 100 minutes for Solskjaer to introduce his first substitute – Fred for teenager Mason Greenwood.
Villarreal had already made five by the 88th minute, by comparison.
Why keep the creativity of Donny van de Beek and Juan Mata or the pace of Dan James and Amad Diallo on the bench when you have 11 players who are so exhausted by chasing the ball around that when they get it, they're too tired to do anything with it?
Solskjaer did defend his approach, albeit only slightly better than his side defended set pieces on the night.
"We had players out there, like Mason and Marcus (Rashford) who are match-winners," he said. "Bruno (Fernandes) and Edinson (Cavani) can create anything, Scott McTominay was the best player on the pitch and we had Paul (Pogba). It was difficult to make that change when Fred had been injured for a week. But we couldn't create enough chances. We needed to play our way into the box quicker."
He is of course correct, his best players were indeed on the pitch and have the ability to create something out of nothing. But it is much more difficult to do that after being overworked so much throughout the season.
And that was the second major flaw on display in Gdansk.
Harry Maguire played every game until he eventually broke down, missing the final and leaving his Euro 2020 place in jeopardy while Bruno Fernandes has played 57 of United's 61 games this season, plus nine more for his country. Marcus Rashford has also played 57 (59 including England appearances). As fit as he is, Edinson Cavani is 34 years old.
It has been a theme of the second half of the season, that Solskjaer doesn't deem the squad good enough to rotate regularly, despite having signed Van de Beek for just that reason. He has now implored the club's owners to invest further in the squad – but he must also learn how to manage it, like Pep Guardiola does so effortlessly through his constant chopping and changing at Manchester City.
Solskjaer added: "We are here now, we need to do better, we need to work better, work harder, cleverer. But as I said two or three players to strengthen the starting XI and the squad all together is important for us to go even further.
"Because I'm sure our contenders or challengers will also want to improve and we want to improve as much as we can."
The third flaw comes back to the goalkeeper situation.
"You go through every scenario," he said after the defeat. "It had crossed my mind in the build-up to the game but we were confident in David [De Gea]. Anything can happen in a penalty shootout and I went with the keeper who had played the whole game."
David De Gea or Dean Henderson? It started as De Gea, then shifted to Henderson, and then back to De Gea. The decision of who to start in the final was set to likely decide which player would be allowed to leave. It is not any clearer now, as cruel as it is to blame De Gea for this loss.
Marco Tilio beat Argentina after IOC rules twist
The only thing more remarkable than Australian teenager Marco Tilio scoring with almost his first touch as an Olympian was the fact he wasn't meant to be playing at all.
Originally called up as a travelling reserve to provide injury cover, Tilio was the latest of entries to the Olyroos' squad, earning his stripes after the IOC made amendments to allow the football squads to add four extra players to provide additional flexibility during a complex Olympic Games tied down by Covid-19.
But Tilio likes to do things in a hurry. So he wasted no time in making an impact when called on by coach Graham Arnold – scoring a scorching goal with his second touch, mere seconds after coming off the bench, to seal a famous 2-0 victory over world heavyweights Argentina.
LIVE: 'How did they get away with it?': Confusion reigns over 'awkward' Olympics act
LIVE: Aussies out to make US regret arrogant claim; Early medal hopes in action
FULL SCHEDULE: Aussies in action on Day 4
It's led to some instant internet notoriety, with Tilio's Wikipedia page getting some curious updates in the wake of his stunning performance – which described his left-foot strike as "better than (Argentinian great) Lionel Messi has ever scored".
It's been a wild few weeks for the 19-year-old, who was sitting on the tarmac at Sydney Airport – having returned home after winning the A-League grand final with Melbourne City – when he received a call from his club that rattled him.
"You're a chance to go to the Olympics," he was told.
Two days later, that message came from an even more reliable source: Arnold himself.
"I missed (his call), but called him back and he said 'you're going to be an Olympian'. I was in so much shock," Tilio said in Sapporo on Friday.
"So many emotions were going through (my head) last night. ) It's such a proud moment for me and my family back home. Who could've thought? Really it's just a dream come true.
"But there's always so much more we can do, keep fulfilling dreams and showing what Australia are made of at an Olympic Games."
Arnold has boldly declared his team – who started the tournament as $151 outsiders – can claim gold, and Tilio confirmed that's a belief that the squad carries as well.
"Of course. We always say the strong belief and family culture we have in this team, the sky is the limit for us I believe, and all the boys believe," he said.
"Everyone comes here with the same goal: to get the gold medal."
Harry Kane 'confident' Tottenham will sell him this summer as Man City limit emerges
The England captain has not given up on sealing a transfer to Man City this summer.


Source link
Five things on Thomas Tuchel's transfer to-do list as Chelsea target PSG star
Thomas Tuchel still has plenty of work to do at Chelsea before the transfer window ends.


Source link