Jacksonville Jaguars executive Karim Kassam, who joined team in February, out of job, sources say
JACKSONVILLE, Fla. — Jaguars senior vice president of football operations and strategy Karim Kassam is out, sources tell ESPN's Seth Walder.
The reason that Kassam is no longer with the team was not immediately known.
Kassam was hired Feb. 19 to oversee the team's football technology and analytics department in addition to salary-cap administration while working with head coach Urban Meyer and general manager Trent Baalke.
Kassam is the second person hired earlier this year by the new regime to leave the franchise. Chris Doyle resigned as director of sports performance a day after his hiring was announced after there was immense backlash over the move. Doyle had reached a separation agreement last summer with Iowa after he was accused of making racist remarks and belittling and bullying players while the program's strength and conditioning coordinator.
Kassam came to the Jaguars after serving as the director of baseball research with the Minnesota Twins. He spent the previous five years as the Pittsburgh Steelers' analytics and football research coordinator.
NFLPA president JC Tretter rips teams' wristband use for unvaccinated players
BEREA, Ohio — NFLPA president JC Tretter ripped the NFL teams that are forcing their unvaccinated players to wear wristbands, calling it an unnecessary move that publicly shames players.
"It's a nonsensical idea," the Cleveland Browns center said Thursday. "They say they need a differentiator between vaccinated and unvaccinated players. We already have a differentiator. The unvaccinated players need to wear masks. No other sports league uses any sort of scarlet marking or helmet decal or wristband, because they know it's not necessary and the teams know who's vaccinated, who's not vaccinated."
This week, ESPN's Adam Schefter reported that the NFL and the NFLPA remain at odds over the use of wristbands to identity unvaccinated players.
"So what it really comes down to is the NFL wanted to put a policy in place to try to shame unvaccinated players publicly about their status and make that known to everyone on the field," Tretter said. "It shouldn't be the case because it's unnecessary. We all know who's vaccinated and who's not, and it doesn't need to be a scarlet marking on people's helmets or wrists."
Although multiple teams are requiring their unvaccinated players to wear wristbands, the Browns are not among them.
"We're not dividing the team over this issue," coach Kevin Stefanski said.
Carolina Panthers linebacker Jermaine Carter is among the players who expressed frustration over the league's COVID-19 protocols. That included not being allowed to have contact with his girlfriend and their newborn daughter Thursday at practice. Carter had to stand on the opposite side of a fence about 20 feet from them. Later, he noted in a tweet that he would be allowed to practice in two weeks at Indianapolis against "one of the least vaccinated teams."
I can't see my vaccinated family but I can practice against one of the least vaccinated teams 🥴 I'll see you in a couple weeks baby girl ❤️ https://t.co/JCLu2KR6wg

— Jermaine Carter Jr. (@JERMA1NECARTER) July 29, 2021
The NFL announced Thursday that 87.9% of players have been vaccinated with at least one shot. All told, 19 teams have a player vaccination rate better than 90%, with seven of those teams above the 95% threshold.
The Colts, however, reportedly remain one of the least vaccinated teams in the league.
ESPN's David Newton and Kevin Seifert contributed to this report.
New York Jets' Zach Wilson signs rookie deal after missing first 2 days of practice, sources say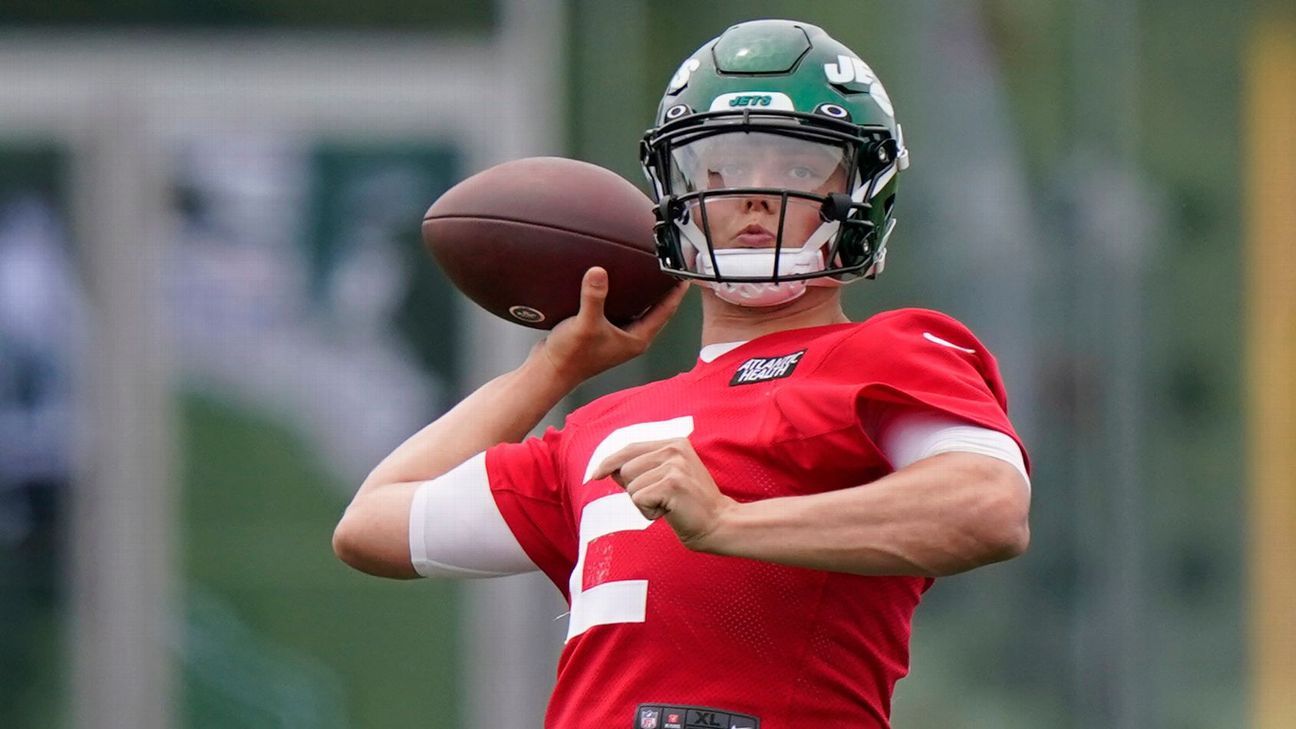 FLORHAM PARK, N.J. — It took longer than expected, but the New York Jets and quarterback Zach Wilson agreed to terms Thursday on his rookie contract, sources told ESPN.
The first-round pick and presumptive starter, who missed two days of practice as the two sides haggled over technicalities in the contract language, will sign a four-year, $35.15 million contract — a slotted deal that is fully guaranteed.
It includes a $22.9 million signing bonus and a fifth-year team option, standard for all first-round picks.
Wilson, who took a red-eye flight from Los Angeles and arrived in New Jersey on Thursday morning, was the last unsigned first-round selection from the 2021 NFL draft.
The contract includes offset language and the signing bonus will be paid within 15 days, per a source, details that imply that the sides have compromised because those were the sticking points.
At the start of camp, coach Robert Saleh said he wasn't concerned about Wilson missing camp time. "It's something he'll have to navigate through," Saleh said. "I've got a lot of faith in Zach. He's incredibly intelligent, and he's got a tremendous drive. When he does get here, I know somehow, some way he'll make up for it."
Wilson benefited from a heavy workload in the spring. With no veterans on the roster, he took all the first-team reps.
There was an increased sense of urgency to strike a deal because the Jets are counting on him to be their opening-day starter, although they haven't announced that. The only other quarterbacks on the roster are James Morgan and Mike White, neither of whom has regular-season experience. Rookie contract disputes are unusual because the deals are slotted, but teams and agents sometimes haggle over certain clauses.
The Jets include an offset in every contract that has guaranteed money, which provides financial protection if they release the player before the contract is complete. An offset allows a team to cut a player before the end of his four-year contract is completed and have the remaining money reduced by the amount of his next contract.
This isn't an unusual stance. It's believed that 30 of the 32 teams use offsets in contracts. The exceptions are the Los Angeles Rams and the Jacksonville Jaguars, with the latter having signed No. 1 pick Trevor Lawrence to a deal with no offsets.
Without an offset, a cut player collects the guarantee from his old team plus the money he receives from his new team — aka double dipping.
What complicated the Jets' negotiation was that at least two of the five quarterbacks drafted in the first round received deals without full offsets — Lawrence and Justin Fields (No. 11 by the Chicago Bears). Fields received a partial offset.
Interestingly, Cincinnati Bengals quarterback Joe Burrow, the top pick in 2020 and represented by the same agency that negotiated Wilson's contract, signed a contract that includes offset language.
Atlanta Falcons owner Arthur Blank 'disappointed' in Julio Jones trade request
FLOWERY BRANCH, Ga. — Atlanta Falcons owner Arthur Blank said he was "disappointed" star receiver Julio Jones had asked for a trade, leading to the team sending him to Tennessee in June.
Blank had earlier said Jones would be a Falcon for life. Instead, it was a 10-year relationship that ended with Blank trying to reach out to Jones, but ending up not being able to speak with him.
"I think the part that bothered me personally was the fact that he expressed that he wanted to be traded," Blank said Thursday at the first day of Atlanta's training camp. "You know, we had a 10-year relationship. I think it was a good relationship. It was certainly productive.
"He's a Hall of Fame player so I was disappointed he felt that way. For whatever reasons, I'm not sure. I was unable to speak with him myself. I tried to, but he felt the way he felt and was ready to make a change."
Blank said he learned through his years of ownership in Atlanta that you want players on the roster who want to be in the building. He believed the trade, which also sent the Titans a 2023 sixth-round pick but brought the Falcons a 2022 second-round pick and 2023 fourth-round pick, would be beneficial for both sides.
It already worked out to Atlanta's benefit financially as it created room under the salary cap for the team to sign its rookies, including No. 4 overall pick Kyle Pitts. Blank said he did not realize the team would end up trading Jones at the end of last season, either, and that "was not our original intent."
The idea of possibly trading Jones first surfaced publicly before the NFL draft. Jones then said on FS1 on May 24 that he was "outta there," meaning Atlanta. He was traded weeks later.
"We have tremendous regard for the player and the human being as well and he's given us 10 great years and that's about half of my ownership and set all kinds of records," Blank said. "But the time was right for him to move on and I think the coach did what he could and the general manager did what he could to have him try to stay but he was ready to move."
Jones had 848 catches for 12,896 yards and 63 touchdowns with the Falcons and is the NFL's all-time leader in yards per game with 95.5 — almost 10 yards better than the No. 2 receiver on the list, 2021 Hall of Fame inductee Calvin Johnson.