Former Colorado Rockies players Vinny Castilla, LaTroy Hawkins to manage All-Star Futures Game
NEW YORK — Former Colorado Rockies third baseman Vinny Castilla and reliever LaTroy Hawkins will manage in the All-Star Futures Game of top prospects at Coors Field on July 11.
Castilla will manage the NL team and Hawkins the AL team, the commissioner's office said Tuesday. Castilla played for the Rockies from 1993-99, 2004 and 2006, and he is among the top 10 of the team in games, at-bats, runs, hits, doubles, homers, RBI, extra-base hits and total bases. Hawkins pitched for Colorado in 2007 and from 2014-15.
Launched in 1999, the Futures Game was contested by U.S. and World teams through 2018, then switched to the AL/NL format in 2019. It was not played in 2020 because of the coronavirus pandemic.
The Futures Game will be followed at Coors Field by the Home Run Derby on July 12 and the All-Star Game on July 13. All three events were moved to Denver from Atlanta by Major League Baseball in response to election law changes enacted by Georgia. Critics have condemned the changes as being too restrictive.
Fan who hit Alex Verdugo with baseball at Yankee Stadium banned from all MLB parks
NEW YORK — The fan who hit Boston Red Sox left fielder Alex Verdugo with a baseball thrown from the Yankee Stadium stands has been banned for life from attending major league games.
The decision was confirmed Sunday by spokesmen for both the New York Yankees and Major League Baseball.
Red Sox manager Alex Cora briefly pulled his team off the field in the sixth inning Saturday night after Verdugo was struck in the back by a ball thrown from the left-field seats. He did not appear to be hurt.
An angry Verdugo shouted at fans and was restrained by first-base coach Tom Goodwin as the game was held up in a driving rain. The fan was ejected from the ballpark.
"While the Yankees appreciate the spirit and passion of our fans in our various rivalries — especially with the Red Sox — reckless, disorderly and dangerous behavior that puts the safety of players, field staff or fellow fans in jeopardy will not be tolerated," the Yankees said in a statement Sunday.
"There is absolutely no place for it at Yankee Stadium. The safety of everyone at Yankee Stadium, including guests in the stands and players on the field, will always be the top priority for the Yankees organization every time we open our doors."
Verdugo said he tossed the ball into the stands to a young Red Sox fan, but a Yankees fan intercepted it and threw it back onto the field, hitting the outfielder.
"It's awful, embarrassing, unacceptable," New York manager Aaron Boone said afterward.
Verdugo returned to left field when play resumed following a discussion with umpires near Boston's dugout.
"It felt like it was targeted towards me and it don't sit well with me," he said.
New York won 3-1 in a game called after six innings due to heavy rain.
NJ.com reported Sunday the fan was not arrested.
Pittsburgh Pirates swipe 3 runs off bizarre mistake by New York Mets pitcher Taijuan Walker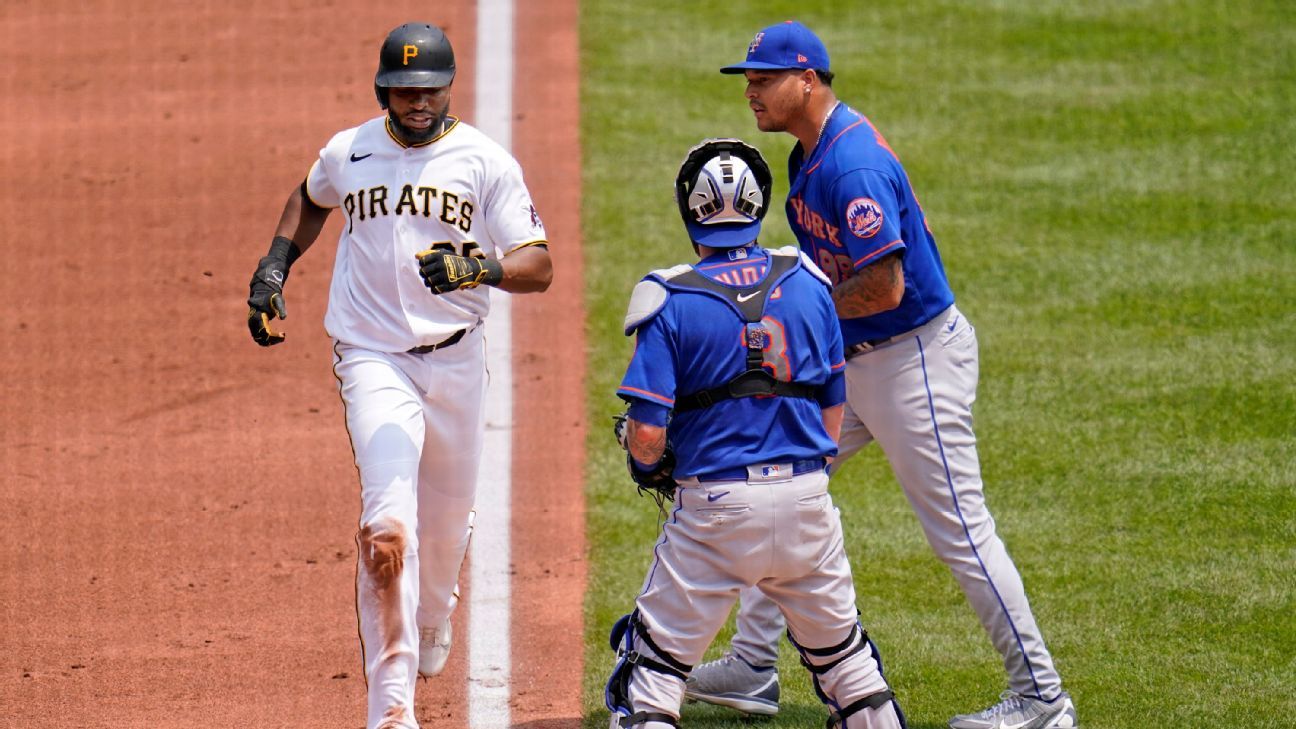 PITTSBURGH — Now this was Bucco Bizarro at its best.
The Pittsburgh Pirates swiped three runs Sunday when New York Mets pitcher Taijuan Walker mistakenly batted a fair ball into foul territory, prompting a wild argument in which Mets manager Luis Rojas was ejected.
With the bases loaded and one out in the first inning, Kevin Newman hit a dribbler down the third-base line. The ball started out in foul territory but then began spinning back toward the line.
Walker swooped in and swatted at the ball, trying to make contact while it was still in foul ground. But TV replays showed the ball was touching the chalk when Walker hit it, and plate umpire Jeremy Riggs correctly called it a fair ball.
In play, run(s) pic.twitter.com/bdTzc0SU9r

— Pittsburgh Pirates (@Pirates) July 18, 2021
The ball rolled toward the Pirates' dugout and the Mets did not react to retrieve it, and all three Pittsburgh runners took off and came around to score.
Rojas immediately ran out to argue the call and was quickly ejected. Walker was charged with an error on the play, while Newman was credited with a single and one RBI.
Walker, in his first outing since pitching in the All-Star Game on Tuesday night, then walked pitcher JT Brubaker and was pulled from the game. He allowed six runs on four hits and four walks while recording just one out.
Surprised by promotion, Brandon Marsh set to make MLB debut in outfield for Los Angeles Angels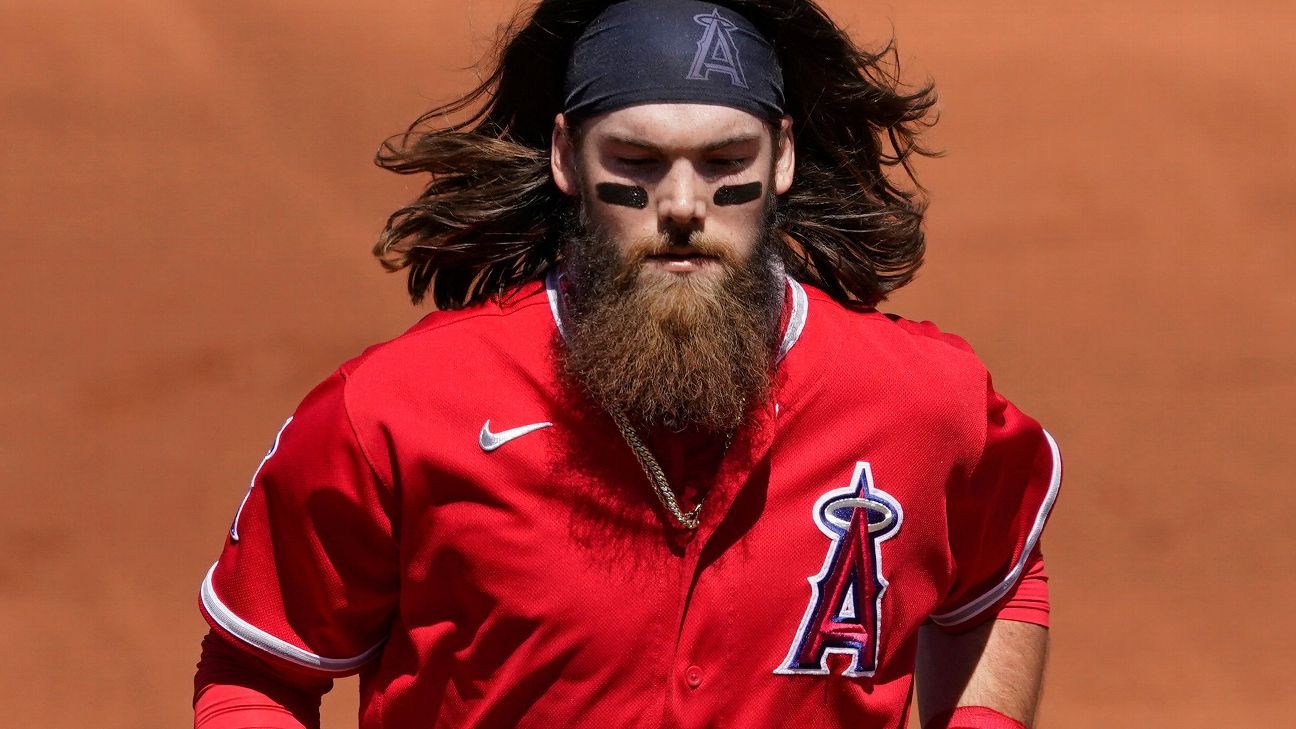 ANAHEIM, Calif. — Brandon Marsh is making his major league debut and playing center field for the Los Angeles Angels in Sunday's game against the Seattle Mariners.
Marsh is considered the top prospect in the Angels' organization. He was drafted in the second round in 2016 and was batting .382 with two home runs and six RBIs in his last eight games with Triple-A Salt Lake.
Manager Joe Maddon said before the game that he hopes Marsh can remain on the roster the rest of the season, even when three-time AL MVP Mike Trout and Justin Upton return from stints on the injured list.
"I told [Marsh] don't think you have to do anything differently. It's the same game," he said.
Marsh said he was surprised about being called up at this point of the season, especially since he had not been back at Salt Lake that long after missing nearly a month with right shoulder inflammation.
Infielder Kean Wong was optioned to Salt Lake to make room for Marsh.