Teddy Bridgewater, Drew Lock begin battle for Denver Broncos QB job, tune out rumors
ENGLEWOOD, Colo. — In an offseason where much of the conversation about the Denver Broncos quarterbacks was about those who were not on the team, the two quarterbacks who are participating in the team's competition at this point — Drew Lock and Teddy Bridgewater — have decided to tune it all out and get to work.
"Honestly, man, I just keep my head down, and control what I can control," Bridgewater said Monday after the team's first OTA practice. "I tell everyone that in this business that you have to have your big boy drawers on. I've learned a lot can happen in this business."
The Broncos traded a sixth-round pick to the Carolina Panthers to acquire Bridgewater the day before the draft opened and the Panthers agreed to pay $7 million of Bridgewater's $10 million salary guarantee for the 2021 season. The idea, Broncos general manager George Paton said, was for Bridgewater to compete with Drew Lock for the starting job and help Lock along the way.
But the Broncos' offseason has largely been an extended ride on the quarterback rumor mill. First there was the team's brief dalliance about a trade for Matthew Stafford, then the Aaron Rodgers rumors as the draft opened, then the team passed on selecting Ohio State quarterback Justin Fields with the No. 9 pick to take Alabama cornerback Pat Surtain II.
And even now drive-time radio in the region continues to be filled with discussion about Rodgers and likely will at least will stay that way until there is some public reconciliation between the Packers and Rodgers.
So, as Lock and Brigewater were on the field together for the first time Monday for what coach Vic Fangio has called a "true 50-50 split" of work through these workouts, minicamp, training camp and preseason games to pick a starter for the season, both of the quarterbacks the team does actually employ are just trying not to pay attention.
Fangio and general manager George Paton had met with Lock before the trade for Bridgewater was made to outline the competition for the job Lock had last season. Lock tied for the league lead in interceptions and was last in the league in completion percentage.
When asked Monday if he had heard, or seen, all of names tossed about for the Broncos and their future at quarterback, Lock said, "no, believe it or not." Lock added he has spent so much time with his offseason plan to improve, a plan that has included some consultations with Peyton Manning to go with a workout regimen and "being able to do that gave me zero time to listen to all this stuff, maybe one day I'll go back and read and laugh about all the things that we're being said that ended up being completely wrong."
"First thing (Broncos linebacker) Von (Miller) said to me was 'you're here to play football and that's my mindset, I'm here to play football," Bridgewater said. " … Whatever happens, happens."
Lock did add those closest to him, including his family and friends have not passed along what they've seen or heard someone say.
"I'd like to think the reason no one has said anything to me is because those are probably the really close people in my life and they understand it's not worth their time either," Lock said. "Whatever happens, happens. And if anyone did say anything to me it was zero texts back or no call back because they were probably not even in my really tight circle."
Lock did add his father, Andy, will tell him if he has seen a Broncos player on social media offering his support for Lock. Lock started 13 games last season as he finished with 2,933 yards passing to go with 16 touchdowns and 15 interceptions as the Broncos were 5-11 to miss the playoffs for the fifth consecutive season.
Since the start of the 2017 season the Broncos have had nine different quarterbacks start games at quarterback and have had three different quarterbacks start games in three of those seasons — 2017, 2019 and 2020. The 2020 total doesn't include the Nov. 29 game against the New Orleans Saints when running back Phillip Lindsay opened behind center because the Broncos had no quarterbacks in uniform due to violations of COVID-19 protocols.
Bridgewater also said Monday his comments on a CBS Sports podcast earlier this month in which he questioned the Panthers' practice routine last season were taken out of context.
"I'm in Denver, I'm not here to discuss anything about last year … I said what I said a couple weeks ago and of course it was taken out of context like I was talking bad about (Panthers offensive coordinator) Joe Brady. Joe's is my guy, we texted after that, he's a South Florida guy, I'm rooting for him. I'm in Denver, I don't have much to say about last year," he said.
Minnesota Vikings release CB Jeff Gladney after he is indicted on felony assault charge
The Minnesota Vikings released cornerback Jeff Gladney on Tuesday after he was indicted by a Texas grand jury on a charge of felony assault against a woman he was previously in a relationship with.
"Following our review of today's indictment against Jeff Gladney, we have decided to release Jeff immediately. As we have previously said, we take these matters very seriously and condemn all forms of domestic violence. Due to the ongoing legal nature of this matter, we are unable to provide further comment," the team said in a statement.
Gladney, 24, who was a first-round draft pick last year out of TCU, started 15 games for the Vikings as a rookie. He had not been around the team since his arrest in April in Dallas.
He is charged with domestic violence by impeding breathing, for "intentionally, knowingly and recklessly" causing bodily injury and applying pressure to the woman's neck and throat, according to the indictment. The altercation grew out of an argument and took place over a span of more than two hours, according to a lawsuit recently filed against Gladney by the former girlfriend. She also alleged in the suit that he tried to bribe her and intimidate her into keeping quiet.
No court date has been scheduled yet. If he is convicted, the cornerback could serve up to 10 years in prison.
Earlier Tuesday, Vikings owner and president Mark Wilf called the allegations against Gladney "very disturbing and something that's concerning to us as ownership and to our organization."
Gladney's agent Brian Overstreet said in a statement released to NFL Network that he was disappointed by the Vikings' decision.
"It's a good thing that innocent until proven guilty still exists in this country," Overstreet said. "Unfortunately, the Vikings don't view it the same way."
Overstreet called the indictment "a normal step in the judicial process" and explained the case is headed for a trial but is not an indication of Gladney's guilt or innocence.
"We received information that the complaining witness in this case came forward and requested the case not be prosecuted," Overstreet said. "The Vikings did what they thought was best for their organization which we respect, but we still strongly believe in Jeff Gladney's innocence. We look forward to his day in court so that he can clear his name. At this time, out of respect for the legal process and all parties involved, Jeff and his representatives will have no further comments."
NFL spokesperson Brian McCarthy said the league office "will continue to review this serious and concerning matter under the personal conduct policy" and will monitor all legal developments.
Gladney is now an unrestricted free agent. If he were to be signed by another club, he could be placed on the commissioner's exempt list while the case against him moves toward completion. In 2014, the NFL toughened its personal conduct policy to include a baseline six-game suspension without pay for violations involving domestic violence and other related crimes.
ESPN's Courtney Cronin and The Associated Press contributed to this report.
LB Kwon Alexander agrees to re-sign with New Orleans Saints, agent says
Linebacker Kwon Alexander has agreed to re-sign with the New Orleans Saints on a one-year deal worth up to $3 million, his agent, Drew Rosenhaus, told ESPN's Adam Schefter.
It's a birthday present of sorts for Alexander, who turned 27 on Tuesday.
Alexander started seven games for the Saints last season and had 27 tackles, a forced fumble and two fumble recoveries after the team acquired him in a trade with the San Francisco 49ers in November. His season ended in December, however, when he suffered a torn Achilles tendon in a victory over the Minnesota Vikings.
The 49ers signed Alexander to a four-year, $54 million contract as a free agent in 2019 but Alexander was limited during the 2019 season by a torn pectoral muscle before returning for their playoff run. He played in five games for the 49ers in 2020 but was sidelined by a high-ankle sprain at the time he was traded.
Alexander, who was originally drafted by the Tampa Bay Buccaneers in the fourth round out of LSU in 2015, made the Pro Bowl in 2017. He has started a total of 66 games in his career with 471 tackles, 8.5 sacks, 7 interceptions and 9 forced fumbles.
WR Amari Cooper, DE DeMarcus Lawrence nearing return for Dallas Cowboys after offseason surgeries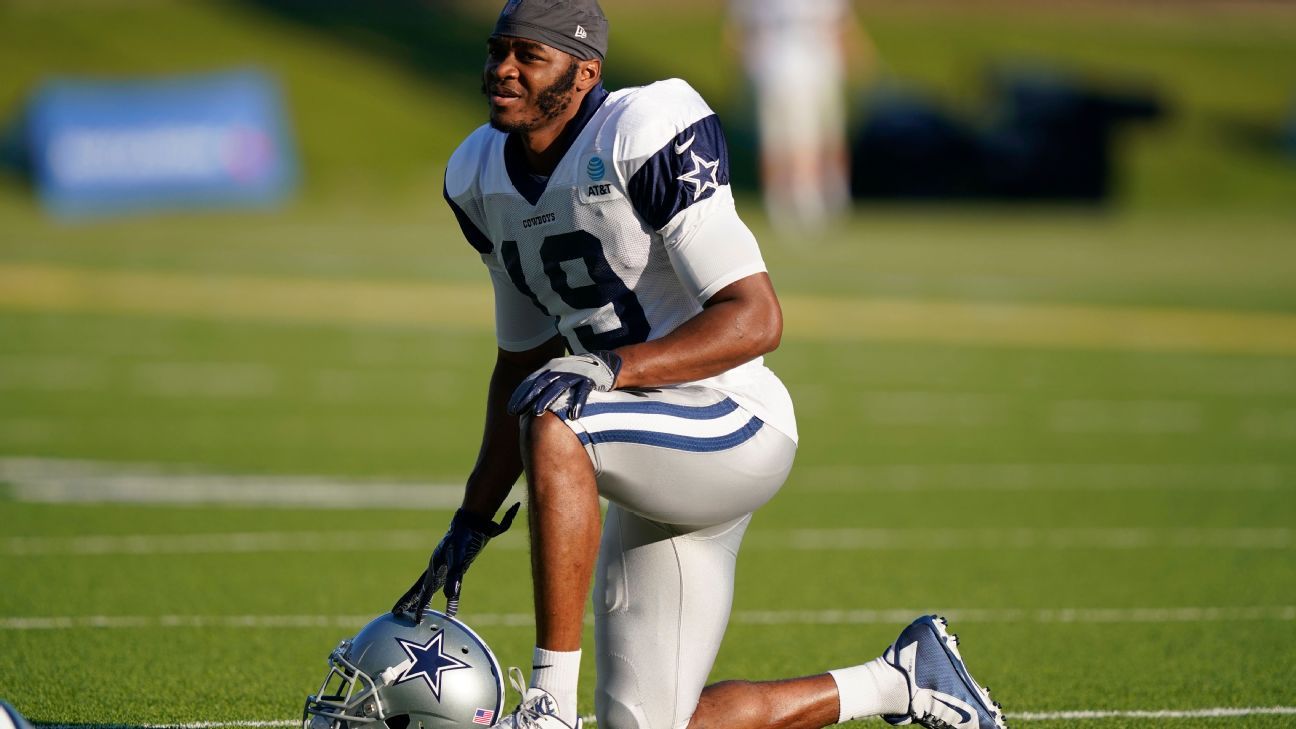 OXNARD, Calif. – Having combined for 189 career games and six Pro Bowl appearances between them, Dallas Cowboys defensive end DeMarcus Lawrence and wide receiver Amari Cooper don't necessarily need the day-to-day grind of training camp.
But both are close to getting on the field for the first time this summer.
Lawrence was activated off the physically unable to perform list on Tuesday, while Cooper said he is close to 100 percent from an ankle surgery he had last January.
As the Cowboys open the preseason on Thursday at the Hall of Fame Game against the Pittsburgh Steelers, Lawrence and Cooper will either be spectators or remain in Oxnard, California, to continue their rehab.
"It's up to the trainers and the doctors," Lawrence said of when he will practice. "I feel like they got a good game plan to work me back in and whatever they need from me I'm willing and I'm there."
Earlier in training camp, owner and general manager Jerry Jones said Lawrence and Cooper would not practice until the Cowboys returned to The Star in Frisco, Texas, after the Aug. 13 preseason game against the Arizona Cardinals.
"I wouldn't say I'm quite 100 percent yet, to be completely candid. But I'm real close. I can do everything, maybe a little better, just because I've been rehabbing so hard," Cooper said. "Just trying to be the best Amari Cooper that I can be, trying to be better than I've ever been. I've been talking to myself a lot lately about how I want this year to be different than any other year that I've played football."
Lawrence had offseason back surgery – his third since the 2015 season ended – to clear up an issue that led to pain shooting down his legs last season.
"It's different this time because it's not a bulging disc, it's just a herniation," Lawrence said of the differences between the first two surgeries and the most recent. "You've got to clean the herniation out, sew it back up and you're good to go. Especially eight years in the league and understanding the game, it's all about working smart, not working hard and dumb. Being able to get my feet back underneath me and work myself back underneath me and work myself back in with the boys, I feel like I'm in a good spot."
Lawrence did not miss a game last season and had a team-high 6.5 sacks to go along with 37 quarterback pressures.
Cooper did not miss a game either, finishing with a career-high 92 catches for 1,114 yards and five touchdowns, but after the Pro Bowl he had bone spurs removed from his ankle that exacerbated and old injury in his right ankle that has since cleared up.
He stepped up his conditioning work this week to a higher level.
"It's really been intentional that's it," Cooper said. "You set the goals you want in terms of weight, speed, quickness and you can feel a difference." Both players have leaned up.
Lawrence said he has played at 245 pounds the last four seasons and is listed at 254 pounds by the Cowboys.
"To take stress off the back," he said. "My doctor was telling me sometimes even if you're 260 that could be still too much weight on your back. So try to lean up, eat good and put muscle back on me."
Cooper said he played at 225 pounds the last three seasons after entering the league at 212 pounds in 2015.
"You see Julio (Jones) that's like the guy at Bama and I was accustomed to being smaller already. Not small, but smaller/quicker/faster receiver," Cooper said. "I wanted to be that guy who was big with all those qualities. Just like big, strong, fast. I did it, it was cool. But I didn't really notice a difference in terms of it was harder to tackle me. I was playing the same at the line of scrimmage, guys couldn't really touch me so I just don't feel like I need to be that big anymore. "I'm 215 now, I'm going to try to play at 210. You might not even be able to see me running."