Source — QB Aaron Rodgers not at Green Bay Packers OTAs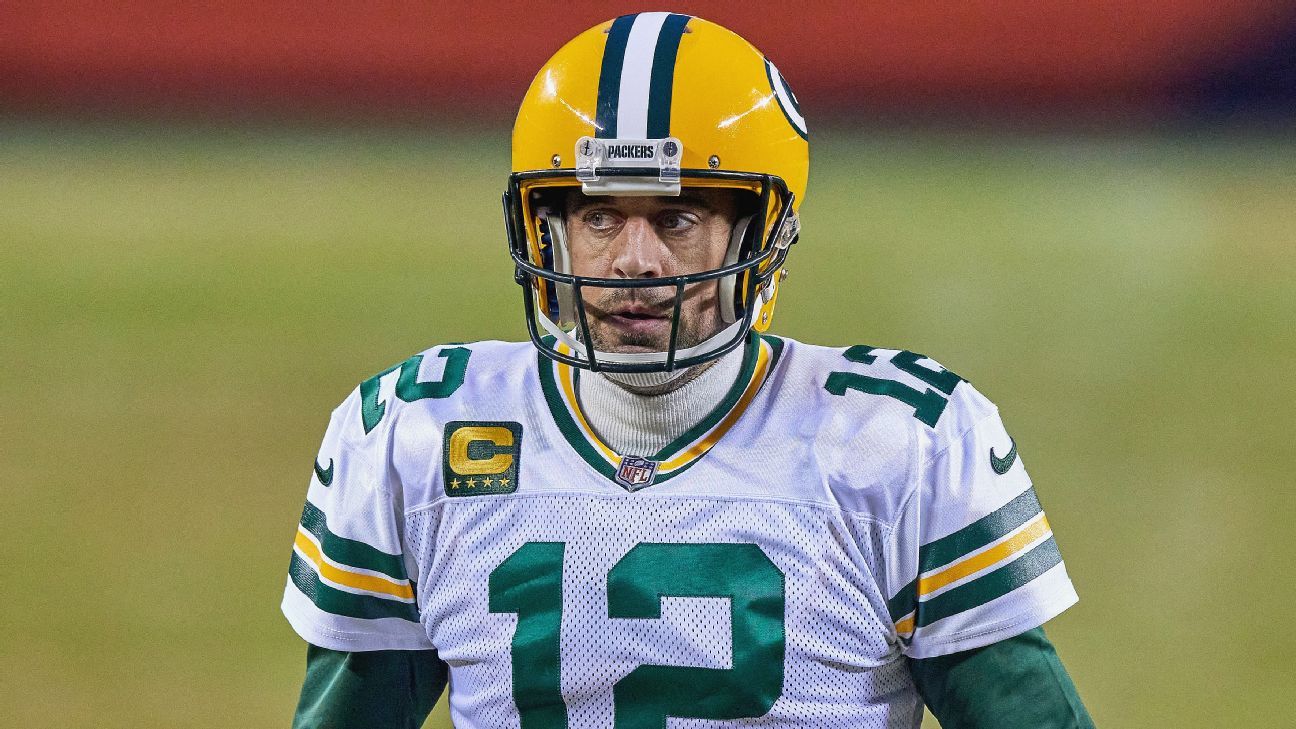 GREEN BAY, Wis. — Aaron Rodgers was not among the group of Packers players who reported to Lambeau Field on Monday for the start of organized team activities, a source told ESPN.
That came as no surprise to the team, given that Rodgers did not participate in phase 1, which the Packers held virtually for the previous four weeks, or phase 2, which was held in person last week. However, Rodgers has been a regular participant in the offseason program and OTAs throughout his career.
Phase 3, which includes 10 total days of work spread over four weeks, began Monday. The first session open to reporters is Tuesday.
The entire offseason program, excluding the June 8-10 mandatory minicamp, is voluntary. However, Rodgers is one of 19 Packers players with an offseason workout bonus. He already has missed enough to disqualify him from cashing his $500,000 bonus.
It's another sign that nothing has changed in the standoff between the Packers and Rodgers, who has told some in the organization that he does want to play there again after spending the first 16 years of his NFL career in Green Bay.
The Packers have maintained that they have no desire to trade Rodgers and want him to return for "2021 and beyond," as Packers president Mark Murphy put it.
"I've got nothing new to update, and we still obviously feel the same way," Packers coach Matt LaFleur said during rookie minicamp earlier this month. "We want him back in the worst way. I know he knows that, and we'll continue to work at it each and every day."
The Packers signed two quarterbacks last week: veteran starter Blake Bortles and former Atlanta Falcons practice squad player Kurt Benkert, to go along with Rodgers and Jordan Love.
Love participated in last week's rookie development program. Even though he's a second-year player, he was eligible for the program because of an exemption that allows quarterbacks who played fewer than 25% of the snaps as a rookie to participate. Love did not take a single snap last season as a rookie. He was inactive for every game and served as the No. 3 quarterback in practice.
If Rodgers does not report for next month's minicamp, he is subject to a fine of $93,085 ($15,515 for the first missed day, $31,030 for the second missed day and $46,540 for the third missed day).
It would get even more expensive come training camp. There is a mandatory fine of $50,000 per day missed, plus one week's regular-season salary for each preseason game missed.
Patriots' precedent could be key factor in a Stephon Gilmore resolution – New England Patriots Blog
FOXBOROUGH, Mass. — Quick-hit thoughts/notes around the New England Patriots and NFL:
1. Gilmore resolution?: When Patriots cornerback Stephon Gilmore told longtime NFL reporter Josina Anderson that he isn't pushing for a trade, but "I just want what I'm worth, however that plays out," it naturally sparks one of the most important questions facing the team entering training camp.
Can they, in Gilmore's words, "find common ground and get it situated"?
Based on how the team has traditionally handled similar situations in the past, and with the Patriots' 2022 salary-cap standing in mind, the answer might come down to Gilmore's expectations.
In 2018, the Patriots added $4.3 million in incentives to tight end Rob Gronkowski's contract, the second year in a row they did so. They also added $5 million in incentives to quarterback Tom Brady's contract in 2018, giving him a chance to get closer to the market.
Precedent can be important for teams in negotiations, and with that in mind, adding easily-earned incentives to Gilmore's contract would fall most closely in line with the Patriots' approach of finding common ground.
But if Gilmore is shooting for more, he could point to what the team did with Richard Seymour in 2006. Seymour had one year remaining on his six-year rookie contract, but after holding his ground in negotiations, landed a four-year, $30 million contract that would have been similar to what he might have received on the open market.
That situation was more of an outlier in the coach Bill Belichick era, although Gilmore's agent, Jason Chayut, is certainly familiar with it because he was the agent for wide receiver Deion Branch's contract dispute with the team that led to a trade later that year.
Part of what the current-day Patriots would be wrestling with regarding a possible extension for Gilmore — in addition to his age (31) and the fact he's coming off a torn quad — is their position with the 2022 salary cap. They currently have $201.7 million in total commitments, according to Patriots cap wizard Miguel Benzan, and the ceiling for next year's cap is $208 million.
While that number factors in that everyone currently under contract for 2022 will be on the team (which is unlikely), it's still close enough to the cap ceiling that the Patriots might want to be judicious with how much more they commit financially for next season.
2. Trade request: After the agent for 2019 Patriots first-round draft pick N'Keal Harry formally requested a trade almost two weeks ago, it highlighted how Harry's future with the team is uncertain. The trade request also had me thinking of past "change-of-scenery" deals in the Belichick era, when the Patriots gave up a once-highly-touted player in exchange for a similar player. The 2006 deal in which wide receiver/returner Bethel Johnson (2003 second-rounder) was shipped to the Saints for defensive tackle Johnathan Sullivan (2003 first-rounder) was one that came to mind, and if the Patriots ultimately trade Harry, that's the type of deal I could envision — and it might be more likely to come later in the preseason.
3. Cam, QBs in early: While the majority of Patriots players report for training camp July 27, Cam Newton and his fellow quarterbacks are set to arrive Thursday, as Newton himself noted in his interview with ESPN Radio's "KJZ" show. So this is their last football-free weekend, and the coaches' last, until what they hope will be mid-February. Meanwhile, teams are also allowed to bring in their entire rookie class seven days before the veteran reporting date, so quarterback Mac Jones, defensive tackle Christian Barmore, defensive end Ronnie Perkins and Co., will also get a head start. That increases some urgency to finalize contracts for Barmore and Perkins, the team's lone unsigned draft picks.
Cam Newton discusses what's motivating him heading into his second season with the Patriots, plus his relationship with rookie QB Mac Jones.
4. Judge on BB: Former Patriots special teams coordinator Joe Judge, who is set to enter his second season as the New York Giants' coach, was a guest on "The Flying Coach" podcast hosted by Los Angeles Rams coach Sean McVay and Peter Schrager of NFL Network's "Good Morning Football" program and Fox Sports. Judge peeled back the curtain on what it was like to work under Belichick — from feeling his job being threatened in a full-squad meeting, sharing his first meeting with him, to relaying how when he first became special teams coordinator, Belichick also assigned him to a leading role in the rookie development program. Judge said that experience helped give him a big-picture feel for team culture, setting the stage for him to elevate to his current position.
5. Moton deal stings: The Panthers' four-year, $72 million extension with right tackle Taylor Moton, which represented the only extension for a franchise-tagged player prior to last Thursday's deadline, has a notable Patriots twist to it. The Panthers selected Moton with the second-round pick (No. 64) they received from New England in exchange for veteran Kony Ealy and a third-round pick (No. 72). Ealy never made it out of training camp that year, and the Patriots traded down from No. 72 after multiple players that might have looked good in New England colors (e.g. Moton, Alvin Kamara, Cooper Kupp, Dan Feeney) went off the board between picks 64 though 71.
6. Checking in: Three-time Pro Football Hall of Fame finalist Richard Seymour was vacationing in the area earlier this week, visiting two of his aunts who live in Boston, and expanded his itinerary with a stop at Gillette Stadium to visit team owner Robert Kraft and others. It was a reminder that his connection to the organization remains strong, and the days of contractual battles and being traded to the Raiders (in 2009) are in the rear-view mirror.
7. Adams reports early: Count defensive tackle Montravius Adams in the category of checking into training camp early. The 2017 third-round draft choice of the Green Bay Packers, out of Auburn, is hoping a fresh start in New England helps him meet draft-slot expectations, and he's all-in on embracing the team's culture.
8. Kraft's gesture: ESPN's documentary "Born To Play" chronicled a season with the Boston Renegades women's tackle football team, and the Renegades have had more success since it was released in July 2020. They play for their third straight national championship July 24 in Canton, Ohio, and they're traveling in style — on the Patriots' team plane. It's a nice gesture by Kraft and of one championship organization helping another.
9. They said it: "If there's some sort of a Hall of Fame for what he's done, he needs to be in it. Because he's a silent hero. He really is." — Pro Football Hall of Famer and former Patriots guard John Hannah (1973-85), speaking on recently-retired longtime Patriots assistant Ernie Adams, on the "Pats from the Past" podcast. Another nugget from Hannah in the podcast with co-hosts Matt Smith and Bryan Morry: The Raiders' Howie Long and the Jets' Joe Klecko ("had great leverage, never quit") were cited as the two best all-around defensive linemen he faced.
10. Did You Know: The Patriots have finished in the top 10 for fewest points allowed in each of the past nine seasons, and if they accomplish the feat in 2021, they will match the Tampa Bay Buccaneers (1996-2005) as the last team to do so in 10 straight seasons. The Patriots ranked seventh last season.
Better, worse or the same? Ravens defense focused on being the best – Baltimore Ravens Blog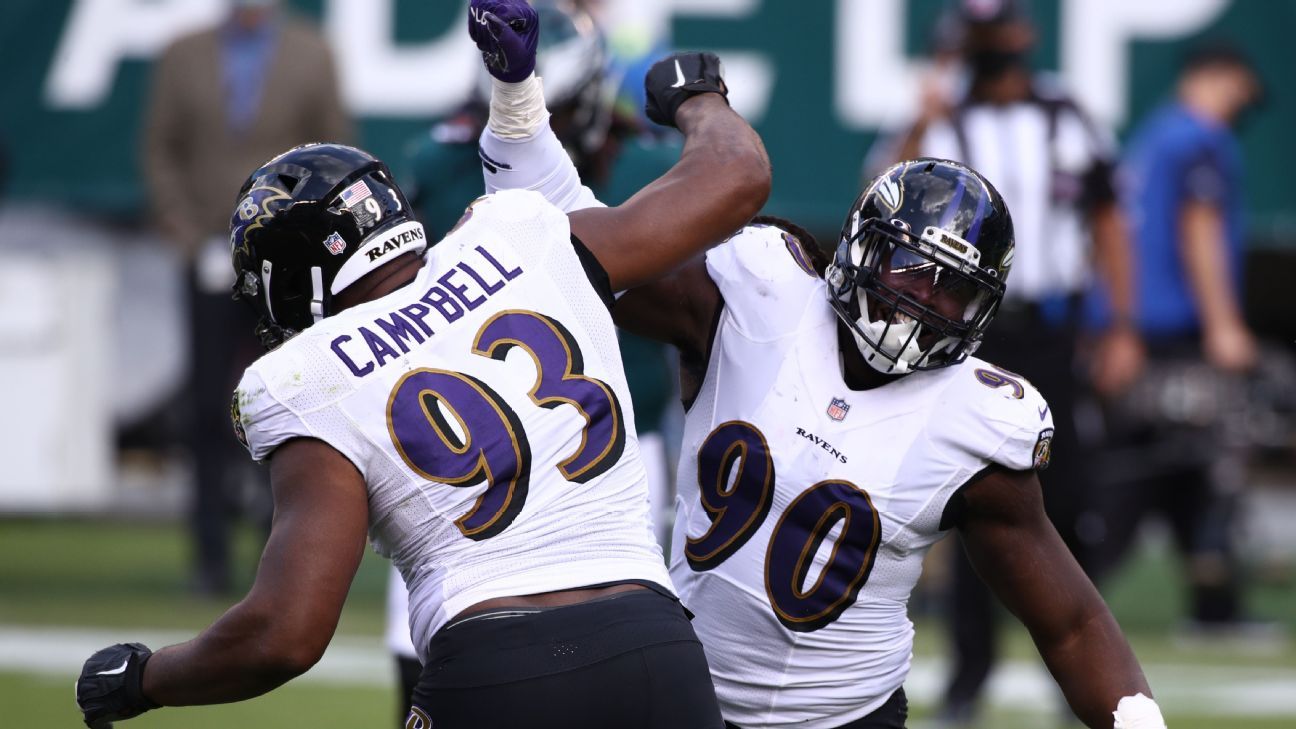 OWINGS MILLS, Md. — Continuity is key for the Baltimore Ravens' defense, and it starts at the top.
In Don "Wink" Martindale's three seasons as defensive coordinator, Baltimore ranks first in the NFL in fewest yards given up (307.8) and fewest points allowed (18.2). This season, the Ravens return all but one starter, losing outside linebacker Matt Judon to the New England Patriots in free agency.
Baltimore has the makings of being the NFL's No. 1 defense for the third time in franchise history. The biggest concern is generating a consistent pass run, and Baltimore could sign a veteran free agent like Justin Houston before the start of the season.
As of right now, are the Ravens better, worse or the same on defense?
After breaking down the Ravens' offense, here is a position-by-position analysis of the defense for 2021:
Defensive line
Additions: Jovan Swann
Losses: Jihad Ward
Returners: Calais Campbell, Brandon Williams, Derek Wolfe, Justin Madubuike, Broderick Washington Justin Ellis, Aaron Crawford
Better, worse or the same? Same, although Campbell could change that.
Baltimore brings back all three starting linemen from last season — Campbell, Williams and Wolfe — each of whom is over 30. The Ravens are hoping this group can be more disruptive this year because a calf injury and COVID-19 never allowed Campbell to play like himself. If Campbell can bounce back at this late stage of his career (he turns 35 before the start of the season), the Ravens can cause problems up front. If he doesn't, this group regresses.
This can be a breakout season for Madubuike. Coaches and teammates raved all offseason about Madubuike's high effort and his explosiveness in getting out of his stance. It wouldn't be surprising if Madubuike forced his way into the starting lineup this season.
Inside linebacker
Additions: Barrington Wade
Losses: None
Returners: Patrick Queen, L.J. Fort, Malik Harrison, Chris Board, Kristian Welch, Otaro Alaka
Better, worse or the same? Same
A year after infusing this position with young talented players, the Ravens retained the core middle of their defense. Queen, who finished third in NFL Defensive Rookie of the Year voting last season, believes he will be more physically ready for this season after a full offseason. A big focus for Queen was improving in pass coverage.
At the weak side, Baltimore split playing time between Fort and Harrison last season. The Ravens brought back Fort as a safety net, but they would love to see Harrison step up and take over this spot.
Outside linebacker
Additions: Odafe Oweh, Daelin Hayes
Losses: Matt Judon, Yannick Ngakoue
Returners: Tyus Bowser, Pernell McPhee, Jaylon Ferguson, Aaron Adeoye, Chauncey Rivers
Better, worse or the same? Worse
You don't lose your best outside linebacker in Judon and say you got better. Plus, Baltimore parted ways with its second-most accomplished pass-rusher in Ngakoue, who proved to be a bad fit. No current Ravens outside linebacker has produced more than five sacks in a season since 2016, which is why many expect Baltimore to sign a more established pass-rusher like Houston or Melvin Ingram at some point.
Bowser and McPhee were re-signed to become the veteran anchors on the outside. Coaches and teammates have raved about the growth of Ferguson, a former third-round pick, who has a disappointing 4.5 sacks in his first two seasons.
The Ravens are excited about Oweh, a first-round pick who should make an instant impact because he has picked up the defense quickly. He's not the typical rookie who hesitates because he's thinking about his assignment. Hayes, a rookie fifth-round pick, stood out in offseason practices.
Cornerback
Additions: Brandon Stephens, Shaun Wade, Chris Westry
Losses: Tramon Williams
Returners: Marlon Humphrey, Marcus Peters, Tavon Young, Jimmy Smith, Anthony Averett, Khalil Dorsey, Davontae Harris, Iman Marshall
Better, worse or the same? Same
It will be tough to find a deeper cornerback group than this one. Humphrey is a physical playmaker, and Peters is a top-tier ball hawk.
You could argue the Ravens' cornerbacks will be better if Young remains healthy. A game-changer at nickelback, Young has been limited to 17 games over the last four seasons because of injuries.
It's quite a luxury to have Smith and Averett as your fourth and fifth corners. Smith has started 88 career games, and Averett could compete for a starting job on other teams.
Safety
Additions: Ar'Darius Washington
Losses: None
Returners: Chuck Clark, DeShon Elliott, Anthony Levine, Jordan Richards, Geno Stone, Nigel Warrior
Better, worse or the same? Same
Clark and Elliott are back for their second year together after a solid 2020 season. Clark has been called the quarterback of the secondary, and Elliott can be a physical enforcer with his hard hits.
The Ravens lack depth here after not addressing this position in free agency or in the draft. Smith, a long-time corner, has the skills to transition to safety if Baltimore is in a pinch. Stephens, who is listed as a corner, was projected by general manager Eric DeCosta as a possible candidate for free safety.
Indianapolis Colts owner Jim Irsay buys Elton John's touring piano for $915,000
INDIANAPOLIS — Jim Irsay continued to add to his already vast music collection when the Colts owner tweeted Saturday that he purchased the piano used on tour for decades by music legend Sir Elton John.
Irsay reportedly purchased the Steinway & Sons Model D Grand Piano for $915,000 during an auction conducted by Heritage Auctions on Saturday in Dallas.
"Just added to the collection," Irsay tweeted.
Elton's piano. Just added to the collection.

— Jim Irsay (@JimIrsay) July 17, 2021
The piano, which was used on tours during the 1970s through the 1990s, was signed by Elton, with the inscription, "Enjoy this as much as I have, Elton John" on the frame.
One of Irsay's biggest passion — outside of owning the Colts — is collecting memorabilia.
Some of the most memorable things Irsay owns are guitars previously used by Elvis Presley, John Lennon, Paul McCartney, George Harrison and Prince.
Irsay also has handwritten lyrics to "With God on Our Side" from Bob Dylan, a drum head used and signed by Grateful Dead drummer Mickey Hart, the piano used by Lennon to compose songs for "Sgt. Pepper's Lonely Heart Club Band," a drum kit from the Beatles' Ringo Starr, a tomato soup wrapper signed by Andy Warhol and the script from the movie "Jerry McGuire."