EPL news 2021, Arsenal, results, final Premier League position, transfers, gossip, rumours, whispers, Mikel Arteta, latest
It's been a while since Arsenal were in the conversation. Any conversation, actually.
They spent the entire season flirting with both the top half of the table and the bottom half, without committing to either. They neither looked in any sort of perilous danger nor briefly threatened to string together enough form to challenge for Europe.
Neither alive nor dead, Arsenal just lived in some sort of mid-table purgatory this season and it's going to take something big to shock them into life.
The Gunners, who were shooting with the safety on all year, finished eighth for the second consecutive season – their lowest consecutive finishes since the 1974/75 and 1975/76 seasons.
But compared to last season, they didn't even have the FA Cup and a subsequent Europa League qualification to lean on. In an apparent show of solidarity with the UK and Brexit, they will spend next season outside of Europe for the first time since 1990 – the longest active streak in English football.
Watch Every Match of The 2020/21 A-League Season Live & On-Demand on Kayo. New to Kayo? Try 14-Days Free Now >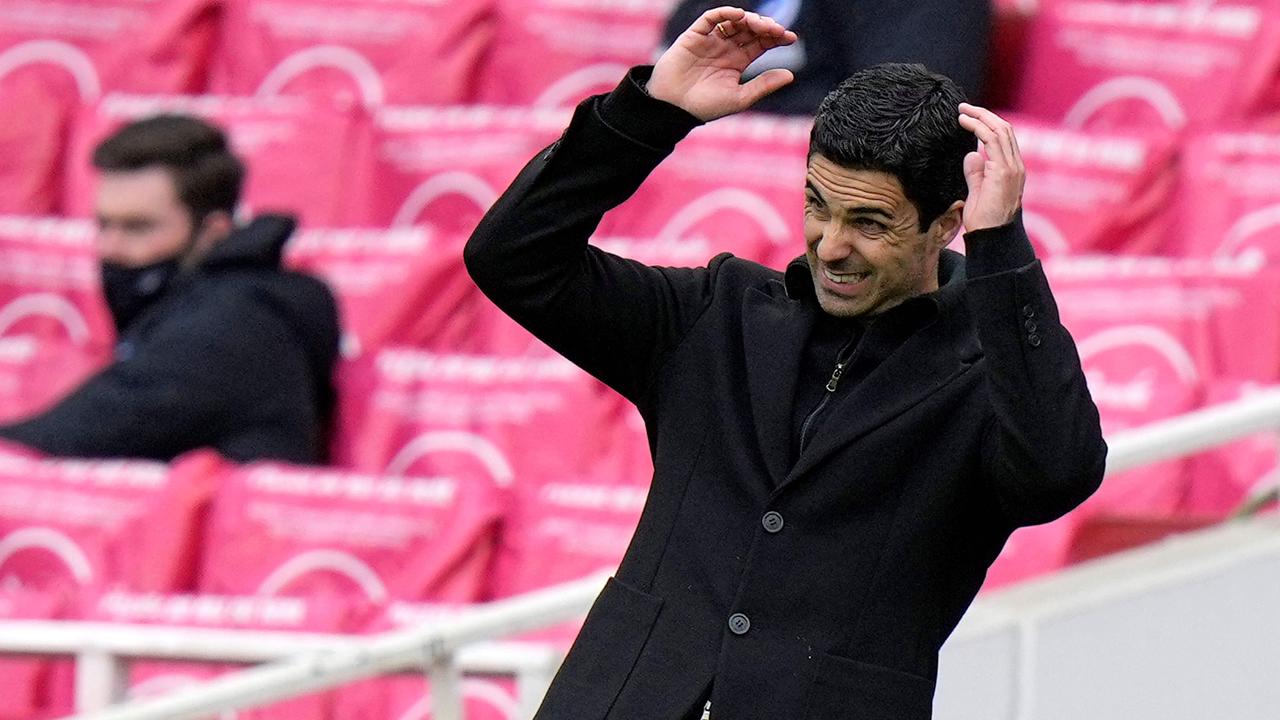 So where do they go now?
Logically, the only way is up. Realistically, down looks just as likely.
Only five wins from their final five games kept them in the top half of the table and very nearly earned Arsenal the inconvenience of qualifying for the Europa Conference League, which went to Spurs, who ensured that Gunners fans once again couldn't even celebrate St Totteringham's Day – the once annual celebration of the moment their North London neighbours could no longer mathematically finish ahead of them.
That was a yearly occurrence under Arsene Wenger, as was challenging for trophies, finishing in the top four and getting into the latter stages of the Champions League.
Those traditions may have deserted Wenger in his final two seasons at the club, but given the struggles Unai Emery and Mikel Arteta have suffered and how they've handled them, it's becoming clear just how much of an admirable job the Frenchman actually did even then.
Statistics can be easily manipulated to prove a point and often they even hide the true story. But in Arsenal's case, they paint a damning picture of just how far they have fallen.
This year brought the second fewest wins in any season since 1995/96, the lowest was also under Mikel Arteta the year before. It has also brought the joint most defeats in a Premier League season since 1994/95.
So much major surgery is needed. It's difficult to tell if Arteta is being let down by the players or vice versa at this stage and while it is always cheaper and easier to replace a manager, this Arsenal squad needs experienced, successful players to help their exciting young guns fire.
Spurs deny Foxes Champions League berth | 01:28
Bukayo Saka, Emile Smith-Rowe, Gabriel Martinelli and Reiss Nelson all have big futures ahead of them and Rob Holding has emerged as an unlikely captain in the heart of defence. But more spinal strength is needed.
Arsenal's most experienced players include a departing David Luiz, former captain Granit Xhaka, a past-it Willian and a shadow of the player formerly known as Pierre-Emerick Aubameyang.
Worringly, Willian was their highest assist maker this season with just five in the Premier League, while their top scorer, Alexandre Lacazette, is not a guaranteed starter despite his 13 goals.
They've sacked their head of transfers for green-lighting the £72m splurge on Nicolas Pepe – something bound to fill him with bags of confidence – and will see young creative midfielders Dani Ceballos and Martin Odegaard return to Real Madrid.
In a transfer window where generational talents the likes of Kylian Mbappe, Erling Haaland, Harry Kane and Jadon Sancho will be on the market, Arsenal will not be at the negotiating table for any of them.
So yes, major surgery is desperately needed, but with a closed-handed owner who is inspiring weekly protests against him, the club is likely going to have to continue to limp on without it.
If they are patient, and willing to wait around for their young stars to mature around some ageing pros, they could see themselves replicate Tottenham under Mauricio Pochettino and have a team full of self-made stars.
If they are not, and Arteta could become the latest head to roll, and Premier League purgatory could become permanent.
Liverpool warned Jordan Henderson will have 'options' as Reds face own Paul Pogba scenario
Liverpool midfielder Jordan Henderson will be out of contract at the end of next season.


Source link
Real Madrid could sign three free agents as Raphael Varane seals Man Utd transfer
Raphael Varane has a deal in principle to join Manchester United this summer.


Source link
qualifying, results, Celtic vs Midtjylland, reaction, Ange Postecoglou, score, goals, football news
Celtic failed in their latest Champions League campaign Wednesday, going down 2-1 after extra-time at Denmark's Midtjylland as the Scots crashed out in the second round of qualifying 3-2 on aggregate.
Celtic, the first British club ever to be crowned European champions in 1967, getting in a year ahead of Manchester United, had only themselves to blame as they squandered the lead to drop into the far less lucrative Europa League, where they will now take on Czech side Jablonec.
Callum McGregor fired in a scorcher to give them hope, volleying home following a corner to put Celtic ahead three minutes after half-time.
Watch LIVE coverage of The 2021/22 Scottish Premier League with beIN SPORTS on Kayo. New to Kayo? Try 14-Days Free Now >
Manchester United set to sign Varane | 00:35
James Forrest should then have all but killed the tie, only to fluff a gilt-edged chance for the visitors just after coming on.
The Glaswegians, under their new Australian coach Ange Postecoglou, lived to regret that as Midtjylland drew level just after the hour as Awer Mabil, with 17 Australia caps to his credit, headed beyond keeper Scott Bain.
Celtic promptly fell behind on the night and on aggregate four minutes into the first period of extra-time, Raphael Onyedika firing home from close range amid confusion in the Celtic defence after a freekick routine.
The reaction was fierce post-game but in defence of Postecoglou.
"No surprise Celtic going out," ex-Celtic player Chris Sutton tweeted.
"Ange Postecoglou has been dealt the worst hand of any Celtic manager in the last 20 years. The powers that be should be ashamed of dealing him this hand.
"Years of acting too slow and bringing in players too late but this season is something else."
Speaking on Premier Sports, Sutton was adamant none of the blame should be placed on Postecoglou.
"Dominic McKay should be phoning up Ange Postecglou and apologising," he said.
"This is on the board and not the manager"
John Hartson, meanwhile, warned that a return towards consistent success will not come quickly.
"Celtic are in a massive transition," he said on Premier Sports.
"It's going to take, for me, two years to get back on track."
"It's a huge blow but I think you'll find a huge number of Celtic supporters who won't be surprised," Sky Sports expert Andy Walker said.
"The lack of preparation for season-defining games has left the new manager cruelly exposed."
The loss was described as a "catastrophe" but Postecoglou hit back in an interview with BBC, declaring: "This is far from the end".
"It's pretty strong language mate, I don't know what your version of catastrophic is but it certainly doesn't fit my definition of what happened tonight," he said.
"This is obviously a disappointing night, disappointing we didn't get through, I can't fault the effort of the players, I think they worked their socks off, we controlled the game.
"We scored and then had a good chance to go 2-0 up and then straight away they scored and we lost a bit of momentum.
"No, catastrophic to me means the end. This is far from the end.
"You are suggesting this is a club falling apart and our season is finished, I don't see it that way.
"Yes, it's absolutely disappointing, Champions League football is a priority but I can't ask any more of the players.
"We have our league campaign starting on Saturday.
"Blame? We don't blame people, I take responsibility, the responsibility is mine.
"You are using really strong language for something I don't think merits that sort of view."
The Danes now go on to face experienced Dutch outfit PSV Eindhoven, who won 2-1 away at Turkey's Galatasaray for a 7-2 aggregate success, in the third qualifying round.