Rams return Aaron Donald and Jalen Ramsey but defense questions remain – Los Angeles Rams Blog
THOUSAND OAKS, Calif. — With the promise of an improved offense, the Los Angeles Rams' defense is preparing for an encore performance.
Last season, three-time Defensive Player of the Year Aaron Donald and All-Pro cornerback Jalen Ramsey spurred the unit to the top of the NFL.
Both star playmakers return after a 10-6 season that resulted in divisional playoff loss to the Green Bay Packers. So does outside linebacker Leonard Floyd, who signed a four-year, $64 million deal after a career-best campaign in which he tallied 10.5 sacks.
But gone is defensive coordinator Brandon Staley, who inherited a defense that ranked ninth in efficiency and improved it to first in his only season before departing to become the Los Angeles Chargers' head coach. Enter defense coordinator Raheem Morris, who held the same post last season with the Atlanta Falcons for five games before being promoted to interim head coach.
Morris takes over a defense that allowed a league-low 18.5 points in 2020. He is expected to maintain what Staley installed, including the base 3-4 scheme, but will add some of his own wrinkles to shape a unit that can propel the Rams to Super Bowl LVI at SoFi Stadium next February.
"I don't think it's pressure," Morris said at his introductory news conference when asked about taking over the league's top-ranked defense. "I think it's more of an opportunity."
Last season, the Rams ranked No. 1 in passing yards allowed per game at 190.7. They ranked No. 3 against the run, allowing only 91.3 rushing yards per game.
However, there's room for improvement, especially at creating turnovers. The Rams forced 22 turnovers last season, which ranked 10th, and intercepted 14 passes, ranking 12th.
Entering the NFL draft last month, Rams coach Sean McVay said the Rams did not have any glaring holes that needed to be filled. Along with Donald, Ramsey and Floyd, the Rams also return cornerback Darious Williams, whose coming off a breakthrough season that included four interceptions, and defensive tackle Sebastian Joseph-Day, a former sixth-round pick who is entering his third season as a starter.
But some of their key playmakers have departed.
Four defensive starters left this offseason, including veteran defensive lineman Michael Brockers — who was traded to Detroit — outside linebacker Samson Ebukam, cornerback Troy Hill and safety John Johnson III.
The Rams used five of their nine draft picks to select defensive players: South Carolina linebacker Ernest Jones, Texas A&M defensive lineman Bobby Brown III, Central Arkansas cornerback Robert Rochell, Northwestern defensive lineman Earnest Brown IV and Concordia-St. Paul outside linebacker Chris Garrett.
"You look at each of them and there's a vision that we have for them and how they fit, how they provide value for a football team," said McVay, who's entering his fifth season as coach.
A third-round pick, Jones is expected to compete for playing time in a linebacking corps that has struggled with health and depth the past two seasons.
"I'm going to deliver whatever they tell [me] and the tasks they put in front of me," Jones said. "It's going to get handled on my end."
The Rams used two of their picks to bring in reinforcements for the defensive line.
Bobby Brown III, a fourth-round pick, admitted in the moments after he was drafted that Donald was among his favorite players. Coming off a 13.5-sack season, Donald will attempt to make a quick study of Brown as the two try to build a chemistry that Donald built over seven seasons playing alongside Brockers, a first-round pick in 2012. Their first meeting was a positive step in that direction.
When you finally get to meet @AaronDonald97.

Wholesome content only @bobbyiii5 🥺 pic.twitter.com/aZ2XCTkp8s

— Los Angeles Rams (@RamsNFL) May 17, 2021
"Bobby is a large human being, very athletic, very strong," Rams general manager Les Snead said. "So, definitely felt like he was worthy of picking there at the start of the fourth round based on that skillset."
And Earnest Brown IV, a fifth-round selection, has the ability to play multiple spots like former Rams defensive lineman Morgan Fox, a key role player who signed with Carolina in free agency.
"He's someone that can add versatility of maybe playing inside and also outside a little bit," Snead said of Brown IV.
The Rams' rookie minicamp was more an orientation and less football instruction. The rookies will be thrown into the mix during voluntary team organized activities, which got underway this week, and the Rams are scheduled to hold mandatory minicamp the second week of June.
As Morris' defense begins to take shape, several key questions must be answered through the offseason: Who will step up to rush the passer opposite of Floyd? Who will take over as the signal-caller — a role previously held by Johnson? And how will Donald and Ramsey be deployed to keep opponents guessing?
Second-year pro Terrell Lewis and Ogbonnia Okoronkwo will compete to earn the starting spot on the edge. Morris could opt to send signals in via linebacker or safety — perhaps Taylor Rapp, who is expected to fill in for Johnson, who signed with Cleveland in free agency.
And as for Donald and Ramsey, watch for Morris to utilize their talents in a similar way that Staley did, lining them up in sometimes unexpected spots or formations to maximize their ability and allow them to make plays on the football.
Minnesota Vikings add depth to wide receiver corps, sign veteran Dede Westbrook, agency says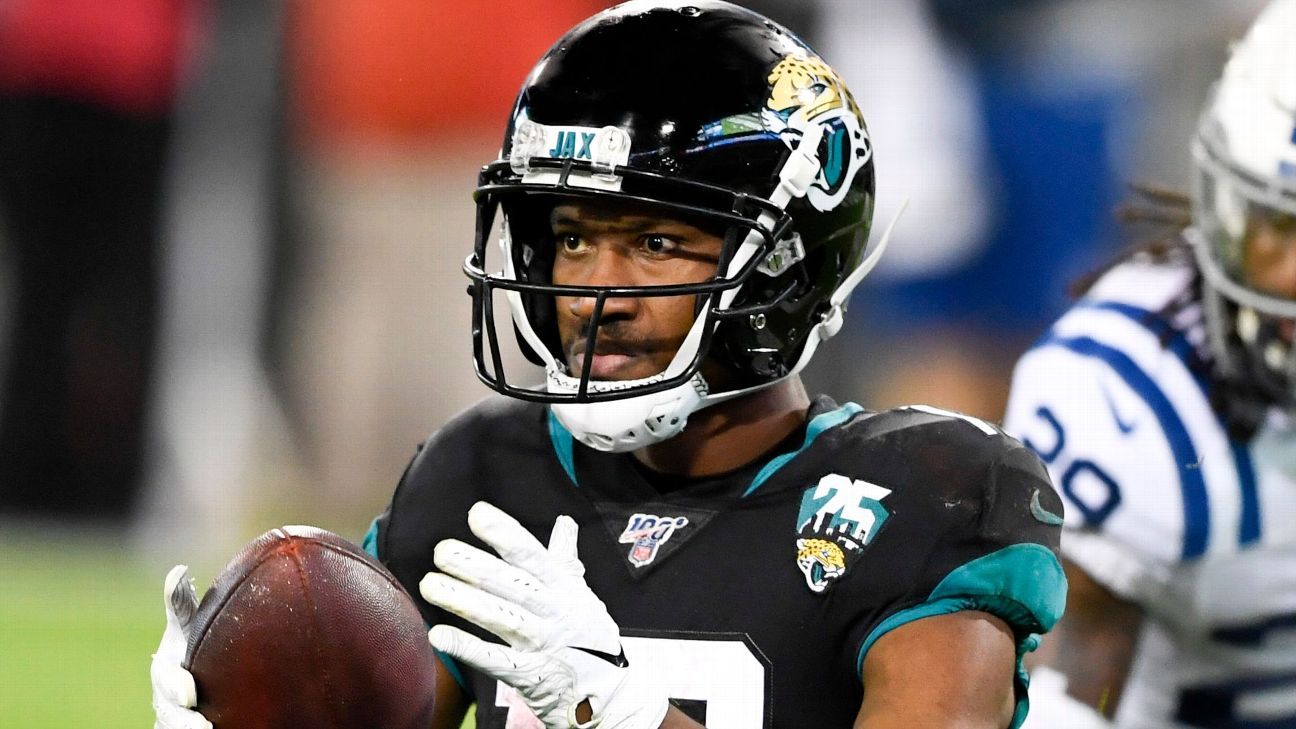 EAGAN, Minn. — The Minnesota Vikings made an addition to their receiving corps three days ahead of the start of training camp.
Former Jacksonville receiver Dede Westbrook signed with the Vikings on Sunday, his agency Young Money APAA Sports announced. The length of Westbrook's contract is for one year, a source told ESPN.
A former fourth-round selection by the Jaguars in 2017, Westbrook will reunite with Vikings wide receivers coach Keenan McCardell for a fifth consecutive season. McCardell coached wide outs in Jacksonville from 2017-20.
Westbrook was brought in to Minnesota for a workout on Saturday. The 27-year-old receiver was inactive for five of the first seven games in 2020 while recovering from injuries that limited him dating back to training camp and sustained a season-ending ACL tear in Week 7. He finished the 2020 season having appeared in two games (Weeks 5 and 7) and finished with one catch for four yards.
During the 2018 and 2019 seasons, Westbrook totaled 66 catches each year for at least 660 yards and three touchdowns.
Seeking depth behind Adam Thielen and Justin Jefferson, the Vikings will now have Westbrook compete for the No. 3 receiver role along with veterans Chad Beebe, Bisi Johnson and a handful of rookie receivers signed this spring. Westbrook could also potentially be in the mix as a returner given his experience on punt return (42 returns for 398 yards and a touchdown in 2018-19) and limited experience on kickoff return in 2018 and 2020.
Pittsburgh offensive lineman Trai Turner ready for 'new era' on Steelers' rebuilt offensive line
PITTSBURGH — Signed just a day after the Pittsburgh Steelers released longtime right guard David DeCastro, Pro Bowl lineman Trai Turner isn't viewing himself as a direct replacement of DeCastro. Instead, he sees himself as one part of Pittsburgh's rebuilt offensive line.
"I just look at it like it's a new era, a different time, different place," Turner said Sunday. "Everything has an expiration date at some point. DeCastro is a great player, and I wouldn't necessarily say I'm replacing him, I'm just the new right guard.
"I'm going to be the best Trai Turner I can be. I've been that since I was born June 14, 1993. That's never changed. I'm not trying to emulate or be somebody else. I'm not taking place of nobody else, I'm not replacing anything. I'm coming in, and I'm setting the tone for who I am and for what I do."
Though he's only been a Steeler for a month, Turner, who signed a one-year, $3 million contract in June, is the most veteran of the projected starting offensive linemen, with seven seasons under his belt. The four other projected starters on the line — Chukwuma Okorafor, Kendrick Green, Kevin Dotson and Zach Banner — have just 24 combined NFL starts. Only one of those starts was at the position where the player is projected to line up this season.
Even after observing just a handful of camp practices, offensive coordinator Matt Canada saw the immediate benefit of bringing in a veteran offensive lineman like Turner.
"He had a mistake today that I didn't see on the side. As we worked he came up and knew what it was and said it right away," Canada said Saturday. "Obviously a veteran like him who's played as well as he has, I think we're very fortunate to have him and really like where he's at. And he's worked very hard to not have those mistakes, and to be as efficient as he has been in three days is really a real positive for us and him. Big fan of him."
In the four days of training camp, Turner's linemates have shifted frequently. Both Okorafor and Dotson have only done individual work, while Banner is slowly working into the rotation as he continues recovering from torn ACL in last year's season-opener.
Even Green missed a full day of practice, excused Saturday by coach Mike Tomlin for personal reasons. But Turner, who feels healthy after an injury-riddled 2020 season, sees the benefits in the constant turnover this early in camp.
"It's camp so you've got to embrace it," Turner said. "Not only do I have to get used to new guys, they have to get used to me. I think it's more of a positive than a negative that more people are in than not because you don't know who's available at all times.
"Sometimes you just have to make sure you have continuity with everyone and I think that's what we're getting. Just embracing it and hope everyone gets healthy soon and be back to full strength."
Tampa Bay Buccaneers' Leonard Fournette says he will consider COVID-19 vaccine despite tweet to contrary
TAMPA, Fla. — In a tweet that was put out Thursday and later deleted, Tampa Bay Buccaneers running back Leonard Fournette indicated he didn't want to get vaccinated for COVID-19. But on Sunday he said his decision wasn't set in stone and he is open to the idea.
"I just don't know too much about it," Fournette said after the team's first training camp practice.
Coach Bruce Arians said that rather than bringing in a specialist to address the team's concerns about the vaccine as a whole — which Washington Football Team coach Ron Rivera did — the team would make doctors available to address individual players' concerns. Fournette plans to take him up on that.
"I'm going to talk to them, and just see what's the best decision, for myself and for the team," Fournette said, adding that if he doesn't get the vaccine, he's prepared to undergo the far more restrictive COVID-19 unvaccinated player protocols that significantly impact team and social activities away from football.
"We went over the rules yesterday," Fournette said. "I know what's going on, I know what to do and what not to do."
He said he does not believe that he will be impacted in any way from a football standpoint, despite restrictions like not being able to gather with teammates outside the facility, no access to the sauna or steam room and only cold tub usage when social distancing can be followed. Failure to abide by those rules can result in a fine of $14,650 for each infraction.
"I know a lot of people who got the shot and still got the corona," Fournette. "Just taking it day-by-day, week-by-week, talking to the doctors, trying to figure out what's best for myself and the team."
Fournette said he has felt the support of teammates and coaches.
"Coach [Arians] respects our decision," Fournette said. "We're men. He said he's 100% with us, whatever we want to do. Just don't get the team sick. That's about it."
The Bucs were one of the few teams last year that did not see a significant COVID-19 outbreak, with Arians emphasizing throughout the season that they "needed to beat the virus" and not just their weekly opponents. The start of 2021 training camp had a similar feel, even as restrictions have loosened and fans have been welcomed back to practice.
"It's always on your mind," Arians said. "Florida's a hot spot in the nation. Hillsborough [County] and Pinellas [County] were No. 1 for a while. … Guys still have to be smart. We talked a lot about the delta variant and what it means, what rules you are following if your wristband's red and your wristband's yellow."