Off-the-cuff Detroit Lions coach Dan Campbell jokes about bringing pet lion to practice
If bringing a Super Bowl to Detroit required losing an arm than new Lions head coach Dan Campbell says he would be armless. Although Campbell has yet to coach an actual game in Motown, the first-year sideline leader is already making an early case as one of the most entertaining coaches in the league with his off-the-cuff style.
On Sunday, Campbell made a guest appearance on the "Pardon My Take" podcast on which he shared an idea that he actually presented to Lions owner Sheila Ford Hamp about having a pet lion around the team's practice facility.
"I don't think we're going to be able to do it, but I would love to literally just have a pet lion. Just a legit pet lion on a chain, a big ass chain, and he really is my pet," Campbell said on the podcast. "We just walk around the building, we go out to practice, we're at seven-on-seven, we're behind the kicker when he's kicking. There we are."
Campbell further imagined that the lion would be "on command." Campbell joked that if a position group wasn't performing well, he could have the lion relieve itself in front of the group.
"I mean, think about it," he said. "That would be outstanding."
Campbell also made national headlines during his introductory news conference in January, notably with his impromptu answers that included his vision for the team being tough enough to "bite a kneecap off." The lion reference was just the latest example, although he doubts it'll ever happen.
"The problem is I don't know if PETA's gonna to allow that, though. It's gonna be hard," Campbell said. "Believe me though we would take great care of it. It would be fed well, it would be petted, it would be manicured. I might end up losing an arm because of it, but that would be even better because it would validate what, this is a freaking, this a creature now. This is an animal. This thing, this is from the wild."
Ever the enigma, Chargers' Joey Bosa adjusting to new defense – Los Angeles Chargers Blog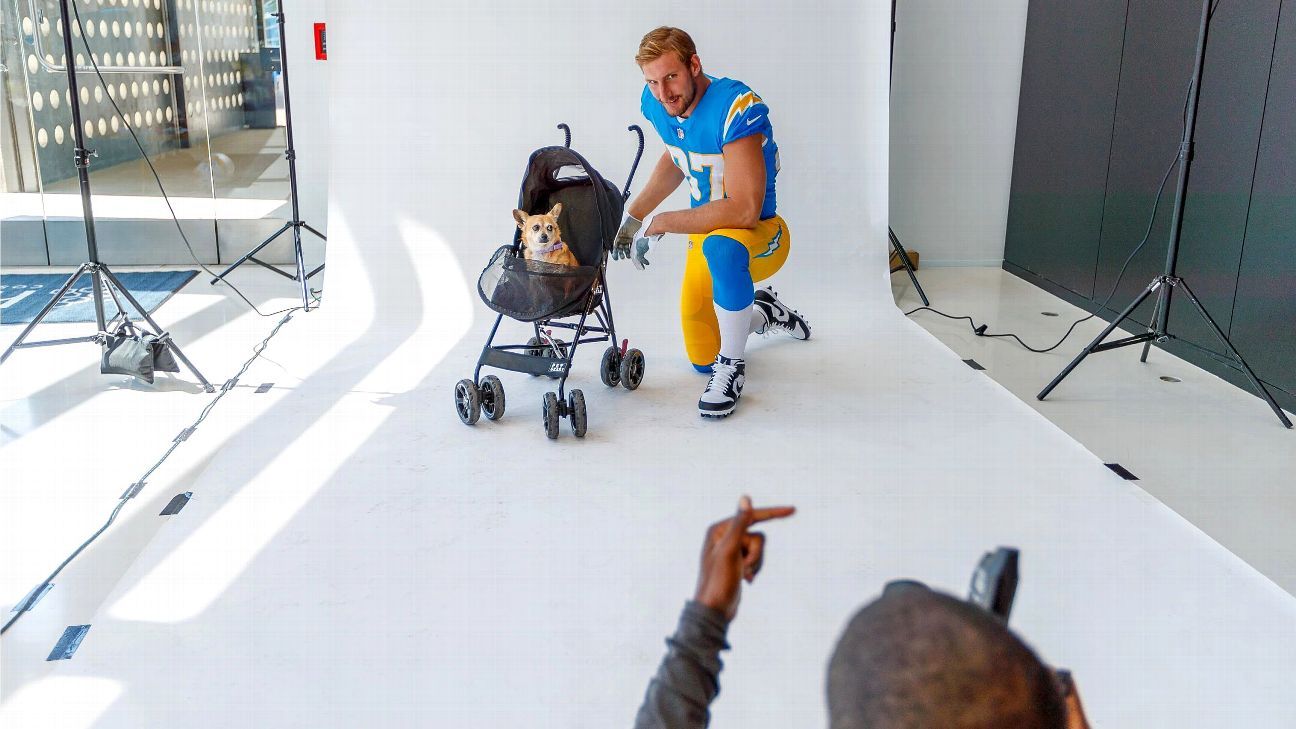 COSTA MESA, Calif. — Just when you thought Los Angeles Chargers defensive end Joey Bosa, heading into his sixth season, couldn't do anything to surprise you anymore, he comes up with this: A media day photo with a very small (and terrified) dog in a baby stroller.
"That's what he came up with?" said running back Austin Ekeler.
No, it's not his dog. He once said to a colleague, "I can barely take care of myself, much less a dog."
It is part of the Chargers' "Doggie Draft," an initiative to get shelter dogs adopted.
"It suits him," said someone perusing the photo.
Or, as another colleague mentioned, watching Bosa run around several years ago frantic to find his helmet (it was in his locker): "It's just Joey being Joey."
"no i can't come. there's a picture of a dog in a stroller with joey bosa" pic.twitter.com/n9bu1GuffI

— Los Angeles Chargers (@Chargers) June 15, 2021
Bosa is a sort of enigma, until he gets on the field. There, he wreaks havoc with anyone in his way, recording 7.5 sacks and 29 solo tackles in 2020 despite myriad injuries.
At Chargers mandatory minicamp this week, he spent a good deal of time stretching with an elastic band, taking his time to work out his muscles. Then he picked up his helmet and sprinted over to his position group to continue to learn the new defense put in by a new staff which will change the scheme to a 3-4 from a 4-3.
"It's been tough for me the last couple of days," Bosa said. "But it's an adjustment. There's a lot more to this defense than I've ever been part of before."
Which is saying a lot for a three-time Pro Bowler ranked among the top defensive ends in the league. It's especially telling following a 2020 season, where he estimates he suffered 15 different injuries.
"Luckily a lot of them were just a swollen ankle, my shin and my triceps," he said. "The concussions — there are no effects that I've been dealing with. I'm feeling good, nothing from last year."
Saying he'd only played in a 3-4 scheme a few times, Bosa admitted he'd have to work on his two-point stance and that he loved "being able to see the whole field" as he did.
That said, it is an adjustment that new head coach Brandon Staley believes Bosa, an Ohio State grad, will catch onto quickly.
"The thing that he does best is rush the passer," Staley said. "You can see why he is such a premium rusher when you're around him in person, with his hands, his quickness. His ability to process quickly on the move. … We're certainly still learning him and he's learning us. Hopefully through training camp, we can really figure out exactly where that sweet spot is for him."
Bosa, who has 47.5 career sacks, signed a five-year extension worth $135 million last summer after being the third overall pick in the 2016 NFL draft.
Once he figures out the defense, he expects to record a lot more of those sacks.
Soft and unassuming before he takes the field, he becomes — as he says — "an animal" once the whistle blows. It's something that runs in the family.
His brother Nick, recovering from a torn ACL at the beginning of last season, comes to town with his San Francisco 49ers teammates in August for joint scrimmages against the Chargers.
"I'm sure my mom and dad are over the moon," Bosa said. "It will be fun."
Beyond that, Bosa seemed fired up for the season after just two days of mandatory minicamp. Training camp starts July 27.
"We got everything we needed," he said. "It's exciting. I don't want to get too carried away, but it's exciting."
Joey being Joey.
'It's straight go-mode:' No offseason for Ravens' Lamar Jackson – Baltimore Ravens Blog
OWINGS MILLS, Md. — Lamar Jackson drove the pass 50 yards in the air and placed it in a tight window along the sideline to Sammy Watkins, who was running stride for stride with Pro Bowl cornerback Marlon Humphrey.
This was Jackson's best pass of the offseason in what became his best practice of the spring. It was a near-perfect way to wrap up the Baltimore Ravens' minicamp and begin a five-week break before the start of training camp.
Before you start talking about a month-long summer vacation, Jackson has other plans.
"It's really not the offseason anymore," Jackson said. "For us, I'll say, we've just got to keep grinding and stay in shape. We can't go backwards right now, because we already had our fun and did whatever we did during the regular offseason. Not this time; it's straight go-mode right now. The season is here."
Overall, it was an uneven offseason for Jackson. In the practices open to the media this spring, he was on-target in the red zone and up-and-down beyond that. Some deep throws wobbled and others were picked off or overthrown.
Jackson knows there's plenty of work to get done to become a consistent passer. He expects to get together with his receivers in Florida during time leading up to training camp. He didn't address whether he'll work with a personal quarterback coach, which is something he's done in the past.
What's fueling him heading into this season is how his past years ended. Jackson didn't win in the playoffs in 2018 and 2019, and he lost in the divisional round in Buffalo five months ago.
"We fell short three years in a row since I've been here," Jackson said. "And I'm always seeing teams, when they get [to the Super Bowl], it's hard work, preparation."
To get to the top, Jackson and the Ravens need to go over the top more. Jackson said a big focus this offseason is on improving the deep passing game.
Last year, the Ravens had 17 completions on throws of 20 yards or longer. Only four teams — the Los Angeles Rams, New Orleans Saints, Cincinnati Bengals and Tennessee Titans — had fewer.
"People are always saying we throw short, intermediate routes and stuff like that – little 5-yard, 10-yard routes," Jackson said. "But we had some chances last year. We hit some of them, but we're just trying to be more consistent this year, and that's where the strides happen. It starts in practice, and hopefully it transitions to the game. We've just got to keep working on it."
If defenses are going to stack the box to stop the NFL's top rushing team, Jackson and Baltimore have to figure out a way to make them pay repeatedly. Jackson connected on 37.8% of passes longer than 20 yards (17-of-45) last season, which ranked 24th in the NFL.
"I think we'll have a lot of favorable looks, and we got to be ready to take advantage of them," Ravens offensive coordinator Greg Roman said. "Our goal is to win, and if teams are giving us opportunities to throw the ball deep, it's upon us to work hard and figure that out and really take advantage of that because those are game-changing plays."
Jackson believes the key to boosting his consistency on deep throws is more about his feet than his arm.
"That's a big emphasis for me — just working on my footwork, making sure I stay open so the ball can drive, so I can put a little tight spiral on the ball," Jackson said.
Heading into training camp, the more pressing question is whether Jackson will get a new deal by the time he returns. Jackson, who is signed through 2022, has been in talks with the team about a contract extension.
Ravens coach John Harbaugh said Jackson won't get distracted if the sides are unable to hammer out a long-term deal by the start of the regular season.
"Look what he's done — he's going to get paid. He knows that," Harbaugh said. "The question becomes, what's he going to do? What's his legacy going to be as a quarterback? That's what he's focused on. That's what's so great about it. The other thing is a done deal."
Jackson, whose $1.771 million salary ranks 400th among all players this year, said his contract is a non-issue.
"I'm not going to lie to you; I'm not really focused on that right now," Jackson said. "I'm focused on getting better. I'm focused on working with my teammates right now. I'm focused on winning right now. I'm trying to bring a Super Bowl here."
Backup San Francisco 49ers DE Jordan Willis suspended six games for PED policy violation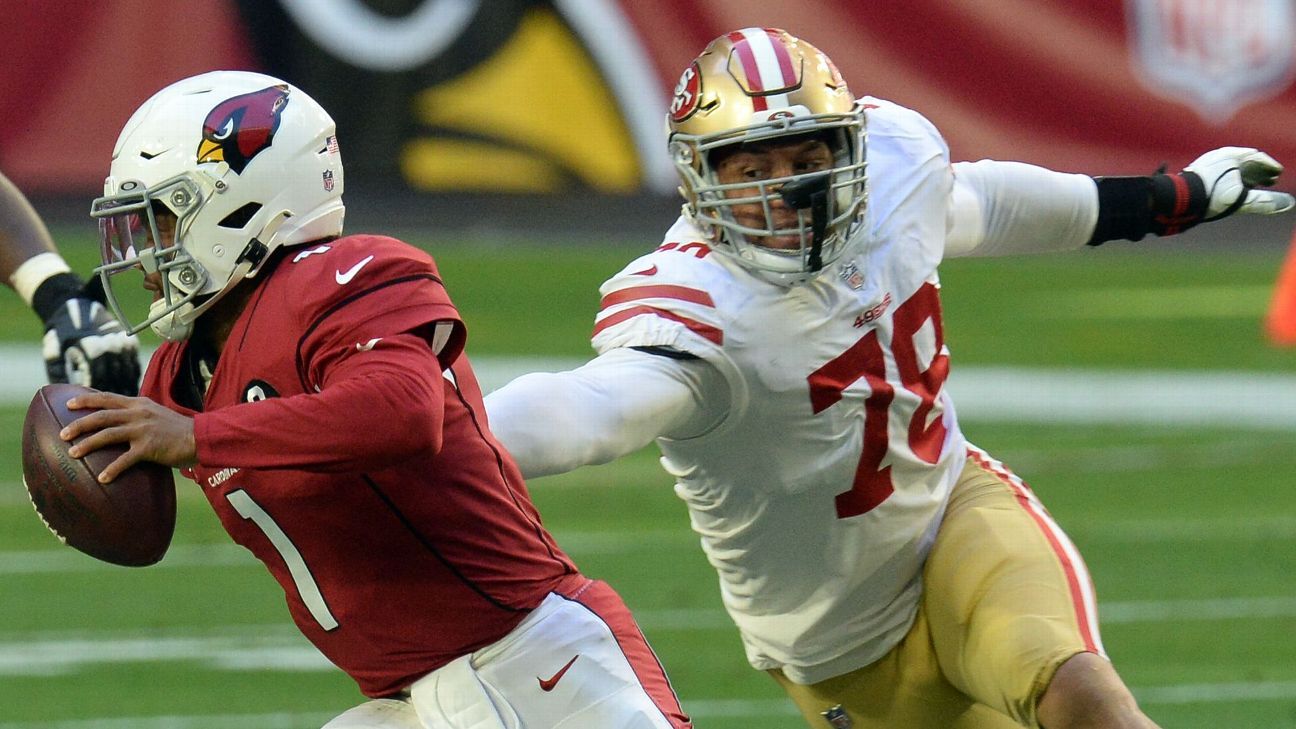 SANTA CLARA, Calif. — San Francisco 49ers defensive end Jordan Willis has been suspended for the first six games of the 2021 season for violation of the league's policy on performance-enhancing substances.
According to a statement from an NFL spokesperson, Willis will be able to participate in all offseason and preseason practices as well as the 49ers' three exhibition games. Willis is eligible to return to the 49ers active roster on Monday, Oct. 25, after the team's Week 7 game against the Indianapolis Colts.
The suspension comes after Willis re-signed with the 49ers on March 25. That deal was for one year with a base salary of $990,000. San Francisco initially acquired Willis in a trade with the New York Jets on Oct. 27 of last year, sending a sixth-round choice to New York in exchange for Willis and a seventh-round pick.
Willis appeared in seven games for the 49ers, posting 13 tackles and 2.5 sacks. Heading into training camp, he is expected to compete for a spot on the 49ers' depth chart as an edge rusher.
That group also includes Nick Bosa, Arik Armstead, Samson Ebukam, Dee Ford, Arden Key and Alex Barrett. With Willis slated to miss six games and Bosa (ACL) and Ford (back) working back from injury, the 49ers are a little light on depth at the position, which could mean another addition will be needed as the season nears.