Los Angeles Dodgers officially sign Albert Pujols to major league deal
LOS ANGELES — Albert Pujols has signed a major league deal with the Los Angeles Dodgers, moving 30 miles north to extend his remarkable career after leaving the Los Angeles Angels.
The 41-year-old Pujols formalized his one-year deal Monday with the defending World Series champions after agreeing to make the move last weekend. The fifth-leading home run hitter in major league history likely will be in uniform during the Dodgers' home series with Arizona, which begins Monday night.
He posted on Twitter on Monday that he is ready to "embrace" his role with the Dodgers and and looks forward to contributing to the team as they attempt to repeat as World Series champions.
First, I would like to thank God for the opportunity he has given me to play this game. While this is not how I thought my time in Anaheim would end, I am truly grateful for the memories and friendships that have been created over the past 10 years. Thank you to my teammates pic.twitter.com/dI6rmb5OQl

— Albert Pujols (@PujolsFive) May 17, 2021
help the ballclub win a championship in 2021. I've seen up close just how talented this team is and I look forward to contributing.

— Albert Pujols (@PujolsFive) May 17, 2021
Pujols was unceremoniously cut by the Angels earlier this month in an abrupt end to his largely unsuccessful 10-year, $240 million tenure with the Orange County club. The struggling Halos will pay all but about $420,000 of Pujols' $30 million salary this season while he plays on with their dominant local rivals.
The Angels said they broke up with Pujols because he wanted to play every day, but they have two players at his positions — first baseman Jared Walsh and designated hitter Shohei Ohtani — with far superior offensive numbers.
Yet Pujols is joining the Dodgers as a clear backup and situational player, suggesting that playing on — and playing for a title contender again after nine mostly dismal seasons in Anaheim — were more important to the 10-time All-Star and two-time World Series champion.
Pujols, who began his career with 11 prolific seasons in St. Louis, has 667 career homers, and he is 13th in big league history with 3,253 hits. The most prolific hitter of his generation batted .198 with five homers and 12 RBIs this year while playing in 24 of the Angels' 29 games, and he is in a 7-for-43 slump since April 20.
The Dodgers are a perennial powerhouse, but they began Monday with a whopping 13 players on their injured list after losing World Series MVP shortstop Corey Seager over the weekend to a broken hand. Their recent lineups have featured more prospects and borderline major league players than the stars expected to lead one of the majors' most successful teams.
With former NL MVP Cody Bellinger still sidelined by a hairline leg fracture, Pujols could play first base to fill in for Max Muncy, who occasionally moves to third base to give a day off to Justin Turner. Muncy can even play second base, which will be fluid for at least four weeks with Gavin Lux moving to shortstop while Seager heals.
Pujols has made only 41 career plate appearances as a pinch-hitter, but the Dodgers must be hoping he will provide a threat in spot situations as well. And the right-handed-hitting Pujols conceivably could help the Dodgers to hit left-handed pitching, an area in which their lineup is below the major league average.
The Dodgers have been successful in recent seasons in getting contributions from several major league elder statesmen near the close of their careers, including Chase Utley and David Freese. Pujols' leadership and example have been praised by Mike Trout and other key Angels, even while his overall offensive numbers dipped to below-average levels.
Right-hander Tony Gonsolin was transferred to the 60-day injured list to make room on the 40-man roster for Pujols.
The Associated Press contributed to this report.
New York Mets manager Luis Rojas given two-game suspension, fine for arguing with umpires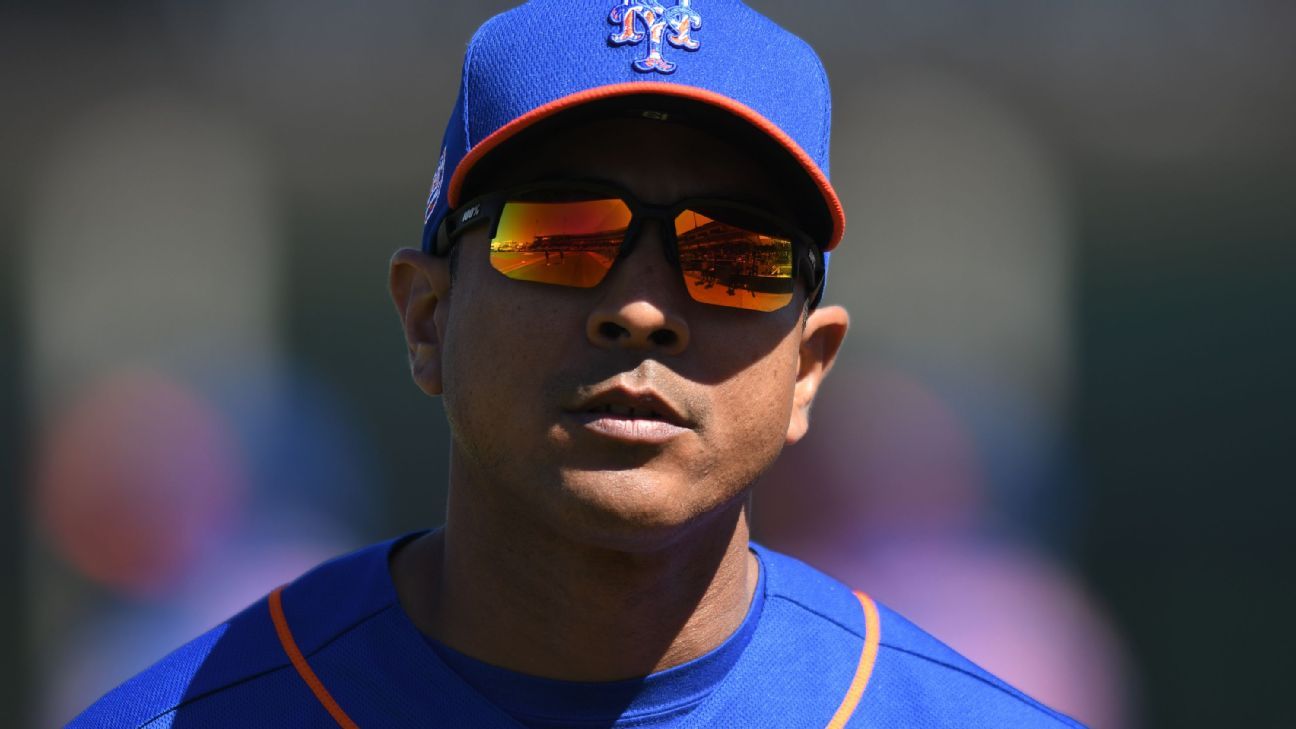 New York Mets manager Luis Rojas was handed a two-game suspension and an undisclosed fine by Major League Baseball on Monday for "excessive arguing" with umpires during Sunday's 7-6 win over Pittsburgh.
Rojas will begin serving the suspension during Monday's game at Cincinnati.
Rojas was ejected in the first inning on Sunday after Mets pitcher Taijuan Walker mistakenly batted a fair ball into foul territory that led to three Pirates runs and prompted a wild argument.
With the bases loaded and one out, Kevin Newman hit a dribbler down the third base line that started out in foul territory, but began spinning back toward the line.
Walker swooped in and swatted at the ball, trying to make contact while it was still in foul ground. But TV replays showed the ball was touching the chalk when Walker hit it, and plate umpire Jeremy Riggs correctly called it a fair ball.
The ball rolled toward the Pirates dugout allowing all three Pittsburgh runners to come around to score.
Rojas immediately ran out to argue the call and was quickly ejected. He said he wanted the umpires to conference to make sure the correct call was made, even though the play was not reviewable.
"I didn't wake up [Sunday] morning to get thrown out in the bottom of the first inning," he said.
'It's all up in the air': How MLB All-Stars are dealing with trade deadline uncertainty

For stars on struggling teams, July is a pivotal month when they find out whether or not they're staying put. Here's how they deal with being in the dark.

Source link
Fan who hit Alex Verdugo with baseball at Yankee Stadium banned from all MLB parks
NEW YORK — The fan who hit Boston Red Sox left fielder Alex Verdugo with a baseball thrown from the Yankee Stadium stands has been banned for life from attending major league games.
The decision was confirmed Sunday by spokesmen for both the New York Yankees and Major League Baseball.
Red Sox manager Alex Cora briefly pulled his team off the field in the sixth inning Saturday night after Verdugo was struck in the back by a ball thrown from the left-field seats. He did not appear to be hurt.
An angry Verdugo shouted at fans and was restrained by first-base coach Tom Goodwin as the game was held up in a driving rain. The fan was ejected from the ballpark.
"While the Yankees appreciate the spirit and passion of our fans in our various rivalries — especially with the Red Sox — reckless, disorderly and dangerous behavior that puts the safety of players, field staff or fellow fans in jeopardy will not be tolerated," the Yankees said in a statement Sunday.
"There is absolutely no place for it at Yankee Stadium. The safety of everyone at Yankee Stadium, including guests in the stands and players on the field, will always be the top priority for the Yankees organization every time we open our doors."
Verdugo said he tossed the ball into the stands to a young Red Sox fan, but a Yankees fan intercepted it and threw it back onto the field, hitting the outfielder.
"It's awful, embarrassing, unacceptable," New York manager Aaron Boone said afterward.
Verdugo returned to left field when play resumed following a discussion with umpires near Boston's dugout.
"It felt like it was targeted towards me and it don't sit well with me," he said.
New York won 3-1 in a game called after six innings due to heavy rain.
NJ.com reported Sunday the fan was not arrested.