Shane Bieber's record strikeout streak ends, as Seattle Mariners chase Cleveland Indians ace early
SEATTLE — Shane Bieber's record strikeout streak ended Sunday when the Seattle Mariners sent the Cleveland ace to an early exit.
Bieber had fanned at least eight in 20 straight games. But the reigning AL Cy Young Award winner fell just short against the Mariners, striking out seven in 4 2/3 innings.
Bieber left trailing 3-0 with the bases loaded in his shortest outing of the season.
The 25-year-old right-hander leads the majors with 92 strikeouts. Bieber started the season with 10 or more strikeouts in his first four outings, another major league record.
The last time Bieber didn't strike out at least eight in a regular-season game was his final start of the 2019 season. He struck out seven last year in a playoff start against the Yankees.
Bieber allowed a run in the first inning Sunday. In all of 2020, he allowed only one run in the first inning.
In the series finale, Cleveland is attempting to gain a split of the four games.
The Associated Press contributed to this report.
Los Angeles Dodgers' Max Muncy heads to injured list with right oblique strain
LOS ANGELES — First baseman Max Muncy is going on the Los Angeles Dodgers' injured list with a right oblique muscle strain.
The Dodgers recalled outfielder Luke Raley on Saturday night to take the roster spot of Muncy, who left Friday's game in the second inning with the defending World Series champions' latest significant injury woe.
Muncy hit his 14th homer of the season in the first inning of the series opener against the Texas Rangers but was replaced by Albert Pujols shortly afterward.
Muncy is batting .264 with 33 RBIs in 60 games this season for Los Angeles. Before his oblique injury, he had been struggling with an injured right ankle since getting hurt June 4 in Atlanta.
Outfielder Cody Bellinger also left Friday's game with left hamstring tightness, and he wasn't in the Dodgers' starting lineup Saturday. Manager Dave Roberts is cautiously confident Bellinger's injury isn't serious.
The Dodgers' latest round of injury problems has left the champs shuffling their roster. Earlier Saturday, the Dodgers selected infielder Andy Burns from Triple-A Oklahoma City, optioned right-hander Mitch White and designated right-hander Dennis Santana for assignment.
The 30-year-old Burns hasn't played in the majors since 2016, when he got his only 10 games of big league experience for Toronto without getting a hit. He is batting .330 with five homers and 20 RBIs in Oklahoma City.
Backup first baseman Yoshi Tsutsugo (calf) is expected to begin a rehab assignment in Oklahoma City on Sunday. World Series MVP Corey Seager, whose hand was broken by a pitch May 15, is still about two weeks away from starting a rehab assignment.
Bellinger, Seager, infielder Gavin Lux, outfielder AJ Pollock and rookie Zach McKinstry have all missed long stretches of this season with injuries. Starting pitcher Dustin May (right elbow) and infielder Edwin Ríos (right shoulder) are already out for the season, while key reliever Corey Knebel (right lat strain) is unlikely to return until late in the season, if at all.
New York Yankees' Luis Severino leaves rehab start with apparent leg injury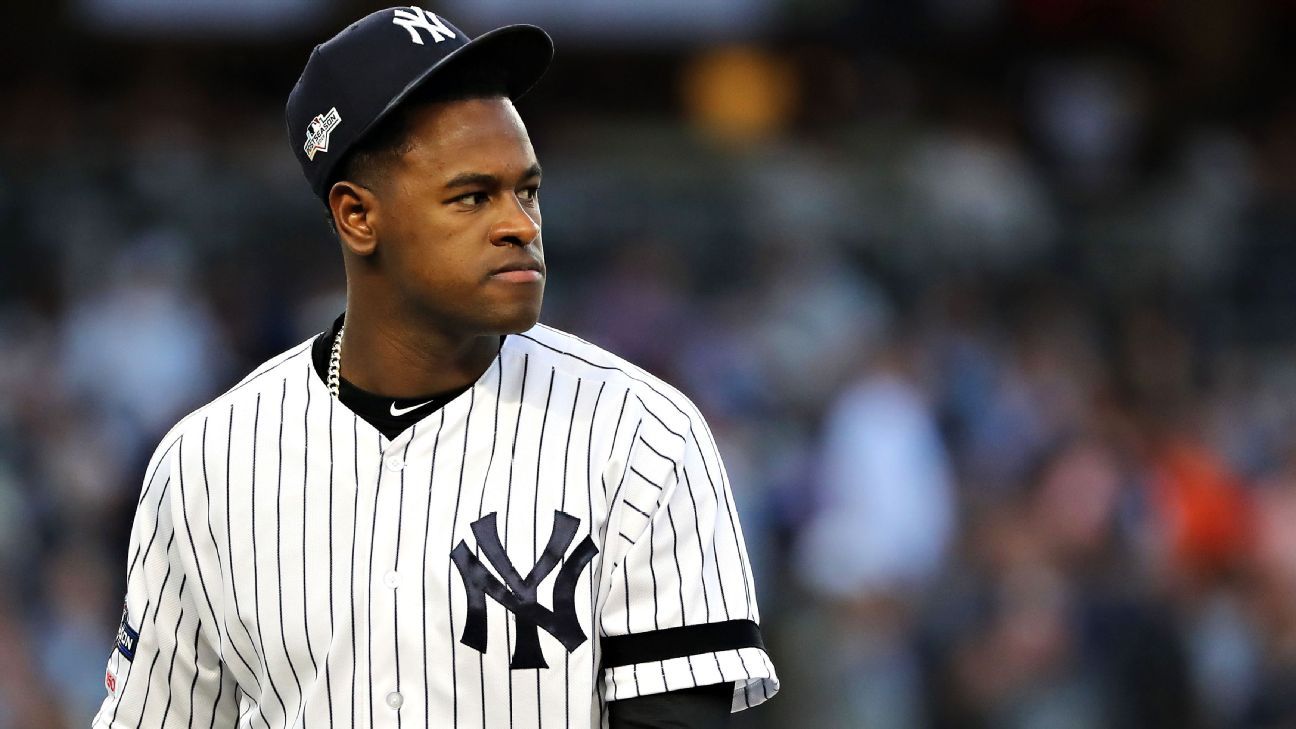 NEW YORK — Yankees right-hander Luis Severino was removed from a minor league rehab start Saturday with what appeared to be a painful injury to his right leg.
Severino was making his second rehab start following Tommy John surgery in February 2020, pitching for High Class A Hudson Valley against Brooklyn. The 27-year-old began to hobble quickly after throwing a pitch in the second inning. He limped behind the mound, struggling to put weight on his right leg. Coaches and a trainer had to help him off the field.
The Yankees did not provide an immediate update.
Severino looked sharp in his first rehab appearance, reaching 98 mph with his fastball. He pitched 1 2/3 innings Saturday, allowing a run, a hit and a walk while striking out three.
New York had hoped Severino could return this season to solidify a rotation led by Gerrit Cole. A two-time All-Star, Severino won 19 games in 2018 and signed a four-year, $40 million deal prior to 2019, but he has thrown just 12 big league innings since due to shoulder and elbow injuries.
Jim 'Mudcat' Grant, AL's first Black 20-game winner, dies at 85
MINNEAPOLIS — Jim "Mudcat" Grant, the first Black 20-game winner in the American League and a key part of the Minnesota Twins' first World Series team in 1965, has died. He was 85.
The Twins announced Grant's death Saturday. No cause was given. Grant's personal assistant, on behalf of the former right-hander's family, informed the Twins of the death.
The entire Minnesota Twins organization is saddened by the death of former pitcher Jim "Mudcat" Grant, who passed away at the age of 85. RIP Mudcat. pic.twitter.com/C5I9Bap9Yo

— Minnesota Twins (@Twins) June 12, 2021
Grant spent less than four full seasons of his 14-year major league career with the Twins, but they were by far his best.
After being acquired in a trade with Cleveland on June 15, 1964, for George Banks and Lee Stange, Grant led the American League with 21 wins in 1965. Don Newcombe of the Brooklyn Dodgers was the first Black 20-game winner in the majors in 1951.
Grant's big season helped the Twins post a 102-60 record for a spot in the World Series. He also led the league with six shutouts that year.
He started three times in that World Series against the Los Angeles Dodgers and won twice, including a 5-1, complete-game victory in Game 6, during which he also hit a three-run homer. Sandy Koufax and the Dodgers won Game 7.
Grant went 50-35 with a 3.35 ERA in 129 appearances, including 111 starts, with the Twins. He was traded to the Dodgers after the 1967 season and also pitched for Montreal, St. Louis, Oakland and Pittsburgh.
He was long known by his unique nickname, though there are varying stories on how it originated.
"Will never forget his smile, his voice or the way he could light up a room," Twins president Dave St. Peter tweeted.