French Grand Prix, results, standings, Jack Miller, reaction, weather, rain, Le Mans, Ducati, news, updates
Australian rider Jack Miller made it back to back wins on his Ducati with a dramatic victory in a windy, rain-strewn French MotoGP at Le Mans on Sunday.
Miller, who won the last race in Spain, finished ahead of French pair Johann Zarco, riding for Ducati's satellite Pramac team, and Fabio Quartararo, on a Yamaha, who takes over the lead in the championship.
Quartararo, who has won two races this season and started on pole here, has 80 points, one more than Miller's teammate Francesco Bagnaia who finished fourth.
Stream Every Practice, Qualifier & Race of the 2021 Moto GP Championship Live & On-Demand on Kayo. New to Kayo? Try 14-Days Free Now >
Miller qualifies 3rd fastest in France | 01:32
It was a major bonus for the Frenchman, coming just 12 days after undergoing 'arm pump' surgery following problems with his right forearm, which saw him slip to a 13th place finish last time out at Jerez.
"I'm so happy, it's like a victory for me," said Quartararo whose front tyre was completely worn out at the end of the race.
Zarco is third in the title race with 68 points and Miller is just four points further back, leaving the top four within 16 points of each other ahead of the sixth race of the season at Mugello in Italy on May 30.
"The wind added to the rain and I thought the race was going to be stopped," said Miller who survived two time penalties to become the first Australian ever to win two successive victories in MotoGP.
"I felt very comfortable. It's amazing, I can't believe we have had back to back wins."
The difficult conditions which saw rain sweeping across the Bugatti circuit led to numerous bikes sliding off the track, leading to a mass bike change for wet tyres when the race went 'flag to flag'.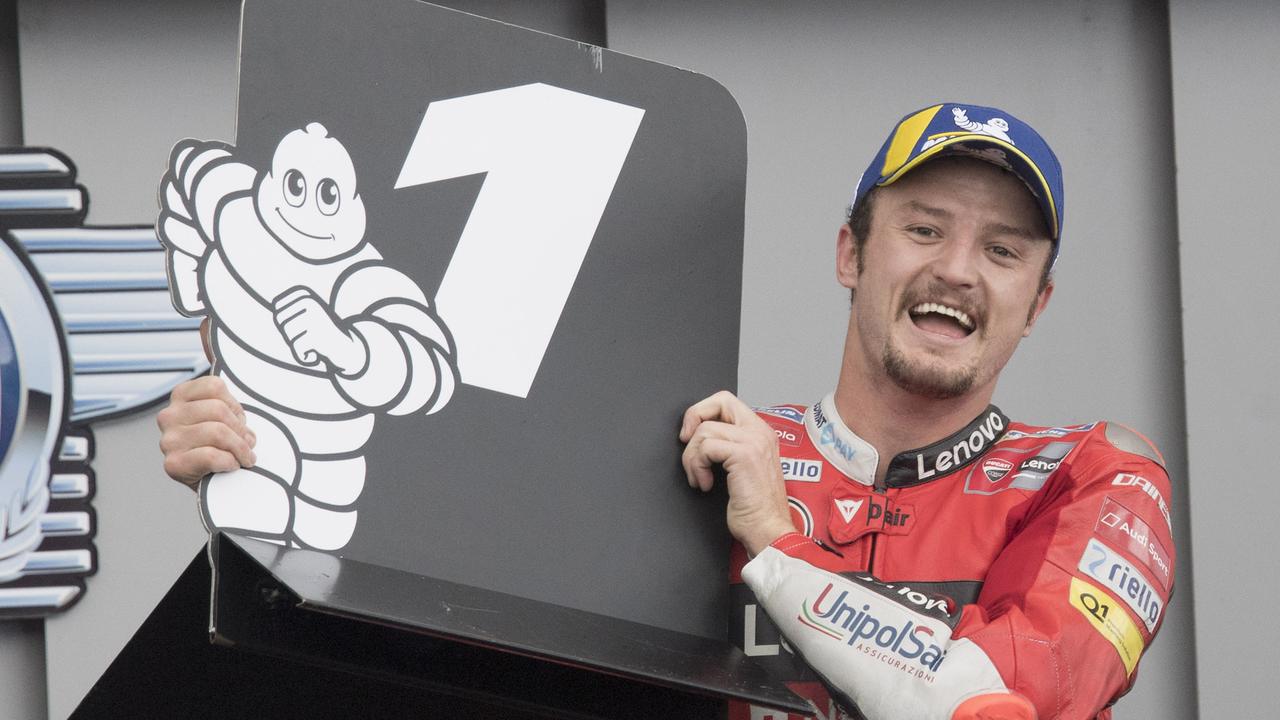 "I know the possibility of a podium is very low," said Marc Marquez just before the race but when the riders re-emerged after the change of bikes, it was the six-times world champion who took charge.
In his third race back after a year out with injury, Marquez opened up a promising lead before sliding off with 19 laps remaining.
The Spaniard struggled to get his bike upright but remounted and picked his way through the field before sliding off a second time and out of the race.
Miller had made an excellent start taking the lead from pole-sitter Quartararo and these two battled it out for most of the race before and after the bike change.
Both were hit with penalties which allowed Zarco, who was flying after the change, to close up and chase them to the flag.
"Maybe if we had changed bikes a little earlier we could have won the race", said Zarco.
He did overtake Quartararo but did not have enough in the tank to overhaul Miller who crossed the line over four seconds clear to collect only his third MotoGP victory.
Daniel Ricciardo under McLaren pressure, Lando Norris, preview
Daniel Ricciardo knew from his very first lap at McLaren that he was going to have his work cut out for him in the 2021 season.
Perhaps he wasn't aware it would be this hard, but he certainly was under no illusion that it was going to be a walk in the park.
Six races have since brought him some practice, more experience, but little comfort in the McLaren cockpit he first entered this year.
Stream Every Practice, Qualifier & Race of the 2021 FIA Formula One World Championship™ Live & On-Demand on Kayo. New to Kayo? Try 14-Days Free Now >
Now he arrives at this weekend's French Grand Prix — the first of three races on consecutive weekends — under more pressure than ever.
Whether the pressure is justified, or not, is a topic for feverish debate.
Is 26 points actually a decent return for a driver at a new, mid-table team? Just how long should it take for him to feel comfortable? Are we really getting the full story?
These are all questions that the majority of those from the outer can't answer with any genuine authority.
What we do know, however, is that Ricciardo is one of the most talented drivers in the field, although the results to back up that claim are drying up.
Ultimately, sport is a results-based business, and the superior performances of teammate Lando Norris in 2021 will inevitably continue to create pressure if Ricciardo doesn't find his feet.
Norris is just 21 years old, but it's worth noting he has two full seasons at McLaren under his belt — a massive advantage that comfortably outweighs Ricciardo's overall seniority in these early stages.
The Briton outperforming Ricciardo at this early stage of the season is even less of a surprise once you consider that the McLaren only responds to a particular style.
"When I first drove the car, I said to myself 'OK, it's a different one'," Ricciardo told the F1 website before the Azerbaijan Grand Prix.
"I felt early on it was quite a different car. Different not being bad, different being – 'I've got my work cut out'."
This year's challenge is unique for Ricciardo, although he's had similar experiences having previously driven for HRT, Toro Rosso, Red Bull and Renault.
To various extents, he succeeded at all four teams.
Get all the latest F1 news, highlights and analysis delivered straight to your inbox with Fox Sports Sportmail. Sign up now!!!
Grosjean tries to douse car fire himself | 01:20
The closest comparison we have is his two-year stint at Renault, where he arrived after leaving Red Bull and was expected to dominate the garage.
He only finished in the points once in his first five races at Renault, but the pressure didn't nearly mount to the same level as 2021 given his teammate, Nico Hulkenberg, similarly struggled.
With all due respect to the German, Norris is in a different class, while the McLaren is a different beast.
As such, we are in uncharted waters watching Ricciardo wrestle his McLaren, trying to adapt as quickly as possible.
Ultimately, the dogs can't be held at bay forever.
The Australian is a great driver but it's hard to make an argument he deserves the same level of patience as we give world champions — such as Sebastian Vettel at Ferrari.
But it's important to note that the Honey Badger has an exceptional record of coming good — and there's nothing to suggest he won't again.
As always, Ricciardo's attitude is upbeat as he relishes the chance to log more laps in quick time at three non-street race events in France and Austria back-to-back.
"I wasn't discouraged by (the car at first). I just said to myself 'I'll have to figure it out. The more laps I do, it'll just come'." he told the F1 website.
"The car is different enough, you need to work a little harder at it, it hasn't so far come just by circulating and doing laps. I've had to adapt a few things with my driving style to help the car. I'm still trying to get on top of that."
He added: "I've been here before, whether it's to this level, or not, whether it was in F1 or not … Naturally you always have these highs and lows.
"But the good thing with me … I'll be sad if I need to on Sunday night but then I wake up Monday morning with a fresh motivation.
"I'll say to myself: 'This feeling, I don't like it, what am I going to do to change it?' I definitely find perspective in the bad days."
MotoGP 2021, German Grand Prix, Sachsenring, Jack Miller, Remy Gardner, news, Ducati, Joel Kelso Moto3 debut, results, preview, how to watch,
MotoGP returns to Germany after a year's absence with championship leader Fabio Quartararo trying to break one streak at the Sachsenring while Marc Marquez attempts to keep another alive.
But on a huge weekend for Australians, Jack Miller returns to the venue where he made his Moto3 debut a decade ago – and is bullish about his chances despite Ducati's horror record at the track.
Following in Miller's footsteps is young gun Joel Kelso, who is making his debut in Moto3 this weekend as an injury replacement.
And with Remy Gardner currently leading the Moto2 category and on a red-hot run, it's set to be a monster weekend for Australian racing fans.
Stream Every Practice, Qualifier & Race of the 2021 Moto GP Championship Live & On-Demand on Kayo. New to Kayo? Try 14-Days Free Now >
Miller 'excited' despite Ducati past
In the last 23 years, Ducati has won just one race at Germany's Sachsenring – courtesy of Australian Casey Stoner in 2008.
But his countryman Miller says this year's bike won't suffer so badly at the track, which had its 2020 race cancelled due to the coronavirus pandemic.
"Ducati isn't one of the favourites at this circuit, but this year we've managed to be competitive even on tracks that should have been difficult for us," said Miller.
"For sure, there's always tracks that maybe suit your bike more than others, but it's how you can adapt your bike to the track that weekend. Here, it's not too bad … The GP21 is a massive improvement from what we rode here in 2019, and hopefully we can turn some of the tracks that maybe weren't 'Ducati tracks', as we've done already in a couple of tracks this year."
He added: "I'm excited for the weekend. Last time we were here two years ago we didn't do too bad. I think it was Dovi [Andrea Dovizioso], Danilo [Petrucci] and myself.
"We had a nice little fight together. I think we were four, five and six, so it wasn't too bad and I'm definitely excited to take the GP21 around here. I think it's a better package and I think we'll be quite surprised with how well the bike works here."
Before last season, when the German leg of the championship was wiped out by the coronavirus pandemic, and his campaign was ended by a first race crash, Marquez had won at the Sachsenring every year since 2010.
That streak, which started in 125cc, includes seven straight victories in the elite category to 2019.
The much-younger Quartararo, meanwhile, has never won at the Sachsenring in five total races in Moto3, Moto2 and MotoGP.
"This is not my best track," the Frenchman told his Yamaha team's web site. "I'm looking forward to start riding here anyway. We have had good pace all season so far, so I'm happy with that, and I hope to be able to get a good result this weekend."
Before fracturing his right arm last year Marquez had won six MotoGP world titles including four straight.
The 28-year-old Spaniard has struggled since his return this season and has had to watch the 22-year-old Quartararo's steady rise to a position of dominance.
However, the Spaniard may be sensing that the moment has come to make his presence felt again, not least because the German course lay-out will suit him.
"I will have less or no physical limitation, because in the turns to the left, I do not feel any discomfort, unlike those on the right, but here there are only three on the right," said Marquez on Thursday, adding that he is now taking fewer antibiotics and feeling "better and better physically".
Quartararo has won six GPs in three seasons in the elite category and, with three this season, leads the championship while Marquez, after a string of crashes on his Honda, is 18th.
The Frenchman, though, also believes that Marquez may be on the road to recovery.
"I think he will respond this weekend," said Quartararo. "It's the perfect time to make a comeback."
Miller gets on podium in Barcelona | 01:13
– 'Calma! Calma!' –
Quartararo, who suffered a late-race mishap with his leather jacket in Catalonia and earned a penalty which dropped him to sixth, is being pursued by a pack of Ducatis.
Compatriot Johann Zarco, who rides for the Pramac satellite team, is 14 points behind even though he is still chasing his first ever victory in MotoGP.
The two factory Ducatis of Australian Jack Miller and Italian Francesco Bagnaia are closely bunched in third and fourth.
The Sachsenring does not appear to suit the bikes known as 'Bologna Bullets'.
"It's a very peculiar track, and it's also one of the shortest on the calendar," said Miller. "Ducati isn't one of the favourites at this circuit, but this year we've managed to be competitive even on tracks that should have been difficult for us."
The German Grand Prix is followed immediately by the Dutch race the following Sunday before MotoGP breaks.
It returns in August with back-to-back races at Spielberg, the home track of Austrian team KTM which has found form in the last two races.
After a slow start to the season, KTM changed its chassis and its fuel and its Portuguese rider Miguel Oliveira finished second in Italy and then won in Catalonia to climb to seventh in the standings.
Oliveira imitated Cristiano Ronaldo's "Calma! Calma! I am here" gesture when crossing the line in Catalonia, drawing appreciation from the Portuguese Euro 2020 captain's various social media accounts.
Joan Mir, who won last year's world title for Suzuki with only one victory, is continuing his strategy of consistency and lies fifth in the standings.
The weather, which promises to be hot and humid interrupted by summer storms, is causing some concern.
There are also worries about 42-year-old MotoGP legend Valentino Rossi who has not finished better than 10th and is having his worst season at elite level.
Miller chats 3rd place finish in Barca | 01:16
AUSSIES ON THE RISE
Besides Miller in the elite category, Remy Gardner is hoping for a third-straight win in Moto2.
Gardner won in Mugello and Catalunya, both times just ahead of teammate Raul Fernandez, and the Red Bull KTM Ajo duo are favourites for a fourth-consecutive one-two this weekend.
Gardner currently leads the championship by 11 points, and has bulletproof confidence, having already signed a deal to move to MotoGP for next season.
"I spent the week off wakeboarding, doing some trial training, and other days I went out for a run. It was a few days of relaxing a little," said Gardner.
"Now it's time to work and face the last back-to-back races before the summer break. It will be important to get through these two contests with plenty of points, as we were doing at the last few rounds.
"The layout of Sachsenring is similar to that of a karting circuit: The first sector is very small, although I quite like the final part.
"There are a lot of left hand corners, so let's see how it goes there. The goal is once again to enter the Top 5, without making any mistakes, and achieve the best possible result."
And then there's Joel Kelso, the 18-year-old rising star who will make his world championship debut in Moto3 this weekend with Gardner's former team.
He will represent the KTM CIP – Green Power team as an injury replacement for Austrian Maximilian Kofler who hurt his back in a heavy crash at the Italian GP.
Kelso will also race in next weekend's Dutch battle at Assen – another course where he has never raced.
"I want to thank CIP – Green Power for this opportunity, I will do my best in these world championship races despite the fact that these tracks are new for me," Kelso said.
But if Miller is excited about racing the course on his MotoGP bike, Kelso should be even more keen about taking to the track in his Moto3 ride.
"It's a special track. It's fantastic on a Moto3 bike – one of the best I think, but on a MotoGP bike she's a tight one," said Miller.
Kelso is one of four Aussies currently competing in the FIM Moto3™ Junior World Championship for the Spanish AGR Team, where his best finish is eighth.
One dead and two injured in incident at off-road race
A man has died and two others have been injured after a group of spectators were hit by a vehicle at the Finke Desert Race near Alice Springs on Monday morning.
NT Police confirmed the death of a male spectator in his 60s, and serious injuries to a male spectator in his 50s.
The navigator of the vehicle, a woman in her 50s, sustained minor injuries in the crash.
The two-day Finke Desert Race is an off-road event for bikes, cars, buggies and quad bikes through the central Australian desert from Alice Springs to Aputula, held each year on the Queen's Birthday long weekend.
"At 9:38am police received a report of a group of spectators being struck by a vehicle racing the Finke Desert Race track, 35km from the start/finish line," a police spokesperson said.
"A male spectator aged in his 50s was seriously injured as a result of the crash and medevaced to the Alice Springs Hospital, and the navigator of the vehicle, a woman aged in her 50s, received minor injuries.
"Another man in his 60s who was a spectator at the event and was struck by the vehicle has died at the scene."
Police are calling for witnesses to the event as investigations continue.
The area has been cordoned off and competitors have been diverted from the area, which has been declared a crime scene.
An NT Health spokesperson said the two injured people were in a stable condition after sustaining non-life-threatening injuries.
Organisers said vehicles had been stopped on the course and would be recovered by crews.
The car section of the race and the presentation night have been cancelled, they said about 1pm on Monday.
"Motorsport Australia and Event Organisers have advised that as the NT Police are still carrying out investigations at the scene of today's incident, the Clerk of the Course has declared the Car Section of the Finke Desert Race concluded," they said in a Facebook post.
"Arrangements will be made in conjunction with NT Police for vehicles stopped on the course at various locations on the Finke Track to be recovered by crews.
"Competitors and crews will be advised in due course."
Police are investigating the circumstances surrounding the cause of the incident and calling for any spectators who may have witnessed the incident, or have dash cam or video footage – to contact police immediately on 131 444.