Los Angeles Angels push Shohei Ohtani's start vs. Indians back due to fatigue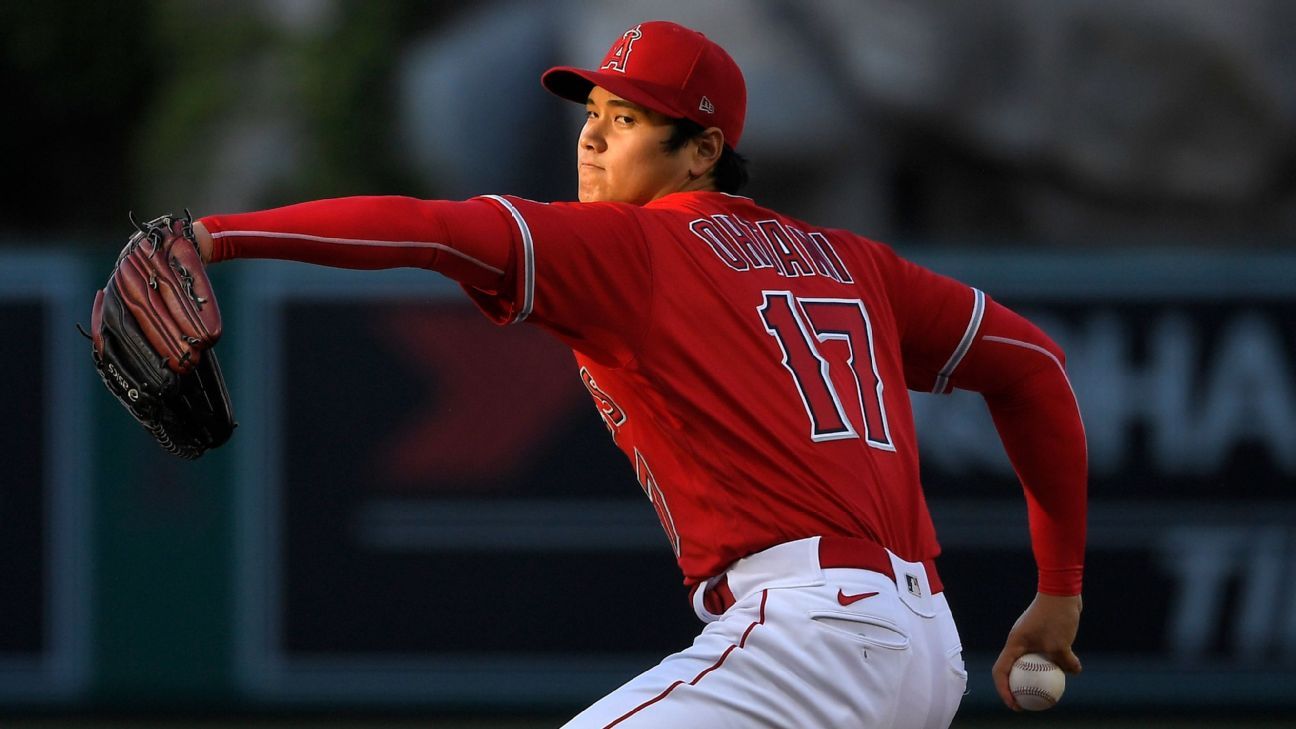 Los Angeles Angels star Shohei Ohtani's scheduled start against the Cleveland Indians on Tuesday has been pushed back due to general fatigue, manager Joe Maddon said before Friday's game against the Boston Red Sox.
Ohtani looked dominant in his last start, allowing just one run across seven innings on Tuesday against the Houston Astros. Maddon said he opted for caution with his two-way star after noticing Ohtani looked off during his stint as a designated hitter on Wednesday.
"We're going to move him back, but we don't know to when," Maddon said. "But there's no blisters. Nothing. Just being proactive. It's in his best interest, too. To me, the day after he pitched the other day, he looked a little bit fatigued at the plate. It set off a little bit of an alarm for me."
Ohtani won't be skipped in the rotation, according to Maddon, and his start will be pushed back just one to three days. He was in the lineup as a DH for Friday's game against the Red Sox.
New York Yankees' Gerrit Cole tests positive for COVID-19, will miss Tuesday start
NEW YORK — Yankees ace Gerrit Cole has tested positive for COVID-19 and will not make his scheduled start Tuesday, the latest virus setback for the team.
New York manager Aaron Boone made the announcement after Monday night's 7-1 loss to the Baltimore Orioles at Yankee Stadium. He said he was told of the positive test in the second inning.
"As of now he is the only one," Boone said.
Earlier this month, star slugger Aaron Judge was among six Yankees players who tested positive for coronavirus.
"Definitely it's tough. It's been a tough year. We got this news with Cole and definitely a low blow there," Yankees catcher Gary Sanchez said through an interpreter.
Cole is 10-6 with a 3.11 ERA in 21 starts. The four-time All-Star is coming off a 14-0 loss at Tampa Bay on July 29 in which he allowed eight runs in 5 1/3 innings.
The 30-year-old Cole is in his second season with the Yankees.
Boone said Nestor Cortes Jr. likely will start in place of Cole against the Orioles on Tuesday night. Cortes has no record and a 1.93 ERA in three starts and eight relief appearances for the Yankees this season.
The Yankees' first game after the All-Star break on July 15 against Boston was postponed because of their virus outbreak.
Judge, pitchers Jonathan Loaisiga, Wandy Peralta and Cortes, catcher Kyle Higashioka, and infielder Gio Urshela were put on the COVID-19 injured list.
Several teams around the majors have been affected recently by positive tests for the virus. Among them, the Milwaukee Brewers have put closer Josh Hader, star outfielder Christian Yelich and pitchers Jake Cousins, Jandel Gustave and Hunter Strickland on the COVID-19 injured list in the last week.
Los Angeles Angels recall hot-hitting outfield prospect Jo Adell from Triple-A Salt Lake
Jo Adell, one of baseball's most promising outfield prospects, was called back up by the Los Angeles Angels on Monday, shortly after another hot stretch for the team's Triple-A affiliate.
Adell, 22, homered in three consecutive games on Thursday, Friday and Sunday and was batting .289/.342/.592 with 23 home runs and eight stolen bases in 73 games for the Salt Lake Bees. The Angels initially had him in the lineup for the series opener against the Texas Rangers — starting in left field, with fellow top prospect Brandon Marsh in center — but removed him because he arrived too late to start.
Adell, the 19th-rated prospect at the start of the season by ESPN's Kiley McDaniel, struggled mightily both offensively and defensively during the COVID-19-shortened 2020 season. The Angels waited to call him up this year, even though they had obvious outfield needs with Mike Trout, Justin Upton and Dexter Fowler all out with injuries, the latter of whom underwent season-ending knee surgery in April.
Adell will share an outfield with Marsh for the foreseeable future and is the latest in what resembles a youth moment for an Angels team on the fringes of contention. On Sunday, Reid Detmers, a 22-year-old starting pitcher who was drafted 10th overall in 2020, made his major league debut. On Monday, 23-year-old right-hander Chris Rodriguez, who debuted as a reliever earlier in the year, got the start.
Adell batted .161/.212/.266 with 55 strikeouts in 38 games last year and misplayed several balls while serving as the Angels' everyday right fielder last summer. Playing time for Adell has opened because of Trout's lingering calf injury, which has kept him out since May 17. Trout was initially expected back around this time, but his rehab has hit something of a lull.
Prior to the game, speaking before Adell's promotion was announced, Angels manager Joe Maddon said, "It's very important for us going into the offseason to know exactly what we have and what we need to do to move forward for next year.
"Having said that," Maddon added, "that does not mean conceding to anything at all. We believe that these young guys are ready to play here and be part of a winning environment."
Texas Rangers reshuffle roster more, designate OF David Dahl for assignment
ARLINGTON, Texas — Former All-Star outfielder David Dahl was designated for assignment Monday by the rebuilding Texas Rangers, who added DJ Peters to their roster after getting the outfielder on a waiver claim from the Los Angeles Dodgers.
Dahl hit .210 with four homers and 18 RBIs in his 63 games with the Rangers, who signed the 2019 National League All-Star for $2.7 million last winter. He was coming off right shoulder surgery then, and Colorado didn't offer him a contract. The 27-year-old Dahl missed all of June for Texas with rib cage and upper back issues.
"We, over the past week, have really kind of defined where we are and where we're going, and the opportunity to give at-bats to some of our young carry-forward pieces," general manager Chris Young said. "I think we had determined that David is not going to be that moving forward and the decision was made to cut ties."
The last-place Rangers before last week's deadline traded All-Star slugger Joey Gallo, All-Star pitcher Kyle Gibson and closer Ian Kennedy.
Third-year Rangers manager Chris Woodward said the move with Dahl was performance-based, along with the opportunity to add Peters.
Woodward was the third-base coach for the Dodgers before taking the Texas job and is familiar with the 25-year-old Peters, who made his big league debut this season. He hit .192 with one homer in 18 games for the defending World Series champions.
"This kid's talented," Woodward said. "I know the kid personally, so I know this kid's a worker. He plays hard, he plays with his hair on fire, he's got a ton of talent. And I think it's worth taking a chance."
Peters should get a chance at more consistent playing time in Texas than he did with the title-contending Dodgers. The Rangers expected him to be available for Monday night's game against the Los Angeles Angels.
In need of pitching depth, Texas also Monday selected the contract of right-hander Jimmy Herget from Round Rock, and optioned right-hander Demarcus Evans to that Triple-A team after he pitched in two of the previous three games for the Rangers.
"We need a pitcher. D-Train's has been pretty good since he's been up," Woodward said. "We let him know everything he's done up to this point, he's been a true professional through it all, worked hard. He's done everything we've asked. And it wasn't performance-based. It was just necessity at this point."