Ja'Wuan James considering grievance to recoup potential lost 2021 salary, source says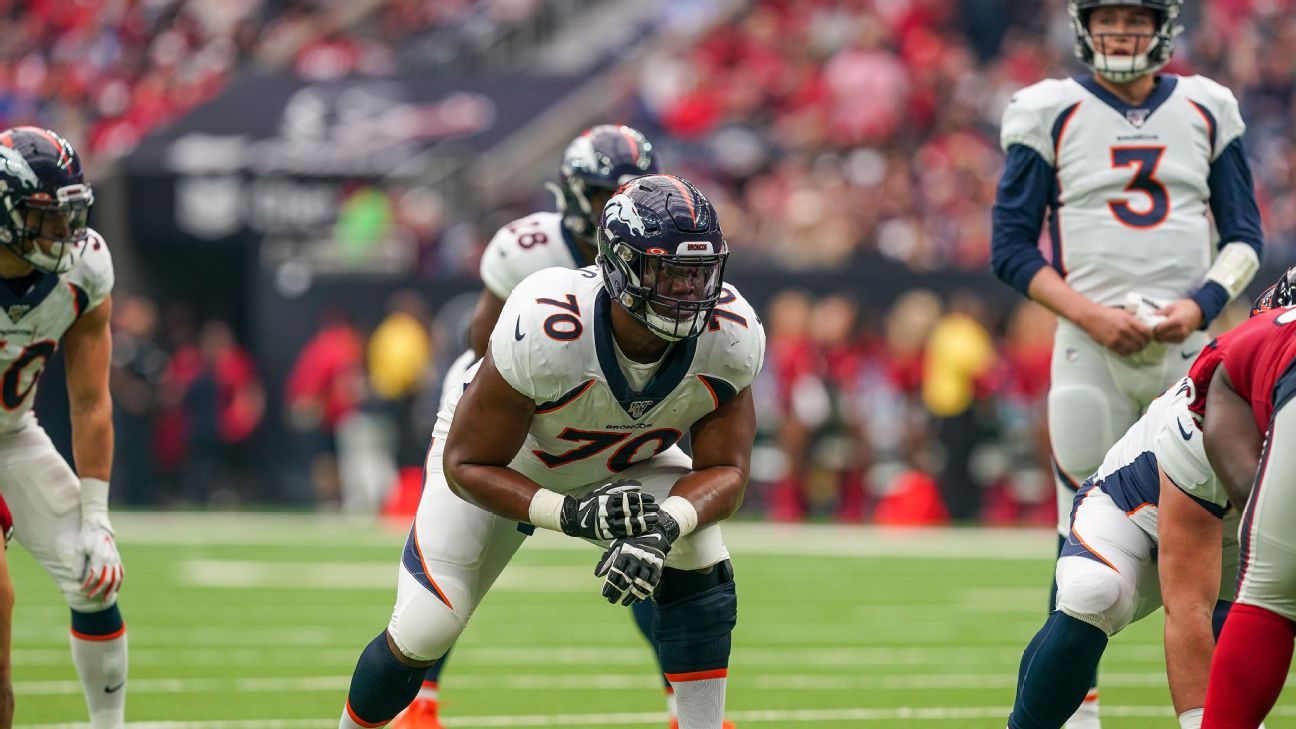 Former Denver Broncos offensive tackle Ja'Wuan James is strongly considering filing a grievance through the NFL Players Association for lost wages after he tore his Achilles tendon away from the team facility, a source told ESPN's Jeremy Fowler on Saturday.
James, who was released Friday with a post-June 1 designation, could seek more than $10 million in salary for the 2021 season that the Broncos appear likely to void after they designated him with a non-football injury.
The injury has already been a flashpoint between the NFL and the NFLPA over the "non-football injury" designation, which means teams are not required to pay players their full base salaries if they were injured outside of team facilities.
The day after James was injured earlier this month, he was specifically named in a memo from the NFL's management council to team executives and head coaches. In that memo it was outlined under the "Non-Football Injuries" designation that teams like the Broncos would have "no contractual obligation" to pay players like James who were injured away from the team facilities.
The memo also outlined why a player's salary would be paid if the injury had been suffered during a workout at a team's complex. The memo also said: "Clubs are encouraged to remind players of the significant injury-related protection provided if they choose to work out at the club facility and the risks they undertake in choosing to train at a non-NFL location."
The NFLPA responded two days later in an email to players that said: "It was gutless to use a player's serious injury as a scare tactic to get you to come running back to these workouts." Free-agent safety and NFLPA executive board member Michael Thomas also told ESPN's Dan Graziano this week that "all the players are watching" how James' situation plays out.
The 28-year-old James suffered his season-ending injury earlier this month. On Friday, he posted on social media that his "surgery went well," adding: "Appreciate everyone reaching out. Always remaining positive & striving to be better than yesterday."
Broncos wide receiver DaeSean Hamilton, whom Denver was trying to trade in recent days, also suffered a torn knee ligament in a workout away from the team's complex, according to ESPN and multiple reports.
ESPN's Jeff Legwold contributed to this report.
'It's straight go-mode:' No offseason for Ravens' Lamar Jackson – Baltimore Ravens Blog
OWINGS MILLS, Md. — Lamar Jackson drove the pass 50 yards in the air and placed it in a tight window along the sideline to Sammy Watkins, who was running stride for stride with Pro Bowl cornerback Marlon Humphrey.
This was Jackson's best pass of the offseason in what became his best practice of the spring. It was a near-perfect way to wrap up the Baltimore Ravens' minicamp and begin a five-week break before the start of training camp.
Before you start talking about a month-long summer vacation, Jackson has other plans.
"It's really not the offseason anymore," Jackson said. "For us, I'll say, we've just got to keep grinding and stay in shape. We can't go backwards right now, because we already had our fun and did whatever we did during the regular offseason. Not this time; it's straight go-mode right now. The season is here."
Overall, it was an uneven offseason for Jackson. In the practices open to the media this spring, he was on-target in the red zone and up-and-down beyond that. Some deep throws wobbled and others were picked off or overthrown.
Jackson knows there's plenty of work to get done to become a consistent passer. He expects to get together with his receivers in Florida during time leading up to training camp. He didn't address whether he'll work with a personal quarterback coach, which is something he's done in the past.
What's fueling him heading into this season is how his past years ended. Jackson didn't win in the playoffs in 2018 and 2019, and he lost in the divisional round in Buffalo five months ago.
"We fell short three years in a row since I've been here," Jackson said. "And I'm always seeing teams, when they get [to the Super Bowl], it's hard work, preparation."
To get to the top, Jackson and the Ravens need to go over the top more. Jackson said a big focus this offseason is on improving the deep passing game.
Last year, the Ravens had 17 completions on throws of 20 yards or longer. Only four teams — the Los Angeles Rams, New Orleans Saints, Cincinnati Bengals and Tennessee Titans — had fewer.
"People are always saying we throw short, intermediate routes and stuff like that – little 5-yard, 10-yard routes," Jackson said. "But we had some chances last year. We hit some of them, but we're just trying to be more consistent this year, and that's where the strides happen. It starts in practice, and hopefully it transitions to the game. We've just got to keep working on it."
If defenses are going to stack the box to stop the NFL's top rushing team, Jackson and Baltimore have to figure out a way to make them pay repeatedly. Jackson connected on 37.8% of passes longer than 20 yards (17-of-45) last season, which ranked 24th in the NFL.
"I think we'll have a lot of favorable looks, and we got to be ready to take advantage of them," Ravens offensive coordinator Greg Roman said. "Our goal is to win, and if teams are giving us opportunities to throw the ball deep, it's upon us to work hard and figure that out and really take advantage of that because those are game-changing plays."
Jackson believes the key to boosting his consistency on deep throws is more about his feet than his arm.
"That's a big emphasis for me — just working on my footwork, making sure I stay open so the ball can drive, so I can put a little tight spiral on the ball," Jackson said.
Heading into training camp, the more pressing question is whether Jackson will get a new deal by the time he returns. Jackson, who is signed through 2022, has been in talks with the team about a contract extension.
Ravens coach John Harbaugh said Jackson won't get distracted if the sides are unable to hammer out a long-term deal by the start of the regular season.
"Look what he's done — he's going to get paid. He knows that," Harbaugh said. "The question becomes, what's he going to do? What's his legacy going to be as a quarterback? That's what he's focused on. That's what's so great about it. The other thing is a done deal."
Jackson, whose $1.771 million salary ranks 400th among all players this year, said his contract is a non-issue.
"I'm not going to lie to you; I'm not really focused on that right now," Jackson said. "I'm focused on getting better. I'm focused on working with my teammates right now. I'm focused on winning right now. I'm trying to bring a Super Bowl here."
Backup San Francisco 49ers DE Jordan Willis suspended six games for PED policy violation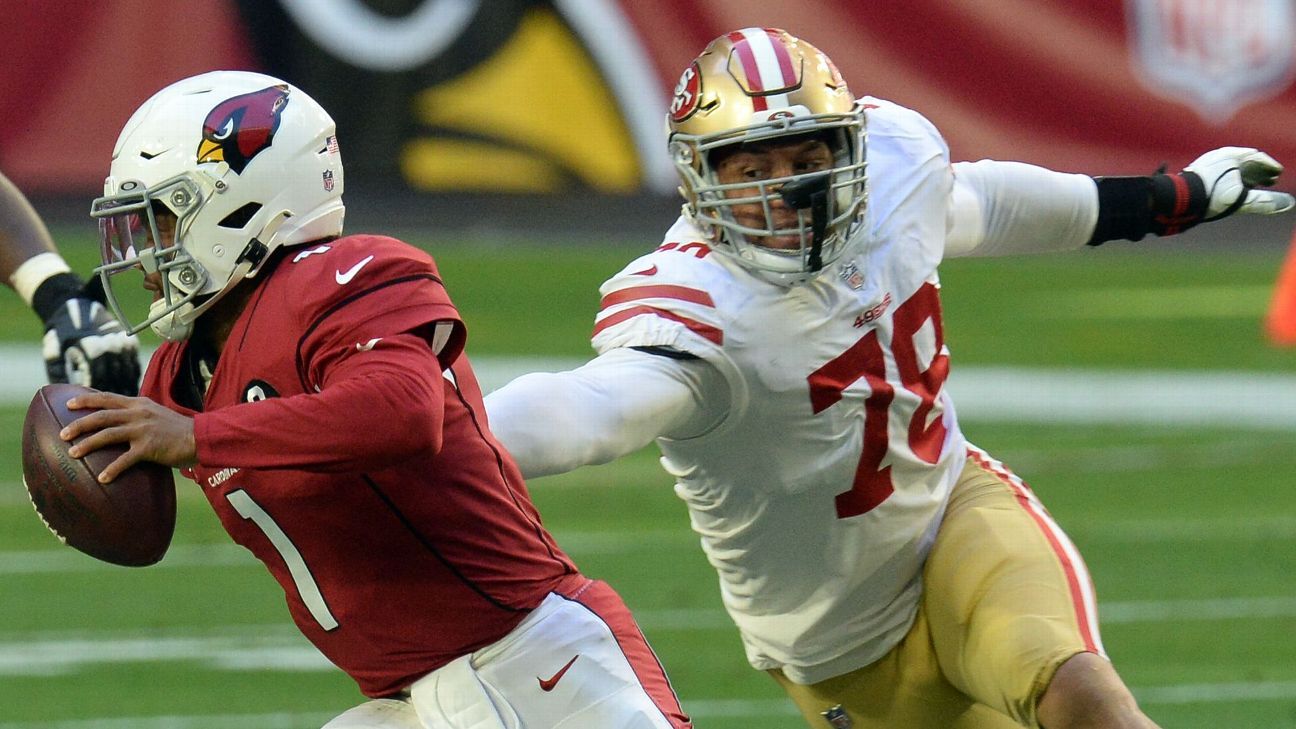 SANTA CLARA, Calif. — San Francisco 49ers defensive end Jordan Willis has been suspended for the first six games of the 2021 season for violation of the league's policy on performance-enhancing substances.
According to a statement from an NFL spokesperson, Willis will be able to participate in all offseason and preseason practices as well as the 49ers' three exhibition games. Willis is eligible to return to the 49ers active roster on Monday, Oct. 25, after the team's Week 7 game against the Indianapolis Colts.
The suspension comes after Willis re-signed with the 49ers on March 25. That deal was for one year with a base salary of $990,000. San Francisco initially acquired Willis in a trade with the New York Jets on Oct. 27 of last year, sending a sixth-round choice to New York in exchange for Willis and a seventh-round pick.
Willis appeared in seven games for the 49ers, posting 13 tackles and 2.5 sacks. Heading into training camp, he is expected to compete for a spot on the 49ers' depth chart as an edge rusher.
That group also includes Nick Bosa, Arik Armstead, Samson Ebukam, Dee Ford, Arden Key and Alex Barrett. With Willis slated to miss six games and Bosa (ACL) and Ford (back) working back from injury, the 49ers are a little light on depth at the position, which could mean another addition will be needed as the season nears.
Buffalo Bills WR Cole Beasley on league's new COVID-19 protocols: NFLPA 'a joke'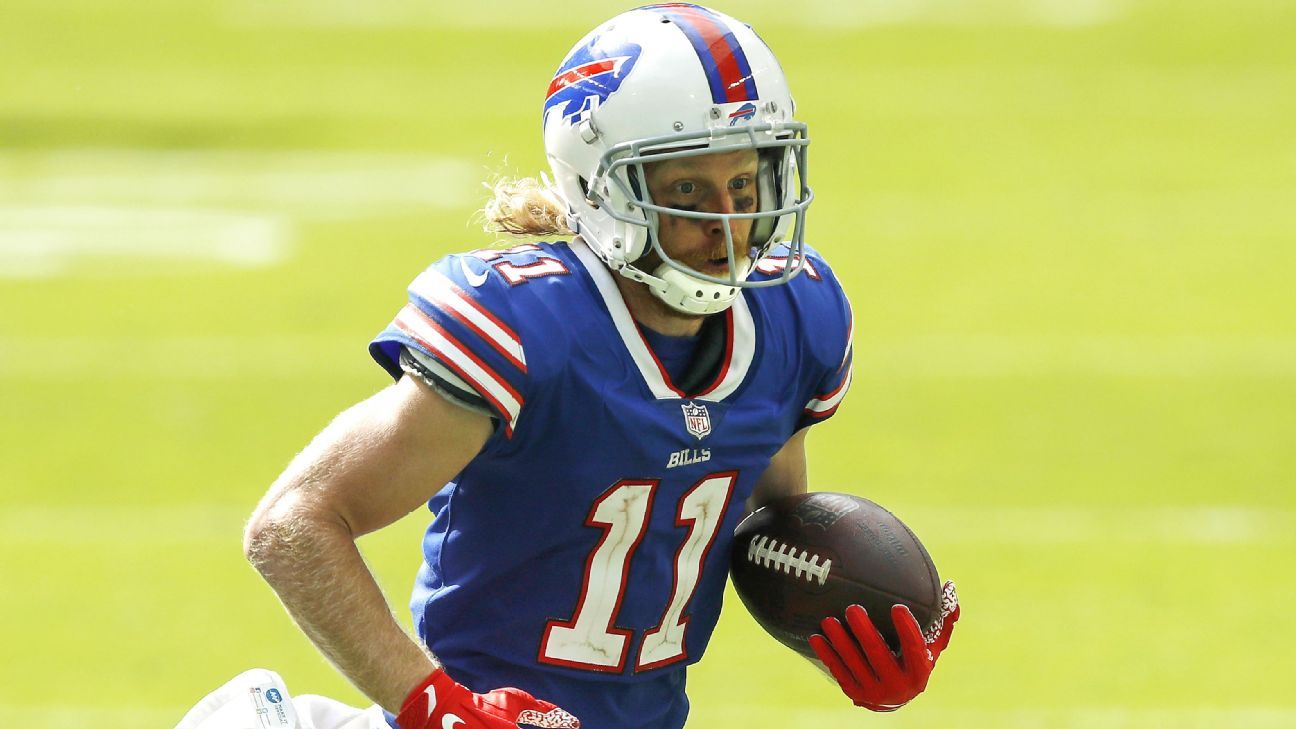 BUFFALO, N.Y. — Buffalo Bills wide receiver Cole Beasley is not happy with the NFL and NFLPA's newly agreed-to COVID-19 protocols for training camp and the preseason, and he aired his concerns Thursday via his Twitter account.
The latest COVID-19 policy heavily restricts unvaccinated players while allowing vaccinated players to return to near normalcy. Beasley, 32, placed equal blame on the NFL for prioritizing money over its players' freedom and the NFLPA for not supporting the players it represents.
"This is crazy. Did we vote on this?" he wrote in response to the list of protocols. "I stay in the hotel. We still have meetings. We will all be together. Vaccinated players can go out the hotel and bring covid back in to where I am. So what does it matter if I stay in the hotel now? 100 percent immune with vaccination? No.
"The players association is a joke. Call it something different. It's not for the players," he added. "Everyone gives me the 98 percent of people who are vaccinated don't get covid again. The odds of me getting in the NFL and playing for 10 years are lower than that and I'm here."
The notable differences in the new policy include no daily testing for vaccinated players, who will also no longer be required to wear masks at the team's facility or during team travel. Vaccinated players will also have no travel restrictions, can use the sauna/steam room and weight room without capacity limits and can interact with vaccinated friends and family during team travel.
Unvaccinated players will be required to test for COVID-19 every day and must wear masks throughout the team facility and during travel. They will also not be allowed to use the sauna/steam rooms, are subject to weight room capacity limits and may not leave the team hotel to eat in restaurants or interact with anyone outside of the Team Traveling Party during team travel.
Perhaps the biggest difference between the two sets of protocols – unvaccinated players will be required to quarantine after high risk exposure to COVID-19, while vaccinated players will not.
"So what are we really talking about? I understand completely why the NFL is doing this," Beasley wrote. "It gives them back the freedom to make the most money as possible again if everyone is vaccinated. But will anyone fight for the players or nah?"
Beasley also responded to a CNN article in May about vaccinated people no longer needing to wear a mask outdoors, saying, "I do that without being vaccinated. Is this illegal now?"
COVID-19 vaccinations have been a controversial topic throughout the NFL and specifically surrounding the Bills' organization. Last month, general manager Brandon Beane was contacted by the NFL after responding to a hypothetical scenario during a radio interview, in which he said would cut an unvaccinated player to return his team to normalcy.
Quarterback Josh Allen, during a podcast appearance in March, said he was still undecided whether or not he would get the vaccine, saying he would do what the statistics told him was the right move. He declined to disclose his vaccination status or comment on it any further during a call with local reporters after a Bills offseason practice.
In May, Bills coach Sean McDermott said he was "concerned" about the divisive nature of the COVID-19 vaccine and the impact it could have on the team but said he felt like the Bills were "moving in the right direction" when asked Tuesday. Both Beane and McDermott are vaccinated, the latter making it clear he wanted to see his players do the same.
"We're trying to do our best to educate, build awareness, but at the end of the day, the players that you're referring to have to make their own decision," he said. "We feel like we know that in our country and around the league where and how things are improving. And to me, there's a direct correlation to people getting vaccinated. Again I would like to continue to see our team move in that direction. Continue to move an increased number of people that are getting vaccinated.
"I certainly respect everyone's position. That being said, that's really where I'm at and where we're at. It's good to have the guys here. But I think the reality of our situation is that now, but also for sure come the fall, training camp, protocols are going to continue to be enforced, in particular for those who are unvaccinated as it relates to the masking and the different things that are in place. Just trying to be real about it and make sure people understand what normal is gonna look like, in particular for those who are unvaccinated come the fall."
Beasley is entering his third season with the Bills after registering 82 catches for 967 yards in 2020 – both career-highs. The two-year stretch he has put together in Buffalo is statistically the best two-year stretch of his 10-year career.