Jack Miller on front row as Fabio Quartararo takes pole
Home favourite Fabio Quartararo made light of the tricky changeable conditions and his recent surgery to claim pole for the French MotoGP in Saturday qualifying at Le Mans.
With intermittent rain making life difficult at the Bugatti circuit Quartararo topped the time sheets from his Yamaha teammate Maverick Vinales with Australia's Jack Miller completing the front row.
Quartararo's pole grab comes just 11 days after undergoing 'arm pump' surgery following problems with his right forearm, which saw him slip to a 13th place finish last time out at Jerez.
Stream Every Practice, Qualifier & Race of the 2021 Moto GP Championship Live & On-Demand on Kayo. New to Kayo? Try 14-Days Free Now >
"It's fantastic," beamed the 22-year-old who has won two of the four races so far this season.
"I'm pleased to be on pole for the second successive time here."
The Frenchman had started the Spanish MotoGP last time out at the top of the standings. He surged into an early lead and seemed set for his third win in four races this season.
But muscle problems left him with no strength in his right forearm to finish down the pack and in tears.
Miller overcome by emotion after victory | 02:24
He is placed two points off the top of the standings which are led by Francesco Bagnaia (Ducati).
Both Bagnaia and the reigning world champion Joan Mir failed to make it out of Q1 and into Q2 and the battle for pole, leaving the pair well down the grid for Sunday's race.
Franco Morbidelli on Yamaha's satellite SRT bike is on the second row after posting the fourth quickest time in Q2 alongside the other home chance Johann Zarco and six-time world champion Marc Marquez.
Marquez, back this season after multiple operations on the arm he broke in the opening race of last year, led for much of qualifying before his time was bettered in the closing flying lap.
"In the rain, I feel better because it is physically less demanding," said the Spanish Honda star.
Vinales, who won the season-opener in Qatar, had one lap time deleted for exceeding track limits, and rued an inconsistent afternoon.
"I made many mistakes during the lap, and this cost us the pole position," he admitted.
Miller, the winner last time out in Spain, was hoping for a wet race Sunday.
"If it's wet tomorrow, starting in the front row is an advantage," said the Australian who currently sits in sixth place in the championship.
Seven-time elite class champion Valentino Rossi, who has endured a difficult start to the season, starts from ninth on the grid on Sunday.
live blog, stream, updates, how to watch, results, qualifying, grid, Townsville SuperSprint, Cam Waters, Jamie Whincup
Jamie Whincup and Cameron Waters combined in Townsville to end the Sunday qualifying trend in 2021.
To this weekend's WD-40 Townsville SuperSprint, at all four sprint events so far in 2021, the same driver has claimed both ARMOR ALL Pole Positions on the Sunday.
Shane van Gisbergen kicked off the trend with two poles in the wet at March's Penrite Oil Sandown SuperSprint.
Stream Every Practice, Qualifier & Race of the 2021 Repco Supercars Championship Live & On-Demand on Kayo. New to Kayo? Try 14-Days Free Now >
SVG DOMINATES at the Townsville 500 | 01:24
Waters claimed both Sunday poles at the Beaurepaires Tasmania SuperSprint, before Anton De Pasquale did the same at the OTR SuperSprint in Tailem Bend.
"We turned the car on its head and it's a totally different race car this weekend," said Waters. "I didn't do a good enough job in Q1 this morning, but we tuned her up for Q2 and managed to get the pole."
Last month, Will Davison clinched both poles in Darwin.
The streak ended on Sunday, with Whincup claiming Race 18 pole in Townsville before Waters topped the Race 19 session.
Davison, however, continued another trend in Darwin; Sunday pole sweeps haven't generated Sunday win sweeps.
In 2021, just three times in eight starts at sprint events has the pole winner gone on to win on Sunday.
Van Gisbergen won both Sandown races, while De Pasquale converted in Race 10.
Starting from pole itself has proven tough to convert from; just seven times in 17 attempts in 2021 has the victor started from pole position.
Van Gisbergen has done it five times (Bathurst, Sandown, Tasmania and Townsville) with Andre Heimgartner and De Pasquale converting at The Bend.
Race 18 will commence at 12:45pm AEST ahead of Race 19 at 3:40pm.
Follow all the action in our live blog below. Can't see the blog? Click here!
British Grand Prix, Sprint race, reaction, Fernando Alonso, Sergio Perez, results, practice, qualifying, pole
As fans returned to Silverstone for the British Grand Prix, Formula One introduced a brand-new format that added 'the Sprint', effectively an extra mini race that determines grid spots for Sunday's main event.
The changes on the first two days are an effort to provide the crowd, and viewers, with more action.
They are an experiment that will be repeated, at most, at two more races this season.
One sprint alone will not be enough to gauge whether it is a success or not but early signs suggest not everyone is agreeing on whether it is worth it.
Stream The Formula 1 Pirelli British Grand Prix 2021 Live & On-Demand on Kayo. New to Kayo? Try 14-Days Free Now >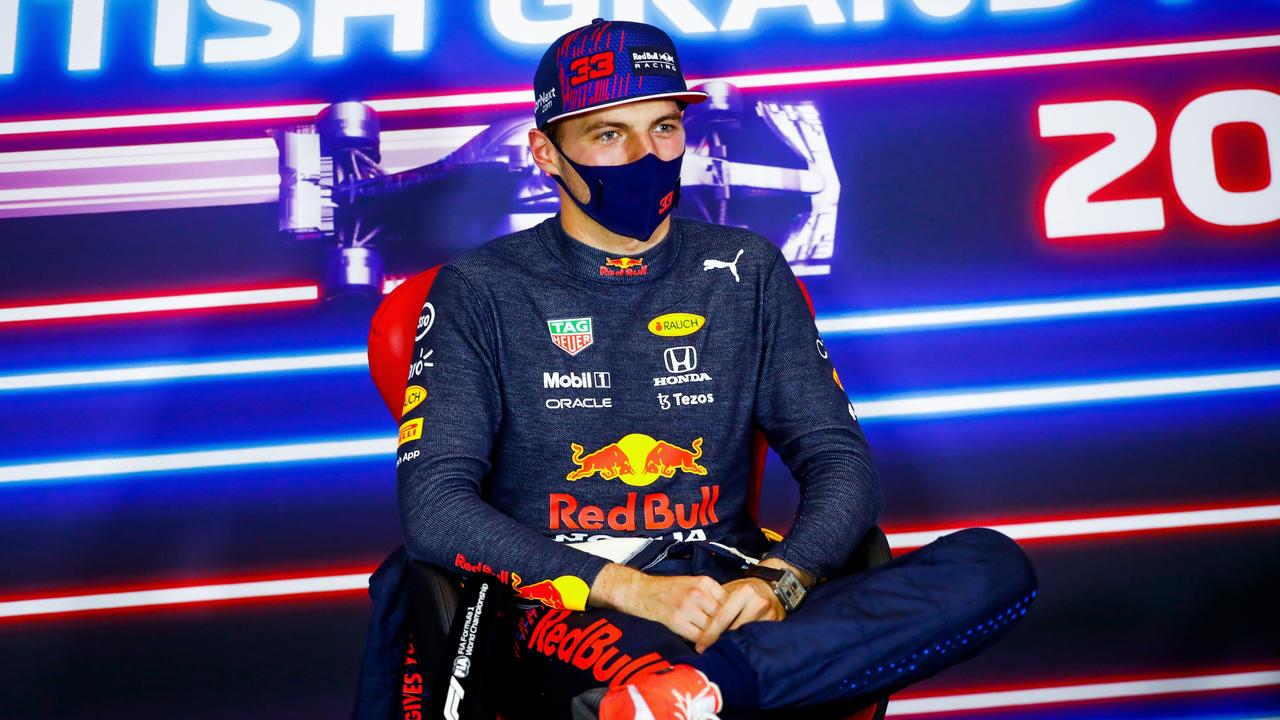 FREE CHOICE OF TYRES
Unlike the Grand Prix, there were no mandatory changes of tyres meaning drivers could select whichever compound they prefer.
Alpine duo Fernando Alonso and Esteban Ocon were the big winners from this change, with the former starting the race on fresh soft tyres while others opted for the medium compound. It did not all go smoothly for Alonso though, whose tyres later began to fade as he slipped back.
Nevertheless, he was still able to claim his highest starting position for a grand prix as a result of his early gamble.
"I liked the sprint format. It's good to have some action all three days, for the fans," said Alonso.
He had moved from 11th to fifth at one stage.
F1 managing director Ross Brawn has suggested that the free tyre choice could be a feature of normal races in the future if it is successful.
POLE POSITION
One of the more contentious points to come out of the sprint qualifying format was the decision to award pole position to the winner.
In this case it was Max Verstappen instead of Lewis Hamilton, who was the fastest at qualifying.
Sebastian Vettel was not convinced when asked about the change earlier this week.
"I think that's wrong," he said.
"Pole is the fastest lap time achieved or the fastest lap time in qualifying, so it gets all a bit confusing.
"But obviously, it depends. If this is a one-off, then it doesn't do much harm, but if we end up having ten sprint races next year or in the future, then I think it's just a bit weird.
"So, pole position should go to the guy who goes fastest in one lap."
Verstappen himself found it all a bit strange.
"When I crossed the line after this race and I was told: 'Good job, you have pole position'. It was a bit strange," added the Dutch star as he reflected on the new Saturday format.
"What was great is that you start with less fuel, so the cars are faster and a little more lively" to complete the 17 laps rather than the 52 they will have to cover for the "real" race.
MORE COMPETITION?
The strongest argument in favour of the sprint format was the unpredictability.
Less practice meant the drivers head into qualifying headed into qualifying without as much time to nail their set-ups.
Verstappen may have quite quickly wrapped up top spot but was in a tight battle with Hamilton, who attempt to go around on the outside at Copse.
Meanwhile, Alonso also provided plenty of early entertainment for the fans as he surged from 11th on the grid to as high as fifth in the opening lap.
The fact that drivers did not just wait for pitstops also increased the chances of overtakes.
Sergio Perez's spin on lap five also played into the unpredictability of the sprint given he did not have enough time to recover and instead will start Sunday's race from last.
In saying all of that though while there was some early excitement on the duel between Verstappen and Hamilton, there was little chance of the former giving up his advantage after Turn 1.
Friday qualifying, on the other hand, was separated by just 0.05s.
It is a weighing up on risk versus reward given only the top three finishers score from the sprint.
It means that midfield drivers may take a more cautious approach if they feel like the top three is out of reach.
Daniel Ricciardo said as much earlier in the week.
"You try to have a consistent approach, but it does sometimes matter with where you are on the grid," Ricciardo said, per racer.com.
"If you start at the pointy end you might be a little bit… I do not want to say cautious, but not take as many unnecessary risks, but if you are a bit further back you see it as an opportunity to try and gain a handful of positions at the start.
Perez, meanwhile, who finished right down the bottom was not a fan of the concept.
"The format is very different. We have to wait and see," he said.
This has been done for the fans, so whether or not it has more repercussions for them.
"But from my side, the format is too different with the practice. It's a bit of a waste of time. It doesn't make much sense, with practice two, the way it is.
"That's something drivers and teams see as a bit useless. It's not like you can prepare anything from that point – you cannot prepare for the sprint, and you cannot prepare much for the race.
"Everyone is safely managed, so I think that's something that personally can be improved."
FOR THE FANS
While change always takes time to get used to, a number of drivers accepted that the trial format was intended to add extra excitement for fans.
"It's nice for the fans to have more races," said Hamilton.
Lando Norris, meanwhile, said: "This is for the fans; it is not for us. It is for the fans to give them more to watch and look forward to every day. If they enjoyed it, I'm happy. That was the point of it all. And if the fans liked it, I'm happy."
Vettel added: "I can see that maybe in the future there will be more of this, I'm sure the people liked it, I guess it is better than free practice."
NO FUNDAMENTAL CHANGES TO COME
F1 managing director Ross Brawn admitted he will consider changes with the second sprint weekend set for the Italian GP and third for later in the season.
"There was lots of action," Brawn said, per BBC.
"People are now understanding it's a complete weekend. We had a great day yesterday, we've had a great day today, and I'm sure we're going to have a great day tomorrow. So three days of action. And I don't believe we have diluted it at any stage; we've only added to it.
"We will go away and review everything, take some time, talk to the teams and drivers, discuss it with the FIA and see if there are things we can polish, but I don't think we should change anything fundamentally. I think the concept is good.
"The terminology of the event is a little challenging. Some people call it sprint qualifying, some call it a sprint race, we need to tidy up things like that. There are things we need to evolve, but nothing major."
British Grand Prix, Sprint race, grid, qualifying, how to watch, results, leaderboard, Daniel Ricciardo, Max Verstappen
World championship leader Max Verstappen won Formula One's inaugural sprint race on Saturday to take pole position for the British Grand Prix.
The Red Bull driver finished the 100km dash around Silverstone ahead of defending world champion Lewis Hamilton with Valtteri Bottas in the second Mercedes in third place.
That was despite his brakes overheating and catching fire on the grid, leaving Verstappen wondering if his race was over before it began.
Stream The Formula 1 Pirelli British Grand Prix 2021 Live & On-Demand on Kayo. New to Kayo? Try 14-Days Free Now >
Australian Grand Prix officially OFF | 02:16
"Yeah, I was really worried about that," said Verstappen.
"A little bit of fire, it's okay, but it was becoming quite big and I was just looking at my mirror to the cars at the back and hoping they would speed up."
Verstappen though overcame that early setback and now has a 33-point lead over seven-time champion Hamilton who is hoping to capture an eighth British Grand Prix triumph on Sunday.
"We were pushing each other hard as the tyres were blistering a lot," said Verstappen who collected three points for his win after seeing off his rival by 1.4secs.
Hamilton took two and Bottas one.
"I am happy to have scored the three points and it is funny to say I have scored the pole position too, but we'll take it," added the Dutchman.
Hamilton started the 17-lap sprint at the front of the grid having topped qualifying on Friday but was immediately passed by Verstappen.
He admitted he will face a battle to secure a 99th career win in front of around 90,000 fans on Sunday with the main event raced over 52 laps.
"First of all, let me say thank you to the fans, their energy is amazing," he said.
"I gave it everything today, I'm just sorry I couldn't win it for them. Tomorrow we will fight again, but Red Bull are just so strong."
He added: "Verstappen was pulling away and there was nothing I could do to hold on to him. Their starts have been great this year and we've lost a bit on our starts and losing position is never a good thing — I wish we could do the start again."
The T20 of F1: Everything you need to know about Formula 1's new sprint race
Bottas shared Hamilton's lack of optimism for Sunday.
"We tried to do something different and the target was to try and get Verstappen in the first lap. It didn't happen," said the Finn.
"Today shows that tomorrow is not going to be easy. If it's going to be a bit warmer, then we might see more issues.
The rest of the top 10 was made up of Charles Leclerc in a Ferrari in fourth, Britain's Lando Norris, in a McLaren, in fifth, and teammate Daniel Ricciardo just behind.
Ricciardo has happy to improve but admitted his inability to break into the top five was worrying.
"I think we were decent relative to the others and started seventh today, start sixth tomorrow, so it's a little victory and yes, I'll try and aim for a top five tomorrow," he said.
"Apparently, I haven't got one this year, top five, so I think sixth is my best result. That's kind of sad. I'll try and break through the top five."
Two-time champion Fernando Alonso, behind the wheel of an Alpine, shrugged off his 39 years to climb to seventh on the grid.
He had moved from 11th to fifth at one stage.
Behind him are four-time world champion Sebastian Vettel in the Aston Martin, Williams' George Russell and Esteban Ocon in the second Alpine.
Russell, however, was later demoted three places on the grid for an opening lap clash with Sainz.
In stark contrast to Verstappen's performance, Red Bull teammate Sergio Perez had an afternoon to forget.
The Mexican, who missed the 2020 British Grand Prix after contracting Covid-19, had started in fifth place but then spun off the track at the midway stage.
He will have to start Sunday's race from the back of the grid. "I became a passenger very early on. That meant that I lost the car and did a lot of damage to my race," he said.
"I'm very sorry for the team. Been a very low day from my side, but tomorrow is a new day and I look forward to it."
Saturday's sprint qualifying race was the first of three planned for this year. Another will follow at the Italian Grand Prix in September with the third venue still to be confirmed.