Chicago Bears coach Matt Nagy to miss start of rookie minicamp after COVID-19 close contact
LAKE FOREST, Ill. — Chicago Bears coach Matt Nagy will not be physically present at the first day of the team's rookie minicamp Friday due to a close contact with someone who tested positive for COVID-19, according to a team spokesperson.
Nagy will lead all virtual meetings with the rookies and view practice from a remote location, but the third-year coach will not be at the team facility.
The Bears hope Nagy will return to in-person duties in short order when it is deemed safe to do so.
After the three-day rookie minicamp, the Bears begin Phase 2 of their voluntary offseason program on Monday.
Buffalo Bills WR Cole Beasley addresses virus protocol concerns with NFLPA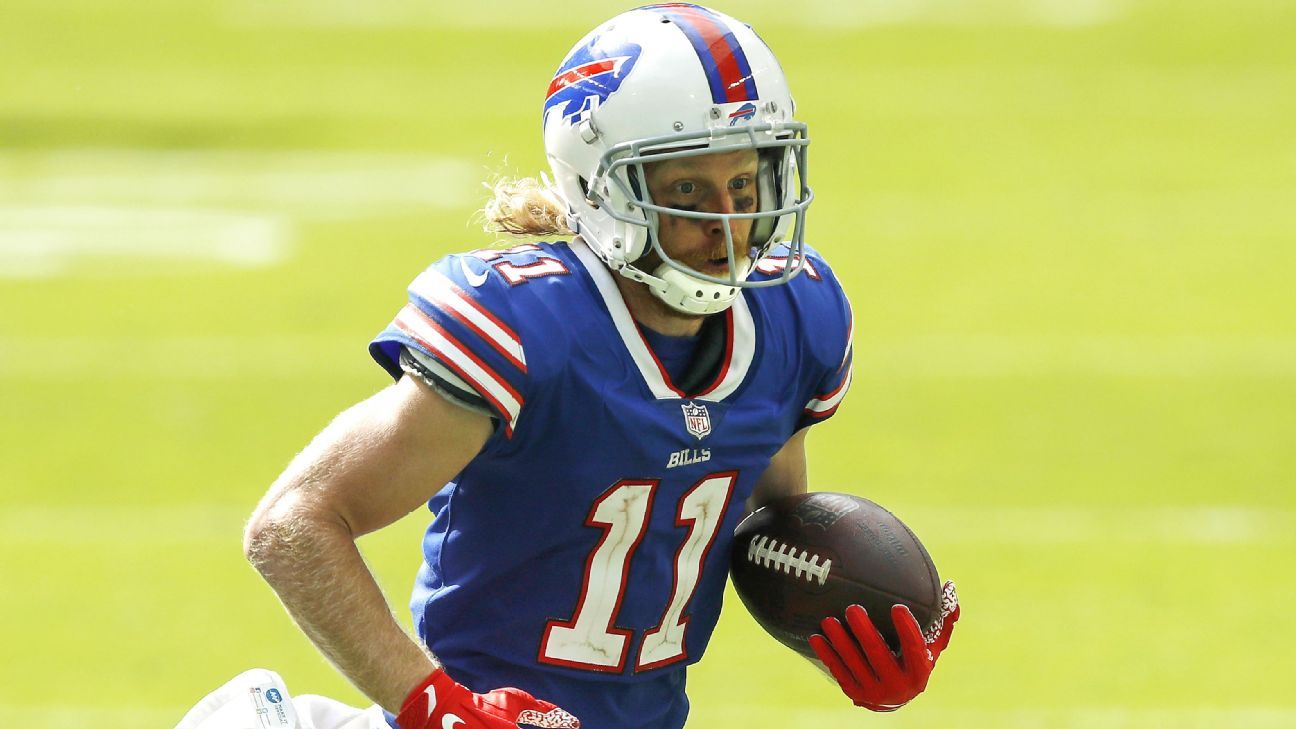 BUFFALO, N.Y. – Buffalo Bills wide receiver Cole Beasley said he spoke with the NFLPA soon after complaining about its jointly agreed-to policy with the NFL regarding COVID-19 protocols.
The policy, which applies to training camp and the preseason, heavily restricts unvaccinated players while allowing vaccinated players to return to near normalcy — which made Beasley question Thursday via his Twitter account whether "anyone will fight for the players."
Beasley tweeted Friday morning a confirmation of The Athletic's report that the NFLPA had reached out to him and come to an understanding regarding certain aspects of the policy.
"Now we have spoken and are working through it," he wrote. "From what I'm told these are guidelines for preseason and it's nothing final."
The notable differences in the new policy include no daily testing for vaccinated players, who will also no longer be required to wear masks at the team's facility or during team travel. Vaccinated players will also have no travel restrictions, can use the sauna/steam room and weight room without capacity limits, and can interact with vaccinated friends and family during team travel.
Unvaccinated players will be required to test for COVID-19 every day and must wear masks throughout the team facility and during travel. They will also not be allowed to use the sauna/steam rooms, are subject to weight room capacity limits, and may not leave the team hotel to eat in restaurants or interact with anyone outside of the team traveling party during team travel.
Perhaps the biggest difference between the two sets of protocols: Unvaccinated players will be required to quarantine after high-risk exposure to COVID-19, while vaccinated players will not.
Beasley expressed confusion over the new protocols and didn't shy away from criticizing the NFL and NFLPA.
"This is crazy. Did we vote on this?" he tweeted. "I stay in the hotel. We still have meetings. We will all be together. Vaccinated players can go out the hotel and bring covid back in to where I am. So what does it matter if I stay in the hotel now? 100 percent immune with vaccination? No.
"The players association is a joke. Call it something different. It's not for the players. Everyone gives me the 98 percent of people who are vaccinated don't get covid again. The odds of me getting in the NFL and playing for 10 years are lower than that and I'm here."
Beasley went on to call the NFLPA "a joke," and Bills teammate Jon Feliciano also questioned the organization.
"Don't forget the Coaches to @NFL trying to force them to get vax or they can't coach in person," he tweeted in response to Beasley. "@NFLPA a lot of these coaches were former players who's helping them?"
When called an "anti-vaxxer" by another Twitter user, Feliciano responded by saying he is vaccinated but respects what other people decide to do with their bodies.
Beasley previously responded to a CNN story in May about vaccinated people no longer needing to wear a mask outdoors, saying, "I do that without being vaccinated. Is this illegal now?" The former Dallas Cowboys receiver also spent time responding to Twitter users who questioned his stance; Timothy Caulfield, a research director and professor at the School of Public Health at the University of Alberta told him the NFL's rules "100% make sense" and "follow the science and are good for the sport & players."
"I get tested every day for covid and get a negative test but I still have to keep distance from people who are 'vaccinated' when apparently if they get it they can't pass it to anyone," Beasley responded. "How does that make sense to you?"
He also declined to disclose what his reservations regarding the vaccine are, calling his choice a personal decision.
"You still think I'm trying to persuade people to not do it. I don't care if you're vaccinated or not," he responded to another user. "This isn't about what is dangerous. Football is dangerous I still play it. I'm just saying I shouldn't be treated differently because of it just So I'll do what you want me to."
COVID-19 vaccinations have been a controversial topic throughout the NFL and specifically within the Bills organization. Last month, general manager Brandon Beane was contacted by the NFL after responding to a hypothetical scenario during a radio interview in which he said he would cut an unvaccinated player to return his team to normalcy.
Quarterback Josh Allen, during a podcast appearance in March, said he was still undecided about whether he would get the vaccine, saying he would do what the statistics told him was the right move. He declined to disclose his vaccination status or comment on it any further during a call with local reporters after a Bills offseason practice.
In May, Bills coach Sean McDermott said he was "concerned" about the divisive nature of the COVID-19 vaccine and the impact it could have on the team, but when asked about it Tuesday, he said the Bills were "moving in the right direction." Both Beane and McDermott are vaccinated, with the latter making it clear he wanted to see his players do the same.
"We feel like we know that in our country and around the league where and how things are improving. And to me, there's a direct correlation to people getting vaccinated," McDermott said. "Again, I would like to continue to see our team move in that direction. Continue to move an increased number of people that are getting vaccinated … It's good to have the guys here. But I think the reality of our situation is that now — but also for sure come the fall — training camp protocols are going to continue to be enforced, in particular for those who are unvaccinated as it relates to the masking and the different things that are in place.
"Just trying to be real about it and make sure people understand what normal is gonna look like, in particular for those who are unvaccinated come the fall."
Beasley is entering his third season with the Bills after registering 82 catches for 967 yards in 2020 — both career highs. The stretch he put together in Buffalo is statistically the best two-year stretch of his 10-year career.
Ever the enigma, Chargers' Joey Bosa adjusting to new defense – Los Angeles Chargers Blog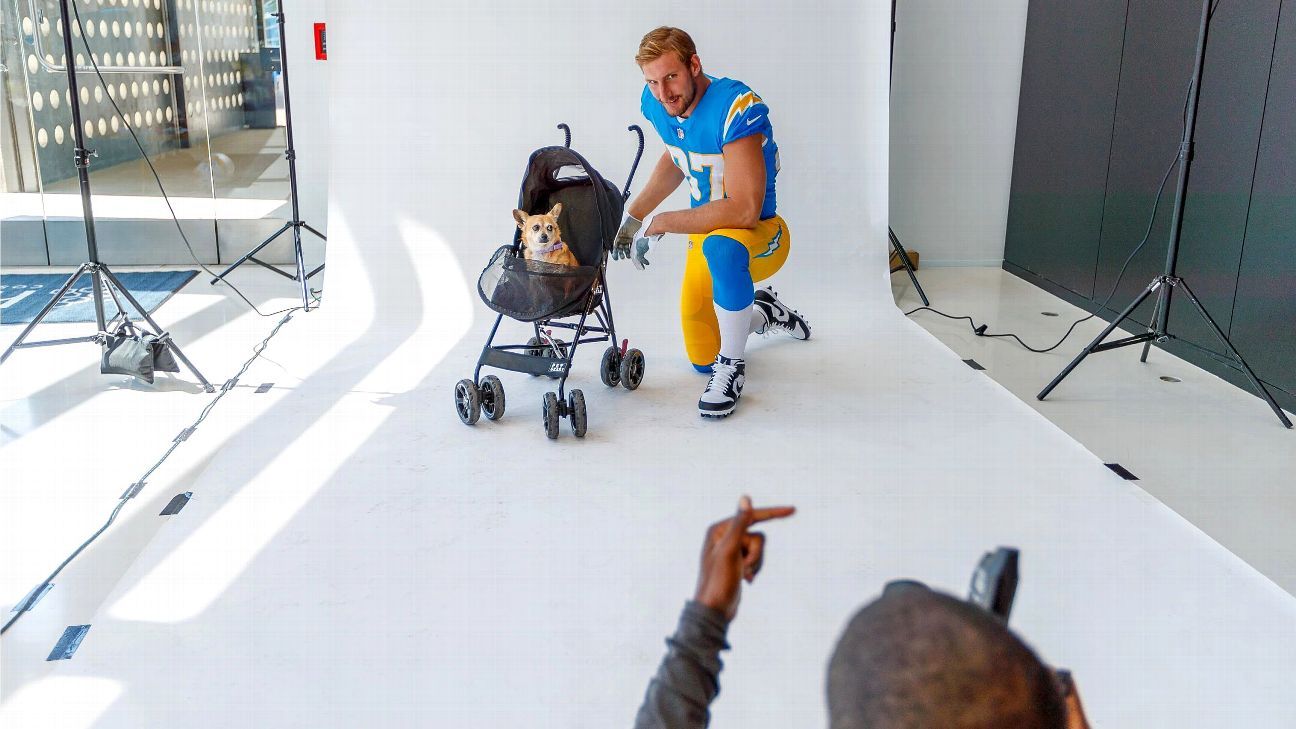 COSTA MESA, Calif. — Just when you thought Los Angeles Chargers defensive end Joey Bosa, heading into his sixth season, couldn't do anything to surprise you anymore, he comes up with this: A media day photo with a very small (and terrified) dog in a baby stroller.
"That's what he came up with?" said running back Austin Ekeler.
No, it's not his dog. He once said to a colleague, "I can barely take care of myself, much less a dog."
It is part of the Chargers' "Doggie Draft," an initiative to get shelter dogs adopted.
"It suits him," said someone perusing the photo.
Or, as another colleague mentioned, watching Bosa run around several years ago frantic to find his helmet (it was in his locker): "It's just Joey being Joey."
"no i can't come. there's a picture of a dog in a stroller with joey bosa" pic.twitter.com/n9bu1GuffI

— Los Angeles Chargers (@Chargers) June 15, 2021
Bosa is a sort of enigma, until he gets on the field. There, he wreaks havoc with anyone in his way, recording 7.5 sacks and 29 solo tackles in 2020 despite myriad injuries.
At Chargers mandatory minicamp this week, he spent a good deal of time stretching with an elastic band, taking his time to work out his muscles. Then he picked up his helmet and sprinted over to his position group to continue to learn the new defense put in by a new staff which will change the scheme to a 3-4 from a 4-3.
"It's been tough for me the last couple of days," Bosa said. "But it's an adjustment. There's a lot more to this defense than I've ever been part of before."
Which is saying a lot for a three-time Pro Bowler ranked among the top defensive ends in the league. It's especially telling following a 2020 season, where he estimates he suffered 15 different injuries.
"Luckily a lot of them were just a swollen ankle, my shin and my triceps," he said. "The concussions — there are no effects that I've been dealing with. I'm feeling good, nothing from last year."
Saying he'd only played in a 3-4 scheme a few times, Bosa admitted he'd have to work on his two-point stance and that he loved "being able to see the whole field" as he did.
That said, it is an adjustment that new head coach Brandon Staley believes Bosa, an Ohio State grad, will catch onto quickly.
"The thing that he does best is rush the passer," Staley said. "You can see why he is such a premium rusher when you're around him in person, with his hands, his quickness. His ability to process quickly on the move. … We're certainly still learning him and he's learning us. Hopefully through training camp, we can really figure out exactly where that sweet spot is for him."
Bosa, who has 47.5 career sacks, signed a five-year extension worth $135 million last summer after being the third overall pick in the 2016 NFL draft.
Once he figures out the defense, he expects to record a lot more of those sacks.
Soft and unassuming before he takes the field, he becomes — as he says — "an animal" once the whistle blows. It's something that runs in the family.
His brother Nick, recovering from a torn ACL at the beginning of last season, comes to town with his San Francisco 49ers teammates in August for joint scrimmages against the Chargers.
"I'm sure my mom and dad are over the moon," Bosa said. "It will be fun."
Beyond that, Bosa seemed fired up for the season after just two days of mandatory minicamp. Training camp starts July 27.
"We got everything we needed," he said. "It's exciting. I don't want to get too carried away, but it's exciting."
Joey being Joey.
'It's straight go-mode:' No offseason for Ravens' Lamar Jackson – Baltimore Ravens Blog
OWINGS MILLS, Md. — Lamar Jackson drove the pass 50 yards in the air and placed it in a tight window along the sideline to Sammy Watkins, who was running stride for stride with Pro Bowl cornerback Marlon Humphrey.
This was Jackson's best pass of the offseason in what became his best practice of the spring. It was a near-perfect way to wrap up the Baltimore Ravens' minicamp and begin a five-week break before the start of training camp.
Before you start talking about a month-long summer vacation, Jackson has other plans.
"It's really not the offseason anymore," Jackson said. "For us, I'll say, we've just got to keep grinding and stay in shape. We can't go backwards right now, because we already had our fun and did whatever we did during the regular offseason. Not this time; it's straight go-mode right now. The season is here."
Overall, it was an uneven offseason for Jackson. In the practices open to the media this spring, he was on-target in the red zone and up-and-down beyond that. Some deep throws wobbled and others were picked off or overthrown.
Jackson knows there's plenty of work to get done to become a consistent passer. He expects to get together with his receivers in Florida during time leading up to training camp. He didn't address whether he'll work with a personal quarterback coach, which is something he's done in the past.
What's fueling him heading into this season is how his past years ended. Jackson didn't win in the playoffs in 2018 and 2019, and he lost in the divisional round in Buffalo five months ago.
"We fell short three years in a row since I've been here," Jackson said. "And I'm always seeing teams, when they get [to the Super Bowl], it's hard work, preparation."
To get to the top, Jackson and the Ravens need to go over the top more. Jackson said a big focus this offseason is on improving the deep passing game.
Last year, the Ravens had 17 completions on throws of 20 yards or longer. Only four teams — the Los Angeles Rams, New Orleans Saints, Cincinnati Bengals and Tennessee Titans — had fewer.
"People are always saying we throw short, intermediate routes and stuff like that – little 5-yard, 10-yard routes," Jackson said. "But we had some chances last year. We hit some of them, but we're just trying to be more consistent this year, and that's where the strides happen. It starts in practice, and hopefully it transitions to the game. We've just got to keep working on it."
If defenses are going to stack the box to stop the NFL's top rushing team, Jackson and Baltimore have to figure out a way to make them pay repeatedly. Jackson connected on 37.8% of passes longer than 20 yards (17-of-45) last season, which ranked 24th in the NFL.
"I think we'll have a lot of favorable looks, and we got to be ready to take advantage of them," Ravens offensive coordinator Greg Roman said. "Our goal is to win, and if teams are giving us opportunities to throw the ball deep, it's upon us to work hard and figure that out and really take advantage of that because those are game-changing plays."
Jackson believes the key to boosting his consistency on deep throws is more about his feet than his arm.
"That's a big emphasis for me — just working on my footwork, making sure I stay open so the ball can drive, so I can put a little tight spiral on the ball," Jackson said.
Heading into training camp, the more pressing question is whether Jackson will get a new deal by the time he returns. Jackson, who is signed through 2022, has been in talks with the team about a contract extension.
Ravens coach John Harbaugh said Jackson won't get distracted if the sides are unable to hammer out a long-term deal by the start of the regular season.
"Look what he's done — he's going to get paid. He knows that," Harbaugh said. "The question becomes, what's he going to do? What's his legacy going to be as a quarterback? That's what he's focused on. That's what's so great about it. The other thing is a done deal."
Jackson, whose $1.771 million salary ranks 400th among all players this year, said his contract is a non-issue.
"I'm not going to lie to you; I'm not really focused on that right now," Jackson said. "I'm focused on getting better. I'm focused on working with my teammates right now. I'm focused on winning right now. I'm trying to bring a Super Bowl here."