New York Yankees 3B coach Phil Nevin positive for COVID-19, other coaches pending, Aaron Boone says
New York Yankees third-base coach Phil Nevin has tested positive for the coronavirus, and the team is waiting on further testing to confirm the status of other coaches and staff, manager Aaron Boone said Tuesday.
At least five coaches have tested positive, sources told ESPN's Marly Rivera.
"We're doing all we can to stay healthy. A little bit of a skeleton staff but nothing we can't handle," Boone said.
The team said in a statement that Nevin is fully vaccinated and under quarantine protocol in Tampa, where the Yankees are playing the Rays on Tuesday night.
"He's doing OK," Boone said.
Contact tracing is ongoing, but no players are involved, according to Boone. Bench coach Carlos Mendoza replaced Nevin as third-base coach, and minor league coordinator Mario Garza filled in as first-base coach for Reggie Willits.
"Hopefully the fact that we are vaccinated in a pretty large mass … will blunt this and allow a number of us to not get anything and keep the symptoms at a minimum if it does get through," Boone said.
The Yankees on April 30 were able to relax MLB protocols after reaching an 85% vaccination rate among players and staff such as managers, coaches and athletic trainers. The team was talking with MLB officials about the situation.
"We'll have to definitely evaluate and make sure we're doing everything we possibly can to prevent things from happening," Boone said.
Yankees ace Gerrit Cole, who resumed wearing a mask during a pregame videoconference session Tuesday, said the players were comfortable in playing the game.
"As a whole, we're going to press on," Cole said. "I don't think this is going to be over for a few years. I think we're going to have to be dealing with this kind of thing for a while. And every time these things come up, we're going to have to adapt and learn, just as a species."
Cole planned to wear a mask in the dugout during Tuesday night's game.
"We've all learned that playing through a pandemic last year, nothing surprises you, but it catches you off guard a little bit," Boone said. "Playing the 2020 season, going through spring training, playing this year and not having an issue, it still hits you, it still stops you in your tracks. Without question we're certainly more equipped to deal with it."
The Associated Press contributed to this report.
Los Angeles Angels star Mike Trout doesn't have timetable for return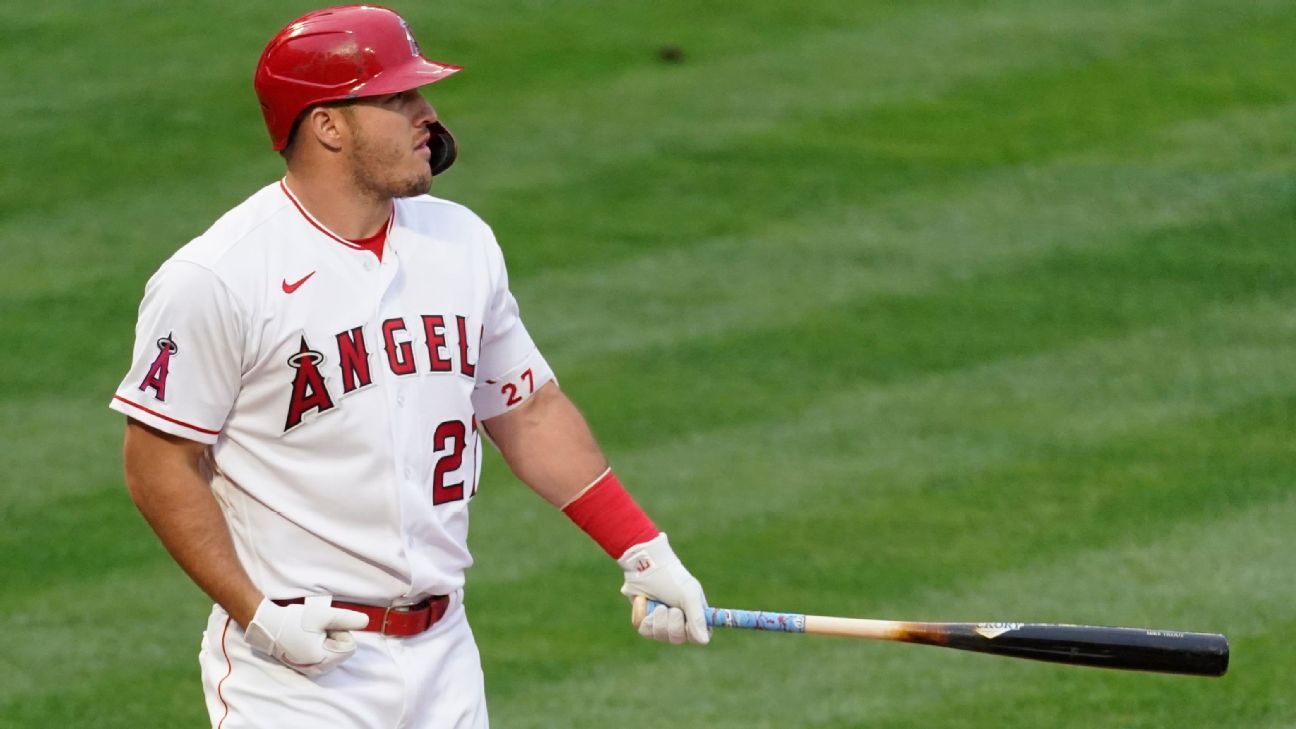 ANAHEIM, Calif. — Mike Trout says his right calf is starting to feel better, but the Los Angeles Angels superstar still doesn't know when he will be able to return.
The time-time AL MVP went on the injured list on May 18 after straining his calf the night before against the Cleveland Indians. The Angels said at the time that Trout would miss six to eight weeks, which would sideline him through the All-Star break.
"Today was probably my best day yet, just tolerance-wise. As far as activities, I'm doing as much as I can to strengthen around the calf muscle," Trout said before Monday's game against the Kansas City Royals.
Trout said he would like to start jogging soon but doesn't have a timetable on when he would be able to do that, much less resume baseball activities. He said he is walking on a treadmill but not with any intensity.
"I'm happy with my progress so far. It has been good the last couple of days," he said. "I should have a better idea on a return date once I start moving around, as in jogging and running."
At the time of his injury, Trout was leading the majors in on-base percentage (.466) and OPS (1.090), with eight home runs and 18 RBI. His .425 batting average in April was the best of his 11-year career.
Juan Lagares has started in center field in 16 of the 19 games that Trout has missed, with Taylor Ward starting the other three. Lagares and Ward have combined to go 13 of 70 with no homers and seven RBI in games they have started in center.
Los Angeles is 9-10 since Trout went on the IL. It went into Monday's game trailing Oakland by seven games in the AL West.
Trout said during home games he usually watches the first couple innings from the dugout before going into the clubhouse to continue his rehab. He also continues to attend hitter's meetings.
"It seems like there are games where we score a bunch of runs and then the next game it is pretty quiet," he said. "It's tough being on the bench. You know, there's only so much you can do and you want to be out there."
Seattle Mariners send slumping prospect Jarred Kelenic to minors
The Seattle Mariners optioned struggling rookie outfielder Jarred Kelenic, who is in an 0-for-39 slump, to Triple-A Tacoma on Monday.
Kelenic, who is ranked as the No. 3 prospect in baseball according to ESPN's Kiley McDaniel, is hitting just .096 with 26 strikeouts in 23 games. He has two home runs and six RBIs.
He was hitting .370 with two home runs and five RBIs in six games for Tacoma before he was called up to the majors last month.
Kelenic, 21, was selected by the New York Mets with the No. 6 pick in the 2018 amateur draft and traded to the Mariners in the deal that sent second baseman Robinson Cano and closer Edwin Diaz to New York.
In late February, Kelenic indicated that his service time was being manipulated by the Mariners based on comments from Kevin Mather while he was team president and CEO that drew the ire of the MLBPA.
In other moves Monday, the Mariners reinstated infielder Shed Long Jr. (right shin fracture) from the 60-day injured list and transferred infielder/outfielder Sam Haggerty (right shoulder inflammation) to the 60-day IL.
Former Colorado Rockies stars Larry Walker, Vinny Castilla to play in celebrity softball game during All-Star week festivities
DENVER — Former Colorado Rockies sluggers Larry Walker and Vinny Castilla will play in the All-Star celebrity softball game following the Futures Game at Denver's Coors Field on July 11 along with Cy Young Award winner CC Sabathia, former All-Star Hunter Pence and Olympic gold medal softball player Jennie Finch.
Seattle Seahawks wide receiver DK Metcalf and San Antonio Spurs guard Derrick White also will play in the game, the commissioner's office said Monday.
The game also will include wrestler The Miz, actors Ross Butler and Charles Melton, singer Kane Brown, rappers JID, Quavo and Residente, dancer JoJo Siwa, television host Karamo, DJ Steve Aoki and social media stars Noah Beck and Blake Gray.
The events are ahead of the Home Run Derby on July 12 and the All-Star Game on July 13, also at Coors Field. Baseball's amateur draft also will start in Denver on July 11.