Chris Berman signs multiyear extension with ESPN
Chris Berman will continue to host "NFL PrimeTime" after agreeing to a new contract with ESPN.
The multiyear agreement was announced on Berman's 66th birthday Monday.
"We've been working on it for awhile, and this was the perfect time to do it," Berman said during a telephone interview. "ESPN has been almost two-thirds of my life. I'm honored that what I do still works."
Berman has been an integral part of ESPN throughout its history after joining the network a month after its launch in September 1979. Besides being one of the original "SportsCenter" anchors, he has been a key part of the network's NFL and baseball coverage.
He hosted "NFL PrimeTime" with Tom Jackson from 1987 to 2005 on ESPN and then starting again in 2019 when it returned on the ESPN+ streaming service. Berman – who also hosted "NFL Countdown" from 1985 to 2016 – teamed up with Booger McFarland for "PrimeTime" last year when Jackson could not travel due to the coronavirus pandemic.
Berman approached ESPN President Jimmy Pitaro when ESPN+ started about the possibility of reviving "PrimeTime." Berman said seeing the success of "PrimeTime" on the streaming service has mirrored watching the growth of ESPN.
"The fact that I will get to do it again this season is something I have enjoyed the most," he said. "I love being able to help build another entity with it this time being in the streaming world."
Berman said it remains to be determined who will join him on "PrimeTime" during the upcoming season.
Berman was the 2010 recipient of the Pro Football Hall of Fame's Pete Rozelle Radio-Television Award and has been the master of ceremonies for the Hall's induction ceremony since 1999.
"Quite simply, Chris Berman has personified ESPN's success for more than four decades," Norby Williamson, ESPN's executive vice president and executive editor, said in a statement. "Fans respond to his authentic love of sports, his ability to savor and capture the big moments, and his on-air style that reminds us how live games can truly be equal parts essential and fun. We are delighted Boomer's magical ride at ESPN will continue for years to come."
Minnesota Vikings RB Dalvin Cook celebrates graduation from Florida State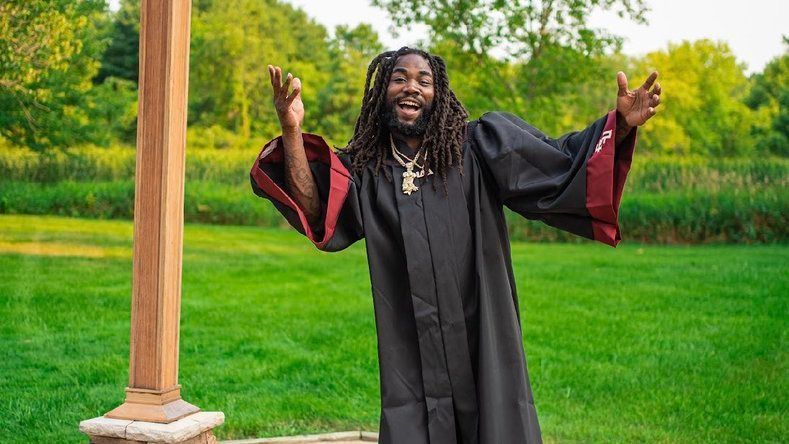 Minnesota Vikings running back Dalvin Cook already has a few accolades.
The 25-year-old is a two-time Pro Bowler with the Vikings. Last season, in 14 games with the Vikings, he had a career-high 1,557 yards rushing and four total touchdowns. In college at Florida State, he played in the 2014 College Football Playoff and was first-team All-American and All-ACC twice in his three seasons with the Seminoles.
Now Cook can add one more thing to his list of accomplishments: He is a college graduate. He completed his degree with a Bachelor's of Science in interdisciplinary studies and public policy. Since training camp is going on in Minnesota, Cook could not be in Tallahassee, Florida, for the ceremony. Instead, he celebrated at home.
College graduate 😎 @Seminoles Forever grateful for FSU & the entire football athletic program for supporting me as I accomplished this goal!! #LLOG #alumni pic.twitter.com/Hgd4Ss0nRG

— Dalvin Cook (@dalvincook) July 30, 2021
In his career as a Seminole, Cook set several school records, including breaking Warrick Dunn's mark for career rushing yards.
At $4.3 million, Patrick Mahomes' own rookie card was too rich – Kansas City Chiefs Blog
ST. JOSEPH, Mo. — Patrick Mahomes wasn't planning on buying his 2017 rookie card anyway, but as things turned out the bidding went well beyond what he would have paid.
"I don't know if I would have gone all the way up there," Mahomes said Friday from Kansas City Chiefs training camp about the recent sale of his signed rookie card for $4.3 million, a record for a football card. "I don't know the ins and outs of it like those dudes do. They've definitely used it as an investment and I'm sure they'll sell it later for more money.
"That's a lot of money. I'll say that. I knew it was going up for auction. I found out, but for it to go for that much, it shows that that business has been growing forever. I remember collecting cards as a little kid with my dad and to see how it's really blown up these days … it really is a cool thing to see especially when it has your name on it.
Mahomes, shortly before the start of training camp, did purchase a piece of Sporting Kansas City, the city's MLS team. Mahomes last year bought into the ownership group of the Kansas City Royals and his fiancee, Brittany Matthews, is a co-owner of Kansas City's franchise in the National Women's Soccer League.
NFL Nation reporters break down every division to get your ready for the season.
• NFC East | AFC East
• NFC North | AFC North
• NFC South | AFC South
• NFC West | AFC West
"It started a couple of years back," Mahomes said of his interest in Sporting Kansas City. "The people over there at Sporting, I love the way that they run their business and how they've really invested in that team.
"My love of soccer started with Brittany. I really wanted to be a part of it and she has a NWSL team. That's her thing and I wanted to do my own thing in a sense. And then always supporting the Kansas City community.
"The community has embraced me from Day 1. When I was behind Alex [Smith] and they were supporting Alex they still showed me love. When I came into the starting role they always believed in me. I want to show that same love to the community that they've showed me this entire time I've been here."
Mahomes in soccer will be a rival of Chiefs' chairman Clark Hunt. His Hunt Sports Group owns and operates FC Dallas of the MLS.
"I'm sure there will be a little rivalry there," Mahomes said. "We'll have a friendly little rivalry in that sense."
Cowboys QB Dak Prescott expects to throw 'in couple of days,' says he's 'not worried' about shoulder strain
OXNARD, Calif. — Dallas Cowboys quarterback Dak Prescott is not worried the right latissimus strain that has kept him off the practice field the last two days is anything that will linger into the regular season.
In fact, if this were the regular season, Prescott said he would practice and play.
"I think I'd do whatever is necessary and take the steps that were needed to make sure I was ready for Sunday if that's when it was or Monday or whenever the game would be," Prescott said. "I know I'd get myself there one way or the other and be able to perform the way I want to."
Prescott pulled himself from Wednesday's practice after feeling soreness in his right throwing shoulder, undergoing an MRI that revealed the strain. He said he likely did not warm up properly going into that practice and when one-on-one drills started, Prescott told backup Garrett Gilbert to take over.
"I didn't want to work through and making something small worse and bigger than it has to be," Prescott said.
Prescott said he expects to resume throwing in a "couple of days," but perhaps be on a pitch count early.
"It's making a deep throw or an aggressive throw right now that I don't want risk," he said. He will not practice Saturday or Sunday. The Cowboys are off on Monday and will practice Tuesday before departing for Canton, Ohio, and the Hall of Fame Game against the Pittsburgh Steelers.
Coach Mike McCarthy said Prescott will be reassessed on Monday.
"Honestly I'm just going to let the rehab process answer that question," McCarthy said. "I'm really focused on him getting back. It's not an issue but you would definitely bring him back later than sooner mindset as far as the way we look at it."
After missing so much time because of the compound fracture and dislocation of his right ankle he suffered last October, Prescott admitted some disappointment.
"I am a little bummed about it, but still being active and still seeing the defense and still being a part of everything," Prescott said. "So it's not like anything that the ankle was. So I know I will be fine. I know I am doing the treatment. I am doing everything necessary to make sure I will be just fine. I am not worried about that. It's not anything I worry about lingering or causing problems. Not even near the same aspect of the ankle and the time I had to take from that."