Willie Mays arrives at Oracle Park in style as San Francisco Giants celebrate his 90th birthday
SAN FRANCISCO — The San Francisco Giants turned their idyllic waterfront park into baseball's biggest birthday bash Friday night as the team celebrated Willie Mays turning 90 years old the day before.
Mays, baseball's oldest living Hall of Famer, took a victory lap of sorts around Oracle Park before the Giants played host to the San Diego Padres, riding in a choice white and turquoise 1956 Oldsmobile convertible and waving his cap to a cheering crowd.
The field had a massive grass etching in center field of Mays in his backswing with the words "SAY HEY 90" next to it.
"When you think the name 'Willie Mays' it's almost like a mythological type of name that has the same feeling as a 'Babe Ruth' or a 'Lou Gehrig,' you know?" said Giants catcher Buster Posey, who has developed a special kinship with Mays since debuting with San Francisco in 2009.
"All of us who have been here for a while, have spent quite a good amount of time with him, and he just always, he still likes to talk the game. He wants to try to get to know the guys that are on the team. And, you know, unfortunately, we haven't seen him for a while the last couple of years. But when he's around, it's usually pretty entertaining."
Given the pandemic and last year's shortened MLB season, it was Mays' first visit to the Giants' yard since 2019.
Mays' major league career spanned from 1951 through 1973 (with a one-year break for military service in 1953) for the New York and San Francisco Giants and New York Mets. When he retired, his 660 home runs ranked third in big league history; he now ranks sixth behind his godson Barry Bonds, Hank Aaron, Ruth, Alex Rodriguez and Albert Pujols.
On Friday night, his career highlights — including footage of his iconic over-the-shoulder basket catch in Game 1 of the 1954 World Series at the Polo Grounds — played on the stadium's video board before the first pitch.
There were also recorded birthday wishes from the likes of California Gov. Gavin Newsom, Derek Jeter, Rodriguez, Astros manager Dusty Baker, Jeffrey Leonard, Will Clark, Dave Dravecky, former MLB commissioner Bud Selig and current commissioner Rob Manfred.
Both teams stood at the top of their respective dugouts to salute Mays as he drove by in the pregame ceremony.
A live video feed showing Bonds helping Mays cut a birthday cake was shown on the video board after the crowd sang "Happy Birthday" to Mays after the third inning. In-game messages from Bonds, Vin Scully, former San Francisco mayor Willie Brown, current mayor London Breed and former President George W. Bush were played throughout the game.
"When somebody's like one of the two or three best players in any sport, in the history of the sport, it's hard not to make an impact on current players," said Giants manager Gabe Kapler. "I just don't think we get that much exposure to the all-time, all-time greats. And the all-time great human beings. So for those reasons, I think he resonates with current players."
Added Posey: "I mean, honestly, the reason that people still talk about him today is just because how incredible a baseball player he was and for how long he played and, you know, his accomplishments as a baseball player will forever stand the test of time."
Houston Astros icon J.R. Richard, whose career was cut short by stroke in 1980, dies at age 71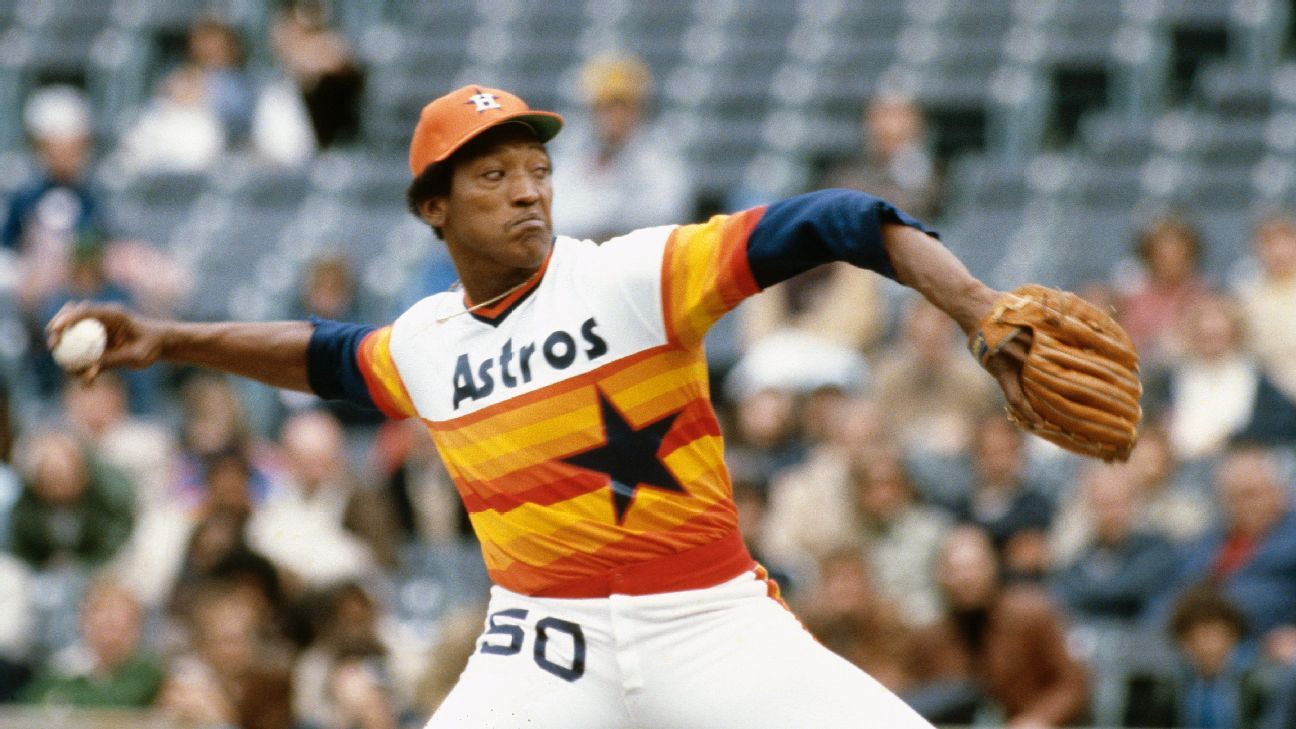 J.R. Richard, a two-time National League strikeout champion with the Houston Astros whose career was cut short in 1980 by a stroke, died Thursday at the age of 71, the team announced.
In 10 seasons with the Astros, Richard was 107-71 with a 3.15 ERA and 1,493 strikeouts — including 313 in 1979, which stood as the team's single-season record until Gerrit Cole surpassed it in 2019. He still ranks tied for second in team history for career ERA, third in strikeouts — behind only Nolan Ryan and Roy Oswalt — and fifth in wins and shutouts (19).
"Today is a sad day for the Houston Astros as we mourn the loss of one of our franchise icons, J.R. Richard," the team said in a statement. "J.R. will forever be remembered as an intimidating figure on the mound and as one of the greatest pitchers in club history. He stood shoulder to shoulder with club icons Larry Dierker, Joe Niekro and Nolan Ryan, to form a few of the best rotations in club history."
Astros Hall of Fame starting pitcher J.R. Richard, one of the greatest players to don an Astros uniform, has passed away. He was 71 years old. pic.twitter.com/ylqq2nPQMi

— Houston Astros (@astros) August 5, 2021
The 6-foot-8 pitcher, who started the 1980 All-Star Game for the National League, was known for his 100 mph fastball as much as for his devastating breaking pitch. He won a career-high 20 games in 1976 — one of his three seasons with 18 or more wins. He led the NL with a 2.71 ERA in 1979, when he went 18-13 and had a 3.2 strikeout-to-walk ratio in 292⅓ innings over 38 starts.
"He had the greatest stuff I have ever seen," Hall of Famer Joe Morgan once said, "and it still gives me goose bumps to think of what he might have become."
Richard was playing catch during pregame drills inside the Astrodome when he suffered the stroke in July 1980.
The second pick of the 1969 MLB draft, Richard was inducted into the Astros' inaugural Hall of Fame in 2020.
Cleveland Indians get 15-year lease agreement, plan $435 million in renovations to ballpark
CLEVELAND — Soon to be known as the Guardians, the Indians aren't leaving home anytime soon.
Ending rampant speculation that they would be relocating, the team agreed Thursday to a 15-year lease extension at Progressive Field, keeping it at the downtown ballpark through 2036 and perhaps longer.
The agreement, which still needs legislative approval, includes two additional five-year options that could make it a 25-year deal through 2046.
Also, team is partnering with the city, Cuyahoga County and the state to spend $435 million for renovations on the ballpark, which opened as Jacobs Field in 1994 and is now one of Major League Baseball's oldest facilities.
The deal was unveiled during a virtual news conference at the ballpark with owner Paul Dolan, Gov. Mike DeWine and local leaders. The plan does not include new taxes or increases and would be funded by current revenue sources.
"This is an investment in Cleveland's future," Mayor Frank G. Jackson said.
The club has been in talks with the city and county, which owns the 35,000-seat stadium, on extending the lease for several months. The current lease is scheduled to expire after the 2023 season.
DeWine recently got involved in the negotiations to ensure the team isn't going anywhere. After the NFL's Browns moved to Baltimore in the 1990s and the Columbus Crew of Major League Soccer were legally stopped from relocating, DeWine felt urgency to get involved.
DeWine said that Dolan never discussed moving but that it's possible things could have changed without the new lease.
"We know the reality of the business, and the reality is that Cleveland is a small market," DeWine said during the news conference. "Our goal is to make sure that a world-class city like Cleveland continues to have professional sports, professional baseball. It's very, very important.
"So I felt the longer this lease was, frankly, for the fans, the better it would be."
Under the agreement, the franchise will pay $10.2 million over the length of the lease on stadium repairs and upgrades. The city and county will pitch in $8 million per year, and the state will provide $2 million in aid annually.
Dolan said $200 million will go toward ballpark improvements, which he said includes a repurposing of the Terrace Club restaurant as well as a "reimaging" of the stadium's upper concourse.
Dolan said the improvements could take place in the next five years, "if not sooner."
"Our organization is proud to continue our long-term commitment to Cleveland by ensuring we keep our ballpark competitive," Dolan said. "We want to give our fans, our community and our players the best ballpark experience possible."
The extension comes on the heels of the Indians changing their name to Guardians at the end of this season.
Dolan had previously stated his commitment to Cleveland. However, the potential of the lease ending, along with a shriveled team payroll, led to conjecture the club might look to move.
Chicago White Sox, New York Yankees unveil throwback uniforms for 'Field of Dreams' game
They have built it, and they will come. Now, they'll be dressed for the occasion.
Ahead of the "Field of Dreams" game in Iowa on Aug. 12, the New York Yankees and Chicago White Sox unveiled their uniforms — inspired by team jerseys worn in the early 20th century — for the first-time special event.
The White Sox uniforms feature navy blue pinstripes and a large SOX monogram on the left chest, which will match a white cap with navy blue pinstripes. During batting practice, the team will wear a navy cap with the Sox monogram.
Is this Heaven? pic.twitter.com/5PY02Qfj0G

— Chicago White Sox (@whitesox) August 5, 2021
The Yankees unveiled a uniform featuring the NEW YORK lettering in a thinner and wider typeface than the modern-day jersey, featured in navy blue on gray with no white outline or sleeve trim. The cap features a loose knit interlocking NY.
The first Major League Baseball game to take place at Dyersville ballpark will feature a corn maze behind the right field fence, a manually operated scoreboard and bullpens behind the center field fence meant to resemble old Comiskey Park.
The ballpark is located on the Lansing Family Farm, the filming site for the "Field of Dreams" movie starring Kevin Costner, Ray Liotta, James Earl Jones and Amy Madigan.