Los Angeles Angels get Drew Butera in trade with Texas Rangers
ANAHEIM, Calif. — The Los Angeles Angels have acquired catcher Drew Butera from Texas in exchange for cash considerations.
The Angels also designated catcher Jack Kruger for assignment Friday.
Butera, 37, will back up Kurt Suzuki in Anaheim while catchers Max Stassi and Anthony Bemboom are sidelined by injuries.
Stassi went on the injured list Thursday with an apparent concussion after hitting his head on a stanchion while chasing a foul ball two days earlier.
Bemboom has back problems that are preventing him from playing, manager Joe Maddon said Friday.
Butera appeared in 10 games for the Angels in 2015 before he was traded to Kansas City, where he won a World Series ring. A career .198 hitter and a strong defensive catcher, Butera has been behind the plate for two no-hitters in a 12-year major league career with five teams.
Los Angeles Dodgers star Mookie Betts exits Saturday's game with right hip irritation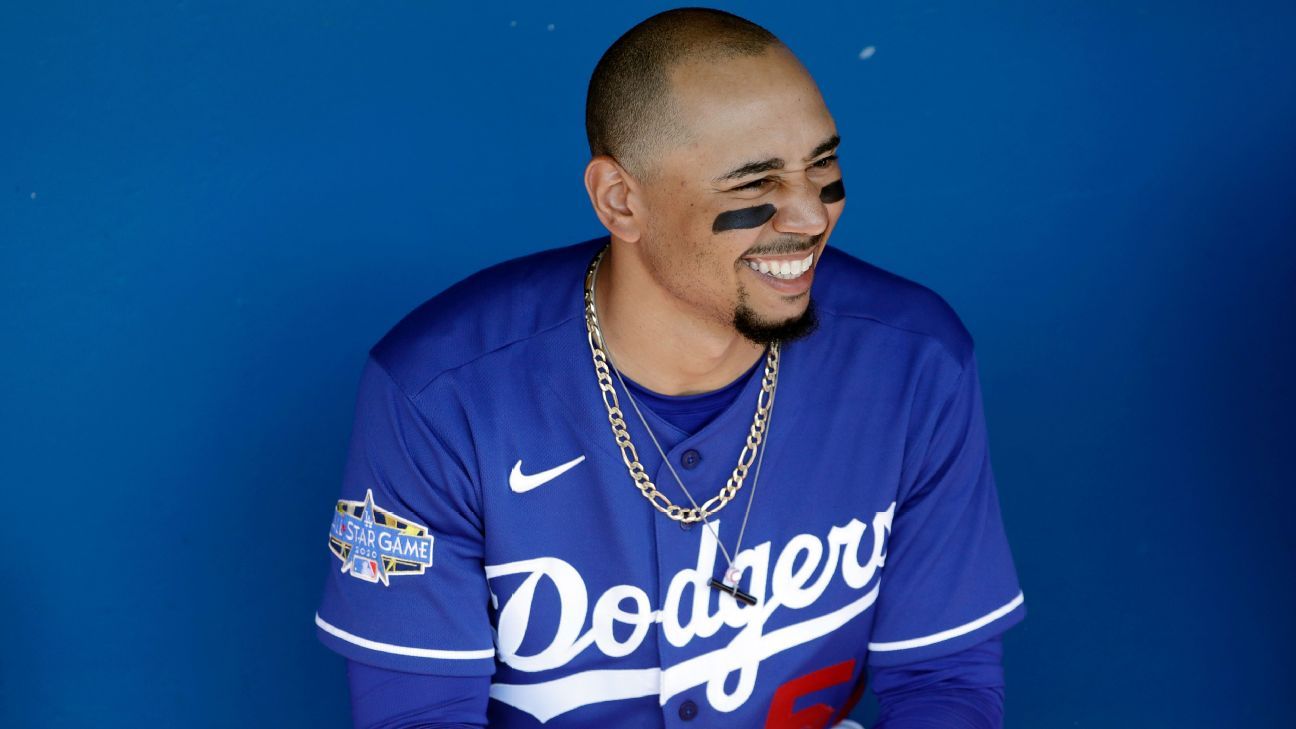 Los Angeles Dodgers right fielder Mookie Betts left Saturday night's game at the Colorado Rockies with right hip irritation, the team announced.
Betts exited the game after running out his third double of the game in the seventh inning. Betts slowed his gait and gingerly ran to second base.
A team trainer hustled onto the field to tend to him and then walked him off the field and into the clubhouse. He was replaced by Gavin Lux.
Prior to the injury, Betts was 4-for-4 with a home run, three doubles, three runs scored and an RBI.
Betts was selected to this year's All-Star Game but opted out due to what he called an accumulation of "nagging" injuries.
Entering Saturday's game, Betts was hitting .261 with 13 home runs and 39 RBIs.
Information from The Associated Press was used in this report.
Jacob Stallings' grand slam caps memorable comeback for last-place Pittsburgh Pirates in walk-off victory over New York Mets
PITTSBURGH — Jacob Stallings was near speechless, clearly overwhelmed after an unforgettable night in what's been a forgettable season for the Pittsburgh Pirates.
On Fireworks Night at PNC Park, Stallings, the veteran catcher, started the festivities a little earlier than expected, launching a grand slam in the bottom of the ninth inning off closer Edwin Diaz, as the home team rallied for a 9-7 victory over the stunned New York Mets Saturday.
"Diaz has a great fastball, I was trying to be on time for it, I wasn't necessarily sitting on it. But just trying to be on time," Stallings said, shaking his head during his postgame, on-field interview broadcast on the stadium's PA system. "I didn't get it all, but I just hoped I got enough of it.
"Thankfully, I did."
Trailing 6-0, the last-place Pirates scored all their runs in the final two innings — five in the eighth and four in the ninth — en route to the victory. Along the way, Stallings notched his sixth career game-ending RBI with the third walk-off slam at PNC Park, which opened in 2001.
"We've got a bunch of guys who never quit and play really hard," he said. "We just hung on till the end. And we came away with it, so that's pretty cool."
J.D. Davis hit a pair of two-run homers for New York in his first start since coming off the 60-day injured list, and rookie starter Tylor Megill pitched six scoreless innings.
But it wasn't enough on a miserable day for the Mets, who detailed injuries to star shortstop Francisco Lindor and ace Jacob deGrom before the game.
Lindor is out indefinitely with a strained oblique, and deGrom is sidelined with forearm tightness in the latest round of health setbacks for the NL East leaders.
But by night's end, Stallings was the main headliner on either side. His homer was the third walk-off grand slam this season in the majors, as the catcher joined Seattle's Shed Long and Houston's Jose Altuve in that bracket.
And before the Pirates' rally, MLB teams were 314-0 this season when leading by six or more runs in the eighth inning or later.
"I couldn't believe it when it cleared the fence," Diaz said. "I thought it was a fly ball."
He wasn't the only Mets reliever to falter against the Pirates. Seth Lugo pitched just 2/3 of an inning, allowing five earned runs, three hits and two walks, seeing his ERA shoot up to 5.09.
"Our clubhouse, we're mentally stronger than that. It's not gonna get us down," Lugo said when asked if this type of loss could spring a downward turn for the Mets. "One loss doesn't define the team. We're a good ballclub and we're gonna show it (Sunday)."
Clay Holmes (1-1) recorded the win despite giving up a solo home run to Brandon Nimmo in the top of the ninth that increased New York's lead to 7-5. In the bottom half of that frame, with that same score, the Pirates loaded the bases with one out as Ke'Bryan Hayes was hit by a pitch, Bryan Reynolds walked and John Nogowski hit an infield single.
Diaz (3-4) appeared on his way to escaping the jam when he struck out Gregory Polanco looking on a full-count pitch. But then Stallings pulled his slam down the left field line beyond the outstretched glove of Kevin Pillar, who climbed over the wall in a desperate attempt to make the catch.
Diaz had not allowed a home run in 48 1/3 innings dating to last season, the longest active streak in the majors.
"This kind of loss is … yeah," Davis said, shrugging his head in disbelief. "It is what it is."
The Associated Press contributed to this report.
Washington Nationals suspend game vs. Padres; police say 2 shot outside stadium
WASHINGTON — The game between the San Diego Padres and Washington was suspended in the sixth inning Saturday night, with police saying two people were shot outside Nationals Park.
More than two dozen police cars, ambulances and fire engines were on the street outside the third base side of Nationals Park.
The Padres had just taken the field for the bottom of the sixth when several loud pops were heard from the left field side of the ballpark.
Fans sitting in left field quickly began leaving through the center field gate. A short time later, fans along the first base side began briskly leaving their seats. Some fans crowded into the Padres' dugout on the third base side for safety as sirens could be heard from outside the park.
The Nationals then announced there had been an incident was outside the stadium and posted a message on the scoreboard telling fans to remain inside the stadium.
About 10 minutes later, the team tweeted: "A shooting has been reported outside of the Third Base Gate at Nationals Park. Fans are encouraged to exit the ballpark via the CF and RF gates at this time."
The Nationals said Saturday's game will resume Sunday at 1:05 p.m. ET and be completed as a nine-inning regulation game. It will be followed by Sunday's regularly scheduled game, which also will be played as a nine-inning regulation game, the team said.
The Associated Press contributed to this report.