Where does Atlanta Braves pitcher Huascar Ynoa's big night rank amongst other pitchers who rake?
If only all these position players could hit as well as Atlanta Braves pitcher Huascar Ynoa, we wouldn't be hyperventilating about the feeble state of batting averages across the majors leagues. The 22-year-old right-hander has now homered in consecutive starts, including a grand slam in Tuesday's 6-1 victory over the Nationals. Two starts ago, he doubled and hit an RBI single. He's 5-for-13 for the season with a .385 average and six RBIs.
He has more home runs and RBIs than Francisco Lindor, as many RBIs as Mookie Betts, more home runs than DJ LeMahieu and Gleyber Torres combined. He's scored as many runs as Starlin Castro and Miguel Cabrera. Heck, since April, Ynoa is 5-for-8 with three extra-base hits while his MVP teammate Freddie Freeman is 8-for-41 with three extra-base hits.
Not bad for a guy who had three professional at-bats entering the season, all in the minors in 2019 (he struck out all three times).
Facing hard-throwing Nationals reliever Tanner Rainey on Tuesday with two outs, the bases loaded and Atlanta up 2-0 in the sixth inning, Ynoa crushed an 0-1, 95-mph fastball 427 feet to center field, finishing with a one-handed follow through worthy of Manny Machado. He crossed home plate with a big smile on his face.
"Truth be told, I put a lot of work on my hitting spring training. I put a lot of emphasis on it," Ynoa said through a translator after the game.
He said he's not swinging for the fences, though.
"All I'm trying to do is get on base and let the real hitters do their thing. Obviously, even though that one felt good, it's the same mentality. I'm just going up there trying to get a hit."
Ynoa's grand slam was the first by a pitcher since Anthony DeSclafani in June 2018. He's the first pitcher to homer in back-to-back starts since Steven Matz in September 2018.
Ynoa wasn't the only pitcher to do damage at the plate on Tuesday. White Sox starter Dylan Cease, playing an interleague game in Cincinnati, went 3-for-3 while also striking out 11 batters and allowing only one hit in six scoreless innings. He joins Jarrod Washburn as the only American League pitchers with a three-hit game since the introduction of interleague play and is the first AL pitcher with three hits and at least 10 strikeouts since Sam McDowell in 1969.
And he did it in the first at-bats of his professional career.
Cease didn't even have his own hitting equipment — he used Jose Abreu's bat and Adam Engel's batting gloves. He said he hadn't seen live pitching since his senior year of high school, which would have been back in 2014, so understandably he was more thrilled with his hitting than his pitching.
Career 1.000 BA and 1.500 SLG%. Is Dylan Cease the best hitter in Major League history? We're just asking the question. pic.twitter.com/21R2osFDtA

— Chicago White Sox (@whitesox) May 5, 2021
As fun as the hitting results were, these are two young starters who need to perform on the mound to help their teams to the postseason. Ynoa wasn't necessarily penciled into the rotation in the offseason, but with Mike Soroka injured at the outset of the season, he beat out Kyle Wright and Bryse Wilson for the fifth spot in the rotation. He's 3-1 with a 2.36 ERA with an impressive 38-to-8 strikeout-to-walk ratio over 34.1 innings.
The key: Throwing strikes. He averaged 4.1 walks per nine innings in his minor league career and walked 13 in 21 innings for the Braves last season. "He's a big strong kid," Braves manager Brian Snitker said after the game. "He has no fear and he has weapons. That's a pretty good combination."
Cease made 26 starts in 2019 and 2020, and while he had a 4.01 ERA last season, the underlying numbers were not good. He led the AL in walks and served up 12 home runs in 58.1 innings, with a poor 1.29 strikeout-to-walk ratio. After failing to go five innings in his first four starts, he's now had back-to-back scoreless outings after throwing a seven-inning shutout against the Tigers in his previous star. Again, the key is throwing strikes: he's had 20 strikeouts and just three walks in his past two games. Yes, the Tigers are a hapless bunch, but the Reds entered the game leading the majors in runs per game.
Still, it's the hitting highlights that have us talking about these two — and it's a reminder that this is likely the last season we'll get to talk about pitchers hitting, at least other than Shohei Ohtani. It's expected the designated hitter will return to the National League in 2022 and while we will lose moments like Ynoa and Cease provided on Tuesday, here's where I remind you that pitchers are batting .108 this season and have struck out in over 46% of their plate appearances. Take out the sacrifice hits and that percentage trickles over 50%.
But it's a good night to get nostalgic about memorable moments in pitcher hitting. Here are my 10 favorites, in no particular order:
1. Tony Cloninger: Two grand slams in one game
Cloninger went 3-for-5 with nine RBIs for the Braves in a 1966 game – which is tied with Adam Duvall for the franchise record for RBIs in one game. Cloninger was a pretty good hitting pitcher, hitting .192 with 11 home runs in his career (five in 1966).
2. Rick Wise: No-hitter AND two home runs
Talk about doing it yourself. Wise no-hit the Big Red Machine in Cincinnati and drove in three of the Phillies' four runs in a 4-0 victory in a 1971 game. Wise hit .237 with six home runs that season.
3. Earl Wilson: Twice hit seven home runs in a season
A solid starter for the Red Sox and Tigers in the 1960s with 121 career wins, Wilson was one of the best hitting pitchers of all time, with a .195 average but 35 home runs in 740 at-bats. He hit .240/.299/.500 in 1966 with seven home runs and 22 RBIs and then hit .227 with seven home runs and 17 RBIs in 1968 (the Year of the Pitcher).
4. Jim Tobin: Three home runs in one game
The only pitcher to hit three in one game, Tobin did it on May 13, 1942 for the Boston Braves in a 6-5 victory over the Cubs.
5. Walter Johnson: .433 average in 1925
Arguably the greatest pitcher of all time, Johnson's .433 average is the highest ever for a pitcher in a season (I set a cutoff of 50 plate appearances). More remarkably, it came when he was 37 years old.
6. Dave McNally: World Series grand slam
The only pitcher to hit a grand slam in the World Series, McNally home run came for the Orioles against the Reds in Game 3 in 1970. Interestingly, the only other pitcher grand slam in postseason history came 10 days earlier from Orioles teammate Mike Cuellar.
7. Terry Forster: .397 career average
David Letterman made him famous when he once called the longtime reliever a "fat tab of goo," but Forster could hit – not that he got many opportunities. Over 16 seasons, he went 31-for-78, although he never hit a home run. He put the ball in play, striking out just nine times in 86 plate appearances.
8. Wes Ferrell: Nine home runs in 1931
A six-time 20-game winner, Ferrell is regarded as the best hitting pitcher of all time, non-Babe Ruth or Ohtani division. He hit .280 in his career with 38 home runs, including a .319/.373/.621 line in 1931 with nine home runs and 30 RBIs.
9. Mike Hampton: seven home runs in 2001
Probably the best hitting pitcher of recent decades, Hampton hit .311 for the Astros in 1999, .291 with seven home runs for the Rockies in 2001 (three of those on road, FYI), .344 for the Rockies in 2002 and even .324 in his last full season with the Astros in 2009. He hit .246 with 16 home runs in his career. Madison Bumgarner has more home runs (19 to 16), but he's hit .177.
And finally, No. 10, the greatest hitting moment ever for a pitcher … you know what's coming …
You know, given the way the Mets are hitting in 2021, maybe it's time to bring a certain slugger out of retirement.
New York Yankees fans bring inflatable trash cans, costumes and more in first chance to boo Houston Astros
Many New York Yankees fans spent the pandemic searching for an outlet to express their anger over the trash can-banging scheme of the Houston Astros. On Tuesday night, with Houston making its first trip to the Bronx since news of the scandal broke, fans finally received their chance to rain boos down on the 2017 World Series champions.
Here are the stories behind some of the signs and sights from fans, finally able to express the resentment that has boiled up over the past year in quarantine. It didn't hurt that New York won, 7-3.
---
"New York never forgets"
Jack Turner (pictured left): "They got away with no fans last year, but New York is coming out tonight. New York never forgets."
Jack Genesi: "It's a collective hate against the Astros and it definitely even goes deeper into the integrity of the game. They affected a lot of players outside of them cheating. It goes deeper than just winning the World Series. We brought a trash can lid that they took away at the game because they said it could be used as a weapon."
"We want to beat the cheaters"
Chico Heano: "It's plastic (the trash can necklace) and security let me have it. That's what they were doing when they were getting signals when they were playing, so we wanted to show that we can do signals too. I come here every night and every game but I had to be here tonight for sure because we want to beat the cheaters. We got it from a store that was selling them. I got it in some place in the Bronx. Some girl got it for me."
"I have been waiting to go to this game for over a year and a half"
A passionate Yankees fan wears an Oscar the Grouch costume complete with trash can so he can bang on it while the Astros are batting. Sadly, the fan was not allowed into the stadium with the costume.
David Taub (pictured at center, holding sign up): "The costume came from Amazon. It was about $90 and I ordered it and it was three weeks in backorder so I made sure to order it early. I had this game penciled in for a long time. Since the schedule came out. I have been waiting to go to this game for over a year and a half, waiting for the Astros to come.
"I was waiting on line and they had a new policy that came today. I actually came on Sunday. I showed the manager a picture (of the costume) and he said I could bring it. I paid a lot of money for the costume. I came in today and they said they had a new policy and that they couldn't allow costumes in and they made me leave the line and remove it. It's hiding right now in the grass. I hid it somewhere around the stadium."
"She's the MVP. … She snuck it in."
Betsy Rivera: "We actually snuck it in. I actually had to put it inside my waist trainer. I had to take off my waist trainer, put it in, put back on my waist trainer and then go to the bathroom, take off my waist trainer and re-inflate it not once but twice. He had to go up and get it back, and before the end of the game, we're going to blow it back up one last time and show the Astros that we are the f—ing team."
Alvin Aquino: "The first time, they told us that we have to deflate it or they are going to kick us out of the ballpark. The second time, I went to get a drink and somehow she inflated it. I came back and security told us again that we couldn't do that. My girlfriend is a f—ing crazy Yankee fan. Security brought the manager. We got it back and they told us to deflate it front of him. She's the MVP. … She snuck it in."
Rivera: "They couldn't tell me anything. I could've been pregnant, but I'm not that fat."
Aquino: "I wish I had brought my Altuve stuffed doll because I wanted people to throw it in there."
New York Yankees fans finally get their chance, jeer Houston Astros with boos, 'cheater' chants
NEW YORK — On May the Fourth, New York Yankees fans channeled their inner Palpatine and directed their anger toward the Houston Astros the moment they stepped on the field.
"One bang fastball!" one fan screamed at Astros second baseman Jose Altuve, taking batting practice.
"You don't deserve your accolades!" another yelled at Astros third baseman Alex Bregman.
Tuesday marked the first day the crowd at Yankee Stadium had the opportunity to express their anger at the Astros for their sign-stealing scheme, which included banging on trash cans during the 2017 and 2018 seasons.
Forget the fact that the scandal broke nearly a year ago, that both AJ Hinch and Alex Cora are back from their suspensions for their role in the scandal and that only five players remain from the 2017 World Series champions. Yankee fans did not forget and wanted to make sure their displeasure was heard.
"As soon as the schedule came out, we bought these tickets, so this is like a revenge tour because they weren't here last year, and when they did play, they didn't get the reception that they are getting now," Yankee fan John Guerin said. "I was booing them at home last year. I was in my living room."
David Taub of Brooklyn arrived at the stadium wearing a costume of Oscar the Grouch with a tank top reading "Trashtros," but he was told he could not wear the outfit into the stadium due to a new policy.
"It was about $90 and I ordered it, and it was three weeks in back order, so I made sure to order it early," Taub said. "I had this game penciled in for a long time, since the schedule came out. I have been waiting to go to this game for over a year and a half, waiting for the Astros to come. I circled this game as soon as I knew fans were allowed."
Throughout the evening, chants broke out across Yankee Stadium regardless of whether the Astros were hitting at the plate. When Bregman hit a first-inning home run, the Yankee Stadium crowd immediately broke out into "cheater" chants. Throughout the evening, fans met shortstop Carlos Correa, Bregman and Altuve with the most consistent, loudest jeers.
"It's mainly Altuve, Correa and Bregman," Jack Genesi said. "They are the main guys who played well and under the statistics, they played much better at home than away and they are the players that won them their 2017 World Series. Most of the team has changed, but those guys are still there."
Pete Alonso, New York Mets unhappy after coaching staff shakeup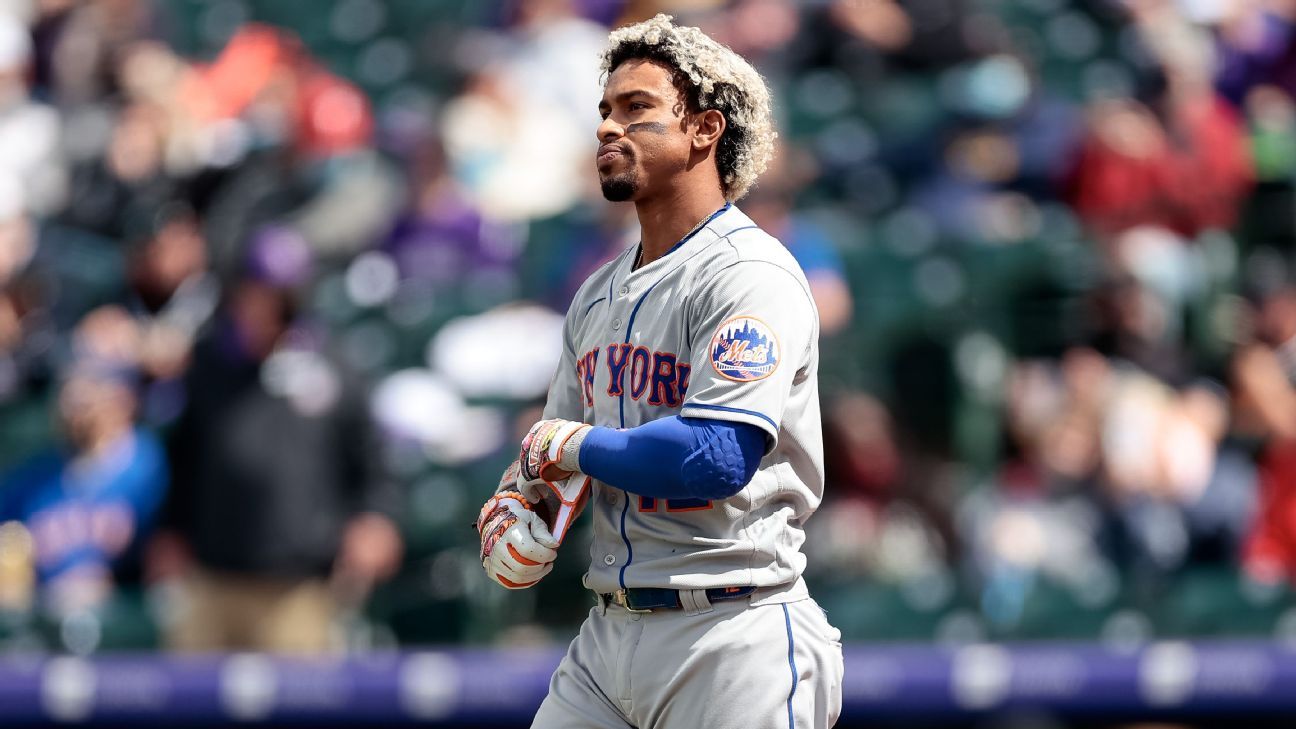 NEW YORK — Pete Alonso and Francisco Lindor learned from phone messages that the New York Mets had fired hitting coach Chili Davis and assistant Tom Slater, a move that left players unhappy.
New York made the announcement late Monday night, two days after Alonso started to publicly mention the positive assistance of a new batting instructor – someone who, apparently, is fictional.
"I found out on Twitter while I was eating my postgame meal," Alonso said, explaining he then talked to acting general manager Zack Scott and gave Davis and Slater hugs. "And then I cried at my locker a little bit."
The slugging first baseman referred to the departed coaches as "Uncle Chili and Uncle Slate, I mean, they're like family to us."
"It really caught us all off guard," Alonso said. "It's confusing for me, and, listen, I respect everybody who made that decision. But to me, it just doesn't make sense right now."
"But I know that the guys coming up, guys coming in have great minds, they're great people. And I know that people who were in charge in the office know that they want to win, everybody wants to win. But I guess from a results standpoint, from let's say 2, 2½ years, the results have been there and so to me it still doesn't make sense," he said.
Scott was hired by team president Sandy Alderson after new owner Steven Cohen bought the Mets last fall.
Manager Luis Rojas said the coaching changes were an "organization decision … that's the best way I can share it right now."
He said he was not concerned a manager change could be coming.
"Those are types of things that I do not think about just because in my field, it's just very disrespectful to the group here to be worrying about that before worrying about the team," Rojas said.
The sudden moves, uncommon for this early in a season, were announced after a 6-5 loss at St. Louis.
"It broke my heart. I was sad," Lindor said. "It hurt me a little bit."
While the Mets began Tuesday ranked ninth among the 30 teams with .240 batting average, they are last in runs with 76 and home runs with 18. Their .209 batting average with runners in scoring position is 29th and they are dead last with a .143 average with two outs and runners in scoring position.
After Saturday night's 5-4 win at Philadelphia, Alonso made a curious reference to the contributions of a new coach.
"We just made a nice new hire, Donnie," Alonso said then. "He's a nice — he's a great hitting-slash-approach coach. Donnie's been great helping the team. I think Luis forget to mention Donnie. Donnie really helped us today, too."
Asked to explain further, Alonso said: "He's a new hire. He's our like mental-slash-approach coach. I feel like we had a really cool collective-like team approach today, and Donnie helped us out, for sure."
Pushed for Donnie's name, Alonso said: "I got to ask that, I got to ask Chili — oh, Stevenson, I think that's it."
Following Alonso to the interview chair, Michael Conforto smiled when asked about Donnie.
"Donnie's a new guy. He made an appearance today at our hitters meeting. He's all about the approach," Conforto said. "He's a hitting-approach guy. He's a guy that just gets the boys fired up and ready to go."
Alonso brought up the mystery man again after Sunday night's 8-7 victory.
"He had some guys in the cage and we were just focusing on ripping heaters," Alonso said. "And that's what we did today. We were focused on ripping the fastball around the yard and ripping the heater today was the main focus. We put a lot of runs on the board and we were really locked in. He had some really good words of advice and, yeah, I mean it's awesome."
Asked Tuesday about whether his references to a different hitting coach didn't help Davis' situation, Alonso replied: "I'm not going to talk about that."
Scott also refused to address the mysterious coach, Mr. Stevenson.
"You'd have to ask the players about Donnie," he said Monday night.
Cohen did chime in on the players' imaginary helper. "I love Donnie," he tweeted. "A major resource to the team and pretty cheap too."
Davis didn't blame Alonso's and Conforto's comments for his departure.
"The players were having fun and I know they didn't mean any harm," Davis was quoted as saying by the New York Post. "It was a fun time for them, but it probably didn't help. People were just trying to loosen up as a group and it worked that night. They went out and put some runs on the board. I am all for them enjoying the game."
Mets staff held a meeting with players on Tuesday that didn't appear to change any perceptions.
"It's an explanation that still doesn't make sense to me right now," Alonso said.
Lindor, a four-time All-Star, began Tuesday with a .163 average, 151st among 155 qualified batters. He learned of the firings from a text while walking to the team bus.
"Maybe if I would have been hitting a little bit more, maybe he had a job. I don't know," Lindor said.
Alonso said teams should not overly rely on analytics, calling himself an "old-school type player."
"As times keep going on, the game stays the same. I mean, the game has been the same since the Civil War," he said. "When it's game time, when it's my turn to hit in the box, it's not Luis, it's not Chili, it's not the analytic department that's in the box hitting. It's Pete Alonso. It's me. And that's the same thing with every single one of those guys in the clubhouse.
"You got 13 hitters and all those guys, as soon as they step in the box, you might as well take the computer and break the screen, because any time you think about all those numbers in the computer, if you're in there in that box and thinking, oh, it's a 2-0 count, he's 45% changeup, he's 30% fastball and it's a certain percent slider, you're out, you're a walking out, you're an out in a helmet," he said.