Indians' Shane Bieber makes history with 8-plus strikeouts in 18th straight starts, most K's through April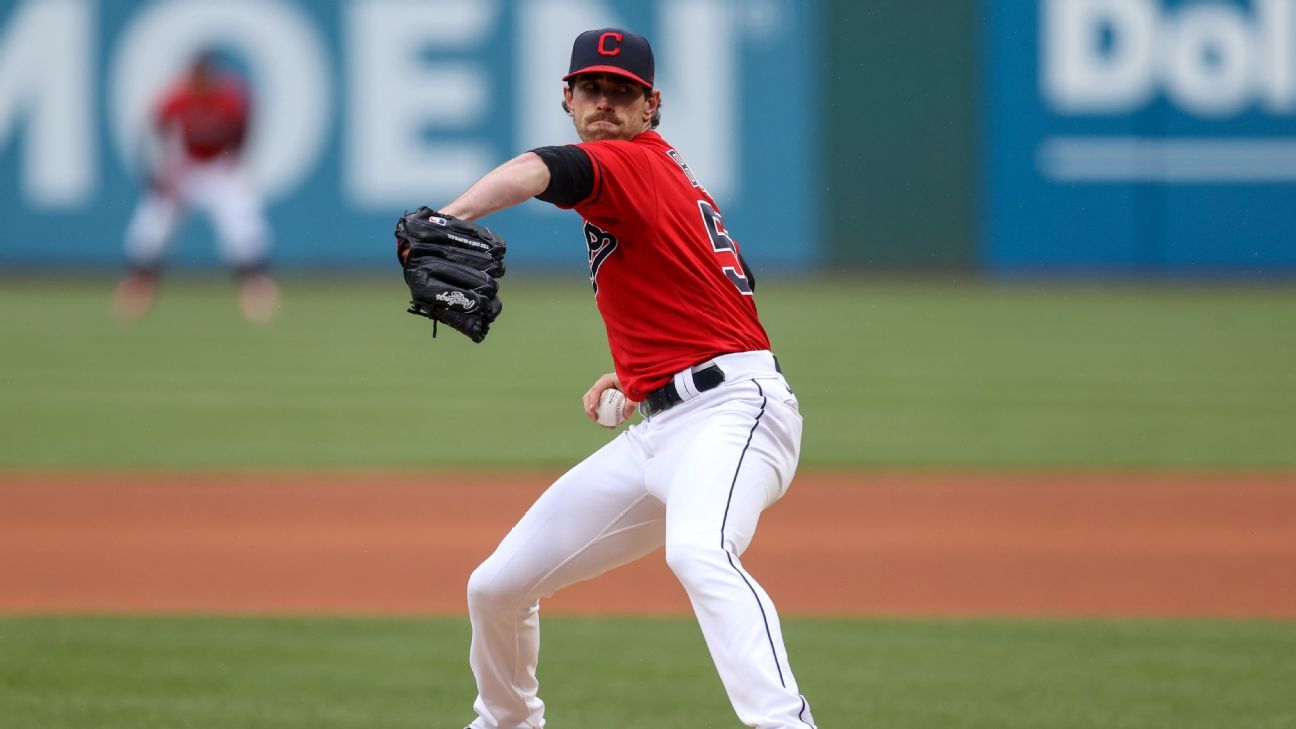 Shane Bieber is focusing on the Ws, not the Ks.
The reigning AL Cy Young Award winner struck out 11, setting two major league records in the process and pitching the Cleveland Indians past the Chicago White Sox 5-3 on Friday night.
Bieber (3-2) fanned at least eight in his 18th straight game, breaking a tie for the mark set by Hall of Famer Randy Johnson in 1999-2000.
Bieber's 11 strikeouts give him 68 for the season, the most by any pitcher through the end of April in MLB history, according to ESPN Stats & Information.
"It's special," Bieber said. "I know what happened tonight, and it's kind of surreal just to be able to experience that. Obviously at the end of the day all that matters is going out there and giving the team a chance to win, and winning, so I'm really happy with how tonight went."
Bieber gave up three runs and seven hits, walking one in six innings. His 68 total strikeouts have come in just six starts this year — he's struck out at least 11 in five of those games.
"I think he finds a way to accept the challenge, regardless of what it is, and try to use it to his advantage," manager Terry Francona said. "I think that's what good players do."
The Associated Press contributed to this report
Philadelphia Phillies' Bryce Harper exits game vs. Toronto Blue Jays with shoulder soreness
Philadelphia Phillies slugger Bryce Harper left Saturday's 4-0 road loss to the Toronto Blue Jays with right shoulder soreness and is listed as day-to-day.
Harper left the game before the bottom of the fourth inning, when Scott Kingery took over in right field. He last batted in the third inning, striking out for the second time.
"[The soreness] came on tonight," Phillies manager Joe Girardi said. "He came to us, smart. You don't want to make it worse. Got him out. Hopefully it's just day to day."
Harper wasn't the only Philadelphia player to depart early.
Andrew Knapp pinch-hit for Phillies catcher J.T. Realmuto in the eighth. Girardi said Realmuto had a sore left wrist.
Realmuto left Tuesday's game against Washington after taking a foul ball off his left knee and felt ill with a fever Wednesday night. After not playing Thursday, he was the DH in Friday night's series opener with the Blue Jays.
Harper, 28, is off to a red-hot start in his third season with the Phillies, slashing .318/.449/.582 with seven home runs and 11 RBIs.
The Associated Press contributed to this report.
Los Angeles Dodgers get Yoshitomo Tsutsugo in trade with Tampa Bay Rays
LOS ANGELES — The Los Angeles Dodgers acquired infielder Yoshitomo Tsutsugo from the Tampa Bay Rays on Saturday for a player to be named or cash.
Tsutsugo, 29, has struggled in the majors since coming over from Japan. He has a .187 batting average in two seasons, including .167 in 27 games with Tampa Bay this season. Tsutsugo also has no home runs and 27 strikeouts in 87 plate appearances.
The defending World Series champions have been seeking veteran role players as they have struggled with injuries throughout the season. Tsutsugo can also play the outfield for the Dodgers, who also reportedly agreed to terms with Albert Pujols on Saturday.
To make room for Tsutsugo on the 40-man roster, the Dodgers transferred infielder Edwin Ríos to the 60-day injured list. Ríos will be undergoing season-ending shoulder surgery next week.
The Rays made another trade earlier, dealing right-hander Hunter Strickland to the Los Angeles Angels for a player to be named or cash after activating first baseman Ji-Man Choi from the injured list.
Admitting there will be 'emotions involved,' Washington Nationals pitcher Jon Lester enthused to start in former home, Wrigley Field
Returning to Wrigley Field on Monday for the first time since departing the Chicago Cubs as a free agent, Washington Nationals starter Jon Lester is over any hard feelings he had upon leaving.
Lester, 37, was never offered much in the way of a new contract with the Cubs before signing a 1-year, $5 million deal with Washington.
"It's natural," Lester said. "I had to get over some stuff leaving Boston. Chicago was my home for six years. We have a house there. My kids grew up there. You invest in a city, you invest in that place that you're working. Yeah, there's emotions involved."
Lester is often cited as arguably the best free-agent signing in franchise history, but nostalgia couldn't keep him a Cub. After the team declined a $25 million team option for 2021, the 16-year veteran sat and waited for a new offer that never materialized. Worried about how late it was getting in the offseason, Lester signed with the Nationals.
"The hard part of this game is the business side and you have to separate your heart and business," Lester said. "Sometimes that can be difficult. It's only natural to go through a phase where you question certain things, but once you separate that and realize it's a business … it is what it is."
Lester is happy to be pitching on Monday, in the opener of a four-game series. He can get it over with and then relax and visit with friends with whom he won a World Series in 2016, breaking a 108-year championship drought for the franchise. But he's most excited to see a fan base he never got to say goodbye to last season due to COVID-19 protocols.
"I look forward to it," Lester said. "I'm glad fans are in the stands. It'll be nice to see the faces in the stands and get back to normalcy there."
As for facing his former teammates, the trash-talking began in spring training as Lester is most excited about staring down first baseman Anthony Rizzo. The two share a bond; both were drafted by the Boston Red Sox and both beat cancer while with that organization.
"That will probably be the matchup that will stand out the most to me," Lester said. "I might have to invent something out there. I'm pretty much inventing stuff as I go as it is. Maybe throw a knuckleball or two or mix something in like that."
Lester won 77 games for the Cubs, including Game 5 of the 2016 World Series against the Cleveland Indians, then came on in relief in Game 7, which the Cubs won in 10 innings. It cemented his legacy in Chicago.
He was asked what it means to be considered such a great free-agent signing.
"It's a huge compliment," Lester said. "I don't know if it's true. It's flattering."
Lester will see his former catcher in the Cubs' dugout: David Ross is now the manager of his former team. The two are close friends.
"The guy is super special to me," Ross said. "I hope the fans give him the welcome back he deserves. He means a lot to this organization. I think fans recognize that. Cubs nation that I know will be super appreciative and give him the love that he needs."
Besides pitching against the Cubs, Lester's biggest concern is finding where he needs to go when he gets to Wrigley Field.
"The biggest thing for me is making sure I walk into the right dugout," he said.