Would Philadelphia Eagles trade up for Justin Fields in 2021 NFL draft? – Philadelphia Eagles Blog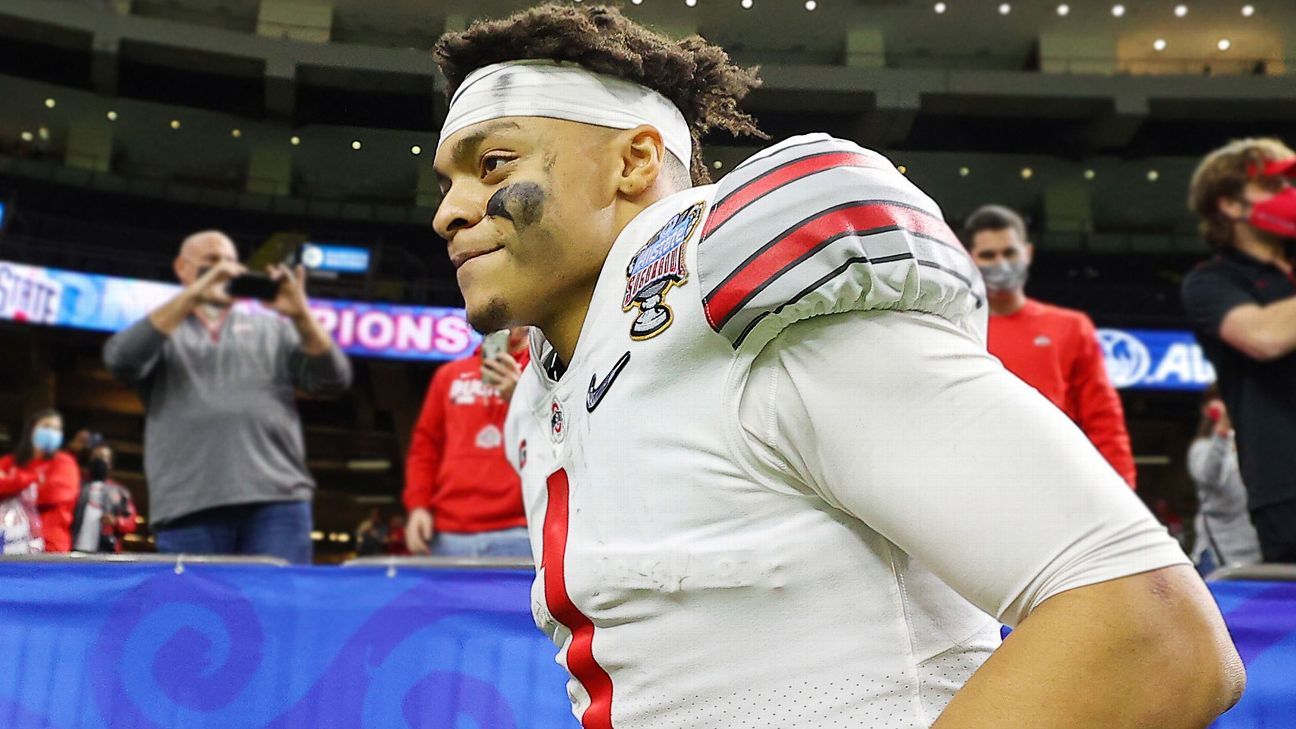 PHILADELPHIA — You just know the Philadelphia Eagles are going to make a splash in the 2021 NFL draft.
They're the Eagles. It's what they do, especially with general manager Howie Roseman behind the wheel. Since Roseman first took charge of personnel in 2010, Philadelphia has made 33 draft-day trades, the fourth most behind the New England Patriots (46), Minnesota Vikings (38) and San Francisco 49ers (36), according to ESPN Stats & Information research.
The Eagles enter Thursday's draft in Cleveland (8 p.m. ET, ABC/ESPN/ESPN the App) with a league-high 11 picks, giving Roseman all sorts of capital to maneuver around the draft board. Will he use it to move back into the top 10? Would it be for a quarterback? Let's dive in:
Are the Eagles eyeing quarterback Justin Fields?
In his draft buzz column this week, ESPN's Todd McShay said he has heard "there's some interest in Justin Fields within the [Eagles] organization." That's a spicy nugget. McShay adds the Eagles "are apparently tossing out feelers to QB-needy teams that might want to move up to No. 12" should one fall, and that the alleged interest in Fields could be posturing as they negotiate a potential trade back.
• Mocks: Kiper | McShay | Tannenbaum
• Rankings: Kiper | McShay | Legwold
• Kiper/McShay: Dueling mock | All-22
• Teams: Matchmaker | Needs | Guides
• McShay's playmakers | Kiper's favorites
• Full ranking | Pick order | More
What to make of it?
The Eagles have declined to name Jalen Hurts the starter to date, with coach Nick Sirianni citing the importance of creating competition at all positions as the primary reason. While the reason might be that straightforward, the Eagles are leaving themselves some wiggle room should an opportunity present itself during the draft, or even after, by not publicly committing to Hurts.
You can bet there are people inside the building who view Fields as one of the top three quarterbacks in this draft class. There is a thought one of the QBs could be in play should they slide to 12.
But there seems to be a growing sense around the league that all five of the top QBs — Clemson's Trevor Lawrence, BYU's Zach Wilson, Alabama's Mac Jones, Fields and North Dakota State's Trey Lance — will be drafted within the first eight picks, meaning the Eagles would have to trade back into the top 10, a month after moving from No. 6 to 12 overall in a deal with the Miami Dolphins that netted a future first-round pick.
It's possible they move back up at a lesser price — call it a second-rounder — and secure a coveted player while holding onto that newly acquired first-round pick. But the initial move back is not the kind of behavior teams typically exhibit when pursuing a franchise quarterback, because it increases the risk of missing out on the prospect.
If the Eagles were hot after Fields, I don't think they would have moved out of the six hole just to improve their overall draft stock.
Then again, it's the Eagles, so you can never say never.
If not Fields, who would Philly move up for?
Three prospects make the most sense to me: Florida tight end Kyle Pitts, LSU wide receiver Ja'Marr Chase and Alabama cornerback Patrick Surtain II. If Pitts or Chase somehow drop down the board because of all the quarterback activity, and the Eagles were able to move up and snag one the top playmakers in the draft, the initial trade back from No. 6 to 12 would end up looking pretty smart.
The more realistic move-up candidate might be for Surtain. The Eagles have several teams in front of them that could use a cornerback, including the Dallas Cowboys at No. 10. If Surtain is one of the Eagles' top-rated prospects — and the bet here is that is the case — they will have to move up a few slots to guarantee landing him.
When will tight end Zach Ertz be traded?
The Ertz trade speculation has been dragging on for months now, but the end seems to be in sight.
The stall hasn't been due to a lack of suitors. Rather, the proposed compensation hasn't motivated the Eagles to hurry up and part with Ertz, their Super Bowl LII hero and three-time Pro Bowler.
The draft creates a pressure point that should facilitate action. Adam Caplan recently reported that an Ertz trade is going to happen by the end of the weekend, and perhaps even before Round 1 starts up Thursday, noting the Eagles would be wise to make a deal before a team looking for a tight end fills the need in the draft.
The Buffalo Bills (who hold the No. 30 overall pick) and Indianapolis Colts (No. 21) are among the teams that make sense as a landing spot for Ertz.
The Eagles' biggest needs entering the draft are …
You can make a case for just about every position. The offensive and defensive lines need a youth infusion. The wide receiver and running back groups feel incomplete. There are only two quarterbacks on the roster. Linebackers. Defensive backs. You name it, the Eagles could use it.
Two of the most glaring needs are on the defensive side of the ball: cornerback and defensive end. The CB2 spot opposite Darius Slay is wide open, begging for someone such as Surtain to step in and fill it. And while Philadelphia has a decent group of edge rushers, Brandon Graham is 33 years old and fellow starter Derek Barnett is in the final year of his rookie deal. If the Eagles trade back in the first round, perhaps they walk away with someone like defensive end Kwity Paye.
The bad news is the Eagles have a lot of work to do to get this roster into tip-top shape. The good news is they don't have to reach for need in this draft, seeing as there is need all over.
Why Cardinals' first-round LB Zaven Collins may force out Jordan Hicks – Arizona Cardinals Blog
TEMPE, Ariz. — The Arizona Cardinals appear to be all in on Zaven Collins, but when they drafted the Tulsa linebacker with 16th pick in the first round of last month's NFL draft, they instantly created a log jam at inside linebacker.
On the night they drafted him, general manager Steve Keim said Collins would be the Cardinals' Mike linebacker and would line up next to Isaiah Simmons, last season's first-round pick.
One problem: Where would Jordan Hicks, a veteran leader who has started every game since joining the Cardinals in 2019, play? Keim dodged the question in post-draft news conferences, with coach Kliff Kingsbury only offering: "We will work through it as we go. Obviously, you don't take [Collins] with the 16th pick unless you expect him to play. He isn't a guy who is moving positions."
On Wednesday a report from NFL Network said the Cardinals were allowing Hicks to seek a trade.
• All 259 picks | Every team's class
• Kiper's draft grades for every team
• McShay's favorite pick for all 32 teams
• NFL Nation: Analysis for every pick
• Round 1: Kiper | McShay | NFL Nation
• Scouting reports | More draft coverage
If Arizona is able to move Hicks — or eventually release him if they can't trade him — it will field an inside linebacking corps with just one year of experience. And Kingsbury seems to be content with that.
"It's not a projection," Kingsbury said. "This is the position [Collins] played. So, I don't think the learning curve will be very steep for this young man. He was valedictorian at his high school, so we expect him to come in and play a lot immediately."
Keim added that when Collins lines up alongside Simmons, it'll be like "having two trees in the middle of the field."
Collins is the third linebacker the Cardinals have drafted in the first round in the past five years. The other two were Simmons and Haason Reddick in 2017. Arizona's other first-round picks during that span were both quarterbacks: Josh Rosen in 2018 and Kyler Murray in 2019.
Keim has stressed that Collins is not a hybrid linebacker like Reddick was and — to some degree — that Simmons is. Last season, Simmons played just 77 of his 360 snaps at inside linebacker, according to ESPN Stats & Information. Keim pointed out that Reddick was a pass-rusher in high school and college but was moved to play stacked linebacker in the NFL, which led to a long four years of playing different positions.
That, Keim said, won't be the case with Collins.
"This guy has played stacked linebacker, which is a whole different deal when you see the vision and the ability to play from that second level," Keim said. "I think he's a Mike linebacker. I think he's got all the traits you look for."
Arizona was high on Collins for a while, which led to him landing high on their draft board, Keim said.
"Size, football acumen, instincts, coverability," Keim said. "This guy has got rare and unusual movement skills for a guy who is almost 6-5, 265 pounds. You watched him at Tulsa and the way he covered smaller backs, tight ends, slot receivers at times. You don't see a lot of men like this, this size that have this type of range and athleticism. So, we really liked him."
When he watched Collins, Keim described Collins' ability to direct and communicate with his teammates before the snap as "excellent." Collins has "very high" expectations for himself, and wants to learn "every detail about every formation, about every scheme."
"Those are the big things for me," Collins said. "Those were the big things in college for me. Those are the huge things that I've incorporated into my game and the way I play. I think about those things every down, situational awareness and game awareness. Those things matter a lot to me and I think those matter a lot to organizations, teams, players because everyone at the next level is at a huge physical advantage over everyone else. So that's something that I look forward to and trying to take advantage of."
The plan is for Collins to be a three-down linebacker, but Arizona isn't concerned that he won't be able to handle it.
"I think knowing that he has played middle linebacker in a similar three-down scheme, it won't be completely foreign to him, and that's going to help," Kingsbury said. "He's a quick learner. He's going to get a lot of time on task, a lot of reps."
And Collins doesn't mind the pressure of starting as a rookie.
"I love pressure," he said. "I've felt pressure since I was knee high to a grasshopper. I love it. I love pressure. I loved pressure in college. I love pressure in the NFL. I love it. That's the thing that I strive for. I want to feel that going into the league. I want guys like J.J. Watt, Simmons, Kyler Murray, all those guys, to count on me to do a certain role."
What's gone wrong between Aaron Rodgers and the Green Bay Packers? Here's how they got here
GREEN BAY, Wis. — The date was Aug. 30, 2018 — one day after Aaron Rodgers signed a record contract extension worth $134 million with the Green Bay Packers that ran through the 2023 season. That day was largely celebratory on the part of the quarterback and the team, except for one ominous remark:
"I don't think this guarantees anything other than maybe the first three years of the deal," Rodgers said.
Three years later, Rodgers and the Packers have reached that point.
And neither side is in a good place.
Rodgers has become so disgruntled with the team, as first reported by ESPN's Adam Schefter and confirmed by multiple media outlets, he's told some in the organization he won't play for the Packers again. Part of that is because general manager Brian Gutekunst not only drafted quarterback Jordan Love in 2020 as a possible replacement for Rodgers — and traded up in the first round to do so — but he also didn't communicate his plans with Rodgers beforehand.
Now, coming off an MVP season — the third of his career — the balance of power has seemingly shifted back to Rodgers, who had this to say on the day his extension was announced: "I want to go out and prove that I'm still an elite player in this league, and if I do that then I'll feel good. I've got the opportunity to finish my career in Green Bay, but I'm definitely not arrogant in the mindset that it would never happen to me. It happened to [Brett Favre], it can happen to any of us."
Here's a look at the events, from that point until now, that have brought Rodgers and the Packers to the brink of separation:
---
April 18, 2019: The Packers host Missouri quarterback Drew Lock, one of the top prospects in the 2019 draft, on a pre-draft visit. The news comes as a surprise even though Rodgers is at the same age, 35, as Favre was when the Packers drafted Rodgers in 2005. Still, Rodgers had never done the Favre/retirement waffling and had repeatedly expressed a desire to play into his 40s.
However, Rodgers is coming off a 2018 season in which he essentially made it known he was ready for a new coach (see his trashing of Mike McCarthy's offense following a Week 4 win over the Buffalo Bills that previous season and his disappointment that Alex Van Pelt was ousted as quarterbacks coach earlier that year).
Aug. 6, 2019: The Packers finish joint practices with the Houston Texans. It had been 14 years since they hosted another team for training camp practices. Rodgers hates them, and says after the second session: "I wouldn't mind if they didn't do it for another 14 years." Shortly before that, first-year coach Matt LaFleur had said, "Absolutely, 100% I want to do this again." Rodgers' contradiction bothers Gutekunst and others in the football department.
Feb. 21, 2020: If the Lock visit was subterfuge, then what Gutekunst said on this day is pure honesty. The GM says he would be open to drafting a quarterback in the first round. In the same session with reporters, Gutekunst is asked if he would be concerned what impact such a pick would have on Rodgers.
"Aaron wants to win, and I think that's the most important thing to him," Gutekunst says. "He knows we're trying to make the best decision for the football team going forward. So I don't worry about that, but I'm not — with all players — you can't control that. Players get happy and sad about all kinds of things. So I'm not too concerned about that."
April 23, 2020: Shortly after the Minnesota Vikings used the 22nd pick to take Justin Jefferson, a receiver the Packers coveted and Rodgers liked, another receiver comes off the board at 26 when the San Francisco 49ers takes Brandon Aiyuk. Then, Gutekunst makes his move. He trades his fourth-round pick (No. 136 overall) to the Dolphins to move up from No. 30 to take Love at 26.
May 15, 2020: Rodgers holds a nearly 40-minute conference call with reporters during which he says he is not "thrilled by the pick, necessarily," but adds, "I understand." He also says he realizes his desire to start and finish his career with the same team "may not be a reality at this point." He reiterates his hope to play out his contract and perhaps beyond but admits, "I'm just not sure how that all works together at this point."
Sept 3, 2020: Rodgers, during an interview on SiriusXM NFL radio, says he feels good about his top-four receivers: Davante Adams, Allen Lazard, Marquez Valdes-Scantling and Jake Kumerow, who Rodgers had raved about since the Packers signed him in 2017.
Sept. 4, 2021: Gutekunst cuts Kumerow.
Sept. 8, 2021: The Bills sign Kumerow to the practice squad.
Nov. 1, 2021: Just before the trade deadline, Rodgers is asked whether they need help on offense (Gutekunst reportedly made an offer to the Texans for receiver Will Fuller V). "We've had many conversations about this type of thing over the years," Rodgers said. "I truly understand my role. I'm not going to [stump] for anybody, last time I [stumped] for a player he ended up going to Buffalo, so…"
Jan. 20, 2021: Rodgers continues his c'est-la-vie approach from the entire season during the week of the NFC Championship Game, when he calls his future a "beautiful mystery." It comes in response to a question about whether Rodgers, at age 37, is looking at the game as a best last-chance to get to a Super Bowl.
Jan. 24, 2021: In the moments after the 31-26 loss to the Buccaneers in the NFC title game, Rodgers questions his future with the Packers, saying, "[The Packers have] a lot of guys' futures that are uncertain — myself included." Rodgers never got the ball back with a chance to win the game in the final minutes after LaFleur opted for a field goal to cut the deficit to five with 2:09 left rather than going for it on fourth-and-goal from the 8-yard line.
Mike Tannenbaum says the Packers' front office should be worried about losing Davante Adams alongside Aaron Rodgers.
Jan 25, 2021: Packers president Mark Murphy says on WTAQ-WNFL radio in Green Bay when asked about Rodgers' comments a day earlier: "I'll say this, there's no way in heck that Aaron is not going to be on the Packers. I mean, he is going to be the MVP of the league. He might have had his best year ever. He's our unquestioned leader, and, you know, we're not idiots."
Jan 26, 2021: In an appearance on "The Pat McAfee Show", Rodgers says: "I don't think that there is any reason why I wouldn't be back," emphasizing the word "think." "But look, there's not many absolutes in this business. So to make an absolute statement about something that is not an absolute, I didn't do it. And I guess that's why it went kind of nuts."
Feb 1, 2021: Gutekunst, in a season wrap-up news conference, is asked if he feels like he needs to give Rodgers any assurances about his future. "I don't think I have to do a lot of assuring him because I think obviously his play speaks for itself," Gutekunst says. "I will say this: We're really excited not only for next year but the years to come. He's playing at such a high level that he always has, and I think this year was a special team. It didn't finish like we wanted to finish, but I think everybody's purely motivated to get back, and I think, like I said, I don't think there's anything that we have to do. He's our quarterback, and he's our leader."
March 2, 2021: Gutekunst is vague when asked whether restructuring Rodgers' contract is an option. The Packers are still well over the salary cap at this point and end up restructuring several veteran deals.
March 20, 2021: The Packers don't convert Rodgers' $6.8 million roster bonus into a signing bonus, which would have given them more than $4.5 million in immediate salary-cap relief. Instead, a source said the bonus was "vested as scheduled." Rodgers has an automatic conversion clause in his contract, but it still would have needed Rodgers' signature to become official (which makes it worth questioning why it's called an automatic conversion in the first place).
March 30, 2021: In the first public hint of serious trouble brewing, Murphy has a chance to diffuse things but does not. Instead, he refuses to say why a contract restructure never happened.
April 5, 2021: In what to date remains his last interview on the subject, Rodgers reiterates on "The Pat McAfee Show" nothing has changed in the year since the Packers picked Love. "That's why I've used the phrase like 'beautiful mystery,' because it is quite uncertain which direction things are going to go," Rodgers says. In the interview, Rodgers also mentions he would like to be considered for the full-time hosting position on "Jeopardy!" after his two-week stint as a guest host.
April 19, 2021: The Packers' offseason program begins with four weeks of virtual meetings and workouts, but Rodgers does not report for the voluntary session.
April 29, 2021: Just hours before the NFL draft begins, Schefter's story is teased on NFL Live and published on ESPN.com. Later that night, after picking cornerback Eric Stokes in the first round, Gutekunst says the Packers have no plans to trade Rodgers and believe things can be worked out. Gutekunst admits he should have communicated better with Rodgers before he picked Love.
May 1, 2021: Murphy, in his monthly column on the team website, acknowledges the media reports and writes, "This is an issue that we have been working on for several months." He says the Packers are committed to Rodgers for "2021 and beyond." Later that day, LaFleur also says he wants Rodgers back, but when asked what happens if Rodgers doesn't want to come back to the Packers, the coach says, "Yeah, I know, and I can't even take my brain to that spot right now."
May 3, 2021: 49ers coach Kyle Shanahan, one of LaFleur's mentors, says on "The Rich Eisen Show" he called LaFleur the day after Schefter's report went public to inquire about a trade. "The exact truth is I didn't want to wake up the next day, on Friday, and see Aaron Rodgers, one of the best quarterbacks in this league, traded, without doing any due diligence on it. So I just called Matt and asked him if there was anything to it, and Matt told me I'd be wasting my time if we had [GM John] Lynch call."
May 5, 2021: Favre, during an interview on ESPN Wisconsin radio, says he doesn't see Rodgers "coming back and just saying, 'All right, let's just bury the hatchet,'" and added his gut tells him Rodgers would rather sit out than play for the Packers if he's not traded. Later that day, former Packers fullback John Kuhn paints a more optimistic picture on CBS Radio when he says he thinks "it's somewhere around 70, 75% that Aaron Rodgers is the starting quarterback for the Packers this year."
May 10, 2021: All-Pro receiver Adams, in an interview of Fox Sports Radio, says his future with the Packers would "potentially" be impacted by how the Rodgers' situation is resolved. Adams is entering the final year of his contract.
New York Giants' overhaul: Inside their 'astonishing' 16-month makeover – New York Giants Blog
EAST RUTHERFORD, N.J. — Finally, the optimism seems warranted for the New York Giants. One look at their roster and it is apparent there is more talent from top to bottom than there has been since the 2016 season.
The upgrade can be credited to an overhaul during the past 16 months that has transformed them from barren to plentiful. The depth chart when coach Joe Judge arrived on Jan. 8, 2020 was scary, and not in a good way.
Of the Giants' 22 starters from Week 17 of the 2019 season, 12 are gone, as are 32 of the 53 players from that roster. Half of those 32 are either retired (quarterback Eli Manning), unsigned as of mid-May or out of the league. And that doesn't include retired long-snapper Zak DeOssie and tight end Rhett Ellison, who finished that season on injured reserve.
That is an indictment of general manager Dave Gettleman's progress until Judge was hired. Since then, they have worked together to stockpile quality talent, producing a roster that finally seems to have realistic potential.
"It's actually pretty astonishing … seeing how much improved that roster is," said a personnel executive with a team that made the playoffs last season. "They have nice depth."
That comment came after the exec was given a comparison of the Giants' personnel at each position group from the day Judge was hired to now, which we will detail below. This offseason alone, the Giants added wide receivers Kenny Golladay, Kadarius Toney and John Ross, tight end Kyle Rudolph, defensive lineman Danny Shelton, edge rusher Azeez Ojulari and cornerbacks Adoree' Jackson and Aaron Robinson. Their most significant losses were guard Kevin Zeitler and defensive lineman Dalvin Tomlinson.
"We've had a good roster-building season," Gettleman said. "We've added playmakers. We've added pass-rushers. We added corners. We feel good about what we've done."
With insight from the personnel executive and ESPN analyst Mike Tannenbaum (a former NFL GM), here is a position-by-position look at the Giants' roster when Judge arrived compared to now:
Quarterback
Current: Daniel Jones, Mike Glennon, Clayton Thorson, Joe Webb
Jan. 8, 2020: Jones, Eli Manning, Alex Tanney
The group that finished the 2019 season had better depth, but as Tannenbaum notes, this should be a better and more experienced version of Jones. And Manning, who spent most of the 2019 season as a $17-million backup, was about to retire.
Thoughts about the Giants' current QBs will change if Jones makes the jump the Giants, Tannenbaum and the executive all expect of him this season.
"That can quickly be fixed by Daniel Jones becoming a legitimate starter this year and getting over the hump," the executive said. "Good chance."
Running back
Current: Saquon Barkley, Devontae Booker, Gary Brightwell
Jan. 8, 2020: Barkley, Wayne Gallman, Buck Allen
There doesn't seem to be much hesitation from the executives in predicting Barkley bounces back from a serious knee injury. They also agree Booker is more dynamic and versatile than Gallman.
"He is one of these underutilized players who always maximized his opportunities," Tannenbaum said of Booker.
That makes the current group slightly better. Brightwell is also highly thought because of his special-teams ability compared to Allen.
Fullback
Current: Eli Penny, Cullen Gillaspia
Jan. 8, 2020: Penny
Gillaspia was claimed off waivers this offseason because of his ability on special teams, an area the Giants put extra emphasis on this offseason.
Penny also brings value in that regard. He finished second on the team last season with seven tackles on special teams and catches the ball well out of the backfield, if the Giants ever choose to call his number.
Check out the best highlights from Florida WR Kadarius Toney's college career.
Wide receiver
Current: Golladay, Sterling Shepard, Darius Slayton, Toney, Ross, Dante Pettis, C.J. Board, Austin Mack
Jan. 8, 2020: Golden Tate, Shepard, Slayton, Cody Latimer, Corey Coleman, Da'Mari Scott, Russell Shepard, Cody Core
The current group represents arguably the biggest upgrade of any position.
"It's dramatically better now," Tannenbaum said.
In the final game of the 2019 season, Scott and Latimer started in a three-wide-receiver set along with Shepard. Neither is still in the league.
This year's group is talented, deep and has a little bit of everything.
"The depth and the versatility of the group and the way the skill sets complement each other is the difference," the executive said. "You've got your speed guy in Slayton, Golladay, who is your contested-catch specialist, Sterling Shepard keeps the chains moving, and you have an offensive weapon in Toney and you're taking a flier on John Ross who is a legitimate speed guy. And same with Pettis."
The executive thought Pettis had a legit chance to be a starter after his rookie season in San Francisco. It's conceivable he's the Giants' sixth wide receiver entering training camp.
Tight end
Current: Evan Engram, Rudolph, Kaden Smith, Levine Toilolo
Jan. 8, 2020: Engram, Smith, Garrett Dickerson, Ellison, Scott Simonson
Judge said the Giants wanted improvement at every position, and they now have four established tight ends.
"By adding competition, one of two things happen: You either bring someone in who [helps] you improve because they are good enough to take someone else's job, or you bring someone in who pushes the guys in front of him to keep their job, and either way you get a raised level of play," Judge said.
This is part of the thought-process with Engram — hope his game elevates in a crowded room.
So, which group is better? From the 2019 roster, only Engram and Smith remain in the NFL, and the executive considers the current group significantly better after adding Rudolph as an in-line player who can block and make contested catches. He raved about his hands.
Tannenbaum was less impressed: "What's left with Rudolph? If he's healthy, they're better. But that is a wait and see."
Offensive line
Current: Andrew Thomas, Will Hernandez or Zach Fulton, Nick Gates, Shane Lemieux, Matt Peart or Nate Solder, Jonotthan Harrison, Chad Slade, Kyle Murphy
Jan. 8, 2020: Solder, Hernandez, Jon Halapio, Zeitler, Mike Remmers or Gates, Slade, Spencer Pulley, Eric Smith
This is where the opinions varied. The executive seems to share the Giants' optimism about this year's young group.
"Definitely better," he said. "They have an up-and-coming left tackle [Thomas] who played more consistently down the stretch [last season]. At least they have an insurance policy behind Will Hernandez. Gates has transitioned nicely to the center spot. There is a young guard [Lemieux] they seem to like and he'll be able to [focus] on one position all offseason, which is important for him. And a young right tackle prospect [Peart] they seem to be fond of and a former starter [in Solder]."
Tannenbaum also is optimistic, even if he thinks the group from the 2019 season was better.
"Solder has played better than Andrew Thomas. And I'm a Zeitler fan," he said. "This offensive line has a chance to be good if Peart develops. I loved Andrew Thomas coming out, but he has to play better. They have a chance to be good, but on paper, I'd take Zeitler and a healthy, younger Solder."
Defensive line
Current: Leonard Williams, Dexter Lawrence, Shelton, Austin Johnson, B.J. Hill, RJ McIntosh
Jan. 8, 2020: Williams, Lawrence, Tomlinson, Hill, McIntosh, Chris Slayton
This is the one area where the Giants clearly are not better. They lost Tomlinson in free agency this offseason because they wanted to move that money to a different position group. The current group might be deeper now, but it's not as good.
"I don't think you're disappointed with [the current group]," the executive said. "Good unit still. But you had three frontline starters with Dalvin."
Check out the best highlights from Georgia LB Azeez Ojulari's college career.
Outside linebacker
Current: Ojulari, Lorenzo Carter, Oshane Ximines, Elerson Smith, Ryan Anderson, Carter Coughlin, Cam Brown
Jan. 8, 2020: Markus Golden, Ximines, Carter, Kareem Martin, Chris Peace
Tannenbaum and the executive were in agreement that this unit has improved and has depth. Both are high on Ojulari, confident he's more talented than anything New York had when Judge arrived.
"I thought Ojulari was a [first-round pick]," Tannenbaum said. "He was different than [Kwity] Paye. He was a better space athlete. He was twitchy, good lower-body flexibility and he can drop in coverage."
The executive says Ojulari has the ability to become the frontline player the Giants were missing. He also noted Carter and Ximines can play the rotational roles that suit them.
Inside linebacker
Current: Blake Martinez, Reggie Ragland, Tae Crowder, Devante Downs, TJ Brunson
Jan. 8, 2020: Alec Ogletree, David Mayo, Deone Bucannon, Ryan Connelly, Josiah Taueafa
No need to spend much time on this one. Martinez is the only high-level starter on either list because Ogletree was done by the start of the 2020 season and about to be released.
"Martinez is a really, really good player," Tannenbaum said.
The executive sees reason for optimism beyond Martinez: "Crowder came on and played some nice ball for them," he said. "Ragland has starting experience."
Cornerbacks
Current: James Bradberry, Jackson, Darnay Holmes, Robinson, Isaac Yiadom, Rodarius Williams, Sam Beal, Madre Harper
Jan. 8, 2020: Deandre Baker, Antonio Hamilton, Grant Haley, Corey Ballentine, Beal
Poor James Bettcher. This exercise also serves as a scary reminder of what the former coordinator was working with at the end of his Giants' tenure. They were awful at cornerback, really bad at inside linebacker and extremely thin at outside linebacker.
They have invested heavily at cornerback since, signing Bradberry and Jackson to be the starters and drafting Holmes and Robinson in the middle rounds to man the slot.
"Frontline starters and the depth is better," the executive said, before adding that when opposing teams came into games last season, the plan was to throw at Yiadom or whoever was the CB2 that week.
Can't do that anymore. Now Yiadom is a backup fighting for a roster spot instead of a starter and a weekly target for opposing quarterbacks.
The Giants have a lot riding on Jackson. He's "a really, really good athlete … if healthy," Tannenbaum said.
Safeties
Current: Jabrill Peppers, Logan Ryan, Xavier McKinney, Julian Love, Nate Ebner
Jan. 8, 2020: Peppers, Antoine Bethea, Mike Thomas, Love, Sean Chandler, Rashaan Gaulden
The previous group had Bethea on the verge of retirement and really had no chance behind those cornerbacks. This year's class has three potential starters.
"McKinney, they'll have a role for him," the executive said. "They did a nice job with Logan Ryan last year and they cater to Peppers' strengths."
Tannenbaum says McKinney will be a good player if he can remain healthy.
Ebner is included here even though he is unsigned, because the expectation is the special-teams ace will re-sign this summer after fulfilling his USA rugby duties and potentially playing in the Olympics.