49ers' pick at No. 3 a tipping point for Kyle Shanahan, John Lynch – San Francisco 49ers Blog
SANTA CLARA, Calif. — These days, no matter where San Francisco 49ers coach Kyle Shanahan goes, he's sure to be inundated with opinions about which quarterback he should select with the No. 3 pick in this week's NFL draft.
Whether it's a restaurant or his kids' soccer games, everyone from parents to referees weighs in on the draft's biggest question. His closest friends have taken to texting Shanahan's wife, Mandy, because their opinions have gone without a response from Shanahan himself.
"You do have to block that stuff out," Shanahan said. "You can't make decisions based off of that. … You might add a little pressure to that person, add a little pressure to the organization but whether it comes now or it comes later, there's pressure for everyone in this sport and it doesn't matter. I'm happy we're going to get one that we like and that we've done it right."
While the 49ers have put in the work to make an educated choice from a quarterback group that will likely include Alabama's Mac Jones, North Dakota State's Trey Lance and Ohio State's Justin Fields, the result of their process will be hotly debated for years to come.
• Mocks: Kiper | McShay | Tannenbaum
• Rankings: Kiper | McShay | Legwold
• Kiper/McShay: Dueling mock | All-22
• Teams: Matchmaker | Needs | Guides
• McShay's playmakers | Kiper's favorites
• Full ranking | Pick order | More
For Shanahan and general manager John Lynch, the pick they submit Thursday night will serve as a tipping point for their tenures with the 49ers. Shanahan grimaces at the notion it's the most important pick in franchise history, but it's at least the biggest decision he and Lynch have made since they arrived in 2017. It's not just because it's for a quarterback, it's the exorbitant price they paid — three first-round picks and a third-round pick.
With a ready-made roster, the Niners believe that if they hit on a quarterback, they could be set up for success for years to come.
"It's a unique situation," Lynch said. "We have the third pick and typically No. 3 picks at quarterback, they're going to teams that aren't that good. I think our roster's pretty good. We need to stay healthy. There's a lot of things that have to happen. But I think our roster's pretty healthy in terms of talent. So I think it can be a really exciting environment for who we decide on to come in and play when they're ready to play."
The strong depth chart, talented coaching staff and innovative scheme don't completely remove the potential for a bust, but they do significantly lower the possibility, especially if Jones, Lance or Fields doesn't have to start right away.
That also puts the onus on Shanahan and Lynch to think beyond the safe pick and aim for a game-changer.
Shanahan has undoubtedly caught on to the mounting public opinion favoring Lance or Fields over Jones. But it's not just fans who feel that way — many analysts don't rank Jones ahead of Fields or Lance.
But it's easy to understand why Shanahan might like Jones, who fits Shanahan's preference for a passer who can win from the pocket. Jones has had success throwing outside the numbers (a 98.0 QBR on such throws is the highest of any qualified Power 5 passer over the past 10 seasons) and throwing deep (he had a perfect 100.0 QBR on throws traveling 20-plus yards in 2020), both areas the 49ers have not used much under Shanahan (26th in QBR outside the numbers and the fewest pass attempts of 20-plus yards).
Still, Lance and Fields undoubtedly possess more exciting physical traits as well as intangible qualities. Both might need time to become the pocket passers Shanahan wants, but the Niners claim to be a place offering just that kind of training.
The question isn't so much which quarterback Shanahan likes, it's whether his view on what he wants in a quarterback has evolved beyond the pocket passers he's worked with previously.
"There's lots of different ways you can do it," Shanahan said. "I don't look at it as trends of the league. I look at it as there's some special players, there's some special people. I don't care when Drew Brees comes out, whether it's 30 years from now, 30 years ago or today. Drew's going to be pretty good. So is Philip Rivers, so are all these guys. So is Lamar Jackson, Patrick Mahomes, they would have been good 40 years ago also. … You got to take guys you believe are good enough to do it, whatever way that is."
Although Shanahan and Lynch spoke at length about the process of soliciting opinions from within the building and coming to a consensus, there was no gray area left on who will make the call: Shanahan.
Shanahan and the Niners passed on all of the top quarterbacks in the 2017 NFL draft — including big-armed, mobile options such as Deshaun Watson and Patrick Mahomes — with an eye toward landing Kirk Cousins after the season. That changed when they traded for Jimmy Garoppolo, who rattled off five consecutive wins to close 2017. San Francisco promptly paid Garoppolo what was, at the time, the biggest contract in the league.
That one goes on Shanahan's ledger even though Garoppolo wasn't necessarily his hand-picked option because he had to sign off on the contract. Beyond that, Shanahan's track record with quarterbacks since his arrival has been dotted with names like C.J. Beathard, Nick Mullens and Brian Hoyer.
This is different. This is Shanahan's first big swing at hand-selecting his franchise quarterback from a lofty draft perch. The price was high. The scrutiny will be, too.
None of it will matter if whoever it is wins big. It will if he doesn't.
"I hope the fans are happy with it," Shanahan said. "But the key is ultimately they're going to be happy based off how we do in the future, not how they feel that night.
"And it's up to us to live with the consequences."
San Francisco 49ers sign receiver Marqise Lee after tryout
The San Francisco 49ers signed veteran wide receiver Marqise Lee to a one-year contract Monday after he tried out for the team at its rookie minicamp over the weekend.
He caught passes from 49ers rookie quarterback Trey Lance on Friday during the portion of practice open to the media. The 49ers waived wide receiver Austin Proehl on Monday to fit Lee on their 90-man roster.
Lee, 29, opted out of the 2020 season due to the COVID-19 pandemic after signing with the New England Patriots as a free agent. The Patriots released him in March.
The 2014 second-round draft choice out of USC spent the first six years of his career with the Jacksonville Jaguars, having signed a four-year contract worth $34 million in March 2018. But he played in only six games after signing that big deal, having missed the 2018 season after suffering a torn ACL, MCL and PCL in his left knee during the preseason.
He joins a 49ers wide receiver depth chart led by Deebo Samuel, Brandon Aiyuk and Richie James that currently includes Trent Sherfield, Jalen Hurd, Travis Benjamin and Mohamed Sanu, among others.
Lee has 174 catches for 2,184 yards and eight touchdowns in 59 career games.
Denver Broncos add Minnesota Vikings' Kelly Kleine to front office in historic scouting hiring
The Denver Broncos have hired Kelly Kleine as the executive director of football operations and special advisor to general manager George Paton, the team announced Monday.
Kleine, 30, is believed to be the highest-ranking female scouting executive ever with an NFL team.
"Kelly is a rising star in the NFL, and we're fortunate to add someone of her caliber to the Denver Broncos," Paton said in a statement announcing the news. "Having worked with her for nine years in Minnesota, Kelly has a strong understanding of all aspects of football operations and player evaluation along with outstanding leadership qualities. She will be a tremendous resource with her experience on the pro and college sides as well as her knowledge of our grading scale and football calendar."
Kleine will be the primary liaison for the team's football operations and oversee various areas of the pro and college scouting departments, including player evaluation and preparation for the NFL draft and free agency. She will also oversee the Broncos video and equipment departments.
Kleine spent 10 seasons in Minnesota where she most recently served as the manager of player personnel and was also a college scout. The Wisconsin native got her start in the NFL as a public relations intern with the Vikings in 2012, while finishing her undergraduate degree at the University of Minnesota. She entered the scouting department as an administration intern in 2013 before becoming a scouting assistant in 2014 before being promoted to the team's college scouting coordinator from 2015-18.
As the manager of player personnel/college scout, Kleine scouted the Midwest region and was the liaison between all off-site scouts and the front office. Her job in scouting carried operations responsibilities in Minnesota where she scheduled and facilitated predraft visits as well as interviews for the Vikings at the annual scouting combine.
Miami Marlins CEO Derek Jeter sells mansion Tampa Bay Buccaneers QB Tom Brady has been renting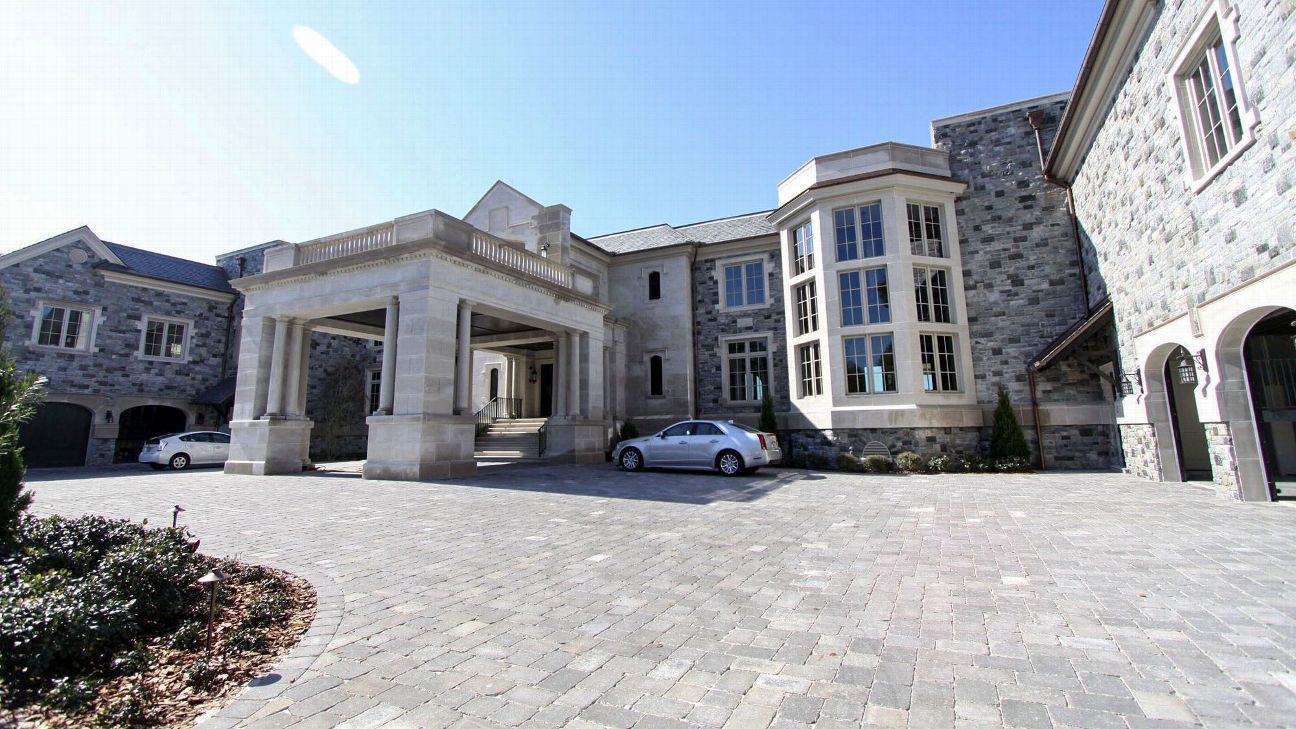 TAMPA, Fla. — Former New York Yankees superstar Derek Jeter has sold his waterfront mansion in Tampa for $22.5 million — meaning Tom Brady might be headed to new rental digs.
The seven-bedroom, eight-bath estate was sold on Friday, said Smith & Associates, the real estate firm that handled the transaction. The firm did not disclose the buyer and the sale had not yet been recorded Monday by Hillsborough County, a process that can take several days. The home had been listed at $29 million.
The baseball hall of famer lived in the home part-time until his retirement after the 2014 season. He and his family moved across Florida after he became a part-owner and CEO of the Miami Marlins in 2017.
Brady has been renting the mansion since April 2020, shortly after the star quarterback signed with the Tampa Bay Buccaneers after leaving the New England Patriots. He and his wife, supermodel Gisele Bündchen, recently purchased land on an exclusive island off Miami to build a home there. Brady led the Bucs to a Super Bowl title in February.
Jeter bought the property in 2005 for $6.3 million, razed the homes that were there and built the 22,000-square-foot replacement, which has a wine cellar, movie theater and air-conditioned six-car garage.
Smith & Associates Realtor Stephen Gay told the Tampa Bay Times that Brady and Bündchen were accommodating and didn't turn down any requests to get the property "show-ready" for a prospective buyer.