GM says Packers 'working through' Aaron Rodgers' contract situation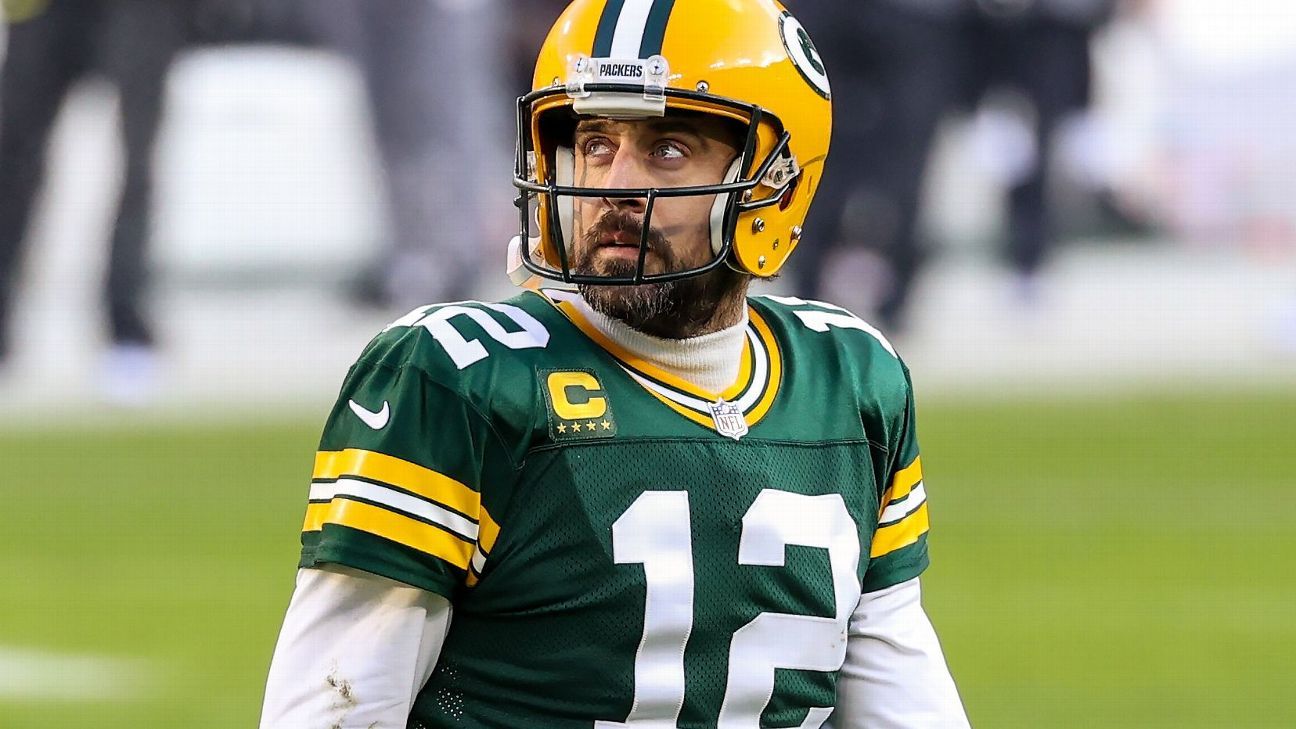 GREEN BAY, Wis. — Just because the Green Bay Packers haven't restructured or extended Aaron Rodgers' contract does not mean they won't in the coming days either before this week's draft or in the coming months before the season starts.
That's where general manager Brian Gutekunst left things on Monday.
Gutekunst and his salary-cap guru Russ Ball have spent the winter and spring reworking deals in order to create salary-cap space to re-sign running back Aaron Jones, who would have been one of the marquee free agents, and keep much of the team together that played in the NFC Championship Game for the second straight season.
But they have not touched Rodgers' contract — yet.
"That's kind of something we're working through," Gutekunst said. "You know, it's something that we've talked about quite a bit as we've worked through this salary cap situation, which is really kind of a two-year situation. We've looked at a lot of different things and that's one of them."
Rodgers has no more guaranteed money left on the $134 million extension he signed in 2018 that runs through the 2023 season.
"Aaron's our guy; he's going to be our quarterback for the foreseeable future," Gutekunst added. "We're excited about kind of the things we're going to try to accomplish here over the next couple years. So we certainly think with the contract that you're kind of talking about is something we'll work through. We're going to have to do probably a few things with different contracts as we head toward the season and then through the season to make sure that our salary cap situation, not only this year, but in 2022 is square. So we're not done yet. We've done a lot to get here. We've kind of been doing things as we go and we will continue to do that as we go."
Rodgers has questioned his future with the organization at various points in the last year, ever since the Packers drafted quarterback Jordan Love at No. 26 overall. Late in what would become his third career MVP season, he called his future a "beautiful mystery" and after the season included himself in comments about players with uncertain futures with the team.
Earlier this month on the Pat McAfee Show, Rodgers said nothing has changed in that regard.
"I think we're exactly where we were last year when I made comments after the draft and throughout the season," Rodgers told McAfee. "I don't feel like any of that has changed. Even my comments directly after the last game — and we talked about it on this show — some thought or made assumptions based on what I said, but nothing's really changed. My future is, really, a lot of it is out of my control. That's why I've used the phrase like 'beautiful mystery,' because it is quite uncertain which direction things are going to go."
As recently as last month, Packers president Mark Murphy would not comment on where things stood between the organization and Rodgers. When asked about the relationship between the two parties, Gutekunst said: "I think I understand your question. I'm not really sure exactly where you're coming from, but what I will say is we're really excited about Aaron Rodgers and his future with the Green Bay Packers. We think he's going to be our quarterback for the foreseeable future."
The Packers restructured six veteran contracts this offseason just to get under the cap when the new league year opened in March.
"We're going to be in kind of the same situation next year as we are this year with trying to continue to push more money out to field our team," Gutekunst said. "I think we had to do a lot of things to bring guys back this year and we'll have to do that again. So we're not done by any means yet and we are working through that with a number of our players, including Aaron."
Still, the Packers could move on from Rodgers, 37, after this season and save up to $25 million on their salary cap. At this point, their top eight players under contract for next season count for $161.14 million on their 2022 cap. Even if the salary cap jumps from $182.5 million this season to $200 million next season, it still would mean the Packers have more than 80% of their cap tied up in those eight players. And that doesn't include receiver Davante Adams, who is entering his final season, or cornerback Jaire Alexander (who Gutekunst said Monday will have his fifth-year option exercised).
"I think that obviously every year there's different things you go through to kind of get to the season, and I think we're going through those right now whether it be contractually or whether it be working with our players on other things, and that's where we are," Gutekunst said. "Again, he's such a unique, different player than anyone that I've ever been around. He affects our organization in so many different ways that you just can't value him because he's so important to what we do. We're excited moving forward and we'll kind of see where things go.
"It's very important for us to work through the next two years to get this salary cap thing right. We will have to address many contracts over the next four or five months to kind of get under the cap for the season and [Rodgers' contract] is certainly one we will probably address as well."
NFL teams making changes to voluntary workouts with players' input
In an effort to persuade reluctant players to show up for voluntary offseason workouts, several NFL teams have made changes to their offseason schedules as a result of conversations between players and coaching staffs
NFLPA officials told ESPN this week that one of the tangible results of its ongoing dispute with the league and the teams over offseason workouts is that players have been able to have a say in how those workouts should be conducted.
"Every single player, especially the leaders on these teams, they're now talking to these teams on their own and saying, 'If it's truly voluntary, this is what it needs to look like in order for us to show up,'" said free-agent safety and NFLPA executive board member Michael Thomas. "This is truly voluntary, and moving forward, we just want a better process for our men so they can be healthy and extend their careers."
The specific changes vary by team, and not every team is making them. There also are still a few teams whose players have said they won't be showing up for voluntary offseason workouts at all. But the NFLPA said about 15 teams have implemented changes to their OTA and minicamp programs as a result of discussions between players and coaches.
"There's a team now that is only going to have one week of in-person, voluntary, and no mandatory minicamp," Browns center and NFLPA president JC Tretter said. "They're there for a week. It's going to be no competitive periods, mostly just walkthroughs. Another team, just two weeks they're there, no mandatory minicamp, they're done by Memorial Day and then they're off until training camp. A lot of (the changes) are around tempo as well. There are some that have agreed to sandals-only walkthroughs, so they make sure it truly is a walkthrough, truly there for learning. And that's what guys think offseasons should be — a time for learning, a time for the mental aspect of football. You're not going to make the team in May."
The NFL didn't name the specific teams that said they were canceling their mandatory June minicamps, and when contacted by ESPN most teams were reluctant to discuss specifics, with many saying they were still working through their offseason plans. But this is a sampling of some of the specific changes certain teams are making, according to various sources:
• The Detroit Lions were originally planning three weeks of OTAs prior to their June 8-10 mandatory minicamp, but now will do only two. Their third week of OTAs will move to the week after minicamp and be focused only on rookie development.
• The Los Angeles Rams will not be having traditional OTAs in terms of on-field work. They may do some pared-down walkthroughs but will focus mainly on instruction.
• The Kansas City Chiefs shrunk Phase 2 of their offseason workout program down from two weeks to one.
• The Los Angeles Chargers will not be doing any on-field work other than walkthroughs, though the front office and new head coach Brandon Staley were already discussing new ways to handle the offseason program when Staley was hired in January.
• The Indianapolis Colts are "still working through" details regarding their mandatory minicamp.
• The Green Bay Packers moved their mandatory minicamp up a week. Originally scheduled for the third week in June, it now will be in the second, and it's possible that means an OTA week goes away as well.
• The Miami Dolphins, as the Miami Herald reported earlier this week, have told their players they will have sandals-only on-field work to guarantee a walkthrough pace. This addresses what Tretter said was the main concern players had about voluntary offseason practice work.
"The offseason program has gotten out of hand," Tretter said. "OTAs have been ratcheted up year after year and they've turned into, especially for big guys and guys on the line of scrimmage, legitimate full contact, non-padded practices. Nobody puts any restraints on them; they let guys go at it. I shouldn't, in May, be taking on bull rushes with no shoulder pads. And that's what they've turned into, and guys are getting hurt, and guys are getting banged up, and it just doesn't make sense to guys anymore."
The NFL and the NFLPA had discussions in March and April about the specifics of this year's offseason program in light of the lingering COVID-19 pandemic but were unable to come to agreement on several points. They're still squabbling over some issues, including whether time spent in COVID-19 testing should count against the players' time spent at the facility each day. The league believes it shouldn't, the players believe it should, and it's possible the union could file a grievance over the issue.
When the talks broke off in April, the NFLPA began issuing team-by-team statements with players saying they would not take part in the voluntary workouts. And there are some teams, including the Buccaneers, Seahawks and Browns, whose players still say they aren't going in (except for the few who have bonuses in their contracts tied to offseason workout attendance).
The dispute turned ugly last week over the issue of Denver Broncos tackle Ja'Wuan James, who suffered a season-ending Achilles tendon injury while working out away from the team facility. The league sent teams a memo after that injury reminding them that a player who is injured away from the team facility can be placed on the non-football injury list, which means the team doesn't have to pay his salary. The union fired back with its own memo, calling the league's memo "gutless" and saying the union has its eye on the situation to see how the Broncos handle it.
"All the players are watching," Thomas said. "That specific incident with Ja'Wuan, as unfortunate as it is, we take that risk every single year, especially in that break from minicamp, five weeks before training camp. Every single player trains on their own during that time."
"I'm sure that locker room's waiting to see," Tretter said. "Because why would I prepare as hard as I can to come back at training camp in the best shape ever when, if something goes wrong, the team's going to throw me under the bus the first chance they get? So I think it's going to be an interesting decision by Denver on what they want to do, because I'm sure the guys in their locker room are looking and I'm sure guys in other locker rooms are looking too."
In the wake of the James injury and the subsequent dueling memos, the NFLPA conducted a conference call last Friday. The NFLPA says about 450 players were on the call at its peak, and the highlight may have been the contribution of seven-time Super Bowl champion quarterback Tom Brady, who spoke passionately about the ability of veteran players to get themselves ready and the lack of necessity of the offseason program.
"I think publicly, there's a narrative out there that, by not volunteering to go to the offseason and to work out on our own, that we're lazy for that," Tretter said. "I think Tom's a great example, because he's probably one of the most well-known people of being the exact opposite of lazy, one of the hardest workers in the league. So for him to come out the way he did, I think that just shows guys that this isn't about relaxing and kicking back on the couch. This is about what's doing what's in the best interest of you as a player, as a person, and making those decisions that are best for your career. It's always important to hear from guys as universally respected as Tom."
Phase 2 of the NFL's offseason workout program, which is allowed to include some on-field activity, is scheduled to begin Monday.
Antonio Brown sued for assault and battery of moving truck driver
Tampa Bay Buccaneers wide receiver Antonio Brown has been sued for his role in an altercation with a moving truck driver in January 2020.
The civil lawsuit was filed Wednesday in Broward County by the driver, Anton Tumanov. Brown pleaded no contest in June to a felony burglary with battery charge and two lesser misdemeanor charges related to the incident.
Tumanov is seeking more than $30,000 in damages, with the lawsuit saying he was "met with resistance and violence" along with a refusal to pay. The suit says Tumanov suffered severe bodily injuries and mental anguish in the incident.
According to court documents for the criminal case obtained by TMZ last year, Brown threw a rock at the driver's moving truck as part of a dispute over pay. Brown later forced his way into the driver's side of the main cabin of the truck and began to physically strike the driver after the disagreement escalated. Brown was then restrained by his associates.
Brown's lawyer at the time, Carson Hancock, said the wide receiver decided to resolve the criminal matter quickly rather than have it be a "protracted legal case."
Brown's trainer, Glenn Holt, was also named in the civil lawsuit, which said Holt also threatened and physically harmed Tumanov and damaged his vehicle.
Brown served an eight-game suspension in 2020 for multiple violations of the NFL's personal conduct policy, which included this criminal case and an accusation of sexual misconduct at his home by an artist who was working there in 2017.
After the suspension, Brown signed with the Buccaneers and was part of their Super Bowl LV-winning team. He re-signed with the Buccaneers on a one-year contract last month.
Information from ESPN's Cameron Wolfe was used in this report.
After losing his mom to cancer, Titans' Caleb Farley leaned on faith to help realize his NFL dream – Tennessee Titans Blog
NASHVILLE, Tenn. — Robert Farley was sitting at a card table playing spades when his phone rang. His son Caleb was on the other end and burst into tears as he began to explain that he just tore the ACL in his knee.
Caleb was then a freshman wide receiver at Virginia Tech and thought his playing career was in jeopardy.
"OK, it's all right," Robert said, recalling that 2017 conversation. "No, baby, the advancement with medicine and everything they have going now, they'll have you back in no time. You still have your career ahead of you."
Robert was right. Caleb, who developed into a top cornerback prospect, was taken by the Tennessee Titans at No. 22 in the 2021 NFL draft.
The knee injury turned out to be a blessing in disguise. Not playing afforded Caleb opportunities to travel back to Maiden, North Carolina, to spend time with his mother, Robin. She was being treated for a second bout with cancer. She was first diagnosed with breast cancer when Caleb was in junior high, but it went into remission after two years of treatment.
But the cancer returned and this time it was too much — Robin died when she was just 53 years old. But what Caleb learned from his mother's struggles with cancer ultimately strengthened his faith and prepared him to deal with his own health challenges that laid ahead before he could realize his NFL dream.
According to Robert, his wife never asked why God allowed her, a faithful person, to get sick. Despite the bad days that came from chemotherapy treatments, Robin made sure it wasn't obvious how much she was struggling.
Robin's strength and steadfastness to her faith while enduring such a trying fight left an impression on Caleb, underscoring the importance of having a close relationship with God.
"I can say that was the start of me maturing in my faith," Caleb said. "I've always been built up in the scriptures and known what you should and shouldn't do. It wasn't as intimate or as pure of a relationship as it could have been.
"When I saw my mother go through that and believe that she could be healed and then I saw it come back and kill her, it hurt my faith in the beginning. But I believe you have to serve the Lord when it's good and bad. I made the decision that I was going to trust God. I would be lost without him."
Working through the loss of his mother was a test, but Caleb knew his mother would want him to press onward toward his goal of being a professional football player — something he wanted to do since he was little.
Like many young kids, Caleb was told his NFL goals weren't realistic. But his mother was always the one telling him he could do whatever he put his mind to doing.
"My mother had a crazy belief in me and things that I could do," Caleb said
Robert added: "It was all about his little will. He was so determined at such a young age."
Caleb was a star quarterback at Maiden High School, passing for 1,776 yards and 21 touchdowns and rushing for 2,574 yards and 37 touchdowns as a senior. But after enrolling at Virginia Tech, he became a wide receiver. Then came the knee injury that ended his freshman season.
That will Robert noticed in Caleb at an early age was put to the test when he changed positions again, this time converting to cornerback before the 2018 season.
But Caleb quickly found success. He notched two interceptions and a sack against Florida State in his first start at corner. Then in 2019, Caleb established himself as one of the best cornerbacks in the country when he posted four interceptions, one of which he returned for a touchdown, along with 12 passes defended.
Then adversity struck again.
Caleb suffered a herniated L5 disk and bulged S1 joint while doing a deadlift exercise. The injury caused him to miss the final two games of the 2019 season. He had a discectomy performed on the L5 in February 2020 and was advised to let the bulged S1 heal on its own.
Next came another curveball: The COVID-19 pandemic, which complicated things even more because of the uncertainty surrounding the college football season. Caleb understood how much another year of experience would bolster his draft stock.
Robert thought another season would solidify Caleb as the best corner in the 2021 draft class.
"I knew that if he came out of college playing another year, he was going to grow by leaps and bounds," Robert said. "I knew if he played another year, it would be without question that he was something special, something you don't see often."
But Caleb's mind was on his family. Having lost his mother already, he was not about to put his father at risk by exposing him to COVID. He wasn't comfortable with how procedures were being followed at Virginia Tech. In July, he made a decision to opt out of the 2020 season.
Here is former Virginia Tech CB Caleb Farley'a announcement that he is opting out of the college football season to train and turn pro, sent to ESPN: pic.twitter.com/5j4FmQvGKy

— Adam Schefter (@AdamSchefter) July 29, 2020
"My faith taught me to be smart and cautious," Caleb said. "I had to identify and target what was disturbing my peace. With everything going on with my living arrangements, I couldn't see me playing being the best decision. I had to be cautious and protect my father."
Robert wanted Caleb to play, but understood his reasoning. He didn't want Caleb to carry that weight on his shoulders, so he supported the decision.
Caleb was still widely projected to be top-10 draft pick, but adversity found its way back into the picture.
The bulged S1 was still causing Caleb discomfort when training for his pro day. He elected to have a microdiscectomy in March, which kept him from being able to perform at his pro day, where he could have showcased his speed and athleticism for NFL personnel executives and scouts.
Suddenly a player who was a likely top-10 pick was projected to go in the latter half of the first round. But Caleb remained positive and maintained his faith that everything would work out. This was what all of the other obstacles he faced prepared him for.
"For him to have endured that and went through that adversity, there could not have been any bigger adversity that he could have faced," Robert said. "He faced that and moved past it. The rest of it is just small matters."
But there was one more twist in store for Caleb: The NFL invited him to Cleveland for the draft, but he was unable to attend when he tested positive for COVID.
— Caleb 👑 (@IamCalebFarley) April 28, 2021
Instead of traveling to Cleveland to celebrate, the Farleys spent the day at Robert's home. Caleb tested negative the morning of the draft, but the family celebrated in separate rooms to be safe. Caleb was in his father's living room by himself while everyone else was in the garage.
Caleb says he views what happened to him over the past year as a chance to prove his faith and not take anything for granted.
"This whole situation has been eye-opening," Caleb said. "I've gotten closer to my family and to God. I am just thankful to wake up every day and breathe air and still have football and carry out my dreams."
He remains confident he will be ready to play when the Titans report for training camp and says he's felt great since the day he had the surgery in March. Caleb laughed as he reflected on how he woke up from surgery and walked out a day later to jump on a flight from Los Angeles to Virginia to attend the Hokies' pro day.
Caleb knows that in due time he will fulfill his dream of being an NFL player with his mother proudly looking down from above. He is dedicating this season to his mother.
Added Caleb, "If she were here, I would be talking trash to her about what I'm about to do to everybody and she'd be telling me, 'Yeah, baby, that's what you're going to do.'"