European League updates, Celtic, Rangers, David Moyes, West Ham, big six clubs
Plans for a European Super League may have fallen flat, but that does not mean there still won't be big changes coming to transform English football and West Ham boss David Moyes is a fan of one proposal.
The Sun reported on Thursday that Celtic and Rangers could be invited to take part in an 18-team English top-flight with the Big Six still convinced change is needed in the Premier League.
One club source told the publication: "Whether or not the Super League was going to happen, we all feel that the Premier League has to be changed and improved. It is time we opened it up to Rangers and Celtic. That would make sense for everyone."
Watch European Football with beIN SPORTS and ESPN on Kayo. New to Kayo? Try 14-Days Free Now >
Karma? Leno's HOWLER sinks Gunners | 00:48
That idea has gained support from the West Ham boss, who declared that "reform is needed" and that British football should be brought together.
"I think the Premier League has a brilliant product, I really do, but you hear the top clubs talking about too many games, so could we have Premier League 1 and Premier League 2?," he said.
"Could we have a situation where we do invite Rangers and Celtic to Premier League 2? Why can we not unite the UK?
"Why do we have to be England and Scotland and not unite it? Why can it not be a pyramid that allows teams in the Scottish leagues to get into Premier League 2?
"In fact I think actually more money would filter down if Rangers and Celtic could be given an opportunity to come in. Why can we not unite the UK? We are in Brexit now, we have our country, so why not? Rangers and Celtic would only enhance what is happening in England."
While the threat of a new Super League sent the football world into meltdown, new Champions League laws were also quietly approved in the background – ones that Moyes is not on board with.
Under the new UEFA format for the Champions League, 100 games will be added to the competition.
Get all the latest football news, highlights and analysis delivered straight to your inbox with Fox Sports Sportmail. Sign up now!!!
Wenger slaps down Super League project | 01:17
This was not well-received by players who are already looking at packed schedules in the current format.
"I'm not sure I am totally enjoying what I am hearing about the new European format," he added.
"I am not sure that is what everybody is sure about as well. It is only my opinion. I think we have a lot of really big clubs in England at the moment: Derby County, Notts Forest, Leeds United, what they have done in the Premier League.
"Why would we not try and make what we have got something new and maybe take a few less teams, maybe two out of the Premier League and put in Premier League 2, and we have a few extra weeks.
"The big clubs who have got such a big program, and I can only see the new programs getting so many more games, and it is getting too tough to play too many games."
Chelsea signing Harry Kane may lead to transfer reshuffle with 'talks' taking place
Chelsea have reportedly made contact with Harry Kane's representatives about a potential move this summer.


Source link
Tottenham have three realistic transfer options if Harry Kane joins Man Utd or Chelsea
Harry Kane has reportedly informed Tottenham of his desire to leave the club this summer.


Source link
EPL transfer news 2021, rumours, gossip, whispers, Harry Kane, Manchester United, City, Chelsea, Cristiano Ronaldo, Liverpool FC, latest
Tottenham striker Harry Kane has told the club he wants to leave at the end of the season, according to reports on Monday.
Kane is unhappy at Tottenham's lack of progress this season and is willing to leave after 12 with the north London side, according to Sky Sports.
The England captain reportedly wants his future resolved before the delayed Euro 2020 starts on June 11.
Kane's contract with Tottenham has another three years to run and chairman Daniel Levy is known to be a tough negotiator, which could ruin the 27-year-old's hopes of a quick resolution.
Watch European Football with beIN SPORTS and ESPN on Kayo. New to Kayo? Try 14-Days Free Now >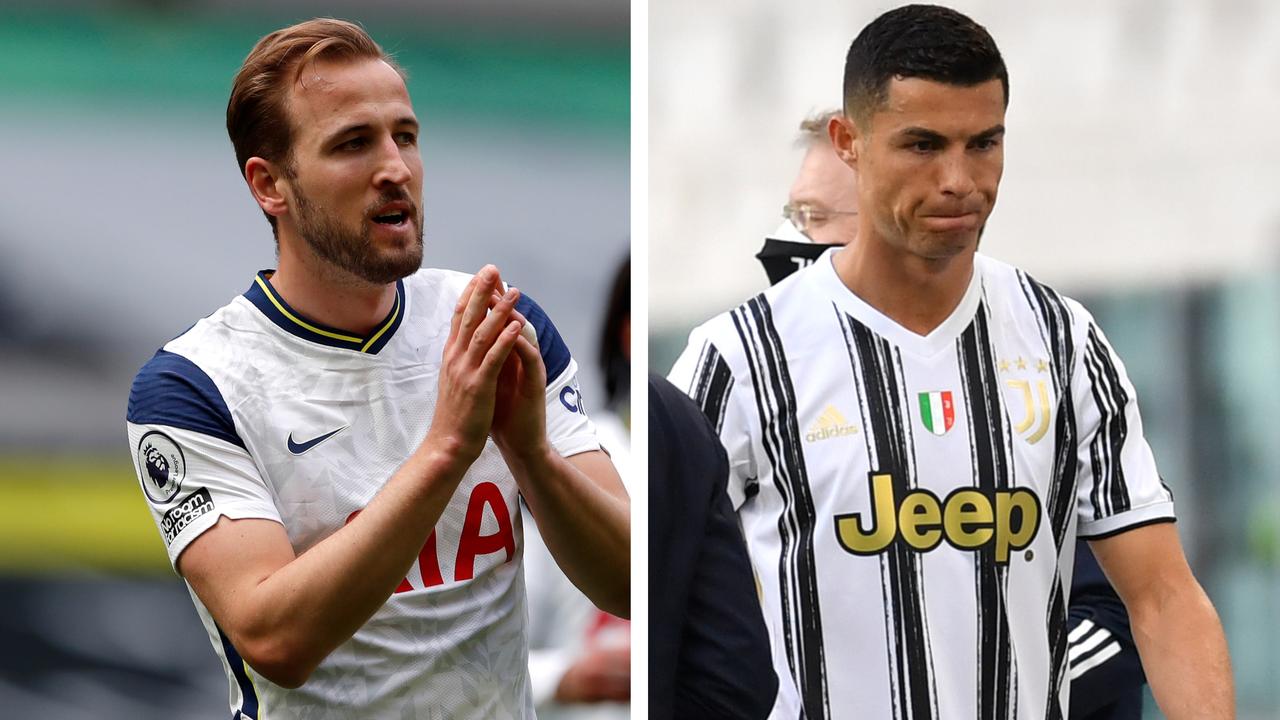 Tottenham refused to be drawn into debating Kane's future in public as they focus on their final two Premier League games, with Europa League qualification in their sights.
"We won't be commenting – our focus is on finishing the season as strongly as possible. That's what everyone should be focused on," a club spokesman said.
Premier League champions Manchester City, Manchester United and Champions League finalists Chelsea have all reportedly made contact with Kane, who has scored 32 goals in all competitions this term.
Paris Saint-Germain, managed by Kane's former Tottenham boss Mauricio Pochettino, and Spanish giants Real Madrid have also been linked with the striker.
Kane, a product of the club's youth academy, has scored 220 goals in 334 total appearances for Tottenham, establishing himself as one of the world's best forwards.
But he sparked speculation about a potential move earlier this season when he said it was "hard" to talk about his future.
RONALDO SPARKS JUVE PANIC
Cristiano Ronaldo has fuelled speculation that he is set to leave Juventus after loading his impressive collection of cars, worth more than $30m, onto a trailer and away from his house.
The Real Madrid and Manchester United legend has been tipped to leave Juve after three years, despite still having another year remaining on his $980k-a-week deal.
The 36-year-old has been linked with a move back to his first club Sporting Lisbon as Juve look set to miss out on Champions League football after a poor first season under new manager Andrea Pirlo.
And now footage of his fleet of cars, including a Bugatti, a Mercedes jeep and a Maserati, being loaded onto a truck in the middle of a night by a Lisbon-based company has emerged.
His neighbour told Radio Punto Nuovo: "Being a proper Turin resident born and bred in the city the only team I support is Torino, the one and only side in the city.
"Three years ago when Ronaldo arrived two trucks turned up and all his cars were off loaded onto the street and they went into the garage.
Sam Kerr loses UCL Final to Barca | 02:32
"Yesterday evening around 11.30, I looked out the window and saw the same truck that had arrived three years ago, outside on the street with the cars being loaded in.
"It was definitely not a council tow away truck – you could tell. This had two decks for all the cars and was a trailer.
"There were a couple of guys there loading the cars and then all of a sudden I saw Ronaldo on the street supervising it all.
"I can't see them being moved to another part of the city, if you ask me he is off.
"I could hear him talking with the driver and the other guys but it was in Portuguese so I didn't understand it.
"To be fair to him, the whole time he has been here he has been an ideal neighbour, not one party, no noise and we have never had any reason to complain.
"The benefit for the neighbourhood is that since he moved in the amount of police patrols have increased so if he goes I'm sure that will change."