Second-round jinx? Draft success has eluded Dallas Cowboys too often – Dallas Cowboys Blog
FRISCO, Texas — Trevon Diggs was confident entering his rookie season with the Dallas Cowboys. Nothing that happened in 2020 changed the cornerback's mind.
"I feel like the sky is the limit," Diggs said late last season before finishing with team highs in interceptions (three) and pass deflections (14). "I'm going to take myself where I want to take myself. I got the ability to do exactly what I'm trying to do and exactly what I want to do."
While one season does not predict long-term prosperity, Diggs' performance shows he is on track to achieve something the Cowboys have not had enough of this century: second-round success.
For all of the attention the Cowboys' first-round pick, No. 10 overall in the 2021 NFL draft (April 29-May 1 in Cleveland, on ESPN and ESPN the App), has garnered this offseason, a team's successful draft is determined by the entirety of its selections. A second-round pick has to not only be a starter, but also develop into a cornerstone player, which means a significant second contract most of the time.
The Cowboys currently have one second-round pick in this year's draft, No. 44 overall.
Since 2010, only linebackers Sean Lee and Jaylon Smith and defensive end DeMarcus Lawrence have been signed to long-term, big-dollar extensions out of the Cowboys' 10 second-round picks. Defensive end Randy Gregory, their second-rounder in 2015, signed a one-year extension last year after multiple suspensions.
• Mocks: Kiper | McShay | Tannenbaum
• Rankings: Kiper | McShay
• Kiper/McShay: Dueling mock | All-22
• Team needs | Draft matchmaker game
• McShay's playmakers | Kiper's favorites
• Full ranking | Pick order | More
Go back to 2000 and only offensive lineman Andre Gurode needs to be added to the aforementioned list.
That means only four of the Cowboys' 18 second-round picks have been signed to large commitments.
In 2012, Dallas traded its second-round pick to the St. Louis Rams in the move up to No. 6 overall to draft cornerback Morris Claiborne. In 2007 and 2009, the Cowboys traded out of the second round to pick up more selections in later rounds.
At present, it does not appear as if the Cowboys' second-round batting average on second contracts will improve.
In March, their 2017 second-round pick, cornerback Chidobe Awuzie, signed with the Cincinnati Bengals. It doesn't look like 2018 second-rounder, Connor Williams, will sign a lucrative long-term deal, and Trysten Hill, their second-round selection in 2019, had a disappointing rookie season and suffered a torn anterior cruciate ligament last season.
Looking back, some of the best picks in the Cowboys owner and general manager Jerry Jones era have come in the second round.
Hall of Famer Larry Allen, an offensive lineman who spent 12 seasons in Dallas, was the No. 46 overall pick in 1994. Defensive back Darren Woodson is in the Ring of Honor after being a second-round pick in 1992. Wide receiver Jimmy Smith was selected before Woodson, and while it did not work out for him in Dallas, he had a tremendous career with the Jacksonville Jaguars. Flozell Adams (1998) was a staple on the Cowboys' offensive line for nearly a decade. Gurode (2002) made five Pro Bowls as a center.
The Cowboys drafted three tight ends in the second round in 2006 (Anthony Fasano), 2008 (Martellus Bennett) and 2013 (Gavin Escobar) to pair with Jason Witten. Fasano had a 12-year career, but was traded by the Cowboys after his second season. Bennett played 11 seasons, but earned his Pro Bowl appearance with the Chicago Bears and won a Super Bowl with the New England Patriots. Escobar caught 30 passes in four seasons with the Cowboys. Beyond the players, some blame has to go on the offensive staffs that could not quite figure out how to make the two-tight end package work as well as it did with other teams, such as New England.
Jones has always viewed the second round as a place to take some chances, especially on injured players.
Lee and linebacker Bruce Carter (2011) had knee concerns coming out of college (Penn State and North Carolina, respectively). Lee has battled injuries throughout his pro career, but when he has been healthy, he is a difference-maker. Carter led the Cowboys with five interceptions in 2014 but could not make enough plays.
Drafting Smith in 2016 represented one of the Cowboys' riskiest moves. A nerve issue after suffering torn ligaments in his knee in his final game at Notre Dame led more than a few teams to keep him off their draft board. There was no guarantee he would play again. After missing his rookie season, Smith has started every game the past three seasons, but is coming off a down year and needs to find his 2018 form.
The Cowboys are believing Diggs will start a new trend on second-rounders who find success and eventually sign a second contract.
"I'm trying to take myself to as high as I can, go as far as I can," Diggs said. "And I feel like I can do that."
Denver Broncos WR DaeSean Hamilton tears knee ligament in workout away from team facility, sources say
ENGLEWOOD, Colo. — Broncos wide receiver DaeSean Hamilton, whom Denver was trying to trade in recent days, has suffered a torn knee ligament in a workout away from the team's complex, team sources told ESPN.
Hamilton suffered the injury Friday morning, and had not been working out at the team's suburban Denver facility, sources said.
Hamilton is the second Broncos player to have suffered a significant injury away from the team's complex after tackle Ja'Wuan James suffered a season-ending Achilles tendon injury earlier this month. James was officially released Friday.
The Broncos were seeking to trade Hamilton, who was a fourth-round pick in the 2018 draft, over the past week and had talks with at least one team as recently as Thursday. The Broncos, given Courtland Sutton's return from last season's ACL tear and the depth at wide receiver overall, were expected to waive Hamilton if no trade partner could be found before they began their OTAs later this month.
The Broncos will begin "Phase 2" of their voluntary offseason program Monday.
The NFL Players Association had advised players not to take part in voluntary workouts at team facilities this offseason. The Broncos players were among the first to issue a joint statement in April saying they would boycott the voluntary workouts, and the team has still had a little more than 20 veteran players working out at the facility at various times in April and May.
James' injury has already been a flashpoint between the NFL and the NFLPA over the "non-football injury" designation. That designation means teams are not required to pay players their full base salaries if they were injured outside of team facilities.
The day after James was injured earlier this month, he was specifically named in a memo from the NFL's management council to team executives and head coaches. In that memo it was outlined under the "Non-Football Injuries" designation that teams like the Broncos would have "no contractual obligation" to pay players like James who were injured away from the team facilities.
The memo also outlined why a player's salary would be paid if the injury had been suffered during a workout at a team's complex. The memo also said: "Clubs are encouraged to remind players of the significant injury-related protection provided if they choose to work out at the club facility and the risks they undertake in choosing to train at a non-NFL location."
The NFLPA responded two days later in an email to players that said: "It was gutless to use a player's serious injury as a scare tactic to get you to come running back to these workouts."
The email added: "This memo is another sign of what they think of you and also affirms that they simply want to control you year-round in any and every way that they can."
James' release Friday had a vested veteran, non-football injury, post-June 1 designation.
The Broncos are essentially voiding $10.58 million worth of guarantees James had for the season — $10 million in base salary in addition to a 17th game check, added when the schedule was increased.
The Broncos will carry a $13 million "dead money" charge against this year's salary cap after James' release. James and the NFLPA could file a grievance to try to recover some of the money he lost with the release.
Earlier Friday, James had posted on social media that his "surgery went well," adding: "Appreciate everyone reaching out. Always remaining positive & striving to be better than yesterday."
Given the Broncos were trying to trade Hamilton and were poised to waive him if they didn't find a trade partner, his situation might be handled differently than James' by the team as both players are likely headed for injured reserve at some point.
Hamilton's base salary for the 2021 season was scheduled to be $2.183 million, while James has a $10 million salary guarantee.
Hamilton, who has struggled with drops and some confidence issues that have followed some of those drops, had 81 receptions over his first three seasons combined and five career touchdowns. He had 23 catches for 293 yards and two touchdowns last season.
Fully vaccinated NFL players, staff can shed masks at team facilities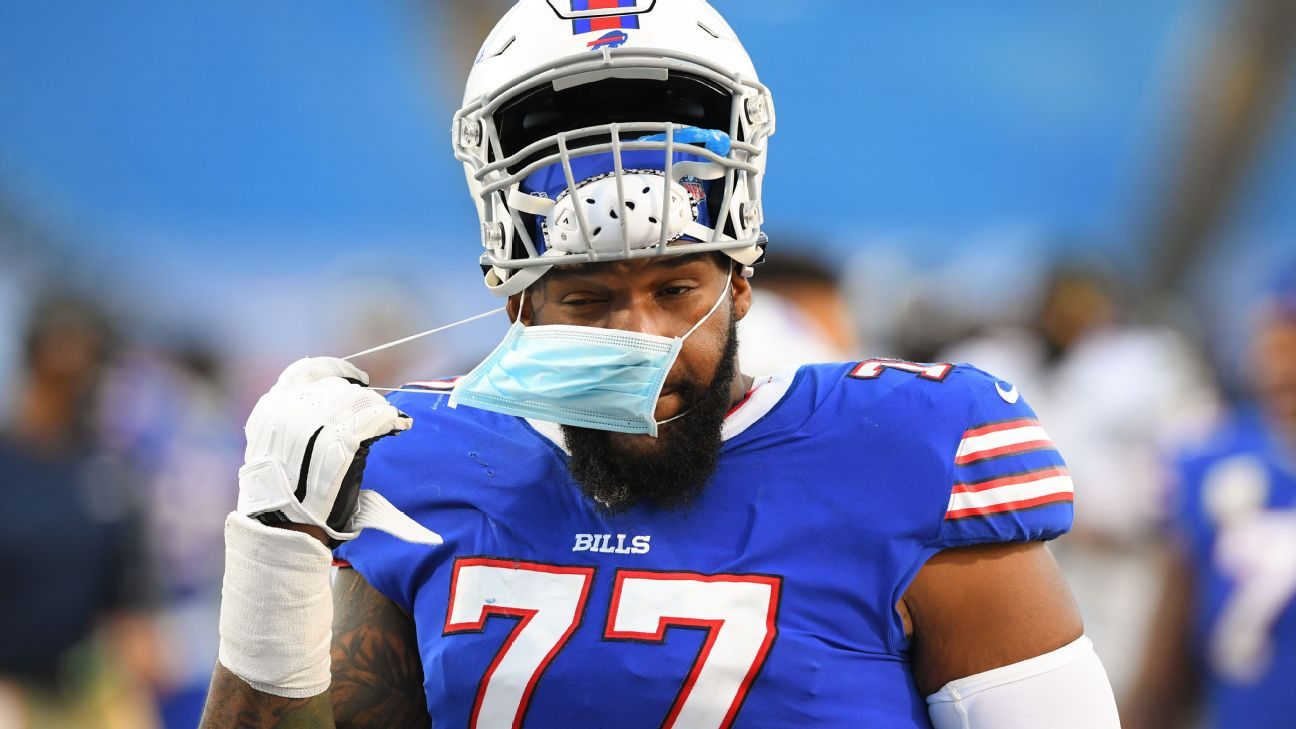 Fully vaccinated NFL players and staff will no longer be required to wear masks at team facilities, the league informed clubs in a memo Friday. The policy change is effective immediately.
The NFL's health and safety department made the decision after the Centers for Disease Control and Prevention updated its COVID-19 mask guidelines for the United States on Thursday. People are considered fully vaccinated if 14 days have passed since their second shot of the Pfizer and Moderna vaccines or their single shot from Johnson & Johnson.
The league is encouraging but not requiring players to get vaccinated. Non-players are expected to be vaccinated unless they have a medical or religious exemption. Those who are not vaccinated will not be allowed to interact with players.
Cleveland Browns coach Kevin Stefanski learned of the news on the practice field during rookie camp Friday. The reigning NFL Coach of the Year was able to take his mask off for the first time as a head coach.
"It felt pretty good," Stefanski said. "There were some people I didn't realize what they looked like."
According to the memo, the NFL expects additional modifications to come that will reflect "the greatly reduced risk of viral infection and transmission in fully vaccinated individuals."
The Associated Press contributed to this report.
New York Giants' Kadarius Toney does drill shoeless due to 'wrong size' cleats
EAST RUTHERFORD, N.J. — New York Giants first-round pick Kadarius Toney's first practice with the team did not go exactly as planned. That was evident when he was seen running an individual wide receiver drill Friday without a cleat.
Shoeless KT was born out of necessity because of what he termed the "wrong size" cleats.
Toney was seen fiddling with his right cleat early during Friday's rookie minicamp practice. At different points during the workout he changed cleats, added socks, changed socks, worked with the equipment staff and even the training staff. He even kneeled off to the side and looked downright uncomfortable at times.
It's fair to say on this one he didn't start out on the right foot. Instead, he started out barefoot.
"I think they did the wrong size. Just figuring it out right now," Toney said afterward. "I ended up getting it eventually."
Well, at least not before the session was over. Despite returning for a special teams period late in practice, Toney was on the side as his teammates ran conditioning drills to finish the day.
It was an unusual first impression, no doubt.
"Yeah, it was kind of, yeah, basically just cleat," Toney said. "I mean, yeah, it was just a safer route to go [on the conditioning], I guess you could say."
The Giants traded back in the first round of last month's draft and used the 20th overall pick to select Toney out of the University of Florida, where he was first-team All-SEC last year.
But everything is new now that he is a professional, including his equipment. Toney signed an apparel deal with Adidas before the draft, according to his Instagram account.
Coach Joe Judge considered this rookie minicamp, which began Friday, as a sort of orientation for the rookies. But he probably did think that meant figuring out what size shoe would fit his top pick in this year's draft.
"You know what, first day on the field I think there's a little bit of equipment issue," Judge said. "We have to get that straightened out and make sure our guys hit the field with equipment they are comfortable with. We'll handle that, make sure it's not an issue going forward."
Day 2 is scheduled for Saturday. Hopefully with two properly fitted cleats.