Protection for Justin Herbert main priority for Chargers in NFL draft – Los Angeles Chargers Blog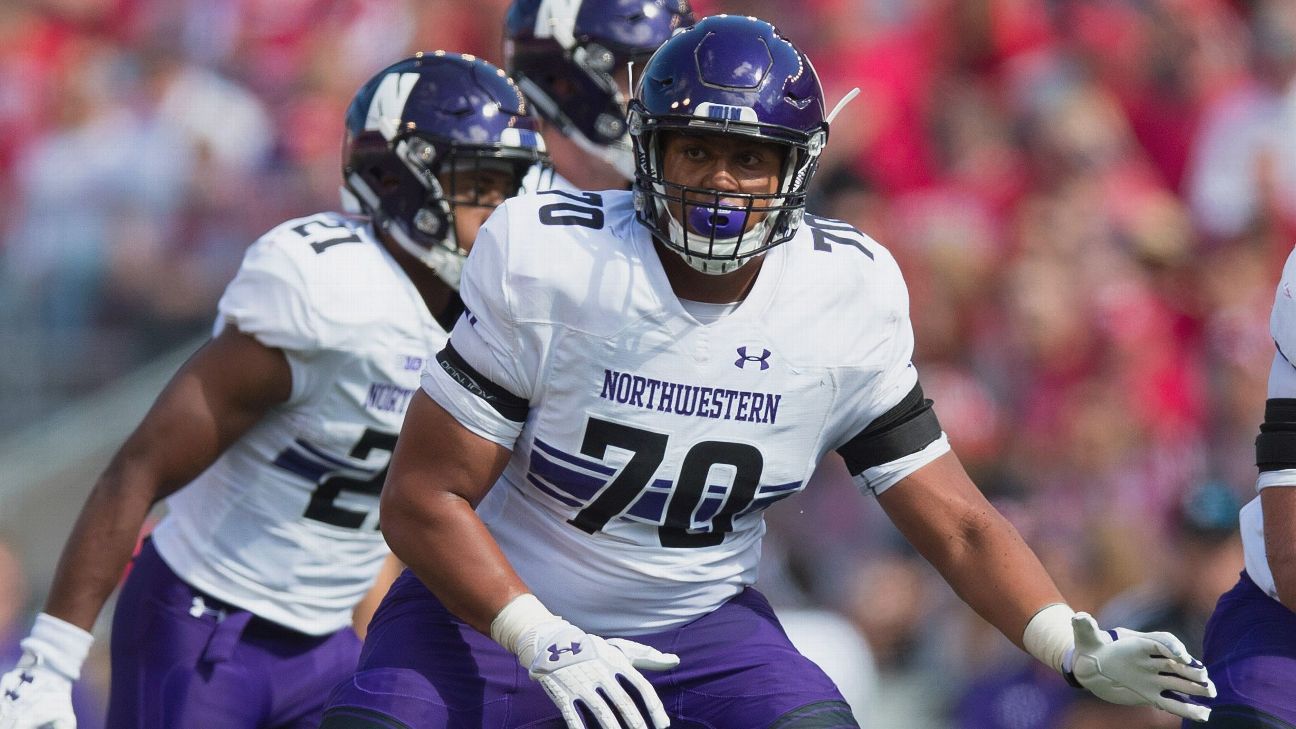 COSTA MESA, Calif. — What will the new Los Angeles Chargers coaching staff and Tom Telesco, in his sixth season as general manager, do in the upcoming NFL draft?
Telesco was wildly successful in last year's draft, especially with quarterback Justin Herbert — who was named offensive rookie of the year — but, bottom line, the Chargers need to protect him.
"I'm encouraged where we are with the core players that we have, with the coaching staff that's here," Telesco said. "But we've got some work to do."
They signed the best center in free agency in All-Pro Corey Linsley and added Oday Aboushi and Matt Feiler, but the Chargers are in dire need of a left tackle. Protecting Herbert should and will be their top priority starting with their first pick, which is No. 13 overall.
Penei Sewell (who served as Herbert's blind-side protection at Oregon) will likely be gone, but that doesn't mean they can't find a quality protector with the 13th pick.
• Protection for Herbert priority for Chargers
• Why 49ers' move to No. 3 carries risk
• Can Ravens end drought with drafting WRs?
• Inside Cowboys' second-round jinx
• Why it's tough drafting QBs in middle rounds
In fact, some rank Northwestern tackle Rashawn Slater ahead of Sewell, even with his shorter-than-average, 33-inch arms. It's not a big deal, experts say, as Slater's ability to use those arms is more important than their length. Slater can play tackle or guard and is quick off the snap and gets his hands (and short arms) up into the opponent.
Because he opted out of the 2020 season, not as much is known about him as other linemen. Slater's father is former NBA player Reggie Slater. Rashawn started 12 games at right tackle in 2017 and 14 games in 2018, when Northwestern won the Big Ten West. He transitioned to left tackle in 2019 and was twice named Northwestern Offensive Player of the week.
USC's Alijah Vera-Tucker and Virginia Tech's Christian Darrisaw also have NFL-ready physical abilities and could be around when the Chargers pick. The Chargers can't go wrong here, as one of Slater, Vera-Tucker and Darrisaw should be around when they're on the clock.
The Chargers have needs defensively, as they allowed 27 or more points 10 times in 2020 and lost seven of those games. They only had 27 sacks as a team (7.5 from Joey Bosa) and they need more power up front to compete in their own conference, much less the rest of the NFL.
"Let's not forget we need to add talent amongst the whole football team. We're trying to build a balanced football team," Telesco said. "I don't know if we're you know, just a better offensive line away from winning a championship."
They could take a defensive end in the second round with the No. 47 pick and Wake Forest's Carlos Basham Jr., and Washington's Joe Tryon each bring good size and ample explosiveness.
But they could mix it all up, of course, and take a corner either at No. 47 or in the third round with the No. 77 pick. The last two pure corners the Chargers have drafted were Craig Mager in the third round in 2015 and Jason Verrett in the first round in 2014, neither of whom is still on the team (Desmond King, a fifth-rounder in 2016, played both corner and safety). But by the No. 77 pick most of the top-ranked prospects will be taken.
If he's available, Georgia's Tyson Campbell — who started all 10 games for the Bulldogs in 2020 and finished with 29 tackles — could be a good choice. As could Stanford's Paulson Adebo, who opted out last season but had 64 total tackles, four interceptions, 17 pass deflection and a forced fumble as a freshman in 2018. Central Florida's Aaron Robinson (6-foot-1, 193 pounds) and Ohio State's Shaun Wade (6-1, 195) are physical corners who could also be under consideration in the third round.
The Chargers' run defense allowed nearly 2,000 yards and 17 touchdowns last season. And with the defense that Brandon Staley is cooking up (ideally with versatile, quick linebackers) it would be smart to look at Ohio State's Pete Werner, a linebacker who played safety in high school and showed outstanding lateral range in three years as a starter with the Buckeyes, or Alabama's Dylan Moses, a former five-star recruit who missed the 2019 season because of a torn ACL but recovered with 80 tackles and 1.5 sacks last season.
At wide receiver, the Chargers are relatively set with the return of Keenan Allen (100 catches for 992 yards and eight touchdowns) and Mike Williams (48 receptions for 756 yards and five touchdowns) but Auburn's Seth Williams and Wake Forest's Sage Surratt could be available in the fourth round at No. 97 overall to add depth.
It will be interesting to see which way the Chargers go and it largely depends, of course, on who's available and who has been scooped up by previous teams.
Dallas Cowboys CB Nahshon Wright cleared air with Richard Sherman after comparison
After being picked by the Dallas Cowboys in the third round of the NFL draft, cornerback Nahshon Wright said he looked at himself "as a more athletic and agile Richard Sherman."
It didn't take long for Sherman to respond on social media, so Wright sent Sherman a direct message to explain himself and said the veteran responded quickly.
"I actually reached out to him because after I said it I kind of seen what people perceived it as," Wright said after his second rookie minicamp practice Saturday. "I wanted to reach out to him personally and kind of clear it up and just tell him that I actually modeled myself after him, I emulate my game after him."
Wright said Sherman, a five-time Pro Bowler and three-time first-team All-Pro who is currently a free agent, was not offended.
"We kind of have a mutual respect," Wright said. "For me, I think it was just genuine confidence in myself and looking up to someone like that. He played under [Cowboys defensive coordinator] Dan Quinn. So now I have the opportunity to play under him and hopefully do the same things that Richard Sherman did. So we spoke, and we have a mutual respect. And he told me if I ever needed help I can reach [out] to him.
"Richard is a great guy."
At 6-foot-4, 183 pounds, Wright has a similar frame to Sherman, who is 6-3, 195 pounds. The Cowboys can only hope he can be another Sherman.
"I really try to emulate his mental process," Wright said. "The way he kind of slows the game down for himself. It's kind of like playing chess. So being able to see the formation, know the call, know what you have and just execute. He has done a great job with that, and hopefully he continues to do that."
Saying he feels 'great about it,' rookie RB Travis Etienne aims to 'maximize my opportunity' at WR for Jacksonville Jaguars
JACKSONVILLE, Fla. — Trevor Lawrence is getting a lighter workload while Travis Etienne is getting as much as he can handle … at another position.
The Jacksonville Jaguars have had Etienne taking the majority of his reps at receiver during the first two days of the team's rookie minicamp to begin the process of turning the ACC's all-time leading rusher into a player who can line up anywhere — in the backfield, wide, or in the slot.
"At the worst-case scenario, you have a running back with the skill set of a wide receiver," coach Urban Meyer said. "Best-case scenario, you'll have a hybrid player who does both and that's what we're hoping to develop out of Travis."
Meyer finalized the plan in his mind the moment the Jaguars selected Etienne 25th overall last month, and Etienne was all in when Meyer told him the next day that once he got to Jacksonville he would spend most of his time learning the fundamentals of playing receiver.
"I feel great about it," Etienne said. "It's going to help me maximize my opportunity and skill set. I feel like Coach knows what he's doing and I think it's going to work out well. … Football is a game of matchups. We're just trying to get the best matchups. I feel like he knows what he's doing and I think it's going to work out well."
One of the reasons Etienne returned to Clemson for his senior season was to show that he could be a reliable pass-catcher. In addition to rushing for an ACC-record 4,952 yards and 70 TDs in four seasons for the Tigers, Etienne also caught 102 passes for 1,155 yards and eight TDs — including 48 receptions for 588 yards and two TDs in 2020.
Meyer's hope is Etienne can turn into another Percy Harvin, who was one of the country's most dynamic players when he played for Meyer at Florida. Harvin lined up in the backfield, in the slot and at receiver, and ran for 1,852 yards with 19 touchdowns and caught 133 passes for 1,929 yards with 13 touchdowns in three seasons for the Gators.
"I'm glad he's getting work that, getting those reps right now," Lawrence said of Etienne. "He's just a dynamic player. He can do a lot of different things but that's something that he's not very used to. At Clemson he was pretty much in the backfield all the time. He ran a lot of routes out of the backfield but splitting out wide is something he hasn't done a lot.
"It's cool seeing him out there, working, learning something new. Just to see the improvements he makes every day is really cool."
It's unclear how much work Etienne would have gotten at running back during rookie minicamp anyway because of the restricted workload the team placed on Lawrence as he returns from offseason labrum surgery in his left shoulder. He was limited to 30-40 throws and Meyer also said the Jaguars didn't want him taking snaps or handing off to ensure the shoulder doesn't get bumped or battered.
"We're just worried about any chance of that arm getting jammed right now," Meyer said. "They told me the labrum has healed after three months, which it's been three months, but we can't have a guy on the ground. That's the biggest thing: We've got to keep people away from him.
"The pitch count's not as big as the fact of keeping him upright."
Meyer said Lawrence should be fully cleared in time for the beginning of training camp in late July. Lawrence said the shoulder feels great and he has full range of motion, though the team is also limiting how much weight he can lift. He said he's eager to go back to a full load of throws in practice.
"Obviously that's what I want to do right now but I know there's a right way to do things and to be careful and put myself in the best position so I'm trusting that," Lawrence said. "That's the medical staff, the coaches, everyone's on the same page. We've got a good plan. We know what we're doing and I'm just trusting that — and it won't be long before I'm full go."
It also doesn't look like it'll be long before the Jaguars sign Tim Tebow, either. Meyer said the staff will meet Sunday and determine if they want to sign the former quarterback to play tight end.
"I imagine the decision's going to be soon," Meyer said. "… All our focus is on [rookies] right now."
Rookie defensive tackle Jay Tufele did not participate because Meyer said Tufele had a positive and negative COVID-19 test and the team opted to hold him out, though he added Tufele could return for the final day of minicamp on Sunday. Cornerback Tyson Campbell suffered a minor hamstring strain on Friday and was limited on Saturday.
Green Bay Packers sign QB Kurt Benkert after minicamp tryout
GREEN BAY, Wis. — Last week, the Packers had only two quarterbacks on the roster.
Now they have four.
Less than a week after signing Blake Bortles, they signed Kurt Benkert — one of the two arms they had in for this weekend's rookie minicamp.
Benkert tweeted a picture of him signing his contract, and a source confirmed the transaction.
The best advice I can give anyone is to believe in yourself. @packers ✍🏻

I'm so thankful. pic.twitter.com/L2W7laiR44

— Kurt Benkert 👻 (@KurtBenkert) May 15, 2021
Benkert is a former undrafted free agent with the Atlanta Falcons in 2018. He spent the 2018 and 2020 seasons on the Falcons' practice squad and was on injured reserve (toe) in 2019. He was released by the Falcons in February.
The Packers did not draft a quarterback or sign one in the initial rookie free-agent period but brought in Benkert and Chad Kelly for the rookie camp.
Jordan Love is expected to take part in this week's rookie development program. While Love was not eligible to take part in the rookie minicamp, he can join the rookies this week because of a rule that allows second-year quarterbacks who played less than 25% of the snaps as a rookie to participate. Love did not play a single snap as the inactive third-string quarterback last year.
Other veterans can come to the team facility beginning Monday for Phase 2 of the offseason program, but Aaron Rodgers is not expected to report for the voluntary program. Organized team activities, which also are voluntary, begin May 24.