Arsenal protests, pictures, fan injured falling from roof, Stan Kroenke, Super League, Arsenal vs Everton, reaction, effigy
Arsenal owner Stan Kroenke's humiliating climbdown over joining the European Super League appears to have only further estranged him from the club's furious fans.
Around 2,000 protested prior to Arsenal's Premier League match with Everton on Friday, registering once again their distaste for the American owner.
Chants of "We want our Arsenal back" and "We want Kroenke out" were mixed with expletive-ridden outbursts as one fan was rushed to hospital after falling from the box office roof.
Their injuries are understood not to be life-threatening according to The Athletic.
Watch European Football with beIN SPORTS and ESPN on Kayo. New to Kayo? Try 14-Days Free Now >
Signs depicted Kroenke as a vampire and devil whilst flares added an acrid smell to the tense atmosphere.
Jason McIntire, a builder, said it was time to restore the old emotions associated with the 'Beautiful Game'.
"Football isn't about money, it's about love, fans, pleasure," the 28-year-old told AFP.
"Money can't buy passion. That's why we're all here today: to kick out the money-hungry and bring back the passion, the love, the energy.
"It's like going to see your girlfriend — you're not going to pay £100 ($138 price of a ticket) to see your girlfriend, are you?" As time passed on Friday, beer cans and bottles littered the ground and there was more chaos.
One fan with his face covered in blood was stretchered into an ambulance after falling from the box office roof. Police reinforcements arrived in two waves to jeers from the fans. In all there were 27 police vans with a helicopter hovering overhead. The fans came from all walks of life but they appeared to universally have one similar wish — farewell to the 73-year-old owner, who first bought a stake in the club in 2007.
Get all the latest football news, highlights and analysis delivered straight to your inbox with Fox Sports Sportmail. Sign up now!!!
Success has been thin on the ground for Arsenal in that time with just four FA Cups and they last played in the Champions League in the 2016/17 season.
Even their bigger signings have failed to spark great enthusiasm amongst the fans.
The slump in form of striker Pierre Emerick-Aubameyang this season after signing a lucrative new contract had echoes for them of the Mesut Ozil saga.
The now departed German World Cup winner sat idly on the sidelines despite being the biggest earner at the club.
Banker Isoh Kaoonje, 20, was scathing about the American owner. "Kroenke hasn't even invested one pound in this club and look how it's gone: challenging for the Champions League to 10th in the Premier League," he told AFP.
"He doesn't talk. He doesn't communicate with the fans. Fans are the heart of the club. How is that possible? We want our voices to be heard.
"We want fans first, football first. Kroenke needs to sell the club."
Both Kaoonje and Jo Tefter, 44, chief executive of a charity, are keen for fans to gain representation on the boards of clubs.
They will hope the fan-led review set up this week following the Super League fiasco, under the direction of former sports minister Tracey Crouch, will reach the same conclusion.
"It's important to make s stand against the greed in football, particularly my club," Tefter told AFP.
"I want the government to bring in new legislation so we can have fan ownership. "We want to say loud and clear: we do not want Stan Kroenke near our football club.
"We were here before Stan Kroenke and we will be here after Stan Kroenke." Nicholas White, a 24-year-old waiter, said the Emirates was a joyless place even when fans were allowed in before the coronavirus pandemic.
"It's time for greed to leave football," he told AFP.
"There's no place for a man like Stan Kroenke at this football club. He's a disgrace.
"If you're going to take out, put in. We've had nothing. Look at the stadium — there's no colour or life here.
"We need to get him (Kroenke) out, back the boys and have honest football without money." To add to the fans' dismay, Arsenal were beaten 1-0 by Everton.
Chelsea signing Harry Kane may lead to transfer reshuffle with 'talks' taking place
Chelsea have reportedly made contact with Harry Kane's representatives about a potential move this summer.


Source link
Tottenham have three realistic transfer options if Harry Kane joins Man Utd or Chelsea
Harry Kane has reportedly informed Tottenham of his desire to leave the club this summer.


Source link
EPL transfer news 2021, rumours, gossip, whispers, Harry Kane, Manchester United, City, Chelsea, Cristiano Ronaldo, Liverpool FC, latest
Tottenham striker Harry Kane has told the club he wants to leave at the end of the season, according to reports on Monday.
Kane is unhappy at Tottenham's lack of progress this season and is willing to leave after 12 with the north London side, according to Sky Sports.
The England captain reportedly wants his future resolved before the delayed Euro 2020 starts on June 11.
Kane's contract with Tottenham has another three years to run and chairman Daniel Levy is known to be a tough negotiator, which could ruin the 27-year-old's hopes of a quick resolution.
Watch European Football with beIN SPORTS and ESPN on Kayo. New to Kayo? Try 14-Days Free Now >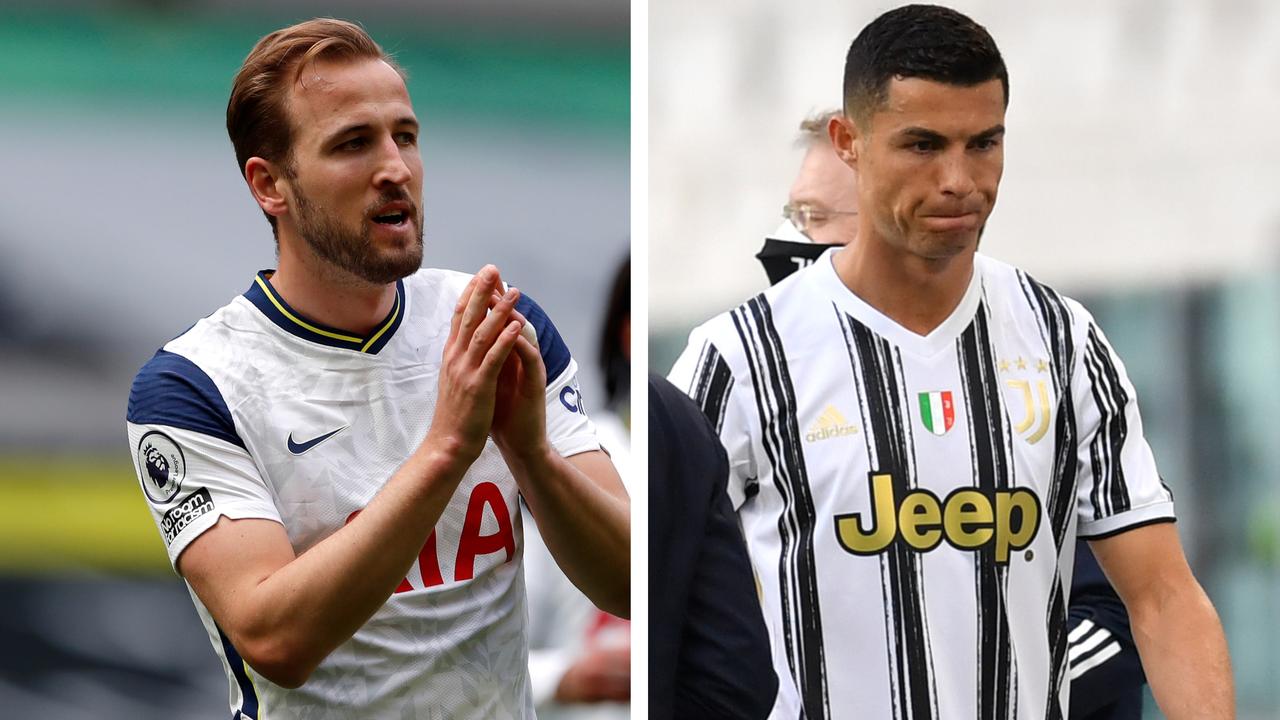 Tottenham refused to be drawn into debating Kane's future in public as they focus on their final two Premier League games, with Europa League qualification in their sights.
"We won't be commenting – our focus is on finishing the season as strongly as possible. That's what everyone should be focused on," a club spokesman said.
Premier League champions Manchester City, Manchester United and Champions League finalists Chelsea have all reportedly made contact with Kane, who has scored 32 goals in all competitions this term.
Paris Saint-Germain, managed by Kane's former Tottenham boss Mauricio Pochettino, and Spanish giants Real Madrid have also been linked with the striker.
Kane, a product of the club's youth academy, has scored 220 goals in 334 total appearances for Tottenham, establishing himself as one of the world's best forwards.
But he sparked speculation about a potential move earlier this season when he said it was "hard" to talk about his future.
RONALDO SPARKS JUVE PANIC
Cristiano Ronaldo has fuelled speculation that he is set to leave Juventus after loading his impressive collection of cars, worth more than $30m, onto a trailer and away from his house.
The Real Madrid and Manchester United legend has been tipped to leave Juve after three years, despite still having another year remaining on his $980k-a-week deal.
The 36-year-old has been linked with a move back to his first club Sporting Lisbon as Juve look set to miss out on Champions League football after a poor first season under new manager Andrea Pirlo.
And now footage of his fleet of cars, including a Bugatti, a Mercedes jeep and a Maserati, being loaded onto a truck in the middle of a night by a Lisbon-based company has emerged.
His neighbour told Radio Punto Nuovo: "Being a proper Turin resident born and bred in the city the only team I support is Torino, the one and only side in the city.
"Three years ago when Ronaldo arrived two trucks turned up and all his cars were off loaded onto the street and they went into the garage.
Sam Kerr loses UCL Final to Barca | 02:32
"Yesterday evening around 11.30, I looked out the window and saw the same truck that had arrived three years ago, outside on the street with the cars being loaded in.
"It was definitely not a council tow away truck – you could tell. This had two decks for all the cars and was a trailer.
"There were a couple of guys there loading the cars and then all of a sudden I saw Ronaldo on the street supervising it all.
"I can't see them being moved to another part of the city, if you ask me he is off.
"I could hear him talking with the driver and the other guys but it was in Portuguese so I didn't understand it.
"To be fair to him, the whole time he has been here he has been an ideal neighbour, not one party, no noise and we have never had any reason to complain.
"The benefit for the neighbourhood is that since he moved in the amount of police patrols have increased so if he goes I'm sure that will change."