Washington's QB options after Round 1 of draft: Upside, experience and a wild card – Washington Blog
ASHBURN, Va. — The message has remained consistent. The Washington Football Team wants to find its quarterback of the future; coach Ron Rivera has said they're not desperate. If the right guy doesn't come along, they will wait and build the roster for when they do find that player.
It will be tough for Washington, selecting at No. 19 in the 2021 NFL draft (April 29-May 1 in Cleveland, on ESPN and ESPN the App), to draft a quarterback in the first round. That's why finding one on the second day becomes a more likely scenario. They could have that player develop behind starter Ryan Fitzpatrick.
They could also trade back from the No. 19 pick and accrue more draft capital for 2022, allowing them to be more aggressive moving up in next year's draft.
However, while first-round quarterbacks often don't work out, it's even harder to find one after the first 32 picks. Of the past 12 quarterbacks selected in the second or third round, dating to 2015, only two will likely open the 2021 season as a starter: Drew Lock (Denver Broncos) and Jalen Hurts (Philadelphia Eagles). Neither has a strong grip on the job.
In 2011, Andy Dalton and Colin Kaepernick were drafted in the second round. Dalton was a quality starter and Kaepernick led the San Francisco 49ers to a Super Bowl. In 2012, Russell Wilson went in the third round as did Nick Foles. Two years later, Derek Carr and Jimmy Garoppolo were second-round picks. But there are far more misses than hits after the first day.
"There is a lot of guesswork that's going to go into it," Rivera said. "The quarterback position, as much as any, is such a tough one to figure out."
Because of Fitzpatrick, Washington can draft a player who needs to sit and learn for a year.
Here are their most likely options:
Both have given reason to believe their games can keep growing. Mills started 11 games; Trask was a backup in high school and early in college — last offseason was his first spent working as the starter.
Washington has shown interest in Mills throughout the evaluation process and it's understandable: He probably has the most upside of the Day 2 quarterbacks. Mills was a five-star recruit out of high school who turned down Alabama. But his biggest issue initially in college was injuries. He tore his ACL in consecutive years — as a senior in high school and again as a freshman. That, plus a shortened 2020 season because of the coronavirus pandemic, limited him.
"For me, especially evaluating quarterbacks, time spent on the job is definitely a positive," Washington general manager Martin Mayhew said, answering a question about lack of game experience. "Any time you see a guy with limited time on the job, that is a concern for me with the quarterback position. There are certainly more of those guys this year."
Not everyone is bothered, though.
"I don't get super concerned about the limited play time, because I'm not drafting you on what you are right now," ESPN analyst and former NFL quarterback Dan Orlovsky said. "[As a team], my job is to figure out what you can potentially be in three years. Davis Mills intrigues me a lot because of that stuff."
ESPN analyst Matt Bowen likes Mills' pocket mechanics and his ability to throw with anticipation. He's not worried about his mobility.
"We spend so much time on second-reaction ability," Bowen said. "You have to master the routine throws first. He'll be a pocket-thrower who can move and maneuver inside the pocket, but make the routine throws."
Trask remains firmly on Washington's radar on Day 2 as well. He's a more known QB than Mills in part because he has started 22 games and played in 27 while at Florida. Last season, he completed 68.9% of his passes for 4,283 yards, 43 touchdowns and eight interceptions for a talented Gators offense.
"Kyle is good at a lot of things," Orlovsky said. "I don't think Kyle's great at anything. He's good with his pocket movement. He's good with his operational space and he's got a good arm. He's got good accuracy. He's a good athlete. But where is the room for him to be great? That's why I'm higher on Davis, because there's an unknown and he's just more talented."
ESPN SEC analyst Greg McElroy said of Trask, "He's always had raw ability, so it's been interesting to watch him develop and watch him get better and better. … He is one of the biggest question marks in the draft. He could be an NFL starter, but he could be limited physically [and] that could hold him back considerably."
The experienced senior: Kellen Mond (Texas A&M)
For teams that want experience, no one has more than Mond. Washington has not shown as much interest in Mond, but he played in 46 games at Texas A&M, starting 44. There's much more tape available and, therefore, a greater ability to project his NFL value.
"He has dual-threat traits; you can scheme for him and get him on the move," Bowen said. "He can create off-schedule and he has enough arm talent. He's very good at throwing on the run."
The wild card: Jamie Newman (Georgia/Wake Forest)
Check out the best highlights from Texas A&M QB Kellen Mond's college career.
There's a good chance he'll be available on the draft's third day, mainly because of inexperience. He transferred to Georgia but didn't play last season, opting out because of the pandemic. In 2019 at Wake Forest, he completed 61% of his passes for 2,873 yards, 26 touchdowns and 11 interceptions. He has size (6-foot-4, 230 pounds). He can also run, having rushed for 574 yards and six scores two seasons ago.
Analysts and evaluators say he needs more work.
"If I'm Washington, the guy I'm taking is Jamie Newman," said McElroy, who called one of Newman's games as an analyst in 2019. "He's big, he's athletic and he has a huge arm. He's a natural passer. He doesn't know how to have nuance and he doesn't know how to layer the ball. There are some concerns and question marks. … We could be fast-forwarding a couple years and Jamie Newman might be the next Dak Prescott [Cowboys QB]. If I'm rolling the dice on Day 3, that's the guy I want."
Kyle Pitts to Atlanta Falcons with No. 4 overall pick in NFL draft, highest-selected TE in history
The Atlanta Falcons made history Thursday night, selecting Florida tight end Kyle Pitts with the No. 4 overall pick in the NFL draft.
It marks the first time in NFL history that a tight end is the first non-quarterback selected in the draft, and the earliest a tight end has been drafted in the common draft era (since 1967).
"I've been waiting for that call my whole life," Pitts said Thursday night. "I see my phone ring and it's just — felt my heart drop. It's step one into the right direction, so I can't wait to get to Atlanta and start a new journey."
A tight end has been drafted No. 5 overall twice: Mike Ditka (Chicago, 1961) and Riley Odoms (Denver, 1972). Ditka is the only tight end taken in the top 10 to reach the Hall of Fame.
In more recent years, San Francisco took Vernon Davis No. 6 overall in 2006, Kellen Winslow II went No. 6 to Cleveland in 2004 and Detroit took T.J. Hockenson at No. 8 in 2019 and Eric Ebron at No. 10 in 2014.
Pitts becomes the second tight end to be taken in the first round by the Falcons in their history, joining Junior Miller, who went No. 7 overall in 1980. It's the highest Atlanta has ever taken a pass-catcher, too, just ahead Julio Jones at No. 6 in 2011.
The 6-foot-6, 246-pound Pitts should fit immediately in new Falcons coach Arthur Smith's offense. The Philadelphia native is a player Smith can use in line as a typical tight end, but he can also line up in the slot or even out wide to create positional mismatches. Falcons general manager Terry Fontenot referred to Pitts as a "special player" on Wednesday.
Pitts, the John Mackey Award winner, caught 43 passes for 770 yards and 12 touchdowns last season for Florida and had 100 catches for 1,492 yards and 18 touchdowns in his Gators career. He joins a Falcons offense that already features a bevy of pass-catchers for franchise quarterback Matt Ryan, including Jones, Calvin Ridley and Russell Gage.
Atlanta also has Hayden Hurst as its top tight end, but the Falcons have to decide whether to pick up his fifth-year option for 2022.
Chicago Bears select QB Justin Fields with No. 11 pick in NFL draft after making deal with New York Giants
The Chicago Bears traded up nine spots with the New York Giants to select QB Justin Fields with the No. 11 overall pick in the NFL draft on Thursday.
The Giants received Chicago's first-round pick this year (No. 20), the Bears' first-rounder next year, a fifth-round pick this year and a fourth-round pick in 2022.
Fields entered the draft as the No. 2-rated quarterback, according to ESPN's Mel Kiper Jr.
Fields averaged 10.4 air yards per attempt in two seasons at Ohio State, the fifth-highest rate among qualified quarterbacks since 2019.
Fields also excelled on deep passes off play-action in 2020, completing 78.6% of his pass attempts of at least 20 air yards, the highest mark among 859 FBS passers with at least 10 attempts over the past 10 seasons, according to ESPN Stats & Information.
After the Philadelphia Eagles jumped the Giants to take wide receiver DeVonta Smith, Dave Gettleman made the first trade back in his nine drafts as general manager. He had never traded back in any round of the previous eight drafts as a GM with the Carolina Panthers and Giants.
The Giants received a hefty return for pick No. 11, something even they didn't think possible prior to the draft. But Fields and Alabama quarterback Mac Jones fell out of the top 10. It allowed Gettleman to avoid getting fleeced, which he said last week was a reason he never traded back before, even though he had tried.
ESPN's Jordan Raanan contributed to this report.
Cincinnati Bengals select WR Ja'Marr Chase with No. 5 pick in NFL draft, reuniting him with QB Joe Burrow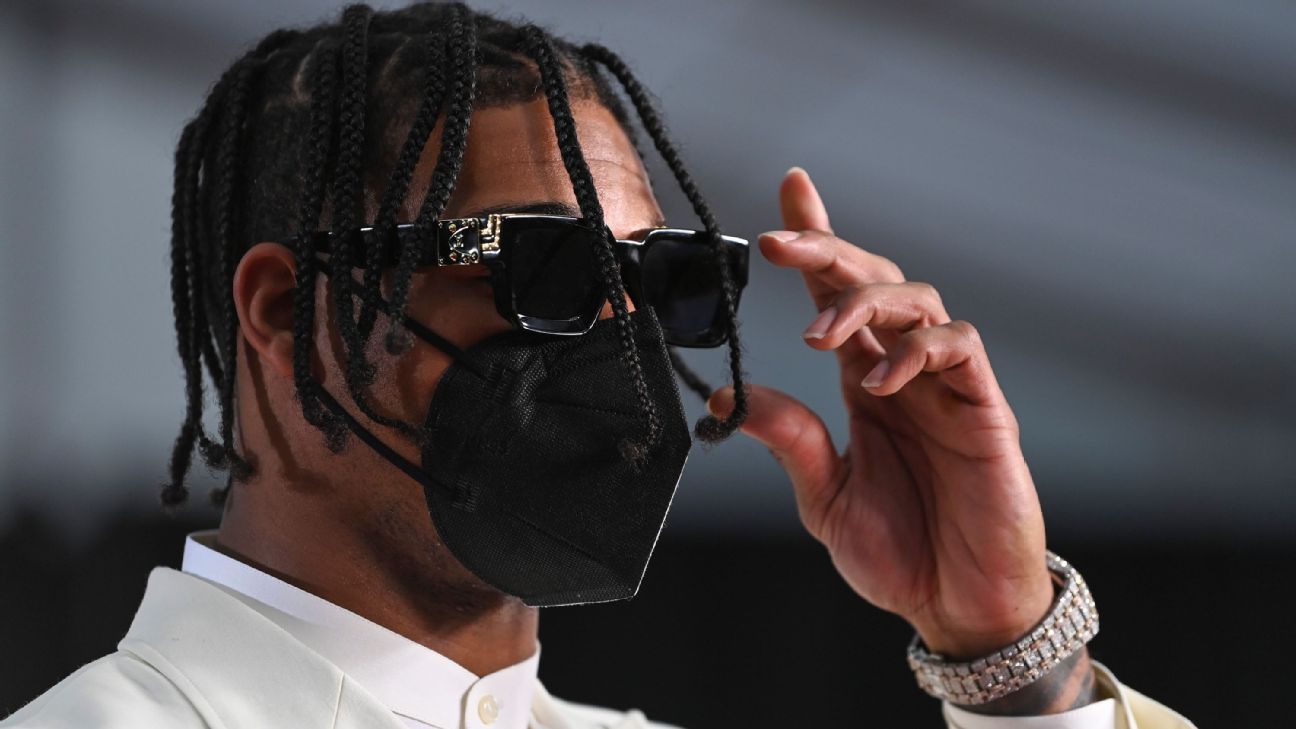 Former LSU teammates Joe Burrow and Ja'Marr Chase didn't need to wait long for a reunion on Thursday night at the 2021 NFL draft.
The Cincinnati Bengals selected Chase with the fifth overall pick, pairing the wide receiver with Burrow, his former quarterback and the top pick in last year's draft.
"It's a blessing coming true," Chase said on the draft telecast after being selected. "For the most part, I just can't wait to get back out there with Joe and back at the Bengals, so I'm ready to work."
Chase opted out of the 2020 college football season, making LSU's national championship run in 2019 his final year with the Tigers. The then-sophomore racked up 84 catches for 1,780 yards and 20 touchdowns in 2019, winning the Biletnikoff Award annually given to the nation's top wide receiver.
Chase's huge 2019 campaign also yielded him a unanimous All-America selection.
Cincinnati is hoping some of the magic Burrow and Chase enjoyed in Louisiana will rub off on the Bengals. The franchise has six wins in the past two seasons and hasn't made the playoffs since 2015.
Chase joins a receiving corps led by slot wideout Tyler Boyd and Tee Higgins, Cincinnati's 2020 second-round pick who had a team-high 908 receiving yards and six touchdowns last season.