Oakland Athletics' unlikely 11th 11th win in a row shows just how hot they are
In 1983, the Chicago White Sox would win the AL West title and make the postseason for the first time since 1959. At one point during the season, Texas Rangers manager Doug Rader, unimpressed with the White Sox's style of play, referred to it as "winning ugly." It became the team's slogan.
On Wednesday, the Oakland A's extended their winning streak to 11 in a row with the ultimate "winning ugly" victory over the Twins, a wild 13-12 contest. The A's scored three unearned runs in the bottom of the 10th without the benefit of a hit thanks to two walks by Twins closer Alex Colome and then two brutal two-out errors by Twins infielders Travis Blankenhorn and Luis Arraez.
It's just 19 games into the season and the A's have already had a full season's worth of misery and joy. They started 0-6 and it was very much a case of losing ugly baseball. The Houston Astros and Los Angeles Dodgers destroyed the A's in those six games, outscoring them 50-13. After splitting their next two games, the A's suddenly flipped a switch and have matched their longest winning streak since their historic 20-game run in 2002, immortalized in "Moneyball" when Scott Hatteberg won the 20th game with a dramatic walk-off home run — after the A's had blown an 11-0 lead.
"I'm trying to get through this," A's manager Bob Melvin said after Wednesday's game. "Talk about a complete flip of the script. Not only did we get [beaten] the first six games, we got trounced. To come back and put together this type of run, it shows the fight of this team. They never got down."
Those Moneyball A's, even after the departure of Jason Giambi, were still a star-driven team, with Miguel Tejada, who would win MVP honors that season, plus the rotation trio of Barry Zito, Tim Hudson and Mark Mulder. This is a much different type of team, especially with Matt Chapman, the team's best player in 2018 and 2019, off to a slow start at the plate after also struggling in 2020 (and undergoing season-ending hip surgery). The rotation lacks an obvious ace and the bullpen had to replace the departed Liam Hendriks, the game's best closer the past two seasons.
Matt Olson is off to a terrific start, but he hit .195 last season. Maybe the A's found a gem in Jed Lowrie, who was an All-Star for Oakland in 2018 but who played just nine games the past two seasons with the Mets due to injuries. He's hitting .323/.400/.516.
As is the trademark of the Billy Beane/David Forst/Melvin A's, they do always find a way to compete. As with those Moneyball teams, they still buy heavily into the Three True Outcomes approach on offense — home runs, walks and strikeouts — although they're currently just 12th in TTO results, mostly because they're in the middle of the pack in strikeouts. The Twins made two errors on routine plays to blow Wednesday's game, but it's worth noting that Mark Canha and Ramon Laureano did not strike out and managed to put the ball in play in those at-bats.
"Put it in play and something good can happen," Melvin said after the game.
Matt Olson hits two home runs as the Athletics keep the game tight vs. the Twins.
One area where Beane has zagged in recent seasons while other teams have zigged is spending money to bring in veteran relievers. Many teams have been viewing the bullpen as an area where they can save money since there seem to be an endless supply of young relievers who throw 95-plus and make the minimum salary. That doesn't necessarily mean they're effective though.
Beane and Forst seem to like proven relievers. The A's signed Trevor Rosenthal to a one-year, $11 million contract to replace Hendriks as closer, but he underwent thoracic outlet surgery in early April. While it's possible he'll return this season, that's a difficult procedure to come back from. Jake Diekman's two-year, $7.5 million contract, plus a 2022 option, looks like a bargain as Diekman has become one of the best lefty relievers around. Yusmeiro Petit had a 2.74 ERA from 2017 to 2020 while pitching the most innings of any reliever in the league, yet the A's managed to re-sign him to a dirt-cheap, one-year deal of $2.55 million. He doesn't throw hard, so apparently other teams weren't interested. Oakland also signed Sergio Romo, and in spring training traded for Dodgers lefthander Adam Kolarek, one of the best lefty-on-lefty relievers.
Note the ages of that group: 30, 34, 36, 38 and 32. It's just a different way of doing business — the Oakland way.
Are the A's for real or is this just an early hot streak? Well, given the early woes of the New York Yankees and Minnesota Twins, plus the Tampa Bay Rays potentially taking a small step back, and the San Diego Padres scuffling at 10-10, I voted the A's second in this week's power rankings. I'm a believer. Never bet against the underrated Melvin getting the most out of his team.
I see three major keys for the A's:
1. The young rotation needs to live up to its potential. Despite Oakland winning the division title last season, the rotation was more solid than special (16th in ERA, 13th in FanGraphs WAR). Obviously, it got off to a bad first turn through this season and Frankie Montas struggled on Wednesday, but the A's combined for four shutouts in their previous five games. Jesus Luzardo remains the one Oakland starter with tantalizing potential, but he's still just 23 with 89 career innings.
2. Olson and Chapman need to have big seasons. The two combined for 72 home runs in 2019 (even though Olson missed 35 games) and 22 last year, but also had big OBP issues in 2020 (.310 for Olson, .276 for Chapman). Canha and perhaps Lowrie are nice supporting actors, but Olson and Chapman have to carry the offense.
3. They need to figure out shortstop. They traded for Elvis Andrus to replace Marcus Semien, but that was a roll of the dice and he's hitting .143. Maybe they can live with Andrus' bat if his defense holds up, but the Rangers seemed to think his range had declined. It wouldn't be surprising to see the A's eventually shopping for an upgrade on the trade market.
For now, the A's are just enjoying the ride.
"Once the baseball gods happened, I knew we were going to win," Laureano said Wednesday.
A's fans don't usually view the baseball gods wearing green and gold — too much postseason angst the past two decades — but in a wide-open American League, maybe it's their time.
Albert Pujols officially released by Los Angeles Angels, becomes free agent
ANAHEIM, Calif. — Albert Pujols was released by the Los Angeles Angels after clearing waivers on Thursday, one week after the 41-year-old star slugger was designated for assignment.
Pujols became a free agent and can sign with any team. The Angels remain responsible for his $30 million salary in the final season of a $240 million, 10-year contract. A team signing the first baseman and designated hitter would pay only a prorated share of the $570,500 major league minimum, which would be offset against what the Angels owe him.
Pujols is hitting .198 with a .622 OPS this season with five homers and 12 RBIs in 92 plate appearances.
He is fifth in major league history with 667 homers and 13th with 3,253 hits. A three-time National League MVP and two-time World Series champion with the St. Louis Cardinals, Pujols has a .298 career average and .921 OPS. He is a 10-time All-Star and had been the oldest active player in the major leagues.
Pujols was in a 7-for-43 slump at the time he was cut.
He batted .328 with a 1.037 OPS in St. Louis, but hit .256 with a .758 OPS in Anaheim along with 222 homers.
Touted Seattle Mariners prospects Jarred Kelenic, Logan Gilbert making MLB debut
SEATTLE — Jerry Dipoto couldn't help but chuckle when Jarred Kelenic went deep in his first at-bat at the Triple-A level.
It was yet more evidence Kelenic was ready for the big leagues.
"I laughed out loud when he had a homer in his first Triple-A at-bat off a lefty, because that's about as appropriate to how Jared Kelenic accepts challenges as you can imagine," Dipoto said Thursday. "And I'm sure he's going to be up for this next one, which is facing the best pitchers in the world night after night."
Kelenic and right-handed pitcher Logan Gilbert are making their debuts for the Mariners on Thursday night as Seattle takes the next step in its rebuilding project. Kelenic is starting in left field and battling leadoff, while Gilbert will start on the mound as Seattle opens a four-game series with Cleveland.
"Players, sometimes they hit the ground running, and sometimes they don't. The major leagues are difficult," Dipoto said. "But there's never any more excitement than with the anticipation of the arrival of talented young players like these and we're excited to see what happens across the board. It's gonna be a fun time for us."
The additions Thursday are part of a major roster reshuffle for the Mariners. Coming up from Triple-A Tacoma along with Kelenic and Gilbert is right-hander Paul Sewald to bolster a taxed bullpen.
But Kelenic and Gilbert are the headliners. Kelenic has been regarded as one of the top prospects in the minors for several years and only reinforced his status with a torrid start at Triple-A, where he hit .370 with six runs, two homers, a double and five RBIs in just six games.
"He's knocked every challenge we've given him out of the park, really, and has done that since he's been a Mariner," Dipoto said.
Kelenic will primarily play in left field, but Dipoto expects him to move around the outfield on days Kyle Lewis or Mitch Haniger need a break from playing in the field.
Kelenic said some of his nerves were eased because Gilbert was debuting on the same night.
"To be able to start this journey in the big leagues with someone that you started the journey with in the minor leagues makes this transition a little bit easier," Kelenic said. "I was just talking with him in the clubhouse and as excited as I am to get going with my major league career, I'm just as excited for him."
Gilbert's arrival in Seattle was partly out of necessity. Dipoto said the team started targeting May for Gilbert's potential arrival late last season. But major injuries to Seattle's starting rotation may have prompted a slightly quicker decision on Gilbert, who made just one start in Triple-A.
With Seattle's plan to use a six-man rotation, Dipoto said the Mariners believe they'll be able to control Gilbert's innings and keep him around the target of 110 to 120 this year.
"He's, I believe, as ready for this opportunity as a young pitcher can be," Dipoto said. "That doesn't mean it's going to be easy for him. It's quite a challenge in the big leagues. But he's so cerebral. He has been preparing for this start all of his life."
Manager Scott Servais said the goal with Gilbert would be to get about five innings against Cleveland. He also revealed Gilbert had shoulder trouble early in spring training that has limited his workload to date.
"He's completely healthy now. He's good to go and the goal tonight would be about 85 pitches," Servais said.
To clear space on the roster, Seattle optioned relievers Aaron Fletcher and Wyatt Mills to Tacoma, along with outfielder Taylor Trammell, whose spot is being taken by Kelenic for now. Trammell made his major league debut on Opening Day but is batting .157 in 27 games. Servais said Trammell needs more playing time and expects he'll be back with the major league club at some point.
Seattle also transferred left-handed pitcher Nick Margevicius and right-hander Ljay Newsome to the 60-day injured list. Margevicius has been out since April 26 with shoulder issues. Newsome may be headed for Tommy John surgery. Dipoto said it appears both players could be done for the year.
Seattle also designated for assignment outfielder Braden Bishop.
Minnesota Twins, Philadelphia Phillies, Milwaukee Brewers join teams moving toward 100% fan capacity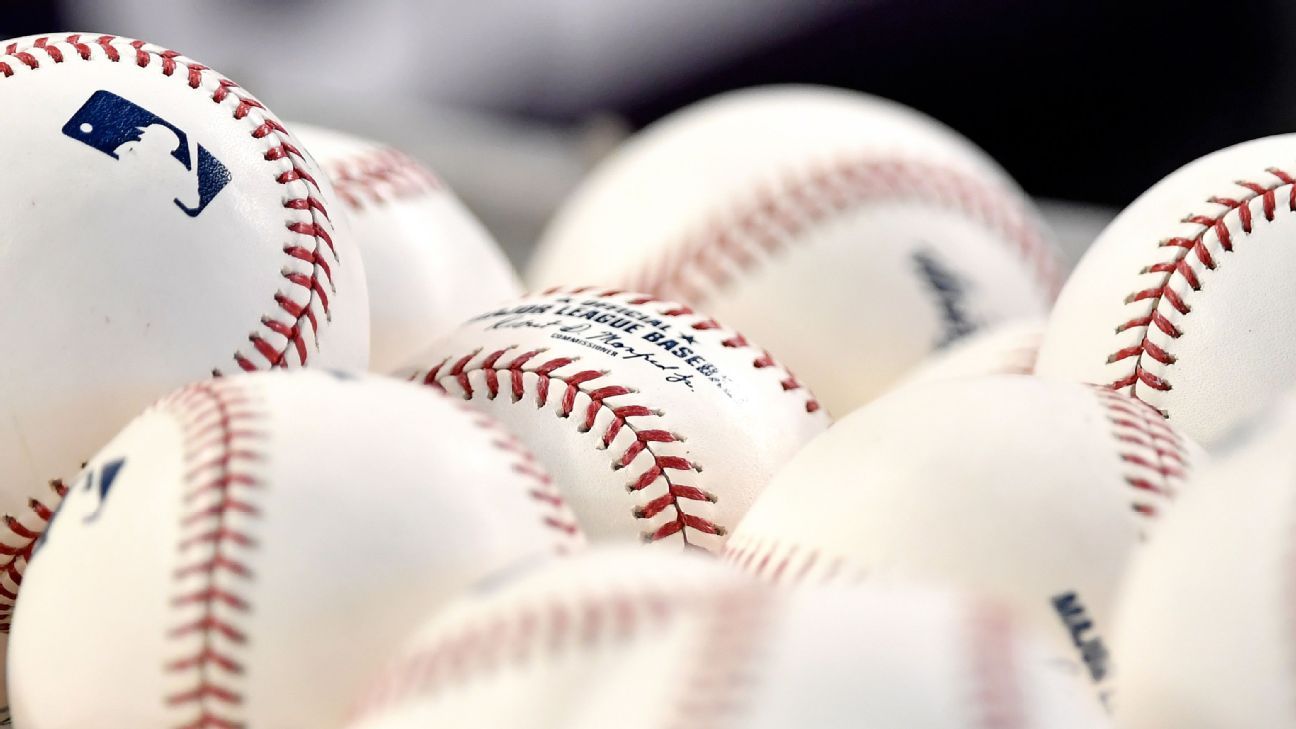 NEW YORK — The Minnesota Twins, Philadelphia Phillies and Milwaukee Brewers have set plans to host 100% capacity at their ballparks, joining the Arizona Diamondbacks, Atlanta Braves, Texas Rangers and Washington Nationals.
The Twins, who started the season at 25% capacity, said Thursday they will increase to 60% for 12 home games at Target Field from May 14-30, move to 80% for 12 home games in June and 100% for the final 40 regular-season home games starting July 5.
"We are grateful that our state and region continue to be on a path toward improved health and a return to normalcy," Twins president Dave St. Peter said in a statement.
Philadelphia started the season at 20%, and will increase capacity from 11,000 to 16,000 for a series against Boston starting Friday and followed by games against Washington (June 4-6) and Atlanta (June 8-10). Citizens Bank Park will be allowed 100% capacity starting with the Phillies' series against the New York Yankees June 12-13. Limited pods will be available with socially distanced seating.
Tailgating also will be allowed.
Milwaukee, which began at 25%, said the Brewers' American Family Field will shift to 100% capacity starting June 25.
The New York Yankees and Mets were given permission by New York state to increase capacity from 20% to 100% at their ballparks for home games starting May 19, but only as long as fans are vaccinated against COVID-19. The Mets said they planned to have sections for vaccinated fans at full capacity and for unvaccinated fans with social distancing.
The Chicago Cubs will increase Wrigley Field's capacity to 60% starting with a series against Cincinnati that begins May 28. That will leave maximum attendance at just under 25,000, and there will be a minimum of one open seat between pods within the same row.
Illinois and Chicago officials are requiring a designated area for fully vaccinated fans, who will be required to present proof of vaccination and photo ID.
The Chicago White Sox will also increase capacity to 60% at Guaranteed Rate Field starting with a game against St. Louis on May 24, also with a minimum of one open seat between pods within the same row. The White Sox will have two full capacity sections for vaccinated fans when they host Kansas City this weekend.
Last year's shortened MLB regular season was played entirely without fans, who were allowed back only for the National League Championship Series and World Series, and then in limited numbers for games moved to the neutral site of Globe Life Field in Arlington, Texas.
Texas was the only one of the major league teams to start the season at 100% capacity.
Atlanta said April 28 it would move to 100% at Truist Park starting May 7, and Arizona announced May 5 that it would shift to 100% at Bank One Ballpark starting May 25. Washington said this week that Nationals Park would allow 100% capacity starting June 11 after Mayor Muriel Bowser issued an order allowing it.