George Floyd's brother supports Las Vegas Raiders after tweet uproar
Philonise Floyd issued a statement of support Wednesday for the Las Vegas Raiders after the organization received backlash for a tweet following the conviction of former Minneapolis police officer Derek Chauvin for murdering his brother George Floyd.
"On behalf of our family, I would like to extend our deepest gratitude to the Las Vegas Raiders organization and its leadership for their support of our family and for our nation's ongoing pursuit of justice and equality for all. Now, more than ever, we must come together as one and continue on in this fight. For the first time in almost a year, our family has taken a breath. And I know that goes for so many across the nation and globe, as well. Let's take this breath together in honor of my big brother who couldn't. Let's do it for George," Philonise Floyd said.
The Raiders' tweet, sent late Tuesday afternoon, read: "I CAN BREATHE 4-20-21." Floyd told officers, "I can't breathe," more than 20 times before he died when Chauvin pressed his knee into the back of Floyd's neck for about nine minutes last May.
Raiders owner Mark Davis told ESPN's Paul Gutierrez on Tuesday that the tweet was his idea and that he does not plan to delete it.
Davis told ESPN that he "meant no disrespect" to Floyd's family with the tweet and that he "took the lead" from Philonise Floyd, who said after the verdict, "Today, we are able to breathe again."
Davis told The Associated Press and The Athletic that he also didn't know that the phrase "I can breathe" was used by supporters of police in New York after the death of Eric Garner in 2014 and that he wouldn't have used that phrase if he had known the history.
Chauvin was found guilty of second-degree unintentional murder, third-degree murder and second-degree manslaughter by a jury for his role in the murder of Floyd outside of a Minneapolis convenience store.
Ja'Wuan James considering grievance to recoup potential lost 2021 salary, source says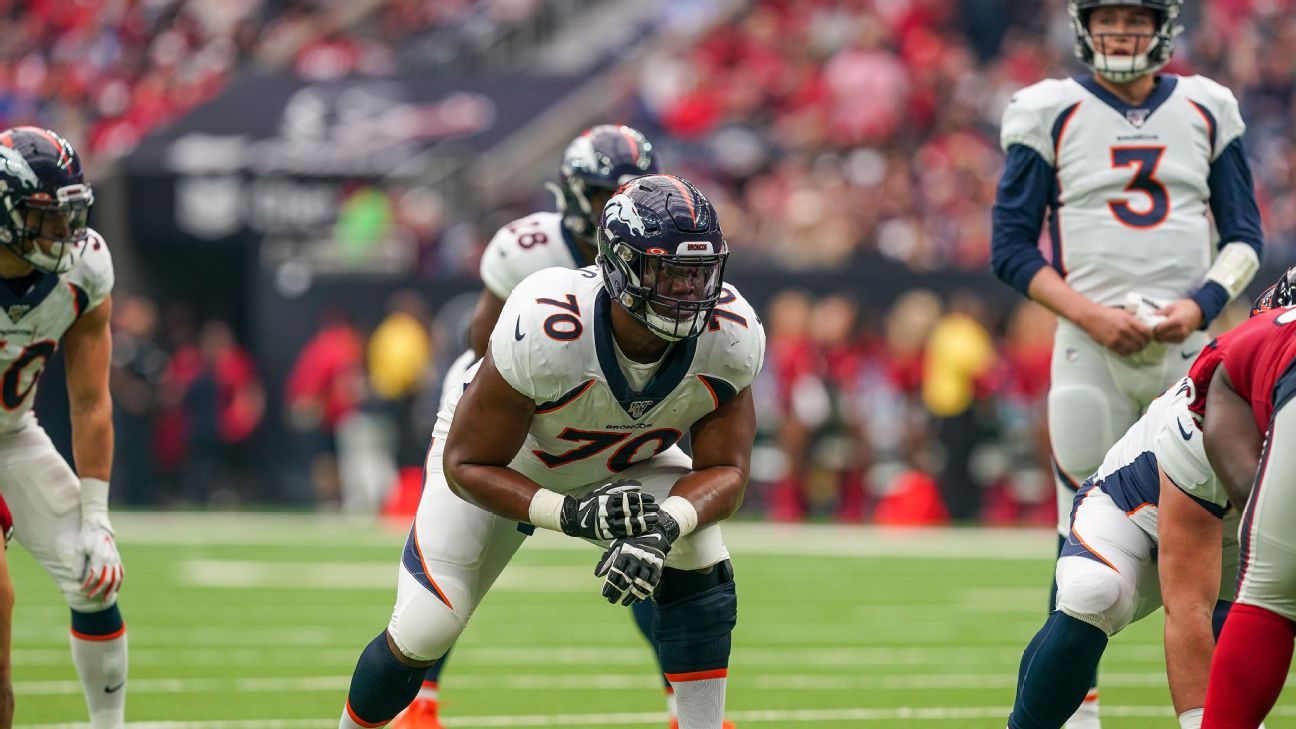 Former Denver Broncos offensive tackle Ja'Wuan James is strongly considering filing a grievance through the NFL Players Association for lost wages after he tore his Achilles tendon away from the team facility, a source told ESPN's Jeremy Fowler on Saturday.
James, who was released Friday with a post-June 1 designation, could seek more than $10 million in salary for the 2021 season that the Broncos appear likely to void after they designated him with a non-football injury.
The injury has already been a flashpoint between the NFL and the NFLPA over the "non-football injury" designation, which means teams are not required to pay players their full base salaries if they were injured outside of team facilities.
The day after James was injured earlier this month, he was specifically named in a memo from the NFL's management council to team executives and head coaches. In that memo it was outlined under the "Non-Football Injuries" designation that teams like the Broncos would have "no contractual obligation" to pay players like James who were injured away from the team facilities.
The memo also outlined why a player's salary would be paid if the injury had been suffered during a workout at a team's complex. The memo also said: "Clubs are encouraged to remind players of the significant injury-related protection provided if they choose to work out at the club facility and the risks they undertake in choosing to train at a non-NFL location."
The NFLPA responded two days later in an email to players that said: "It was gutless to use a player's serious injury as a scare tactic to get you to come running back to these workouts." Free-agent safety and NFLPA executive board member Michael Thomas also told ESPN's Dan Graziano this week that "all the players are watching" how James' situation plays out.
The 28-year-old James suffered his season-ending injury earlier this month. On Friday, he posted on social media that his "surgery went well," adding: "Appreciate everyone reaching out. Always remaining positive & striving to be better than yesterday."
Broncos wide receiver DaeSean Hamilton, whom Denver was trying to trade in recent days, also suffered a torn knee ligament in a workout away from the team's complex, according to ESPN and multiple reports.
ESPN's Jeff Legwold contributed to this report.
Saints rookie Nolan Cooney overcame cancer, then learned to punt with help from YouTube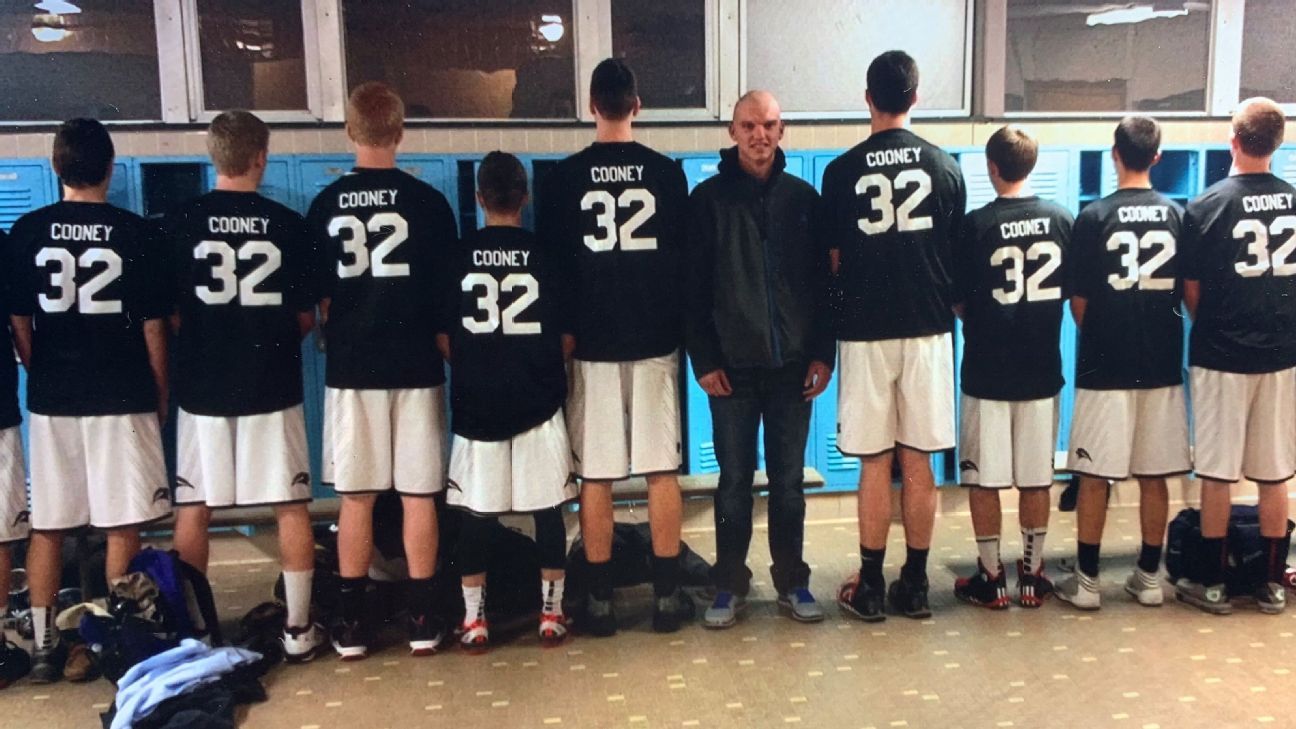 METAIRIE, La. — It was Nolan Cooney's passion for sports that motivated him most when he was diagnosed with testicular cancer that had spread to his lungs during his junior year of high school.
The New Orleans Saints' rookie punter was a three-sport standout at East Greenwich High in Rhode Island. He said he wasn't scared when he got the diagnosis and trusted his doctors, but the only information he researched was stories of athletes like cyclist Lance Armstrong and third baseman Mike Lowell, both of whom successfully underwent treatment for testicular cancer. Cooney was thrilled when he got the chance to speak with Armstrong on the phone, and when New England Patriots cancer survivor Joe Andruzzi came to visit and let him wear his Super Bowl rings.
And sure enough, Cooney reached his goal of returning to the basketball court in time for the playoffs — just days after he finished his two months of chemotherapy treatments. The scene was triumphant, with the crowd chanting his name in the stands.
"We didn't have to lift his spirits," Cooney's parents, Joseph and Janice, agreed while discussing the positive outlook their son has maintained. "Our spirits were lifted by him."
But nobody in the family ever dreamed that Cooney might become a NFL punter seven years later, signing with the Saints as an undrafted rookie out of Syracuse.
Because, well, Cooney had never punted before.
The three sports he played at the time were basketball, baseball and soccer.
"People say everything happens for a reason," said Cooney, whose dad suggested he visit a local punting and kicking camp during those months of draining chemo treatments.
"Who knows what would've happened if I hadn't really stumbled upon this during what would seem for a lot of people to be a tougher time [in my life]?" Cooney said. "But maybe it was the greatest thing to ever happen."
Nearly 7 years after his cancer diagnosis, former @GoEGAthletics three-sport athlete Nolan Cooney (@NolanCooney1) has worked to become one of the best punters in college football at Syracuse.

We looked back at his journey & how he's shining for @CuseFootball in 2020. @ABC6 pic.twitter.com/Xwa6si0BQr

— Nick Coit (@NCoitABC6) December 5, 2020
Cooney (6-foot-3, 202 pounds) always had a strong leg from his years as a soccer goalie, and he had a natural spin on his kicks that made him good at punting the ball when he messed around in the yard. But there was a local rule that prevented him from playing both soccer and football in the fall, and he chose soccer.
When Cooney got healthy, he started teaching himself how to punt by watching YouTube videos — as if his story isn't remarkable enough.
"You can learn a lot from studying film of other punters," Cooney explained, "and hopefully they're willing to speak to things that work well for them."
Cooney attended his first camp in the summer before his senior year of high school, where the instructors told him he showed real promise as a punter (and less as a place-kicker). Then he continued to attend camps, even though he went back to playing soccer in the fall.
Cooney had opportunities to play college baseball as a catcher at smaller schools. But he wanted to pursue punting, so he signed up for a postgraduate year at Bridgton Academy in Maine to actually play on a football team for the first time in 2015.
"He's a special kid," said Trevor Coston, a former NFL safety who served as a coach and counselor at Bridgton and became Cooney's personal assistant when they would shovel snow off the field in the mornings to work on his punting and send tapes out to colleges.
"He'd be up there shoveling the pathway before I'd get there," Coston said. "It wasn't like a lot of schools were opening doors. He just kept knocking. And a person like him, if you know him, his story, his background, betting on himself with everything he's gone through, it was pretty easy that he was gonna make it once he had the chance to show anyone what he was gonna do."
Cooney was especially persistent with Syracuse, which was the only FBS school that wound up offering him a walk-on opportunity.
Not only was Syracuse his mom's alma mater, but Cooney had also met former Syracuse and current New York Giants punter Riley Dixon at a camp. And he credited Dixon with passing on his information to some of the coaches and administrators. They sent him an email inviting him to walk on about three weeks before practices started in 2016.
"He basically was like an unrecruited walk-on that kind of just showed up at our door," said former Syracuse special-teams coach Justin Lustig, who is now at Vanderbilt. "This kid's unbelievable. One of my favorites I've ever coached. [His makeup] is just through the roof, man. Like every category. I haven't been around a guy that works harder than Nolan."
Lustig said Cooney started out fourth on the depth chart as a redshirt freshman and gradually worked his way up behind current Atlanta Falcons punter Sterling Hofrichter, while also serving as a holder. When Hofrichter got drafted in 2020, Syracuse offered Cooney a scholarship for his senior year. And he became a third-team All-ACC punter, averaging a school-record 44.8 yards per kick.
Cooney led all FBS punters in total punts (74) and yards (3,314), with 24 downed inside the 20 and only three touchbacks.
He also started a podcast last year featuring a variety of guests who talk about overcoming obstacles. The name of the podcast, fittingly for a punter and cancer survivor, is "Power Through."
In New Orleans, Cooney will compete with Blake Gillikin, last year's undrafted rookie, to replace longtime standout Thomas Morstead, who was released in a wave of salary-cap cuts this offseason.
"It's pretty surreal," Janice said of her son's unlikely path to the NFL. "If only they let him play soccer and football, we might have known this a little earlier."
Meanwhile, the rule that prevented players in East Greenwich from participating in both sports has since been changed. Joseph said some school officials referred to the switch as "the Nolan Cooney rule."
Dolphins salivating at the speed Jaylen Waddle, Will Fuller will bring – Miami Dolphins Blog
MIAMI — Brian Flores is eager to see opposing defensive coordinators sweat when they see the Miami Dolphins' offense in 2021.
Speed is the top skill set that makes defenses stress, and the Dolphins coach had a mischievous smirk when asked about the conflict his new dynamic playmakers — first-round pick Jaylen Waddle and free-agent signee William Fuller V — will create.
No Dolphins position group improved more than wide receiver this offseason, and it's clear quarterback Tua Tagovailoa now has enough players to flourish as he enters an important Year 2. Honestly, none of Miami's rebuild will matter as much if Tagovailoa doesn't make the next step.
What makes the Dolphins' additions of Waddle and Fuller so dangerous are the possibilities they provide to open up opportunities for the rest of the offense as well as themselves.
"If you've got guys who can run on the perimeter, if you load the box, there's more opportunity for one-on-one matchups and opportunities downfield. Defenses have to make that decision when you have those types of players on the field," Flores said. "If you don't load the box and you play for those big plays, then there's less people in the box and less people to block, and I think it really becomes kind of a numbers/math game."
"When you have guys on the perimeter and guys who demand some attention — that kind of attention — then there could be more space. … It's a chess game and obviously the run game and how you attack the run game, that's part of it."
That is Flores' answer, by the way, to oft-asked questions about at the Dolphins' failure to draft or sign a top-tier running back. He believes added playmaker speed at wide receiver and continued offensive line development will help the running game just as much, if not more than any upgrade in the backfield. The "chess game' theory makes sense as it's unlikely teams will put seven or eight men in the box to stop Myles Gaskin and the other backs, much like they did in 2020.
Speed changes everything. Fuller and Waddle might prove to be the NFL's fastest starting receiver duo.
Fuller, previously with the Houston Texans, had the fourth fastest max speed time (21.56 mph) among wide receivers last season, per NFL Next Gen Stats. He was also one of 13 players who were timed with a max speed of more than 21.5 mph. Fuller, a first-round pick by the Texans in 2016, ran a 4.32 40-yard dash at the NFL combine, tied for the ninth fastest official time among active NFL players.
And, guess what? Waddle might be even faster. The former Alabama wideout didn't run the 40-yard dash this offseason as he recovered from a fractured ankle, but NFL teams received data that Waddle had the fastest GPS time of all college football players last season. Waddle was recorded running a 4.37 40-yard dash at a high school camp and videos circulated last offseason of him running neck-and-neck with Las Vegas Raiders receiver Henry Ruggs III, who ran a 4.27 40 at the 2020 combine. When asked earlier this year, Waddle said he normally runs in the high 4.2s or low 4.3s.
One can only hope for a race this summer to officially decide the Dolphins' fastest player.
Miami's speedy duo hasn't been on the field together yet, but their games seem to play off each other well. Fuller has established himself as one of the NFL's best deep-ball wide receivers, challenging defenses vertically while Waddle's best asset might be how explosive he is with the ball in his hands after the catch, threatening defenses horizontally and vertically.
The Dolphins have had their eyes on Waddle for the past couple of years. His skill set features a rare combination of elite speed, run-after-catch and return ability. That's why he was the Dolphins' pick at No. 6 overall in the 2021 NFL draft. Pre-draft comparisons to Kansas City Chiefs star wide receiver Tyreek Hill give the Dolphins something to dream about once Waddle hits his stride.
"I get a lot of comparisons to Tyreek, just because of my small size and being able to be a runner," Waddle said. "But I want to be my own player and try to play the game that I play and try to do my own style and not try to emulate someone else's style. I'm going to try to be the player that I always have and try to make plays for the team."
If Waddle plays his style and Fuller his, this Dolphins' offense in 2021 will force defenses into those exact tough chess decisions Flores keeps envisioning.