Pittsburgh Steelers give coach Mike Tomlin 3-year contract extension through 2024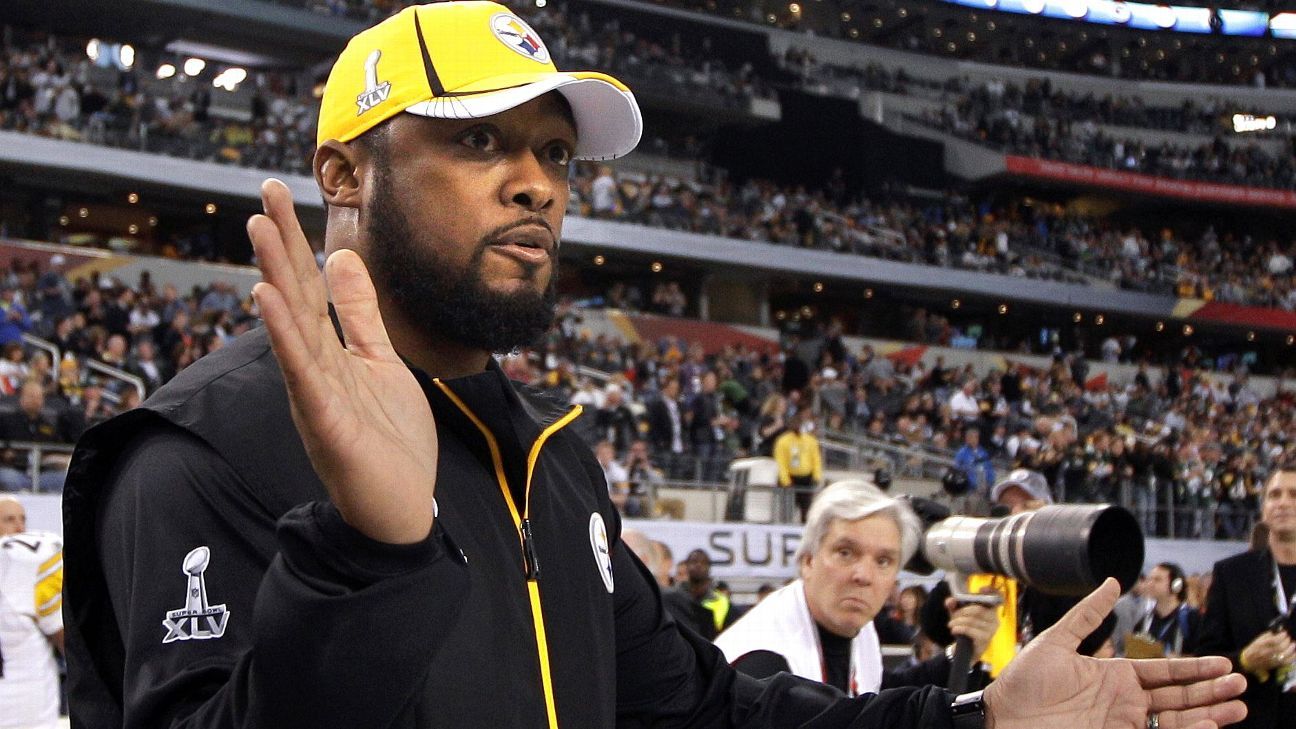 The Pittsburgh Steelers have signed coach Mike Tomlin to a three-year contract extension, the team announced Tuesday. The extension will run through the 2024 season.
The 49-year-old is heading into his 15th season as the Steelers' head coach since taking over prior to the 2007 season.
Tomlin led the Steelers to a Super Bowl XLIII victory in his second season with the team and appeared in Super Bowl XLV.
Though he hasn't been back to a Super Bowl since the 2010 season, Tomlin's Steelers have been consistently successful. Pittsburgh has made the playoffs nine times under Tomlin and have finished first or second in the AFC North in 12 of his 14 seasons with seven division titles, including last year.
Tomlin has compiled a 153-86-1 overall mark (including the playoffs) and has the highest winning percentage (.640) of any head coach in Steelers history, ahead of Hall of Famers Bill Cowher (1992-2006) and Chuck Noll (1969-91).
Chris Long poses as airline on Twitter to troll Texans RB Mark Ingram
If you've ever stood at the baggage claim in an airport, then you know that few things can compare to the instant relief that's felt once your luggage appears. Maybe it's comparable to seeing a waiter expertly navigate the restaurant floor while bringing the food to your table.
Apparently Houston Texans running back Mark Ingram II didn't receive that satisfaction on a trip Thursday as he took to Twitter to complain about his checked luggage that seemingly was lost.
Former Philadelphia Eagles defensive end Chris Long took advantage of the opportunity to make light of Ingram's travel troubles by changing his account name and profile picture to mimic the airline's account and offered this advice:
You're rich. Buy clothes. https://t.co/eA5AzVPCFh

— chris long (@JOEL9ONE) May 13, 2021
— chris long (@JOEL9ONE) May 13, 2021
Problem solved? Probably not.
Tennessee giving $1.2M to Tim Tebow's foundation to help fight human trafficking
NASHVILLE, Tenn. — Tim Tebow joined Tennessee Gov. Bill Lee at the state Capitol on Thursday to announce a multimillion-dollar partnership to fight human trafficking.
Tebow's foundation is due for an infusion of $1.2 million in the upcoming Tennessee state budget. The annual spending plan, which tops $42 billion, is sending more than $5 million combined to Tebow's organization and other groups to combat human trafficking.
The 2007 Heisman Trophy-winning quarterback with the Florida Gators is expected to sign a one-year contract to play for the Jacksonville Jaguars as a tight end, a source confirmed to ESPN on Monday.
"I would say that today, that's not the focus," Tebow said of the speculation concerning his signing with the Jaguars. "Today is about every life that's being trafficked in the state of Tennessee, around the country and around the world."
The funding will help a ministry within the Tim Tebow Foundation, named Her Song, which seeks to build safe homes in the state alongside other funded organizations, Tebow said.
The rest of the funding goes to other groups that help survivors of human trafficking in the state.
"We hope that this will facilitate and engage and inspire churches, nonprofits, organizations, individuals, to find out how they can be involved in rescuing women and children in Tennessee," Lee said.
Tebow said the discussions on the issue began less than three months ago when country music star Luke Bryan and his wife, Caroline, introduced him to the governor's chief of staff, Blake Harris, at Bryan's restaurant.
The Associated Press contributed to this report.
Kansas City Chiefs acquire CB Mike Hughes from Minnesota Vikings, source says
The Kansas City Chiefs have acquired cornerback Mike Hughes in a trade with the Minnesota Vikings, a source told ESPN's Adam Schefter.
The Chiefs traded a 2022 sixth-round pick to Minnesota while the Vikings are sending a 2022 seventh-round pick to Kansas City in the deal, a source told ESPN's Field Yates.
Hughes was drafted by the Vikings in the first round (30th overall) of the 2018 NFL draft. The Vikings declined to exercise the fifth-year contract in Hughes' rookie contract, meaning he will be a free agent after this season.
He was limited to just four games last season because of a neck injury that resulted in him being placed on injured reserve in October.
He has appeared in 24 games in his three seasons, making seven starts. He has two interceptions, returning one for a touchdown in his rookie season, 13 passes defended and 80 tackles.