NFL, Players Association approve first position-specific helmet design for OL, DL
The NFL and NFL Players Association have approved a position-specific helmet design for the first time since they began regulating equipment for players, representatives for both groups confirmed Tuesday.
The helmet, known as the VICIS ZERO2-R TRENCH, was built for offensive and defensive linemen and is ranked No. 2 on the league's 2021 safety rankings. The helmets are equipped with bumpers on their front and upper sides, where NFL engineering studies showed are a common point of contact for linemen who absorb concussion-causing contact, according to Dr. Ann Good, a senior engineer at BioCore and a consultant to the NFL.
The league and union have been ranking helmets based on proprietary safety data since 2015, using lab tests designed by BioCore, and began banning the lowest-performing helmets in 2019. The primary goal was to drive down reported concussion totals among players, which peaked at 281 during the 2017 season. The 2021 ratings, distributed to teams Tuesday, added three models to the prohibited list and six to a category called "not recommended."
Approximately 18% of players finished the 2020 season using one of those nine helmet models. But Dr. Kristy Arbogast, an engineering consultant for the NFLPA, said her expectation is that almost all of them will move to a better-performing helmet in 2021. In each of the past two seasons, 99% of NFL players have used a helmet recommended by the NFL/NFLPA ratings.
The NFL hasn't publicized its complete concussion data from last season. But Jennifer Langton, the league's senior vice president of health and safety innovation, said that reported concussion rates over the past three seasons (2018-20) are 25% lower than in the previous three seasons (2015-17).
"With these results," Arbogast said, "we were able to demonstrate [to players] that the use of a lab test in ranking helmets and prohibiting helmets were relevant to [players'] game experience. We showed that by moving up the [ranking], players could really take an active role in their safety."
It remains to be seen how many linemen will switch to the model built for them this season, but it is the first step in the NFL's goal of spurring manufacturers to produce models for each position group. Dr. Jeff Crandall, the chair of the NFL engineering committee and the co-founder of BioCore, said there has been some "baseline testing" of models designed for quarterbacks. A model is likely to be finalized for future seasons, possibly in 2022, once an analysis is done of new technology the NFL is adopting for coach-to-quarterback communications.
Off-the-cuff Detroit Lions coach Dan Campbell jokes about bringing pet lion to practice
If bringing a Super Bowl to Detroit required losing an arm than new Lions head coach Dan Campbell says he would be armless. Although Campbell has yet to coach an actual game in Motown, the first-year sideline leader is already making an early case as one of the most entertaining coaches in the league with his off-the-cuff style.
On Sunday, Campbell made a guest appearance on the "Pardon My Take" podcast on which he shared an idea that he actually presented to Lions owner Sheila Ford Hamp about having a pet lion around the team's practice facility.
"I don't think we're going to be able to do it, but I would love to literally just have a pet lion. Just a legit pet lion on a chain, a big ass chain, and he really is my pet," Campbell said on the podcast. "We just walk around the building, we go out to practice, we're at seven-on-seven, we're behind the kicker when he's kicking. There we are."
Campbell further imagined that the lion would be "on command." Campbell joked that if a position group wasn't performing well, he could have the lion relieve itself in front of the group.
"I mean, think about it," he said. "That would be outstanding."
Campbell also made national headlines during his introductory news conference in January, notably with his impromptu answers that included his vision for the team being tough enough to "bite a kneecap off." The lion reference was just the latest example, although he doubts it'll ever happen.
"The problem is I don't know if PETA's gonna to allow that, though. It's gonna be hard," Campbell said. "Believe me though we would take great care of it. It would be fed well, it would be petted, it would be manicured. I might end up losing an arm because of it, but that would be even better because it would validate what, this is a freaking, this a creature now. This is an animal. This thing, this is from the wild."
Firefighters rescue kitten that became stuck in New York Giants CB Isaac Yiadom's car
FORT LAUDERDALE, Fla. — Firefighters in Florida were called to rescue a cat — not out of a tree, but from the undercarriage of a car owned by New York Giants cornerback Isaac Yiadom, officials said.
Rescue workers responded to Yiadom's home Sunday morning, according to a Facebook post by the Fort Lauderdale Fire Department.
Firefighters jacked up the Maserati and partially disassembled the car to reach the small tabby, which was stuck above the rear differential. The cat didn't appear to be injured.
Yiadom was drafted by the Denver Broncos in 2018 and then traded to the Giants in September.
Jacksonville Jaguars waive RB Ryquell Armstead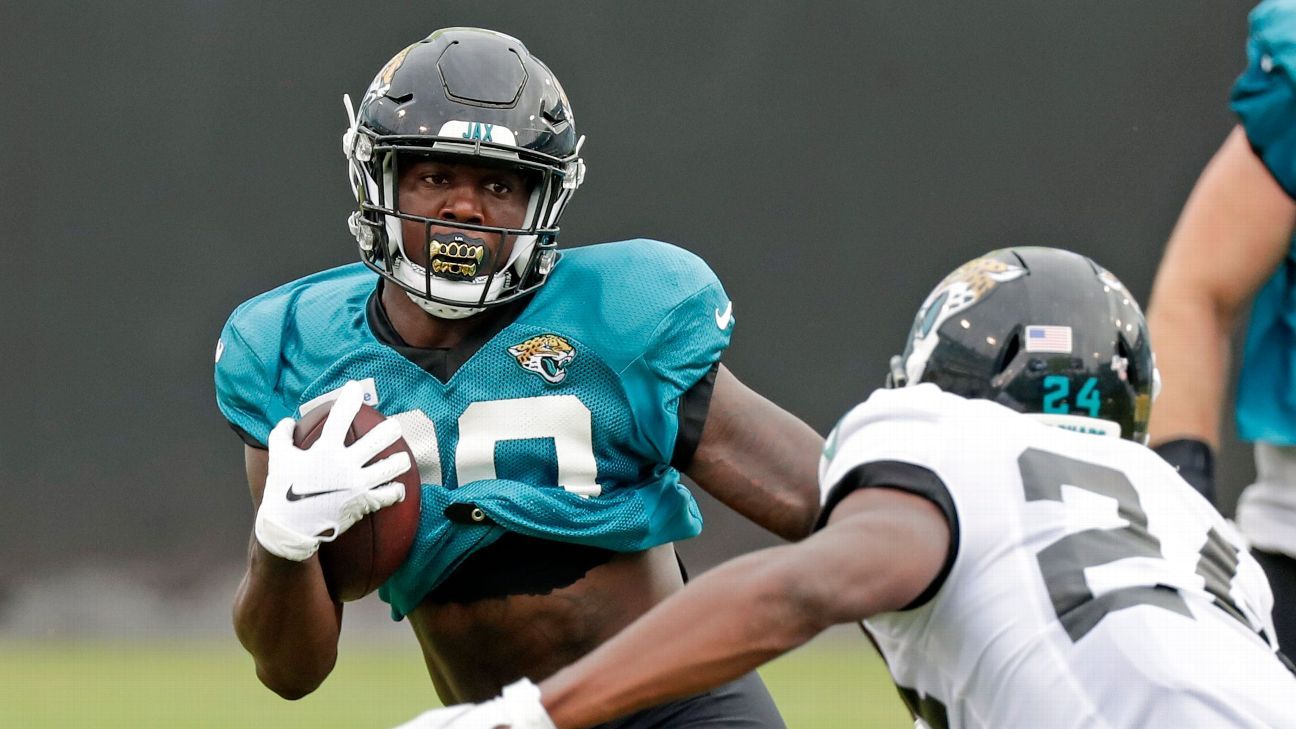 JACKSONVILLE, Fla. — The Jacksonville Jaguars waived running back Ryquell Armstead, who missed the entire 2020 season because of complications related to COVID-19.
Armstead, 24, was twice placed on the reserve/COVID-19 list last season. He spent 19 days on the list the first time, then dealt with a groin injury and another illness before going back on the list. Players are placed on the reserve/COVID-19 list if they test positive for the virus or have been in close contact with someone who has.
Armstead was a fifth-round pick in 2019 and ran for 108 yards on 35 carries as a rookie. He was likely to have a larger role on offense last season with the team's decision to cut Leonard Fournette, but undrafted rookie James Robinson went on to win the starting job and ran for 1,070 yards and seven touchdowns, and catch 49 passes for 344 yards and three TDs.
The Jaguars drafted former Clemson running back Travis Etienne 25th overall last month.
Also on Monday, the Jaguars announced they've signed sixth-round draft pick Jalen Camp, a wide receiver from Georgia Tech.