Inspiration, respect and admiration – NFL world reacts to Alex Smith's retirement from football
Alex Smith, the 2005 No. 1 overall pick by the San Francisco 49ers as well as the 2020 NFL Comeback Player of the Year as a quarterback with the Washington Football Team, announced his retirement from the league on Monday, and social media was awash in inspiring words for an inspiring player.
Smith, who made a remarkable comeback from an injury that nearly cost him his right leg, announced Monday on Instagram that he is ending his football career. His tenure with Washington was defined by the broken right fibula and tibia that he suffered in November 2018 and subsequent comeback, with his first game action on Oct. 11, 2020.
The former Utah Ute quarterback said in the video posted Monday to Instagram that although he has "plenty of snaps left in me," he is looking forward to spending more time with his family and "can't wait to see what else is possible" after 16 years in the NFL.
From the NFL reporters who covered Smith to the Utah student section to the teams that played against Smith, there was plenty of praise to go around for the quarterback and his career:
Heck of a career pre-injury,
Legendary status post.

Absolutely incredible comeback, a picture of determination, perseverance and sheer will.

Thanks for the inspiration and best wishes on the next chapter! https://t.co/AMhbUPYqLV

— JJ Watt (@JJWatt) April 19, 2021
Alex Smith. An Inspiration. A legend. THE King. Congrats on retirement, #11! Thank you for letting us be a part of your incredible career 👑 pic.twitter.com/XdnDtoA1yE

— The MUSS (@TheMUSS) April 19, 2021
An inspiration to all 🙌

Never forget when Alex Smith took the field for the first time after his injury.

(via @WashingtonNFL) pic.twitter.com/WL4WQYApqU

— SportsCenter (@SportsCenter) April 19, 2021
One of the better storied #1 overall picks ever.
Overcame so much

Inspiration

— Dan Orlovsky (@danorlovsky7) April 19, 2021
Congratulations, Alex Smith.

You are an inspiration.

— Field Yates (@FieldYates) April 19, 2021
To think of everything Alex Smith endured as a 49er… and came out better … and then he endured so, so much more after that. And came out better. That's quite a story to tell. Glad he's getting out on his own terms.

— Tim Kawakami (@timkawakami) April 19, 2021
Andy Reid congratulated Alex Smith on a great career. Said he texted him recently and told Smith if he wanted to get into coaching that "I get first dibs" on him.

— Adam Teicher (@adamteicher) April 19, 2021
Quarterback Alex Smith is retiring. What a remarkable career and journey. So much respect. Fittingly finishes his career as the Comeback Player of the Year.🙌🏈

— StaceyDales (@StaceyDales) April 19, 2021
This video of Alex Smith's family celebrating his comeback will always be the best. (via @nfl, @lizbsmith11) pic.twitter.com/yVGaGQVxEw

— Matthew Berry (@MatthewBerryTMR) April 19, 2021
I am drawn to lessons in resilience, fortitude, uncommon commitment and sacrifice. Never can get enough of them. Learn from all of them. Inspired by every one of them. That is Alex Smith to me and for me.

— Louis Riddick (@LRiddickESPN) April 19, 2021
Largest of shoutouts to Alex Smith

— Kyle (@Ky1eLong) April 19, 2021
Salute to Alex Smith. Such an inspiration 🙏🏾 Congrats on a great career. https://t.co/ssWzkd1mju

— Steven Terrell (@SdotTerrell) April 19, 2021
Nothing but respect, Alex Smith. ✊ pic.twitter.com/z11QmLzDHy

— Denver Broncos (@Broncos) April 19, 2021
Dallas Cowboys coach Mike McCarthy expects Dak Prescott to be cleared for training camp
FRISCO, Texas — Dallas Cowboys coach Mike McCarthy believes Dak Prescott will be completely cleared for work by the time training camp begins in July, if not sooner.
"I have no reason not to think that," McCarthy said. "I think this week in Phase 2 will be a nice step in that direction."
Prescott's recovery from the compound fracture and dislocation of his right ankle he suffered last October has gone well. He has been at The Star for rehab and workouts and has also been working out with his personal quarterbacks coach.
The Cowboys open Phase 2 of the offseason program with on-field teaching sessions this week. In Phase 3, they will go through organized team activities and the mandatory minicamp that runs June 8-10.
"He'll do most things," McCarthy said when asked what he anticipates Prescott will do during the on-field work. "There's a plan in place that's coordinated with [athletic trainers Britt Brown and Jim Maurer] and the training room so I know he feels really good. He's really had some excellent workouts here in the last couple weeks. I'd see him doing most of the work."
After suffering the injury last October, Prescott was given a four-to-six month recovery period. He had a second clean up surgery in December that was unrelated to the break, but the Cowboys had no worries about making him the second-highest paid quarterback in the NFL with a four-year, $160 million contract.
In the wild-card round of the 2018 playoffs, wide receiver Allen Hurns suffered an injury similar to Prescott and was back on the field taking part in the organized team activities and minicamp.
Ja'Wuan James considering grievance to recoup potential lost 2021 salary, source says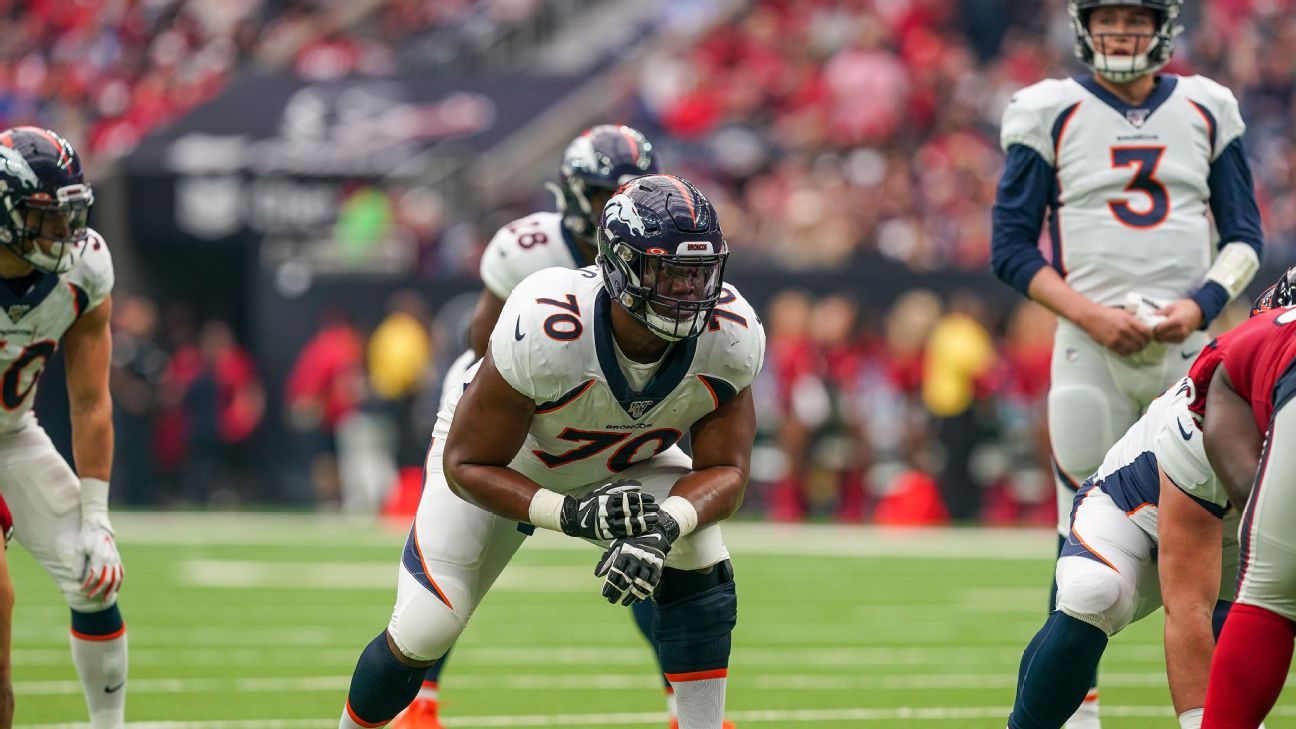 Former Denver Broncos offensive tackle Ja'Wuan James is strongly considering filing a grievance through the NFL Players Association for lost wages after he tore his Achilles tendon away from the team facility, a source told ESPN's Jeremy Fowler on Saturday.
James, who was released Friday with a post-June 1 designation, could seek more than $10 million in salary for the 2021 season that the Broncos appear likely to void after they designated him with a non-football injury.
The injury has already been a flashpoint between the NFL and the NFLPA over the "non-football injury" designation, which means teams are not required to pay players their full base salaries if they were injured outside of team facilities.
The day after James was injured earlier this month, he was specifically named in a memo from the NFL's management council to team executives and head coaches. In that memo it was outlined under the "Non-Football Injuries" designation that teams like the Broncos would have "no contractual obligation" to pay players like James who were injured away from the team facilities.
The memo also outlined why a player's salary would be paid if the injury had been suffered during a workout at a team's complex. The memo also said: "Clubs are encouraged to remind players of the significant injury-related protection provided if they choose to work out at the club facility and the risks they undertake in choosing to train at a non-NFL location."
The NFLPA responded two days later in an email to players that said: "It was gutless to use a player's serious injury as a scare tactic to get you to come running back to these workouts." Free-agent safety and NFLPA executive board member Michael Thomas also told ESPN's Dan Graziano this week that "all the players are watching" how James' situation plays out.
The 28-year-old James suffered his season-ending injury earlier this month. On Friday, he posted on social media that his "surgery went well," adding: "Appreciate everyone reaching out. Always remaining positive & striving to be better than yesterday."
Broncos wide receiver DaeSean Hamilton, whom Denver was trying to trade in recent days, also suffered a torn knee ligament in a workout away from the team's complex, according to ESPN and multiple reports.
ESPN's Jeff Legwold contributed to this report.
Saints rookie Nolan Cooney overcame cancer, then learned to punt with help from YouTube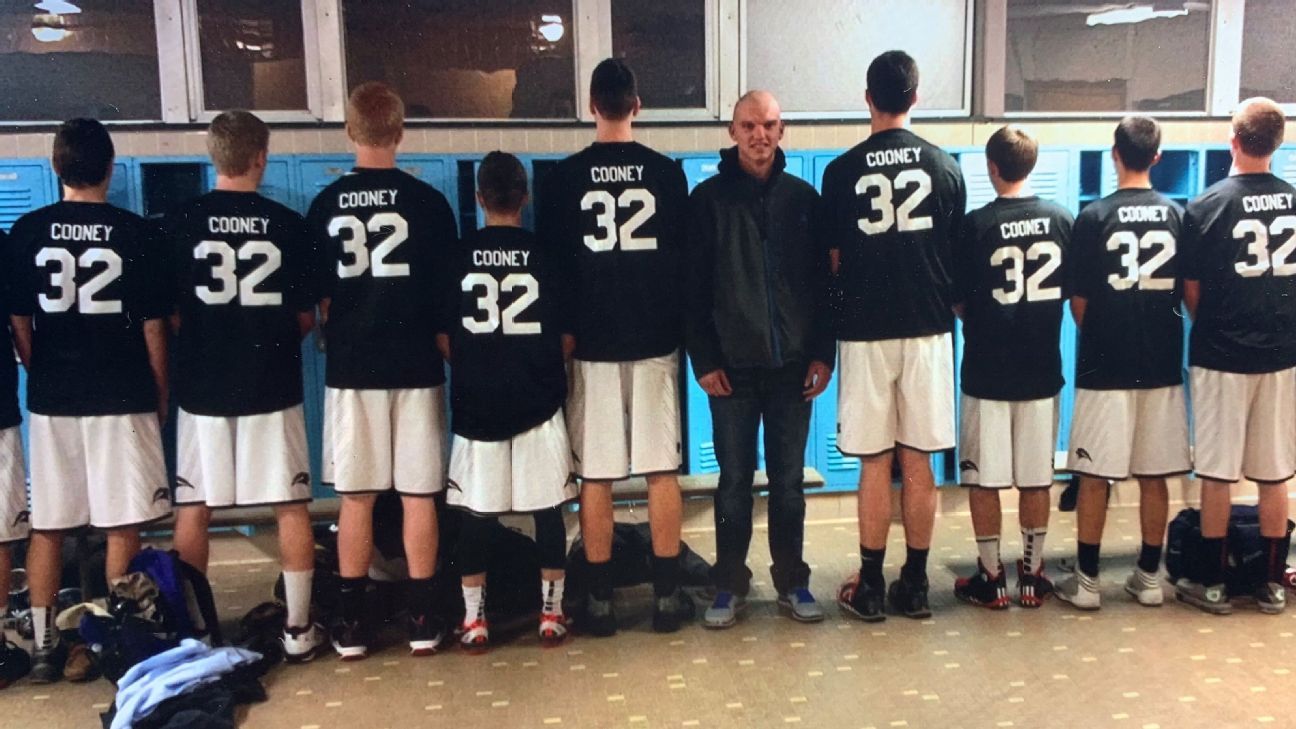 METAIRIE, La. — It was Nolan Cooney's passion for sports that motivated him most when he was diagnosed with testicular cancer that had spread to his lungs during his junior year of high school.
The New Orleans Saints' rookie punter was a three-sport standout at East Greenwich High in Rhode Island. He said he wasn't scared when he got the diagnosis and trusted his doctors, but the only information he researched was stories of athletes like cyclist Lance Armstrong and third baseman Mike Lowell, both of whom successfully underwent treatment for testicular cancer. Cooney was thrilled when he got the chance to speak with Armstrong on the phone, and when New England Patriots cancer survivor Joe Andruzzi came to visit and let him wear his Super Bowl rings.
And sure enough, Cooney reached his goal of returning to the basketball court in time for the playoffs — just days after he finished his two months of chemotherapy treatments. The scene was triumphant, with the crowd chanting his name in the stands.
"We didn't have to lift his spirits," Cooney's parents, Joseph and Janice, agreed while discussing the positive outlook their son has maintained. "Our spirits were lifted by him."
But nobody in the family ever dreamed that Cooney might become a NFL punter seven years later, signing with the Saints as an undrafted rookie out of Syracuse.
Because, well, Cooney had never punted before.
The three sports he played at the time were basketball, baseball and soccer.
"People say everything happens for a reason," said Cooney, whose dad suggested he visit a local punting and kicking camp during those months of draining chemo treatments.
"Who knows what would've happened if I hadn't really stumbled upon this during what would seem for a lot of people to be a tougher time [in my life]?" Cooney said. "But maybe it was the greatest thing to ever happen."
Nearly 7 years after his cancer diagnosis, former @GoEGAthletics three-sport athlete Nolan Cooney (@NolanCooney1) has worked to become one of the best punters in college football at Syracuse.

We looked back at his journey & how he's shining for @CuseFootball in 2020. @ABC6 pic.twitter.com/Xwa6si0BQr

— Nick Coit (@NCoitABC6) December 5, 2020
Cooney (6-foot-3, 202 pounds) always had a strong leg from his years as a soccer goalie, and he had a natural spin on his kicks that made him good at punting the ball when he messed around in the yard. But there was a local rule that prevented him from playing both soccer and football in the fall, and he chose soccer.
When Cooney got healthy, he started teaching himself how to punt by watching YouTube videos — as if his story isn't remarkable enough.
"You can learn a lot from studying film of other punters," Cooney explained, "and hopefully they're willing to speak to things that work well for them."
Cooney attended his first camp in the summer before his senior year of high school, where the instructors told him he showed real promise as a punter (and less as a place-kicker). Then he continued to attend camps, even though he went back to playing soccer in the fall.
Cooney had opportunities to play college baseball as a catcher at smaller schools. But he wanted to pursue punting, so he signed up for a postgraduate year at Bridgton Academy in Maine to actually play on a football team for the first time in 2015.
"He's a special kid," said Trevor Coston, a former NFL safety who served as a coach and counselor at Bridgton and became Cooney's personal assistant when they would shovel snow off the field in the mornings to work on his punting and send tapes out to colleges.
"He'd be up there shoveling the pathway before I'd get there," Coston said. "It wasn't like a lot of schools were opening doors. He just kept knocking. And a person like him, if you know him, his story, his background, betting on himself with everything he's gone through, it was pretty easy that he was gonna make it once he had the chance to show anyone what he was gonna do."
Cooney was especially persistent with Syracuse, which was the only FBS school that wound up offering him a walk-on opportunity.
Not only was Syracuse his mom's alma mater, but Cooney had also met former Syracuse and current New York Giants punter Riley Dixon at a camp. And he credited Dixon with passing on his information to some of the coaches and administrators. They sent him an email inviting him to walk on about three weeks before practices started in 2016.
"He basically was like an unrecruited walk-on that kind of just showed up at our door," said former Syracuse special-teams coach Justin Lustig, who is now at Vanderbilt. "This kid's unbelievable. One of my favorites I've ever coached. [His makeup] is just through the roof, man. Like every category. I haven't been around a guy that works harder than Nolan."
Lustig said Cooney started out fourth on the depth chart as a redshirt freshman and gradually worked his way up behind current Atlanta Falcons punter Sterling Hofrichter, while also serving as a holder. When Hofrichter got drafted in 2020, Syracuse offered Cooney a scholarship for his senior year. And he became a third-team All-ACC punter, averaging a school-record 44.8 yards per kick.
Cooney led all FBS punters in total punts (74) and yards (3,314), with 24 downed inside the 20 and only three touchbacks.
He also started a podcast last year featuring a variety of guests who talk about overcoming obstacles. The name of the podcast, fittingly for a punter and cancer survivor, is "Power Through."
In New Orleans, Cooney will compete with Blake Gillikin, last year's undrafted rookie, to replace longtime standout Thomas Morstead, who was released in a wave of salary-cap cuts this offseason.
"It's pretty surreal," Janice said of her son's unlikely path to the NFL. "If only they let him play soccer and football, we might have known this a little earlier."
Meanwhile, the rule that prevented players in East Greenwich from participating in both sports has since been changed. Joseph said some school officials referred to the switch as "the Nolan Cooney rule."