The Chicago Cubs' offensive woes are starting to reach historic levels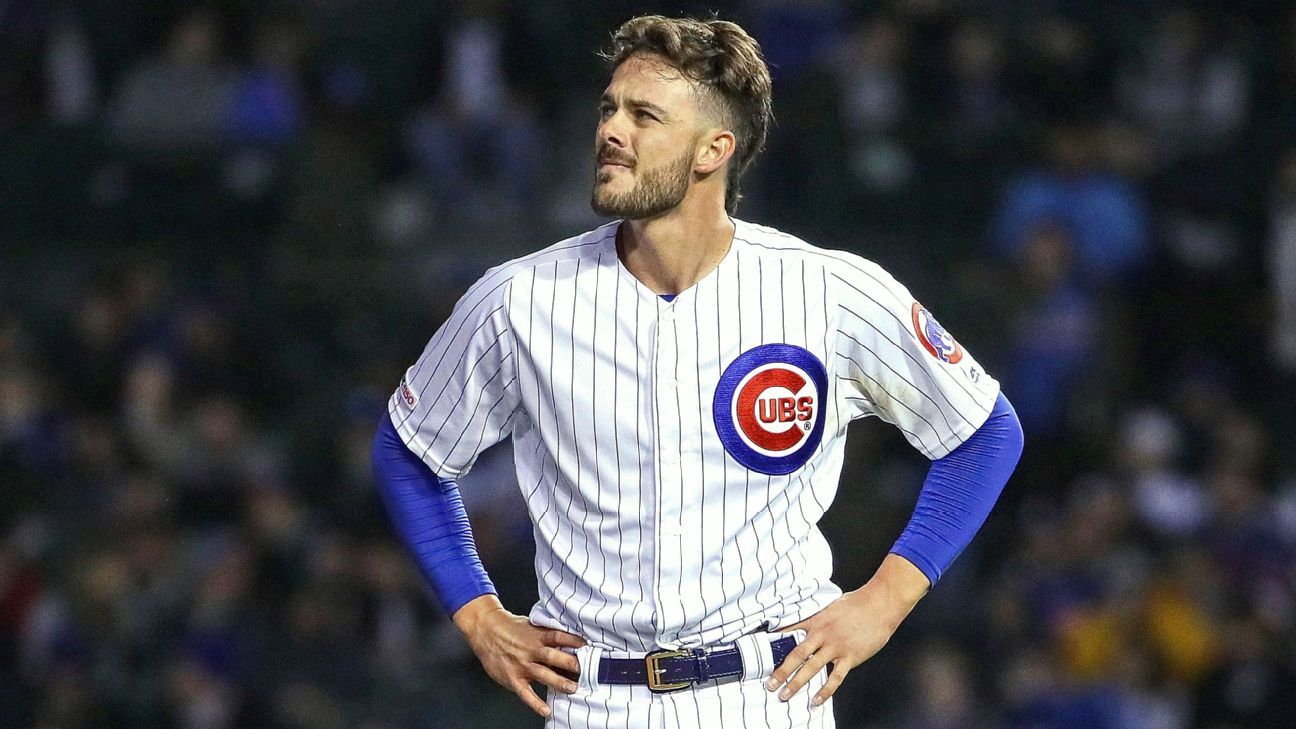 CHICAGO — Futility at the plate continues to be the theme for the 2021 Chicago Cubs, as they opened a nine-game home stand the way they finished their recent road trip: with next to nothing on offense when it mattered.
The Cubs are putting up historically bad statistics, beginning with the most important one of them all: runs scored. Chicago is averaging just 2.62 runs per game after a 5-2 loss to the Atlanta Braves on Friday. That's the worst in baseball.
"It's been a grind," team leader Anthony Rizzo said. "It's not been fun to watch."
That might be the understatement of the year, especially when measuring the team in any sort of clutch situation. The Cubs were 0-for-8 with runners in scoring position on Friday, lowering their batting average on the season in those moments to .084 — the worst through 13 games since 2004. With two outs in any situation, the Cubs are hitting .095, including 0-for-7 on Friday. That's the lowest mark through 13 games in 45 years.
"I think everyone wants to do something big," said Andy Greene, who is filling in as manager for the suspended David Ross. "All these guys care a ton and want to be great for this club and have been great for this team plenty in the past."
That's the biggest mystery of them all. The same Cubs who dominated just a few seasons ago, on the way to the World Series and multiple playoff appearances, are currently a shell of their old selves.
Rizzo is hitting .182, Javier Baez .191 and Kris Bryant just .220, after a brutal day at the plate for him on Friday. He stranded five runners on two strikeouts and a double play ground ball. And Bryant was actually the one hitter who looked halfway decent to this point in the season.
All of this came against Kyle Wright, who was called up from the Braves' alternate site to take the place of Drew Smyly at the last minute. The same Kyle Wright who has a career 6.22 ERA. He gave up only three hits in 4 1/3 innings, but despite that, the Cubs did have baserunners, with four players hit by pitches and two drawing walks.
"We have guys up we really want in those situations, and those guys are going to come through over the course of the year," Greene said.
It might be wishful thinking on Greene's part, as Cubs fans have seen this act before. The team limped to the finish line offensively in 2018 and 2019 while maintaining its struggles throughout all of 2020.
Why would 2021 be any different?
"The sample is two weeks, and I'm sure you could go through two weeks every year for the past few years and have collectively really bad offensive numbers," Rizzo stated. "When it happens at the beginning of the season, it's the worst because it's so magnified. You just have to keep playing.
"Good thing it's 162 and not 60 for us."
Rizzo is traditionally a slow starter. So are a few other Cubs. A case could be made that the entire 2020 season was the length of a start to a normal one. But there's bad, and then there's historically bad. The Cubs are in the latter category. Their 65 hits through 13 games is the lowest total since the 2003 Detroit Tigers, who lost 119 games.
So what's the answer? Winning anything significant might not be attainable with this offense, so Jed Hoyer, the Cubs' president of baseball operations, has big decisions to make come the July trade season. But if his hitters, many of whom are free agents at the end of this season, give him no value to work with, then the Cubs are really in trouble. They'll have little to show for 2021 no matter how you break it down. Getting out of their slump is paramount on many levels.
"Not trying to get five hits in one at-bat," Rizzo offered as strategy. "You can't drive in 10 in one at-bat."
Driving in one would be a nice start. On a cold, sunny day at Wrigley Field on Friday, in front of a sparse crowd due to COVID-19 regulations, the 2021 Cubs were a reminder of what used to be the norm for them. When they were known as the loveable losers, when few attended their games and those who did were usually disappointed.
It's starting to feel that way again.
"We just have to keep playing baseball," Rizzo said. "It's not fun not getting many hits as a unit. Winning cures it all. When you win it makes a lot easier."
Greene added: "Kind of waiting for that day they break out big."
So is the rest of baseball. The wait could be long.
ESPN, MLB announce seven-year extension running through 2028
ESPN and Major League Baseball announced a seven-year contract extension Thursday that will see the network carry 30 regular-season games per year plus wild-card games.
The deal, which runs through 2028, allows ESPN to show 25 weeks of Sunday Night Baseball and the MLB Little League Classic. It will also have an Opening Night game and the Home Run Derby around the All-Star Game. ESPN can show alternate versions of each game, such as the popular StatCast broadcasts on ESPN2. All telecasts will be exclusive.
ESPN currently shows one of two wild-card games. In 2022, if MLB expands to eight series, as it did in 2020, ESPN would carry the entire schedule of games. If the wild-card playoffs don't expand, ESPN would get eight more regular-season games exclusively per year.
In addition, ESPN will be able to create new MLB content for ESPN+, including highlight-driven programming. There will continue to be a game nearly every day on ESPN+, subject to local blackout restrictions, and all games on ESPN or ABC can be simulcast on ESPN+.
ESPN Radio will continue to carry regular-season games and the full MLB postseason, including the World Series. The deal also includes increased highlight rights for studio content, including digital shows like BBTN Live, and Spanish-language rights for ESPN Deportes.
"ESPN's longstanding relationship with Major League Baseball has been a driver of innovation for three decades," James Pitaro, Chairman ESPN and Sports Content, said in a statement. "This agreement solidifies baseball's ubiquitous presence across ESPN platforms, including ESPN+. The impactful collection of exclusive content, including Sunday Night Baseball which has served as the signature MLB series for more than 30 years, will be amplified by the surrounding rights we have to make these live events even bigger."
"ESPN has been one of MLB's longest and most important partners," MLB commissioner Rob Manfred said. "This extension continues the evolution of our relationship with a focus on utilizing ESPN's extensive assets to shine a spotlight on key matchups throughout the year."
Milwaukee Brewers ace Corbin Burnes sets record for strikeouts without a walk to start season
Milwaukee Brewers right-hander Corbin Burnes set the record for strikeouts without a walk to start the season Thursday, extending the record to 58 before issuing his first walk of the season in the fifth inning against the St. Louis Cardinals.
Burnes, 26, needed three strikeouts to pass the previous record of 51 strikeouts without a walk held by Los Angeles Dodgers reliever Kenley Jansen, set in 2017. Burnes struck out Dylan Carlson in the first inning and then Tyler O'Neill and Harrison Bader in the second inning to set the record.
His strikeout total reached nine for the game through the fourth inning to set another major league record — strikeouts without a walk at any point in a season. He passed Greg Maddux (53) and Gerrit Cole and Curt Schilling (56 each) on that list. Schilling achieved the feat in 2002 and Cole's streak is still active.
Burnes' streaks ended, however, in the fifth inning when he walked the Cardinals' Tommy Edman. Cole will have a chance to break Burnes' record for most strikeouts without a walk at any point in a season in his next start for the New York Yankees.
Burnes is making his first start after testing positive for COVID-19. He was asymptomatic and said he kept in shape throwing outside his apartment complex and using cardio equipment.
New York Yankees SS Gleyber Torres to miss second straight game, sources say
ST. PETERSBURG, Fla. — New York Yankees shortstop Gleyber Torres, who was held out of Wednesday night's game out of "an abundance of caution," will not play in Thursday's series finale against the Tampa Bay Rays at Tropicana Field, sources told ESPN.
The Yankees have confirmed seven cases of COVID-19 among their coaching and support staff, and manager Aaron Boone said the team was waiting for the MLB and MLB Players Association joint committee to review the results of Torres' testing.
"Essentially, the joint committee is waiting, because we've had so many tests done, waiting on some test results to still come back," Boone said before the Yankees' 1-0 victory over the Rays on Wednesday. "With all that's going on with our team, out of an abundance of caution, we're holding him out tonight."
Boone added: "I know everyone's going to read into that, but hopefully it's nothing. It's more just getting all the information."
The Yankees have said that pitching coach Matt Blake, third-base coach Phil Nevin and first-base coach Reggie Willits have tested positive for COVID-19.
Six of the seven people who have tested positive are asymptomatic, Boone said, adding that a number of test results were pending. All seven people who tested positive were vaccinated for COVID-19.
"I think one of the things we're seeing is that being vaccinated en masse like we are, we're seeing the vaccinations also kind of blunt the effects of the virus," Boone said. "I feel like in a lot of ways, because we're vaccinated, we're kind of good and able to deal with this. So there's a little bit of a frustrating part there, in all the testing that we're going to do."
All members of the Yankees' traveling party have been tested at least three times each since Tuesday.