Roll Dolphins? Miami making use of its Crimson Tide connections
MIAMI — The conversation between Miami Dolphins coach Brian Flores, general manager Chris Grier and Alabama coach Nick Saban exceeded 10 minutes as Senior Bowl players began filing out of Hancock Whitney Stadium toward the buses following a Jan. 27 practice.
The visual was striking. Flores had just finished coaching a National team practice when Saban and Grier, walking side-by-side, approached him at the 40-yard line. Upwards of 100 people — a combination of players, coaches, workers, NFL personnel and TV media members — were on the field and sidelines talking, but these three men formed a huddle seemingly in their own world.
Saban, arms crossed, appeared to do most of the speaking, though Grier and Flores were vocal. The details discussed might only ever be known by them and the turf beneath.
Maybe they discussed maximizing former Crimson Tide QB and Dolphins 2020 first-round pick Tua Tagovailoa after an up-and-down rookie season. Maybe Saban offered advice on how to execute the co-offensive coordinator system the Dolphins are implementing. Or, maybe it was an honest scouting report on Alabama prospects DeVonta Smith and Najee Harris. Perhaps all of the above?
The Dolphins love Alabama players, and they're certainly not the only ones. No team has had more prospects drafted over the past decade than Alabama (85). But over the past five drafts, the Dolphins-Alabama pipeline has become increasingly fruitful as Miami has selected four Alabama players in the top three rounds — running back Kenyan Drake (2016), defensive back Minkah Fitzpatrick ('18), Tagovailoa ('20) and defensive tackle Raekwon Davis ('20). The Dolphins took Tagovailoa (No. 5 overall) and Davis (No. 56) in the first two rounds last year, and the pipeline has a good chance to expand in the 2021 NFL draft (April 29-May 1 in Cleveland, on ESPN and ESPN the App).
In a scouting year with so much uncertainty because of the coronavirus pandemic, trusted relationships and comfort might turn the tide for Miami when it comes to tough draft decisions. The Dolphins have four picks in the top two rounds, including two in the top 20 (Nos. 6 and 18) and clear needs at positions where Alabama has top prospects. The list includes receiver (Smith, Jaylen Waddle), running back (Harris) and offensive line (center Landon Dickerson, guard/tackle Alex Leatherwood and guard Deonte Brown).
Only the New England Patriots and Baltimore Ravens have comparable or better long-standing links to Alabama than Miami does now with Grier, Flores and the rest of its staff. During Saban's tenure as Dolphins coach (2005-06) Grier was the team's assistant director of college scouting, and current co-directors of personnel — Adam Engroff and Anthony Hunt — were Miami scouts. And the Dolphins' assistant special teams coordinator, Brendan Farrell, spent six seasons at Alabama under Saban as a special teams analyst.
Ask Saban and he'll downplay the connections.
"There's no special relationship. Chris Grier does a great job — he was there when I was there," Saban said. "We have a longtime relationship, but I think he's going to make all professional decisions relative to what they need and how they evaluate our players as an organization — not just what he thinks."
That might be true, but the Dolphins-Alabama pipeline began when Grier took over as GM in 2016. Miami had gone 35 drafts (1981-2015) without selecting an Alabama prospect in the first three rounds before Grier was elevated to the lead role.
Saban's success has been a factor, as Alabama has had at least one first-round pick in every draft since 2009 — his third year as coach — showing a significant jump in talent and development after the program had zero first-round picks from 2001-08.
Another factor seems to be the arrival of Flores as Miami's coach in 2019. He doesn't have the same longstanding ties to Saban as Grier, but spent much of the past two decades working for Patriots coach Bill Belichick, who has a close friendship with Saban.
What's less glamorous but maybe as important is the relationships these Dolphins staffers have with other employees inside the Alabama program who tell them the unfiltered truth about their prospects.
Roll Fins? Selecting Smith, Waddle, Harris, Dickerson or any other Alabama prospect would mark the fifth Tide player drafted by Miami in the past six drafts.
'Slim Reaper and Hurdling Harris'
The Alabama prospects to watch early are Smith and Waddle, two of the draft's three best receivers and potential top-10 picks. Smith, in particular, appears to be a top contender for Miami's pick at No. 6 overall, along with LSU's Ja'Marr Chase and Florida tight end Kyle Pitts, as the Dolphins look for a playmaker to help Tagovailoa and the offense.
In a year with no combine, no flying prospects to your facility and minimal in-person evaluation time, the Dolphins spent nearly a week with Smith in meetings and interviews after he accepted a spot on their Senior Bowl roster despite not being able to play because of a fractured finger.
Smith is close with Tagovailoa and said at the Senior Bowl that they "talked about [how] it would be nice to run it back again" in Miami. Both came to Alabama in the same recruiting class, and as freshmen they connected on the winning touchdown in the 2018 National Championship Game.
Tagovailoa gave Miami his public endorsement for drafting Smith on CBS Sports this offseason, saying the Heisman Trophy winner's NFL transition will be "slim to none" and "they don't call him the 'Slim Reaper' for no reason."
Like Tagovailoa, Flores dismissed the lingering questions about Smith's 170-pound stature when asked at the Senior Bowl: "You can nitpick all you want about a guy's size, but good players are good players. We all can see that," Flores said. "This guy is a very good player. He made a lot of plays in college. He made a lot of plays in the biggest games of the year. … It's been good getting to know him. He's a good kid, too."
Though Chase and Pitts would be game-changing offensive weapons for Miami, it would be foolish to dismiss the prospect of the Dolphins taking Smith at No. 6.
Harris might be even more likely to land in Miami. The Dolphins are high on him, sources told ESPN, and are in the market to select a running back in the early rounds.
On The Adam Schefter Podcast, Harris said the Dolphins were one of a few teams he had great Zoom meetings with during the pre-draft process. Like Smith, Harris was a late addition to the Senior Bowl roster as he jumped at the chance to spend a week on the Dolphins' roster despite nursing an ankle injury that prevented him from playing in the game.
Harris also impressed NFL teams at Alabama's first pro day on March 23 when he drove overnight nine hours from Dallas to Birmingham, Alabama after his flight was canceled due to lightning, per Schefter. He didn't work out because of the ankle injury, but wanted to support his teammates. Teams eat that up. Harris and Smith fought through their injuries to participate in portions of Alabama's second pro day on March 30.
Harris was extremely close to Tagovailoa during their time at Alabama, but it's his eagerness to prove himself, fun, delightful personality and a well-rounded game with power and pass-catching ability that make him an intriguing option for the Dolphins at No. 18 — if they're willing to invest a first-round pick on a running back. The Dolphins haven't done so since taking Ronnie Brown No. 2 overall in 2005. They also have a pick at No. 36, but might need to get lucky to land Harris at that spot.
Beyond those three likely first-round prospects, Dickerson could be a long-term starting center if Miami is comfortable with his medicals (he suffered a knee injury in December) and can land him on Day 2 of the draft.
It's easy to picture Smith, Waddle, Harris and/or Dickerson becoming a core piece for a Dolphins team building around Tagovailoa.
Flores' next 'we got him' prospect
Flores smiled wide with exuberance, rubbing his hands together, tapping his foot and spinning in his office chair as the Dolphins selected Davis late in the second round of the 2020 draft. He later was seen on camera jovially putting his arm out, showing the defensive power that Davis has when he throws an offensive lineman in the trenches.
At that moment, Flores expressed an excitement rarely seen publicly since taking over the Dolphins in February 2019.
"I was excited to get Raekwon. We got him," Flores said then when describing his uncharacteristic show of emotion. "He's probably never seen me smile. He can go back and look at that and spend time thinking about whether it's the same guy he deals with on a daily basis."
Flores might have known something the rest of the league didn't as Davis was the Dolphins' most impressive rookie and one of the NFL's best rookie defensive lineman last season after being drafted No. 56 overall.
Is there another Alabama prospect this year who will give Flores that same sort of excitement?
"Miami, Baltimore, New England all have a tight pipeline connection with Bama players," ESPN draft analyst Mel Kiper Jr. said. "Trusting what Nick says about a player, knowing they are being coached as well as anybody else and treated as NFL players in meetings and practice is very important."
Added ESPN draft analyst Matt Miller: "Saban talked about it a while ago like, 'Why don't coaches call and ask me about my players? It's only a few guys who do it.' It's easy to figure out who those guys are. When you draft Alabama, you know there's less projection, so I think it's easier to just plug them right into what you're doing."
If the war room cameras show Flores grinning ear-to-ear with excitement once again or Grier flashing a wide smile on draft day as the Dolphins select another Alabama player, we may wonder if that January on-field conversation with Saban and subsequent conversations with other Tide sources played a small role in leading them to their favorite pipeline again.
Denver Broncos add Minnesota Vikings' Kelly Kleine to front office in historic scouting hiring
The Denver Broncos have hired Kelly Kleine as the executive director of football operations and special advisor to general manager George Paton, the team announced Monday.
Kleine, 30, is believed to be the highest-ranking female scouting executive ever with an NFL team.
"Kelly is a rising star in the NFL, and we're fortunate to add someone of her caliber to the Denver Broncos," Paton said in a statement announcing the news. "Having worked with her for nine years in Minnesota, Kelly has a strong understanding of all aspects of football operations and player evaluation along with outstanding leadership qualities. She will be a tremendous resource with her experience on the pro and college sides as well as her knowledge of our grading scale and football calendar."
Kleine will be the primary liaison for the team's football operations and oversee various areas of the pro and college scouting departments, including player evaluation and preparation for the NFL draft and free agency. She will also oversee the Broncos video and equipment departments.
Kleine spent 10 seasons in Minnesota where she most recently served as the manager of player personnel and was also a college scout. The Wisconsin native got her start in the NFL as a public relations intern with the Vikings in 2012, while finishing her undergraduate degree at the University of Minnesota. She entered the scouting department as an administration intern in 2013 before becoming a scouting assistant in 2014 before being promoted to the team's college scouting coordinator from 2015-18.
As the manager of player personnel/college scout, Kleine scouted the Midwest region and was the liaison between all off-site scouts and the front office. Her job in scouting carried operations responsibilities in Minnesota where she scheduled and facilitated predraft visits as well as interviews for the Vikings at the annual scouting combine.
Miami Marlins CEO Derek Jeter sells mansion Tampa Bay Buccaneers QB Tom Brady has been renting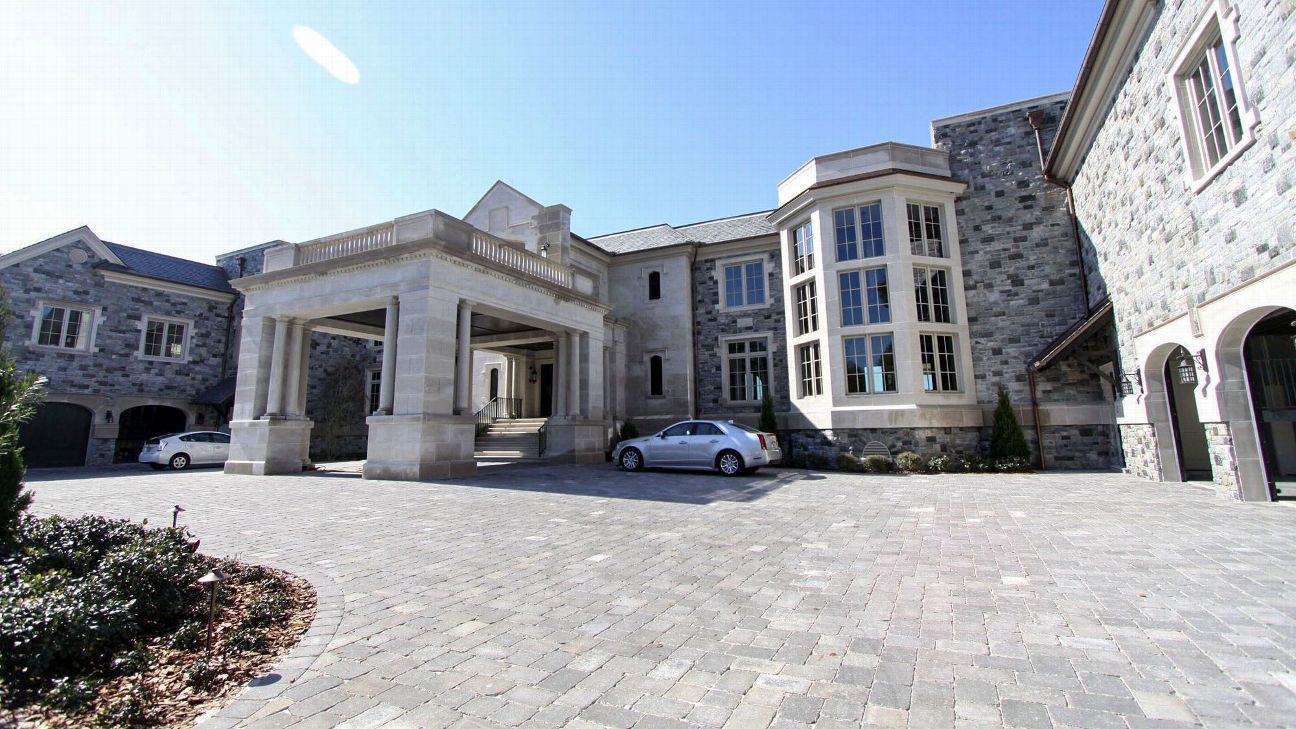 TAMPA, Fla. — Former New York Yankees superstar Derek Jeter has sold his waterfront mansion in Tampa for $22.5 million — meaning Tom Brady might be headed to new rental digs.
The seven-bedroom, eight-bath estate was sold on Friday, said Smith & Associates, the real estate firm that handled the transaction. The firm did not disclose the buyer and the sale had not yet been recorded Monday by Hillsborough County, a process that can take several days. The home had been listed at $29 million.
The baseball hall of famer lived in the home part-time until his retirement after the 2014 season. He and his family moved across Florida after he became a part-owner and CEO of the Miami Marlins in 2017.
Brady has been renting the mansion since April 2020, shortly after the star quarterback signed with the Tampa Bay Buccaneers after leaving the New England Patriots. He and his wife, supermodel Gisele Bündchen, recently purchased land on an exclusive island off Miami to build a home there. Brady led the Bucs to a Super Bowl title in February.
Jeter bought the property in 2005 for $6.3 million, razed the homes that were there and built the 22,000-square-foot replacement, which has a wine cellar, movie theater and air-conditioned six-car garage.
Smith & Associates Realtor Stephen Gay told the Tampa Bay Times that Brady and Bündchen were accommodating and didn't turn down any requests to get the property "show-ready" for a prospective buyer.
Cowboys rookie Micah Parsons hitting the ground — and sled — running – Dallas Cowboys Blog
FRISCO, Texas — As he stepped toward the blocking sled Friday, the sound of metal on metal made a screeching noise Micah Parsons has been used to hearing ever since he started playing football, but it had been a long time since he heard it.
"Last time I hit a sled?" the Dallas Cowboys' rookie linebacker asked himself, repeating the question as the thoughts went through his head. "Cotton Bowl practice."
That was the 2019 Cotton Bowl at AT&T Stadium, when Penn State beat Memphis on Dec. 28. Figure it was a few days earlier than that game when Parsons last punched the sled with any kind of ferocity.
"The first rep we got the rust off," Parsons said. "The second rep was like, 'I'm back now. That is how it is.' We just wiped the dust off."
Parsons opted out of the 2020 season, focusing on the 2021 NFL draft as the coronavirus pandemic nearly ended the college football season.
Despite not playing in a year, Parsons was drafted by the Cowboys at No. 12 overall in part because of how well he played in that Cotton Bowl — 13 tackles, two sacks, three pressures in 79 snaps (all career highs) as well as a forced fumble — and his versatility, which made him one of the top prospects available.
Parsons' job now is to get accustomed to football after a layoff, while learning a new team, defense, playbook and city. He will work primarily at middle linebacker.
"They wouldn't move me there if they didn't have a need at Mike," Parsons said. "Mike linebacker, you get a chance to force. You get to be a Rambo player. You can match up on running backs. You get a chance to play in the box. That is what I do best. You watch what I did in college, I was able to go sideline to sideline. I can go both ways, always be around the ball. They know that is what I do best. I am excited to start there."
But it won't be his only position.
"The thing that I see from the linebacking crew, uniquely, is pressure," Cowboys owner and general manager Jerry Jones said. "Pressure. We know that Jaylon [Smith] can get some pressure, but I could see that group really being a big part of the plan to pressure. Generally, that was the key thing that we were looking at as far as the fit for us, weighing the pressure perspective."
Parsons, who will turn 22 on May 26, was the Cowboys' top-rated defensive player on their draft board, ranked fourth overall. He had 6.5 sacks at Penn State.
"There are third-down packages I am going to be in," he said. "On first and second down, I am going to be in the box. On third down, they are going to find a way to get me to the quarterback, which I am excited about. I think [Dan Quinn] is a great coordinator. One of the best ones. He gets his best players on the field and [in] position to make plays and I have full faith in him."
First day out !! Felt amazing to be back in that blue and white! It's going to be special here! 💙 https://t.co/slt0lXUobF

— Micah Parsons (@MicahhParsons11) May 14, 2021
With the Green Bay Packers, coach Mike McCarthy had two first-round linebackers contribute right away. In 2006, A.J. Hawk, the No. 5 overall pick, had two interceptions, seven pass deflections, one forced fumble and 3.5 sacks. In 2009, Clay Matthews, the No. 26 overall pick, was named to the Pro Bowl after recording 10 sacks.
McCarthy said how much the coaches put on a player is "an individual situation," but during the evaluation process, the scouts and coaches want to make sure a player can do at least two jobs. Since 2006, NFL defenses have evolved in which there are more packages available to defenses and players with specific roles.
"The most important thing is to get him grounded into the inside, both the Mike and the Will [weak-side linebacker], starting with the communication responsibility," McCarthy said.
Parsons is not even a week into his first time stepping on the practice field at The Star, but he is not worried about having too much to learn. With so much downtime after workouts and practice, he spends about an hour every night going over his playbook and film.
"It's the same coverages, different terminology. That just comes with football IQ. You've got to be a smart football player," Parsons said. "I wouldn't say it's a lot. I'm just learning how they reference their plays and a bunch of their adjustments. … Penn State ran a lot of similar plays to them. They just got different names to them and different adjustments. That's all it is, and I think the coaches are doing a great job in catching me up and getting me ready."