Attorney says client mistook Rams' Aaron Donald for attacker, apologizes
The attorney representing De'Vincent Spriggs, the man who accused Los Angeles Rams defensive lineman Aaron Donald of assault earlier this week, is now offering an apology to Donald on behalf of his client.
Attorney Todd J. Hollis told Pittsburgh television station KDKA on Friday evening that Spriggs mistook his attacker outside a Pittsburgh-area nightclub for Donald.
The apology comes on the same day when an attorney hired by Donald refuted Spriggs' claim that Donald was involved in the assault. Casey White, Donald's attorney, told ESPN on Friday morning that Spriggs swung a bottle at Donald that grazed his head as he ducked, before other people surrounding Donald stepped in.
"As he ducks, somebody from behind grabs him to stop him from interacting with this guy, Mr. Spriggs, so he holds Aaron back in a sense," White said. "At that point, that's when other people come to Aaron's aid and defend him by removing, so to speak, Mr. Spriggs from the area where he is punched and he is fighting; it's a mutual fight at this point between other individuals who Aaron does not really know."
White said they have obtained at least five witness accounts and have others who have come forward willing to provide statements. White also said that video surveillance from the area did not show Donald assaulting Spriggs and that Donald eventually helped pull people away from Spriggs.
"Aaron actually runs over to [Spriggs'] aid and starts pulling people off of this guy," White said. "He's trying to get these kids off Spriggs. He gets at least two or three people off of Spriggs, and at that point in time, somebody grabs Aaron and says, 'This is not a good situation, let's get the heck out of here.'"
Hollis had filed a criminal complaint on behalf of Spriggs with Pittsburgh police on Wednesday, saying his client needed 16 stitches and suffered a broken orbital bone, a broken nose, a concussion and a sprained or broken arm.
The alleged attack occurred around 3 a.m. Sunday, Hollis said, and the attorney released a photo that showed Spriggs with facial injuries and swelling.
According to Hollis, Spriggs accidentally bumped into Donald and an incident ensued inside the nightclub that caused both parties to be asked to leave. White said Spriggs dug his elbow into Donald's back, which Donald initially brushed off, thinking it likely was someone he knew.
"He turned around, and it's this Mr. Spriggs … and Aaron goes, 'What's up?' and Mr. Spriggs starts yelling belligerently, 'Did I mean to? Did I mean to?' He keeps repeating. It's kind of nonsensical, but he keeps yelling, 'Did I mean to?' It's apparent to Aaron and it's apparent to all the witnesses that [Spriggs] is intoxicated," White said.
White said Spriggs was then escorted out of the establishment, which he described as "a private party in somebody's apartment" above a business-bar area. According to White, Donald and a colleague left the party shortly after, where they encountered Spriggs in the back alleyway off the exit.
Prior to the apology Friday, the Rams had previously released a statement saying they were aware of the reports regarding Donald, who is a three-time NFL Defensive Player of the Year and seven-time Pro Bowl selection with 85.5 career sacks.
Donald, 29, is a Pittsburgh native and was a star college player at Pitt, where he often trains during the offseason. The Rams selected Donald with the 13th overall pick in the 2014 draft. He is in the midst of a six-year, $135 million extension.
Green Bay Packers 'committed' to Aaron Rodgers, not trading him, GM says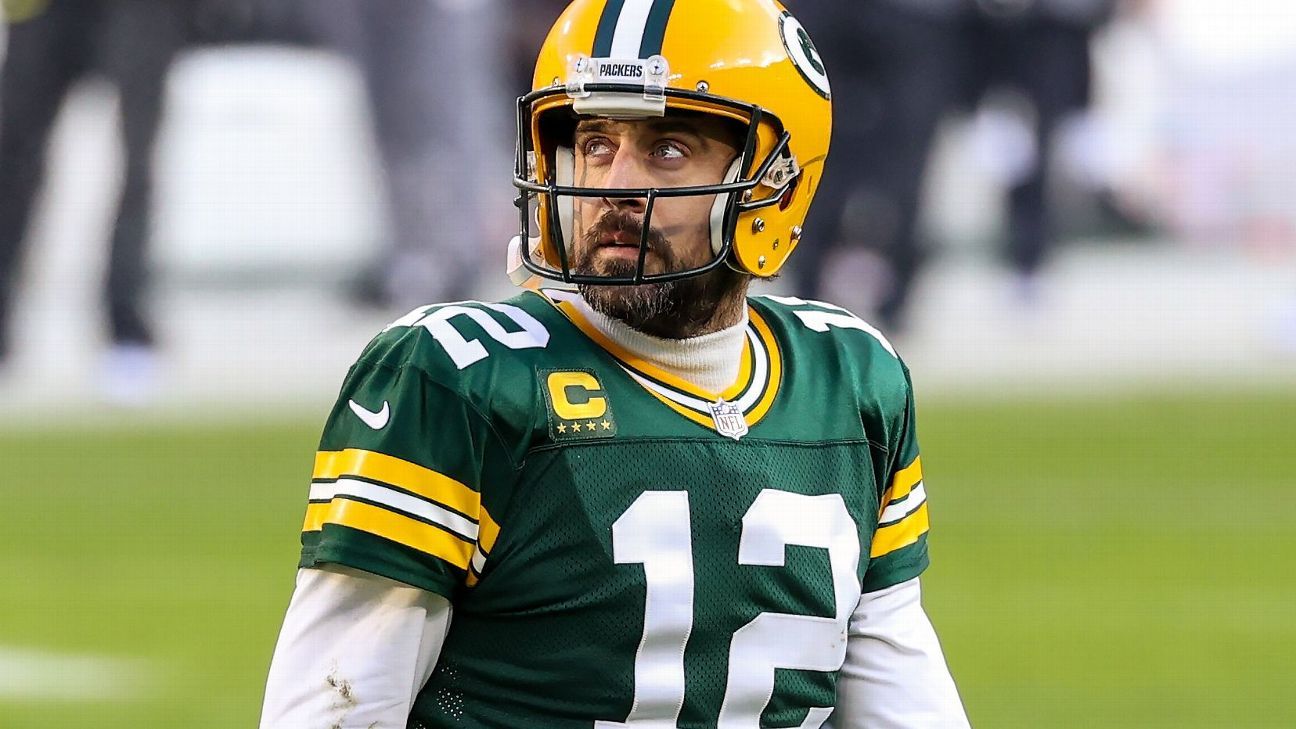 GREEN BAY, Wis. — The Green Bay Packers still believe Aaron Rodgers will play for them in 2021, and perhaps beyond. They have no plans to trade him.
That was general manager Brian Gutekunst's message late Thursday night following the first round of the NFL draft, which came after sources told ESPN's Adam Schefter earlier in the day that Rodgers has become so disgruntled with the team that he has told some members of the organization he does not want to return to the Packers.
"We've been working through this for a little while now, and I just think it may take some time," Gutekunst said. "But he's a guy that kind of makes this thing go. He give us the best chance to win, and we're going to work towards that end."
Rodgers, 37, is under contract through the 2023 season but has no more guaranteed money left on his deal. Gutekunst said the lines of communication with Rodgers and his representatives have been open throughout the offseason, and the two sides spoke again Thursday.
Gutekunst, a fourth-year general manager, denied that the Packers ever told Rodgers they would trade him and reiterated that they have no plans to do that.
"We're not going to trade Aaron Rodgers," he said.
Gutekunst said he did not speak with San Francisco 49ers general manager John Lynch on Thursday about a deal for Rodgers. Lynch told reporters Thursday that the 49ers "inquired" about Rodgers, but he did not say when that took place and added, "It was a quick end to the conversation; it wasn't happening."
Gutekunst said it wasn't like the phones were ringing off the hook at Lambeau Field after the news of Rodgers' unhappiness broke.
"Sometime after 5 o'clock, after a lot of the stuff had kind of hit the airwaves, I got I think one call," Gutekunst said. "It was very brief, and that was it."
Earlier this offseason, the Los Angeles Rams reportedly called to inquire about Rodgers' availability via trade before they dealt for Matthew Stafford.
"I'm not gonna confirm that," Rams GM Les Snead said Thursday. "But I don't think he was ever available."
Part of Rodgers' unhappiness stems from last year's draft, when the Packers did not inform him of their decision to trade up and draft his potential replacement, Jordan Love, at No. 26 overall, sources told Schefter.
"I certainly look back to last year's draft and just kind of maybe some of the communication issues we could have done better," Gutekunst said. "There's no doubt about it. The draft's an interesting thing. It can kind of unfold differently than you think it's going to unfold, and it happens pretty fast. But certainly, I think, looking back on it sitting where we sit today there could have been some communication things we did better."
Despite being rebuffed by Rodgers in their attempts to extend his contract, the Packers still believe they can convince him to come around. They brought back all but two starters from their 13-3 team that reached the NFC Championship Game for the second straight season.
"I'm not going to speak for Aaron, but I think obviously we have a really good team and I do think he'll play for us again," Gutekunst said. "And like I said, we're going to work towards that and we've been working towards that on a number of different fronts. The value that he adds to our football is really immeasurable, you know what I mean? He brings so much to the table not only as a player but as a leader. He's so important to his teammates, to his coaches, so yeah, that's the goal.
"I think we obviously have a very good football team here, we have a great organization, we're very committed to him and I think as the lines of communication have been open, I'm just optimistic that that's what's best for the Green Bay Packers and I truly believe that's what's best for Aaron Rodgers, as well."
Gutekunst was the only member of the Packers' organization to speak to reporters on Thursday after they drafted Georgia cornerback Eric Stokes at No. 29 overall. Coach Matt LaFleur is scheduled to take questions following the draft on Saturday.
"I think it's like everything in this business, look, I don't think anything ever surprises you," former Packers coach and current Cowboys coach Mike McCarthy said on Thursday. "And things like that go on, conversations I think are always going on when it comes to player acquisition. Obviously no one knows the impact that Aaron Rodgers has made on the Green Bay Packers (more than McCarthy) but, yeah, I haven't given it much thought. Obviously I didn't see anything happen today, so … good news story."
Gutekunst wouldn't put a deadline on when the Rodgers' situation needs to be resolved for it not to impact the 2021 season.
"It's kind of a hypothetical and it's kind of, like I said, our desire is to have Aaron as our quarterback leading this team and competing for championships," he said. "So, it's a little bit hypothetical, so we'll get to that. We'll cross that bridge when we get to it."
ESPN's Todd Archer and Lindsey Thiry contributed to this report.
New England Patriots pick Alabama Crimson Tide QB Mac Jones with No. 15 pick in NFL draft
The New England Patriots selected quarterback Mac Jones with the 15th pick in the NFL draft on Thursday night, hoping they've found their franchise signal-caller one season after Tom Brady's free-agent departure.
The Patriots entered Thursday not knowing if they would have a chance at Jones, who had been widely rumored to be a top candidate for the San Francisco 49ers with the third overall pick. But when the 49ers selected North Dakota State's Trey Lance, it opened the door for a Jones-Patriots pairing, especially after the Chicago Bears traded up to No. 11 to select Ohio State quarterback Justin Fields.
Jones was asked on the ESPN broadcast what the roller coaster was like as he had to wait until No. 15 to be selected.
"It was fine. I mean, you just sit around and wait and I'm just so blessed to be a part of a great organization, and it's not really where you get picked — it's what you do with the opportunity and that's what [Alabama] Coach [Nick] Saban told me, so I'm just gonna follow that," he said.
Later, in a videoconference with reporters, Jones said the Patriots were the team he "secretly" wanted to be selected by.
"At the end of the day, you kind of want to get the right fit. I feel like, secretly, I really wanted to go to the Patriots all along. So I'm actually really happy it happened," he said.
The Patriots, who went 7-9 last season and missed the playoffs for the first time since 2008, have returning starter Cam Newton, 2019 fourth-round pick Jarrett Stidham and practice-squad player Jake Dolegala at quarterback.
Head coach Bill Belichick addressed the team's quarterback situation, saying, "Cam's our quarterback. Whatever time Jarrett or Mac are ready to challenge and compete, then we'll see how that goes."
Jones said Newton earned the respect of his teammates in New England by being voted a captain, and added that he had enjoyed watching Stidham at Auburn. He said both will be role models to him, adding, "I'm just going to go behind them, and learn how they did it."
Of Newton, he said: "It's his show, and I'm just there to support him and help out the team in whatever way I can."
Belichick and offensive coordinator Josh McDaniels attended Jones' second pro day in Alabama on March 30. Jones likely came with a high recommendation from Saban, who is one of Belichick's closest friends and trusted confidants.
The 6-foot-2 and 217-pound Jones entered the draft after his redshirt junior season, and he didn't make his first career start until late in 2019 when Tua Tagovailoa was injured. He then beat out five-star freshman Bryce Young for the starting job in the summer of 2020, going on to throw for 4,500 yards and 41 touchdowns to help Alabama win the CFP national championship.
Jones played his best in the highest-stakes game, going 36-of-45 for 464 yards and five touchdowns in the title game against Ohio State. That set career highs for completions, attempts and passing yards.
Jones, whose accuracy and decision-making are considered top assets, totaled just four interceptions last season while completing 77.4% of his passes (an NCAA single-season record). He was one of Alabama's permanent captains in 2020. He graduated in three years with a 4.0 GPA in business communications and earned a master's degree in sports hospitality.
The Patriots selected quarterback Tony Eason with the 15th pick in the 1983 draft. Eason, Dwayne Haskins (2019, Washington) and Marc Wilson (1980, Raiders) are the only other quarterbacks to be selected in that slot.
Jacksonville Jaguars take former Clemson Tigers stars Trevor Lawrence and Travis Etienne on Day 1 of NFL draft
The wait is over. Trevor Lawrence is finally the Jacksonville Jaguars' quarterback, as the club selected him with the No. 1 overall pick in the NFL draft on Thursday night.
The pick ended a process that began last December when the New York Jets' Week 16 upset of the Cleveland Browns gave the top selection to Jacksonville.
"Pretty surreal," Lawrence told ESPN's Marty Smith on the draft telecast from Seneca, South Carolina, shortly after being picked. "Obviously this has been the dream for the past few years. And like I've said, I didn't even dream this as a kid, so [it's] really special and just having all the people that I care about here watching, it's really hard to explain.
"I was super nervous before and just am so excited to be a part of the Jacksonville community. … I'm super excited to be coming to Jacksonville and play for you guys and can't wait to go to work."
Later in the draft, the Jaguars added Lawrence's former Clemson teammate Travis Etienne when they drafted the running back with the 25th overall pick. Before Thursday, the Jaguars had taken only one Clemson player via the draft in team history: Defensive end Andre Branch in 2012.
Make no mistake: There's a ton of work to do. The Jaguars were 1-15 last season, have lost 10 or more games in nine of the past 10 seasons, and made the playoffs just once since 2007. The offense has been one of the worst in the NFL in the past decade: The Jaguars have ranked 30th or worse in points scored, yards per game, red zone efficiency, third-down conversion percentage, completion percentage and passer rating over that 10-year stretch.
Clemson coach Dabo Swinney has no doubt Lawrence can handle the pressure of turning the franchise around. Lawrence was the No. 1 recruit in the nation, followed Deshaun Watson at Clemson and won a national title as a freshman. He's also lost just four games as a starting quarterback since he entered high school.
"This'll be a very easy transition," Swinney said. "He's well prepared. What he's stepping into, the expectations, all those things, that's his normal and it has been for a long time. He's built the right way. … He is the epitome of consistency and if you know anything about Urban Meyer he values consistency and toughness."
Lawrence was 34-2 as a starter for the Tigers — the fifth-best winning percentage by a quarterback with at least 30 starts in FBS history. He never lost a regular-season game and threw for 10,098 yards and 90 touchdowns with only 17 interceptions, and he ran for 231 yards and 18 touchdowns.
"I'm not expecting anyone to hand me anything," Lawrence said. "I want to come in there and earn the respect and trust of my teammates and the right to lead the team.
"… My mindset always going in is I'm going to earn anything that I get."
Owner Shad Khan hired head coach Urban Meyer, who won national championships at Florida and Ohio State, in January to fix the mess. The hope is that the selection of Lawrence, along with Meyer's hiring, will end the franchise's prolonged struggles and culminate with the Jaguars' first Super Bowl appearance.
"You've got two great winners," Swinney said. "Urban Meyer is a great winner and Trevor Lawrence is a great winner, and I think that's going to lead to great things."
The Jaguars have been searching for a franchise quarterback since Mark Brunell led the team to a pair of AFC Championship Games in the first five years of the team's existence. Brunell was Jacksonville's primary starter through the 2002 season and still is the franchise's leader in attempts, completions, passing yards and passing touchdowns.
The Jaguars have drafted three previous quarterbacks in the first round: Byron Leftwich (seventh overall in 2003), Blaine Gabbert (No. 10, 2011) and Blake Bortles (No. 3, 2014), the only one of those three to win a playoff game.
As for drafting Etienne, Meyer said he was looking to add speed.
"The idea of offense is you can create matchup nightmares, and I've had some good fortune over the years to have a guy that can do both, flex out [and carry the ball]," Meyer said. "[Etienne] is as good outside as a receiver as he is as a running back. High-end character guy that has elite speed."
Urban added: "We'll find out, but he's a piece of the puzzle that's kind of hard to come by."
Meyer also lamented the Jaguars' lack of big plays on offense in 2020 — they had 16 combined rushes of 20 or more yards and receptions of 30 or more yards — and general manager Trent Baalke said getting better there was an offseason priority. Lawrence and Etienne are a good start.
"It's hard to have 14, 15, 16-play drives in the National Football League," Baalke said. "You've got to be able to flip the field. You've got to be able to score from every level of the field. The only way you can do that is to add explosive players, and we feel Travis is one of those."