Report — Complaints against New York Mets staffers dismissed; two more accused of inappropriate actions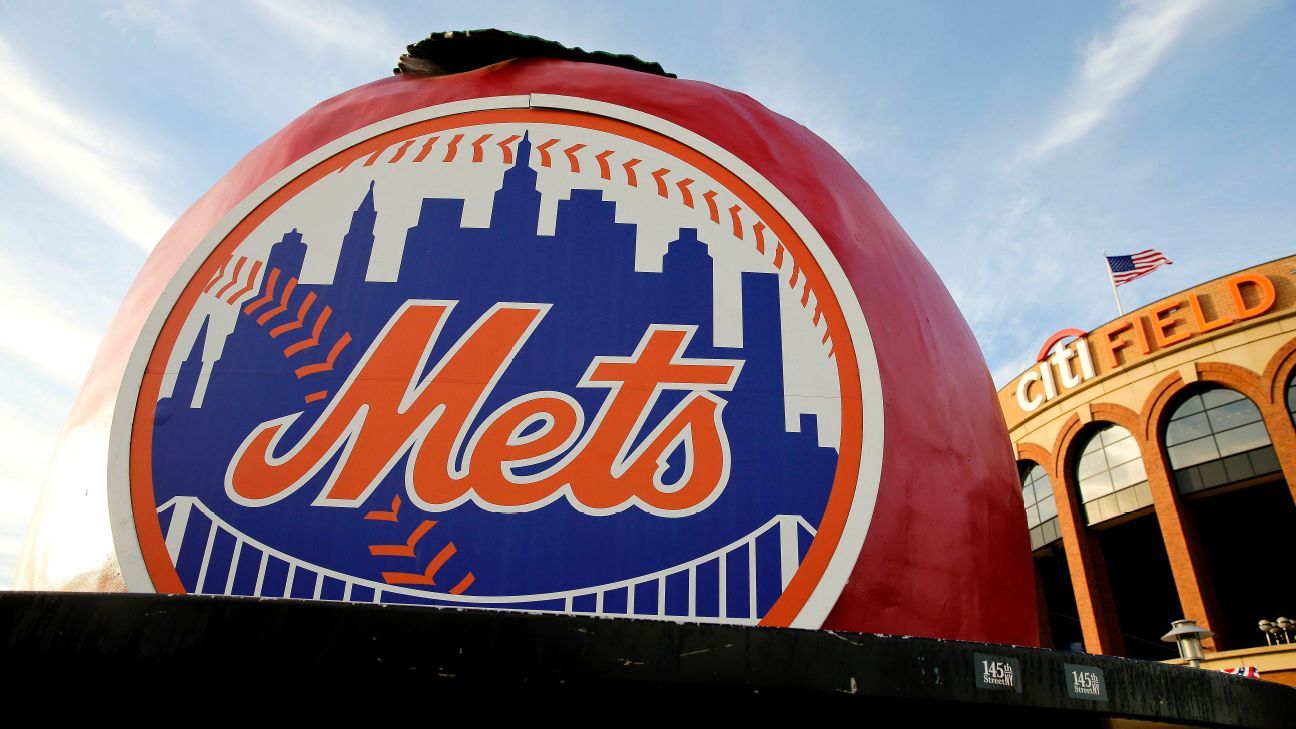 Multiple employees within the New York Mets organization say their complaints about inappropriate workplace behavior were not acted on, according to a report from The Athletic.
The report also details allegations of inappropriate conduct or sexual harassment by Mets chief marketing, content and communications officer David Newman — who was rehired by the team last year — and former marketing staffer Joe DeVito.
More than a dozen people, men and women, told The Athletic that Mets senior vice president of human resources and diversity Holly Lindvall was aware of complaints of harassing language and actions without action being taken against the perpetrators, which included sexist comments by former owner Jeff Wilpon and former manager Mickey Callaway. The people told The Athletic they felt Lindvall would rather keep ownership happy than investigate their complaints.
"It was clear that her interest was protecting ownership and executives and not the office as a whole," one former employee told The Athletic. "You could not go to HR to feel protected, comfortable, anything."
Newman, who is accused of making inappropriate comments about women's appearances while with the team from 2005 to 2018, told The Athletic that he didn't recall making such comments. Newman was rehired to his current position in November.
DeVito allegedly sent inappropriate text messages to women and gave one woman an unsolicited back rub. He resigned from his position in March, saying he wanted to reassess his career, but told The Athletic in an email that he "won't dignify the allegations you are hearing with a response except to say I've always tried to be a gentleman with everyone with whom I work and with whom I'm involved with personally."
Team president Sandy Alderson, who rehired Newman, told The Athletic that the portrayal of how the Mets handled allegations was unfair.
"Let me try to make a point as strongly as I can, OK? Not every instance involving men, women in the workplace is a capital offense, OK? Every time something happens, it doesn't mean somebody has to be fired," Alderson told The Athletic. "There are a lot of intermediate steps that can be taken, and we've done that in a variety of different cases. And have included capital punishment as a consequence in some cases, but not every case rises to the level of execution. And that's what honestly I think is happening with these articles."
The allegations are part of an ongoing pattern of inappropriate behavior within the Mets organization. Other people named in previous allegations include former general manager Jared Porter, who was fired in January for explicit texts and images sent to a female reporter; former hitting performance coordinator Ryan Ellis, who was also dismissed in January over lewd comments; and Callaway, who was accused of sending inappropriate text messages, among other actions.
Lindvall defended how the Mets have handled complaints.
"We have always had a strict policy prohibiting workplace harassment and discrimination, and have thoroughly and objectively investigated any and all complaints that were brought to our attention," Lindvall wrote in an email to The Athletic. "Where our investigation confirmed that misconduct occurred, we have always taken swift and appropriate action to remedy it."
In March, owner Steve Cohen announced in a teamwide email that a law firm had been hired to investigate the Mets' workplace culture, focusing on sexual harassment, misconduct and discrimination issues. A copy of that email was previously obtained by The Athletic.
Los Angeles Angels' Joe Maddon 'would have no objections' to Shohei Ohtani hitting and pitching for AL in All-Star Game
Shohei Ohtani leads American League designated hitters in All-Star Game fan votes by a wide margin. But the Los Angeles Angels' two-way sensation also is putting together a spectacular season on the mound, creating the possibility of Ohtani both pitching and hitting at Coors Field in Denver on July 13.
Angels manager Joe Maddon, who has made it a point to ease most of Ohtani's prior restrictions, wouldn't be against it.
"Just depends on his day," Maddon said Monday. "It's just an inning, and I know that if he's able to do that, I would have no objections to it. His schedule's been great, the number of innings pitched, how many pitches he's thrown I think is in really good order. I don't see a dramatic spike between now and then. It would just be how he feels and what he thinks about it. I think that would be the way to determine that.
"The fact that he's such an unusual participant, definitely would like to hear what he has to say about it."
Ohtani (2-1), who has been better about consistently throwing strikes in recent weeks, has a 2.85 ERA with 68 strikeouts and 28 walks in 47⅓ innings through his first nine starts. He also entered Monday with a .961 OPS and 17 home runs, the latter tied for fifth most in the majors.
Ohtani, 26, had accumulated 526,608 votes in the first ballot update, nearly double the total by Boston Red Sox designated hitter J.D. Martinez (293,757). Ohtani's teammate, Mike Trout, easily led AL outfielders with 706,503 votes despite not playing since May 17 because of a calf strain. Maddon said Trout is progressing well but is still "at least another month" away from returning off the injured list, tracking him toward the back end of the initial six- to eight-week timetable.
Trout is unlikely to return to the Angels until the season's second half, making it "a stretch" that he appears in the All-Star Game, Maddon said. But Ohtani is on track to do so. And given his prodigious power, Ohtani also would be an obvious candidate for the Home Run Derby — if the workload isn't too much of a concern for a player who already takes on such a large burden.
"I'm not as against that as others," Maddon said of the Home Run Derby. "I just don't like it when it becomes never-ending. There's gotta be a more finite method of doing this. It is exhausting, it can be exhausting. But, again, that would be something that I would wanna ask him how he felt about it. He would be honest. I don't think this is something you wanna attempt to force him to do or not to do. Just like we've been dealing with it the entire year — that would be a conversation."
Tyler Glasnow of Tampa Bay Rays leaves start with right elbow inflammation
CHICAGO — Tampa Bay starter Tyler Glasnow left Monday night's game against the Chicago White Sox after four innings with right elbow inflammation.
Glasnow allowed two runs on three hits and left with Tampa Bay leading 3-2 in a matchup of teams that entered with the two best records in the majors. The 6-foot-8 right-hander walked one and struck out six, throwing 40 of 53 pitches for strikes.
He was replaced by Ryan Thompson in the fifth.
The 27-year-old Glasnow is 5-2 with a 2.66 ERA this season and is 10-2 over his past 21 starts dating to Aug. 12, 2020.
MLB players caught with any foreign substance to face 10-day suspension, sources say
Major League Baseball is expected to announce Tuesday it will suspend players caught with any foreign substance for 10 days with pay to help curtail the widespread use of grip enhancers by pitchers around the league, sources familiar with the plans told ESPN.
The league will distribute a memo to teams, which have been briefed on the broad strokes of the policy change, that outlines its plans to penalize all players caught by umpires with any foreign substance on their person, from the widely used sunscreen-and-rosin combination to Spider Tack, an industrial glue that has become a favorite among pitchers who want to generate more spin on the ball.
The liberal interpretation of Rules 3.01 and 6.02(c), which ban the use of foreign substances, would discipline all substances the same. While there is a "broad consensus among players that Spider Tack is over the line," a high-ranking person on the players' side told ESPN on Monday, the full ban of all grip agents could rankle players. A longtime umpire told ESPN the hard line is vital as he and his brethren attempt an on-the-fly enforcement of a rule that for years has been ignored.
However significant players' reliance on sticky stuff has become, however responsible teams and the league were for enabling another cheating scandal to burrow its way into baseball, the efforts to rid the game of grip enhancers have arrived and will begin in earnest June 21, sources said.
Until then, players will continue trying to unlearn years of using various substances. Some teams already have asked pitchers who relied heavily on foreign substances to throw bullpen sessions without any grip enhancers to prepare for the future, two players and an official told ESPN. Teams recently received reports from the league of pitchers on their team that had been caught using substances, two general managers told ESPN.
That sort of preparation portends a change that already has taken root. Multiple pitchers, who asked for anonymity to avoid any punishment from the league, told ESPN they either have stopped using foreign substances altogether or shifted from Spider Tack to pine tar — from a relatively new and controversial product to one whose place in baseball dates back decades.
Between the impending memo and the climate of baseball seemingly growing colder to foreign substances since umpire Joe West forced St. Louis Cardinals pitcher Giovanny Gallegos to remove his hat May 26 because of one, the issue of sticky stuff — and how to solve the consequences it causes — remains at the game's forefront. From debates about the morality to discussions about a league that hasn't issued a foreign-substance suspension in more than six years suddenly primed to levy multiple to the acknowledgment that a starting pitcher could essentially lose only one start over 10 games, conversations about the league's plan have grown spirited.
Multiple players said they were hopeful that MLB would differentiate among the substances and buy time before the potential issuance of a legal, universal substance pitchers can use for grip. While MLB has explored creating such a product, it has yet to formulate one that serves as a grip enhancer while not being a performance enhancer. Between the grip issue and the league changing the composition of the ball itself this winter, players said they hope to have more input in the future.
Asked for comment on the pending memo, the MLBPA said in a statement "The Players Association is aware that Major League Baseball plans to issue guidance shortly regarding the enforcement of existing rules governing foreign substances. We will communicate with Players accordingly once that guidance has been issued. We anticipate future discussions with the League regarding on-field issues, including the foreign substance rules and the baseballs themselves, as part of ongoing collective bargaining. Our continued focus will remain on fundamental fairness and player health and safety."
Through a spokesman, MLB declined comment.
While the sample is small, the league-wide batting average since June 3 — when the first reports about the league's crackdown surfaced — is .247, a substantial jump from the .236 to that point in the season. The league-wide spin rate on fastballs is down substantively, too, a sign that already some pitchers have stopped using foreign substances altogether — or at least switched grip agents.
The use of foreign substances in baseball dates back well over a century, though the sticky-stuff scandal is especially modern. With the knowledge that four-seam fastballs that spin more drop less, high-RPM fastballs at the top of the strike zone became a go-to pitch across the game. Meanwhile, the massive RPMs generated on breaking balls caused them to have never-before-seen movement.
Baseball, which started studying the use of foreign substances at the beginning of the season, determined two months into the season that it had ample evidence and reason to penalize foreign-substance use this season. The onus for that will start with umpires, who are expected to check players between innings for substances on the uniforms as well as their hands.
Over the next week, players, teams, umpires and the league will get to process the specifics and prepare for baseball's next iteration: one without foreign substance and with questions about just how realistic that may be.