Houston Texans GM Nick Caserio says team 'respectful of the legal process' surrounding Deshaun Watson
HOUSTON — In his first news conference since the first lawsuit was filed against Deshaun Watson, Houston Texans general manager Nick Caserio said the team is "respectful of the legal process" and that he doesn't have "any comment" on the situation.
In the past month, 23 lawsuits alleging inappropriate behavior and sexual assault have been filed against Watson. One of the lawsuits was dropped earlier in the week by a plaintiff "for now," according to court documents.
"I know [Texans CEO] Cal [McNair] and ownership put a letter out a few weeks ago just relative to the organization's stance, relative to where we are," Caserio said. "So I don't have anything to add other than it's a legal process. We're respectful of the legal process and where that is. So we're focused on today. We're focused on getting ready for the offseason program and getting ready for the draft, so that's where our focus is."
In a letter to Texans season-ticket holders on April 5, the McNair family addressed the civil lawsuits and a complaint filed with the Houston Police Department against Watson, saying, "We want to assure you that we take these allegations very seriously.
"While we await the conclusion of these investigations, we express our strong stance against any form of sexual assault," the letter reads. "Our family and the entire Houston Texans organization are deeply troubled by any form of abuse and we condemn this type of behavior."
Caserio was asked about potential contingency plans at quarterback on Friday, but said he wasn't going to think that far down the road.
"We're not going to really get into a lot of hypotheticals and a lot of speculation," Caserio said. "I'm not really good at that. Maybe somebody else is better at that than me. If you want to speculate, you should probably buy bitcoin and focus on that. So we're just going to focus on the things we can control, which is kind of getting ready for the draft and trying to take advantage of the opportunities to add to our team and build our roster."
In a statement last week, NFL spokesperson Brian McCarthy called the allegations against Watson "deeply disturbing," noting, "we take these issues very seriously."
McCarthy said that the league launched an investigation under its personal conduct policy last month after the first allegations and that the NFL is "continuing to closely monitor all developments in the matter."
Dr. Laurent Duvernay-Tardif says watching Kansas City Chiefs kept him 'grounded' while working pandemic front line
KANSAS CITY, Mo. — While opting out of last season during the pandemic to work in a long-term care facility more than 1,000 miles from Kansas City and across an international border, Laurent Duvernay-Tardif had one thing to connect him to the Chiefs: watching their games on TV.
"Being able to watch the Chiefs on Sunday was kind of the thing that was keeping me grounded," Duvernay-Tardif said after Tuesday's mini-camp practice, his first work with the Chiefs in more than a year. "It was fun. It was fun to watch my teammates, fun to stay in touch with them as well throughout the season, even though I wasn't there. I don't regret my decision. I was in the right place at the right moment and I was able to put my medical training to use."
Duvernay-Tardif, a doctor, started at right guard for the Chiefs in February 2020 in their Super Bowl LIV win over the San Francisco 49ers. Duvernay-Tardif decided to sit out the season in order to help with the COVID-19 pandemic in any way he could in his hometown of Montreal.
He worked at the long-term care facility, taking days off to watch the Chiefs. His duties varied from serving as an orderly to working as a nurse.
"I was basically helping where help was needed," he said. "It was tough. We lost a lot of patients. We know that long-term care facilities were pretty badly affected. It's been a pretty challenging year for all of us."
Football, other than on game day or the occasional communication with teammates, seemed far away. Fitness centers were closed in Montreal, and without a place to keep in shape, Duvernay-Tardif fashioned a weight room on the balcony of his apartment.
"That's all I was allowed to do through quarantine and curfew," he said. "I had a pretty good setup. Don't get me wrong, it was cold. But I had some heaters on the side and I basically trained four times a week for the last year so I feel in pretty good shape."
Duvernay-Tardif said football never strayed far from his thoughts.
"Football is in your DNA," he said. "I remember throughout November and December and as we were heading into the playoffs, sometimes on Thursday I would wake up and be like, 'OK, is it a shell practice? Is it a full speed practice?' I kept asking myself those questions because I missed football. Of course I do want to play football. That's why I train so hard. The last time I put a helmet on before today was the Super Bowl in Miami and we won it, so there are great memories from playing football with these guys and I want to build that chemistry back and hopefully get a starting job back to contribute to the team this year."
Duvernay-Tardif's starting spot was occupied on Tuesday by a rookie, sixth-round draft pick Trey Smith. But he was just getting started on his comeback and will have time at training camp to earn his job back.
"We'll see throughout the next couple of weeks and heading into training camp how I really feel," Duvernay-Tardif said. "So far I feel great. Being away from the game, of course you get rusty a little bit, but at the same time I've never benched, cleaned and squatted as much as I did throughout the past year, so I'm feeling in great shape so hopefully it will translate on the field this year."
Motivated Cam Newton unfazed by New England Patriots' decision to draft quarterback Mac Jones, 'the right pick in my opinion'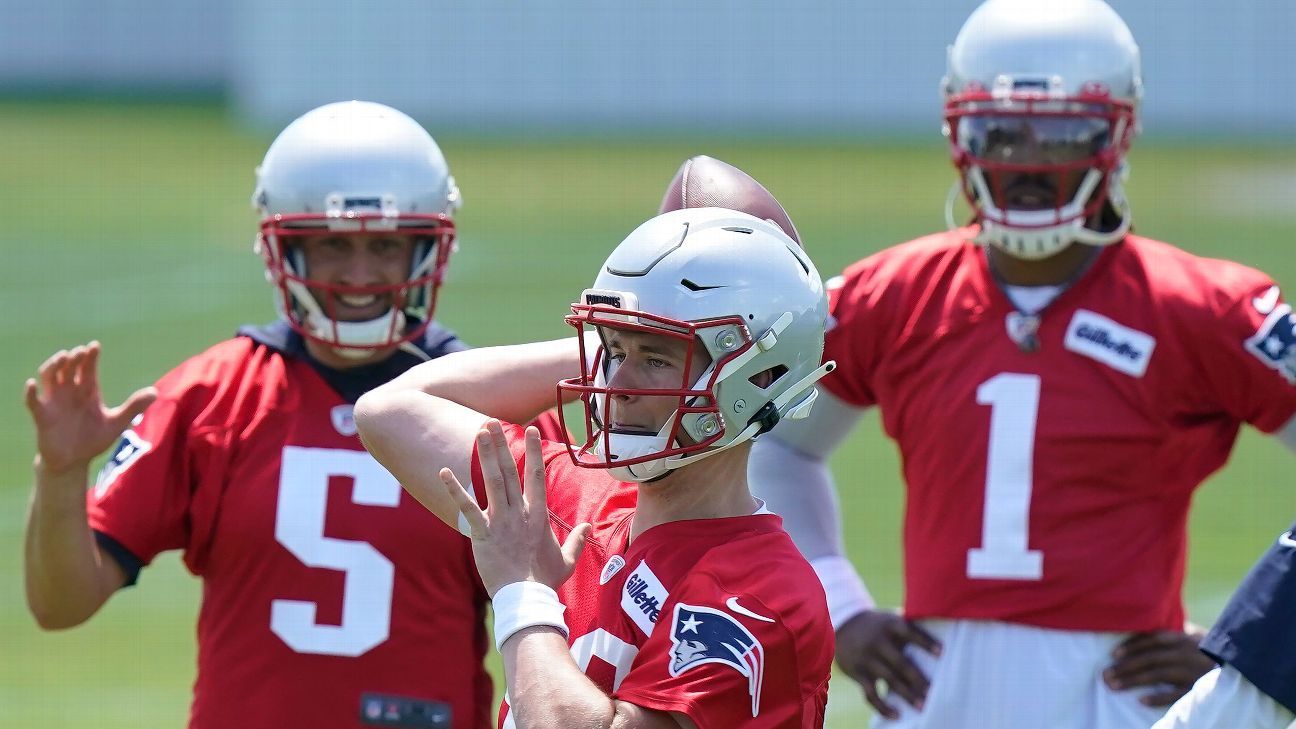 FOXBOROUGH, Mass. — New England Patriots quarterback Cam Newton said Tuesday that there is no extra motivation for him after the team selected Alabama's Mac Jones in the first round of the NFL draft, 15th overall.
"Absolutely not. He was the right pick in my opinion. He was the best player available, and that's what the NFL draft is for," Newton said Tuesday in his first remarks to New England reporters since re-signing in March.
"As far as having any chip on the shoulder, you're stating the obvious. I don't need too much to get myself going. It's no disrespect to Mac. It's no disrespect to Bill [Belichick] and his decision. I support it 110%, because you still have to do what's right for the organization, for the long haul."
Belichick has said that Newton is the team's quarterback while leaving the door open that he could face a challenge for the job in the future. That could come in training camp, a more competitive environment in which Belichick often says the focus shifts more to evaluation.
Newton has taken top repetitions in spring teaching-based practices, and over the last two days of mandatory minicamp, he's been followed by Jones. Newton, who has a long list of nicknames for teammates, refers to Jones as "Mac and Cheese."
"Mac and Cheese, he's pretty cool. He's quiet. I think he's trying to figure everybody out," Newton, 32, said. "I've been there before. I've been a rookie and I've been a first-round pick, where so much is asked from you.
"He's doing a great job with being everything that's advertised — from a leadership perspective, he's holding himself accountable. That's all you can ask from a young player."
Jones, 22, referred to Newton as a "good mentor." The two are joined in the quarterback room by third-year player Jarrett Stidham and veteran Brian Hoyer, and Newton said they all push each other.
"As a competitor, I'd be a fool if I didn't think Brian Hoyer wants to be a starter. I'd be a fool not to think 'Mac and Cheese' wanted to be a starter. I'd be a fool if Jarrett Stidham didn't want to be a starter. You'd be a fool to think that I don't want to be a starter," said Newton, who previously missed three spring practices with a right hand injury before returning on Friday.
"But those things happen with the comfort of understanding the system. We all know nothing is going to be given to nobody. And it's just that competition each and every day with yourself that is going to bring the best out in everybody else."
When Newton first joined the Patriots in 2020, it wasn't until July, and he acknowledged Tuesday that the challenge of keeping up with the team's vast offensive system was overwhelming by the end of the season. He said he's "grateful to have another opportunity" to learn it, this time with the benefit of spring practices.
"In the latter part of the season, it just caught up to me. I was thinking too much. There just wasn't enough hours in the day," he said. "You can't simulate real, live bullets and that's what it came down to."
Cincinnati Bengals' Joe Burrow still on track for Week 1, hopes to reach '100%' before training camp
CINCINNATI — The best-case scenario occurred for Cincinnati Bengals quarterback Joe Burrow on his road to recovery: absolutely nothing.
Burrow's surgically repaired left knee showed no troublesome signs through the team's 10 offseason practices, including Tuesday's mandatory minicamp. Burrow's optimism for playing in Cincinnati's season opener against the Minnesota Vikings remains intact. With the knee still around 85%, he said, the goal is for the 2020 top overall draft pick to get back to full strength ahead of training camp.
"The knee still has a little ways to go, but my upper body, my right leg, everything else feels better than it ever has before," Burrow said. "When I'm on the field and executing, I'm playing better than I ever have before. So I'll continue the program we were on and get back to 100% before camp."
Burrow participated in all nine of the team's organized team activities and the mandatory minicamp that ended after the first of three scheduled days. Bengals coach Zac Taylor canceled the last two days, citing the team's full participation and quality work over the past month. Bengals safety Jessie Bates suggested the team's rising COVID-19 vaccination rates also played a role in the early dismissal.
Burrow displayed his progress during Tuesday's workout at Paul Brown Stadium. He worked on rolling out of the pocket and throwing on the move. In 7-on-7 drills, Burrow didn't throw a single incompletion, with the session highlighted by a pass down the right hashmarks to wide receiver Stanley Morgan. Burrow watched from behind during the team's 11-on-11 drills as quarterback Brandon Allen took reps.
Throughout the offseason workouts, the Bengals have worked extensively to protect their franchise quarterback, who tore multiple ligaments in his left knee. Burrow hasn't faced a pass rush yet — even during the team's half-speed walkthrough sessions closed to the media — for precautionary reasons, Taylor said.
However, the coach was encouraged by Burrow's activity and progress in recent weeks.
"He's done a great job," Taylor said. "He looks good, certainly not all the way there yet, so there's still a process we have to follow leading into training camp, but you guys have been out there. I think everybody's optimistic."
Taylor didn't want to make any definitive statements on Burrow's Week 1 availability, or even on whether Burrow will get reps in preseason games.
But Burrow said he was happy with the state of his knee as the team prepares for the start of training camp at the end of July.
"I'll be ready to go for the season as long as there's no setbacks," Burrow said. "Right now, it's looking good."