Cubs reliever Ryan Tepera suspended 3 games for throwing pitch behind the Brewers' Brandon Woodruff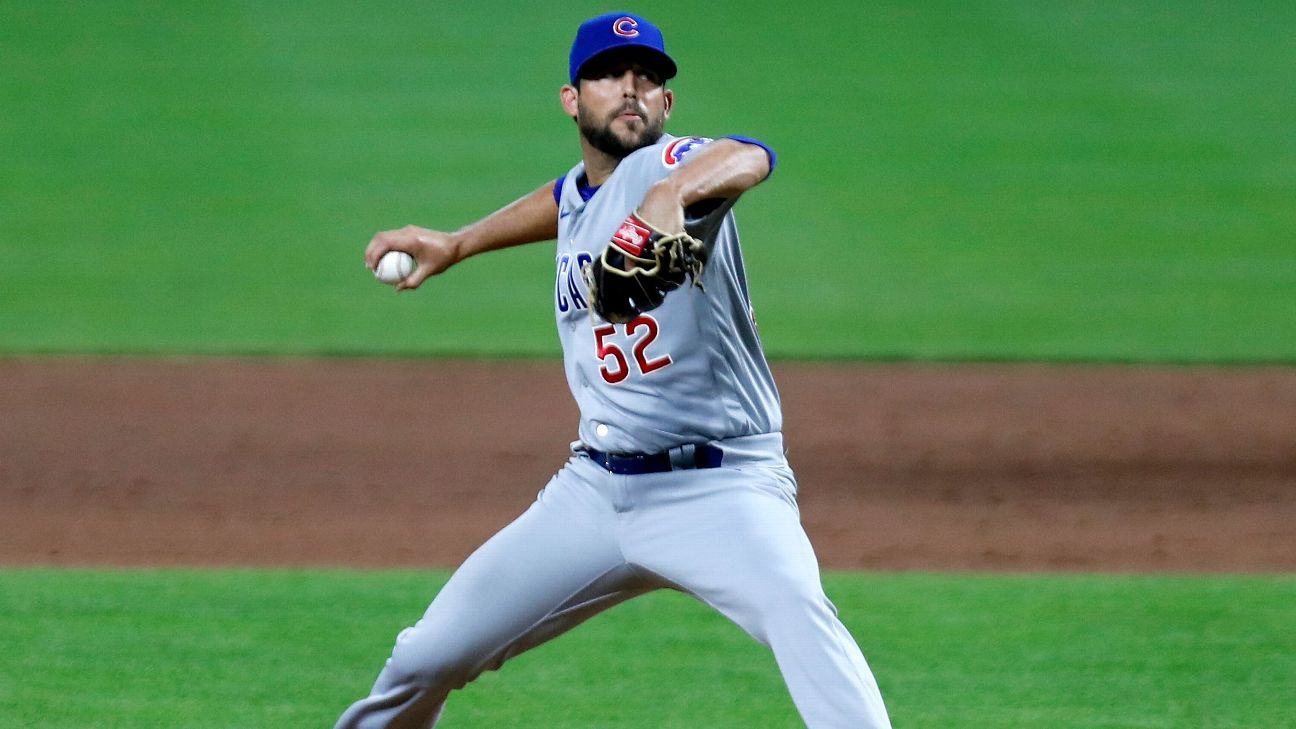 Chicago reliever Ryan Tepera received a three-game suspension for throwing at Milwaukee pitcher Brandon Woodruff in the Cubs' victory over the Brewers on Tuesday, the league announced Thursday.
It was determined Tepera, 33, had intent when he threw behind and at the feet of Woodruff in the fifth inning. By rule, manager David Ross received a one-game suspension, which he'll serve Friday.
Tepera is appealing the punishment, which will be held in abeyance until the process is complete.
MLB also handed out a one-game suspension to Cubs associate pitching, catching and strategy coach Mike Borzello, according to a source.
Tempers have been running high between the teams. Cubs catcher Willson Contreras has been hit by a pitch three times in April by the Brewers, including once in the head. Contreras was fined $7,500 for inciting the benches to clear in a series at Wrigley Field.
On Tuesday, Contreras was hit again, leading to Tepera nearly hitting Woodruff one inning later. Contreras hit a go-ahead, two-run homer off Brent Suter after he was hit by the pitch, helping the Cubs win 3-2.
Bench coach Andy Greene will manage the Cubs on Friday when they open a series against the Atlanta Braves. The Cubs and Brewers play their third series of the season later this month.
Todd Frazier's 4 hits, including a solo HR, help U.S. qualify for Olympic baseball tournament
PORT ST. LUCIE, Fla. — Todd Frazier and his American teammates celebrated, dousing each other as if they had won the World Series.
"Playing for your country, it's the coolest thing in the world," the 35-year-old third baseman said.
The United States qualified for the Olympic baseball tournament on its second try, beating Venezuela 4-2 Saturday behind Frazier's 4-for-4 night that included a solo homer, RBI double and two singles.
Frazier even stole a base, started a key double play to get the U.S. out of trouble in the first inning and fielded the grounder for the final out.
"He's a guy that has kind of cemented the team. He's the keystone," U.S. manager Mike Scioscia said.
Before a pandemic-limited crowd of 2,202 at the New York Mets' spring training ballpark, Frazier was spurred on by chants of "U-S-A!"
"I had one of my better games I've had in a long time," Frazier said. "And I just kept telling myself I'm not letting this slip away."
Players did without the advanced video and computer metrics that have come to dominate the major leagues and determine who plays and what matchups to create.
"It goes to show you, you really don't need most of that stuff," Frazier said. "It's baseball at the end of the day. You play for your country. You play for pride. We didn't hit on the field. We just hit in the batting cage — until our hands bled, to be honest with you. So we brought it back to youth days. Hit it. It doesn't matter who's throwing. Next guy up in line. And it really does go to show you guys that, honestly, that guys really don't need video. All we need is a bat and a ball and a glove and the determination to be the best player you can be."
Frazier thought back to memories of winning the 1998 Little League World Series with Toms River, New Jersey.
"I did my job at 12, dominated at 12, and now I'm 35 and it's putting America on our backs again," Frazier said. "I pinch myself every day."
The U.S. finished 4-0 to win the Americas qualifying tournament and joined Japan, Israel, Mexico and South Korea in the Olympic tourney, to be played in Japan from July 28 to Aug. 7 in Fukushima and Yokohama.
"Every pitch was intense," Scioscia said, comparing it to "playing five elimination games in the playoffs or a pennant race, and you can't stub your toe, at all."
A two-time All-Star, Frazier singled leading off the fourth against loser Aníbal Sanchez and scored on Eric Filia's two-run homer onto the right-field berm. Frazier hit an RBI double in the fifth for a 3-1 lead off Danny Rondon and homered in the seventh against Erick Leal, a drive off the facing of the bar behind the left-field wall.
Frazier was 3-for-35 for Pittsburgh this season before he was released on May 13.
"Was I upset? Sure. You want to play Major League Baseball as long as you can. But you move on. I had a Plan B," Frazier said. "I can still play the game. I know it's surprising to many people."
Edwin Jackson, a 37-year-old veteran of a record 14 major league teams, pitched two hitless innings for the win.
David Robertson, who last pitched in the major leagues for Philadelphia in 2019, struck out two in a hitless ninth around a walk for his second save of the tournament. He retired pinch hitter Alexander Palma, a Milwaukee prospect, on a grounder to Frazier for the final out.
Venezuela advanced to a final qualifying tournament scheduled June 22-26 in Puebla, Mexico, that will determine one more qualifier from a field that also includes Australia, the Dominican Republic, Netherlands and Taiwan.
Venezuela went ahead on a third-inning home run by Hernan Perez, who signed a minor league contract with Milwaukee last month after he was released by Washington. Perez's home run came off Cardinals prospect Matthew Liberatore.
Venezuela loaded the bases with one out in the first before Oakland Athletics minor leaguer Carlos Perez hit a grounder to third, where Frazier started an inning-ending 5-4-3 double play.
Brandon Dickson, who wasted a ninth-inning lead against Mexico in November 2019 when the U.S. was three outs from qualifying at the Premier12 tournament, escaped a two-on situation in the fifth when Juniel Querecuto grounded to Frazier, then allowed an RBI double in the sixth to Washington Nationals prospect Ramon Flores that cut the lead to 3-2.
Liberatore, in his second start of the tournament, allowed one run and four hits in 4⅔ innings
Perez had three of Venezuela's seven hits.
Japan, which is stopping the Central and Pacific League seasons to make its top players available, is considered the Olympic favorite. Major League Baseball doesn't allowed its big league players to participate, and MLB general managers often discourage the use of top eligible prospects.
Teams can change their roster before heading to Japan.
Baseball is returning to the Olympics after being dropped for 2012 and 2016. Cuba won the gold medal in 1992, 1996 and 2004, the United States in 2000 and South Korea in 2008.
"To finish maybe my career, maybe winning the gold medal," Frazier said, "God Almighty, that would be the best icing on the cake."
Seattle Mariners LHP Mariners Yusei Kikuchi exits start after ball hits his right knee
ANAHEIM, Calif. — Seattle Mariners pitcher Yusei Kikuchi took a sharp ground ball off his right knee and left Saturday night's game against the Los Angeles Angels in the fifth inning.
The Japanese left-hander fell to the ground after getting hit by a comebacker hit by David Fletcher.
Kikuchi was writhing in pain when catcher José Godoy tried to throw out Fletcher at first and threw into right field, allowing Taylor Ward to score from first.
Kikuchi left the game after receiving assistance from trainers and the Mariners coaching staff. The Mariners said the injury was a right knee contusion.
Kikuchi, who came into the game with a 3-3 record, was pitching well. He had eight strikeouts and allowed two runs, both on home runs, through the first four innings.
It would be another blow for the Mariners if Kikuchi had to go on the injured list. Already this week, right-hander Justin Dunn went on due to right shoulder inflammation and shortstop Kyle Lewis, last season's AL Rookie of the Year, is expected to miss a significant amount of time due to a torn meniscus in his right knee.
Scott Kazmir, 37, designated for assignment by San Francisco Giants after three appearances
SAN FRANCISCO — Scott Kazmir, the 37-year-old left-hander who returned to the major leagues two weeks ago after nearly five years away, was designated for assignment by the San Francisco Giants on Saturday.
San Francisco announced the move prior to a 4-3 victory over the Chicago Cubs.
A three-time All-Star, Kazmir was 0-1 with a 6.43 ERA in three appearances (two starts) for San Francisco. He started against the Cubs on Friday and lasted two innings, giving up a two-run homer to Kris Bryant in the first inning.
Prior to last month. Kazmir last appeared in the big leagues in 2016. He pitched in just seven innings during his stint with the Giants, striking out seven.
On May 22, Kazmir made his Giants debut after pitching for Triple-A Sacramento. He ended up being the hard-luck loser against the Los Angeles Dodgers, leaving a tight game with just one earned run in four innings to go along with two strikeouts. The Dodgers won 6-3.
"I threw strikes, which was my main goal," Kazmir said at the time. "We kind of had the mindset to get two or three innings. I was able to get some quick outs. All in all, I was happy with the outing. It's a proud moment for me."
Giants manager Gabe Kapler, a former teammate of Kazmir, spoke emotionally back in May when the team decided to call him up. Kapler called from a plane to break the news.
"It was actually pretty gratifying to be able to deliver that to him and actually through the phone I could tell that he was smiling," said Kapler, who played with Kazmir for Tampa Bay in 2009.
San Francisco filled the roster spot with right-handed pitcher Camilo Doval, who was recalled from Sacramento in time for the game against the Cubs.
Doval did not appear in the win, as Kevin Gausman struck out 10 in seven smooth innings, Alex Dickerson homered for the second consecutive day and San Francisco kept rolling. The Giants won their third straight over the Cubs, and they have won nine of 11 overall.
The Associated Press contributed to this report.