Chicago Cubs' Matt Duffy comes off COVID-19 injured list after three days out
The Chicago Cubs have activated infielder Matt Duffy off the COVID-19-related injured list three days after he went on it, the team announced Friday.
Duffy, who is hitting .125 in eight at-bats this season, missed two games. Three Cubs relievers — Brandon Workman, Jason Adam and Dan Winkler — remain on the COVID list after first-base coach Craig Driver and bullpen coach Chris Young recently tested positive for the coronavirus.
Cubs manager David Ross said earlier this week that none of the players had tested positive.
In a related move, infielder Ildemaro Vargas was sent to the Cubs' alternate training site in South Bend, Indiana.
Information from ESPN's Jesse Rogers was used in this report.
Miami Marlins' uniforms to honor former Triple-A team Cuban Sugar Kings
The Miami Marlins will use their "City Connect" uniforms to honor the Cuban Sugar Kings, a fleeting yet monumental former minor league organization with a special connection to the Cuban-American populace of South Florida.
The new uniforms were unveiled by the team on Monday morning and will be worn by their players for the first time on Friday, the day after Cuban Independence Day. The team will wear the uniforms throughout that weekend home series against the New York Mets, which features the team's Cuban Heritage Night, and in five other weekend series the rest of this season.
The Sugar Kings were a Triple-A team in the International League that was owned by Bobby Maduro and played out of Havana, Cuba, from 1954 to 1960. Maduro — revered so much in Miami that a baseball stadium was named after him — aspired to turn the Sugar Kings into a major league team based out of Cuba, an aspiration expressed through the team's popular motto of "Un Paso Mas Y Llegamos" ("One More Step And We Get There.") The team got close, winning the Junior World Series in 1959, but Fidel Castro's rise to power and Cuba's deteriorated relations with the United States forced the team to suddenly relocate to New Jersey and ultimately dissolve.
The older generation of Cubans in Miami — many of whom live in Little Havana, site of the Marlins' ballpark — still look back on that team with great reverence. Cookie Rojas, a Cuban-American who played for the Sugar Kings and went on to carve out a 16-year major league career, called the Marlins' uniforms "a very good, well-deserved representation of the ballclub in trying to give the Sugar Kings what they deserve."
"I believe it's one of the greatest things for the fans right now to remember," said Rojas, who believes Maduro should be honored by the National Baseball Hall of Fame. "You can very much dream on what could've happened."
The Marlins are one of seven teams — along with the Arizona Diamondbacks, Boston Red Sox, Chicago Cubs, Chicago White Sox, Los Angeles Dodgers and San Francisco Giants — to partner with Nike and Major League Baseball on the "City Connect Series" as a way to tap into the culture of their respective communities.
Designing the uniforms wound up being a two-year process. The Marlins quickly realized they should honor the Sugar Kings but wanted something more bold and more vibrant than the team's original uniforms. They sought jerseys that would pop on the field but could also be worn at events, Marlins vice president of experience and innovation Michael Shaw said, and ultimately decided on an inverse look with the red (Legacy Red) as the primary color.
The "Miami" script on the front is designed in a font similar to the one used by the Sugar Kings, but the white pinstripes on the jersey are noticeably wider. The cap's crest and the jersey's right sleeve feature the original Sugar Kings logo infused with two Ms to represent the Miami Marlins.
The Sugar Kings, affiliated with the Cincinnati Reds, were one of the sport's first multinational teams, an encapsulation of Miami's melting pot identity.
"When you think about the diversity and the sheer will and determination of a team that is seeking to break barriers and has bigger dreams to play Major League Baseball — we saw a lot of connectivity between our young guys and our team, that they seek to achieve and dream bigger, and achieve more and do more, against the odds sometimes," Shaw said.
The Sugar Kings' apex came in 1959, when they played their best season amid nationwide turmoil. Castro came into power to begin that year but initially showed support for the Sugar Kings, throwing out the ceremonial first pitch before the team's opening game. For Games 3, 4 and 5 of the Junior World Series, Castro sat directly behind home plate. For Game 6, he sat in the team's dugout. The series reached Game 7, and 35,000 people packed what is now called Estadio Latinoamericano in Havana. The Sugar Kings won on a walk-off single, clinching the title and sending a mob of people onto the field.
But relations between the U.S. and Cuba quickly soured; Communism and Nationalistic ideals swept the island. By the middle of 1960, the Sugar Kings had relocated to Jersey City, the Cuban government had confiscated Maduro's stadium and players were left with the difficult choice of abandoning their families to pursue their dreams of playing in the major leagues.
As they navigated through that fateful 1959 season, Rojas said, players held on to the faint hope that their success might help slow momentum and keep Maduro's dream of a major league franchise in Cuba alive. Cuba instead changed in every way imaginable, leaving Rojas with constant thoughts about what could have been.
He no longer has his old Sugar Kings uniform.
"I wish I still had it, to be honest with you," Rojas said. "I wish I had it. Because it would be something to really look at and remind you of all the things could've happened."
Joe Girardi, Jean Segura have confrontation as Philadelphia Phillies lose to Toronto Blue Jays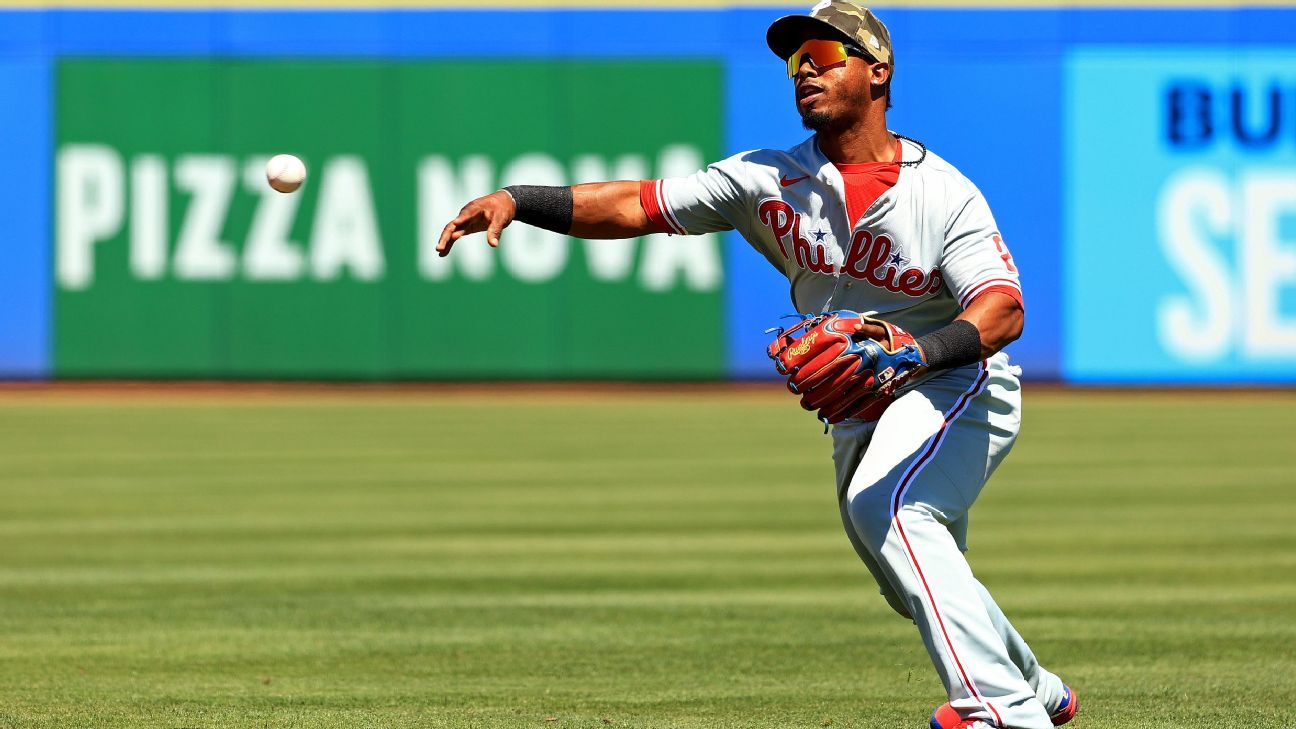 DUNEDIN, Fla. — The injury-depleted Philadelphia Phillies lost a game, another player and their temper.
Television cameras showed a confrontation in the dugout between Phillies manager Joe Girardi and second baseman Jean Segura during Sunday's 10-8 loss to the Toronto Blue Jays.
Segura committed two errors. One miscue came in the first inning when Segura misplayed a soft one-hopper by Randal Grichuk.
"That's a bench conversation, meant for the bench," said Girardi, who was asked about a half-dozen times about the incident. "You can ask all you want; you got everything you're going to get about it. I'm done with it."
At one point, Segura had to be restrained by coach Dusty Wathan.
"I didn't actually see it," Phillies first baseman Rhys Hoskins said. "Obviously, I heard it. It's heat-of-the-moment stuff, right. We're all competing. Everybody in the dugout wants to win the same amount. Sometimes that's what happens."
Marcus Semien and Bo Bichette hit consecutive first-inning homers, and Randal Grichuk had a two-run double in a five-run second as Toronto burst to an 8-0 lead.
Semien finished with three hits and three RBIs, and Vladimir Guerrero Jr. hit his 11th homer, a solo drive in the eighth that gave him home runs in three consecutive games.
"I feel comfortable with what I'm doing mechanically," Semien said. "That's always good when you don't have to worry about changing something every day. You're just able to focus on what you're looking for at the plate."
Toronto won for the sixth time in eight games, moving five games over .500 for the first time this season.
Philadelphia right fielder Bryce Harper (right shoulder soreness) and catcher J.T. Realmuto (sore left wrist) were both out of the lineup after leaving Saturday night's game early.
Harper replaced Scott Kingery in right in the sixth inning. Harper popped up a bunt for an out with two on and one out in the eighth with the Phillies down 9-4, then stranded two in the ninth with a game-ending strikeout on a full-count fastball from Jeremy Beasley, the eighth pitch of the at-bat.
Girardi said he talked with Harper about trying for a bunt hit in the sixth. The slugger took several big swings during his ninth-inning at-bat.
"I was concerned," Girardi said. "Talked about some different things. I talked to Bryce — he said he wanted to try and he was OK, so we let him do it. I trust the player. I thought he had some swings."
Kingery ran into the wall chasing a fly ball and later felt dizzy, and he will be evaluated.
Royals manager Mike Matheny calls for 'accountability' after game-ending call stands
CHICAGO — Add Kansas City Royals manager Mike Matheny to the list of people who have questioned motives behind video replay.
Matheny was on the wrong end of a review in the bottom of the ninth inning of his team's game against the Chicago White Sox on Sunday.
With two outs in a 3-3 tie, White Sox first baseman Jose Abreu came home on a wild pitch from reliever Wade Davis. Catcher Cam Gallagher retrieved the ball and went to tag Abreu, who slid in on the third base side of home plate. He was called safe on the field and the review upheld the call, which gave the White Sox a 4-3 win.
Replays showed Gallagher may have tagged Abreu on his jersey before he reached the plate.
"If we're going to use video replay, there needs to be some accountability," Matheny said after the loss. "I walked in here and had two different camera angles with this guy out. Tagged before he ever touched the plate. Very obvious. I don't know what they're doing, backing each other up, whatever it is. It's wrong."
Plays can only be overturned if video review shows a conclusive reason for it. Umpires in New York made the call with the umpires in Chicago on a headset — as is the norm. Anything short of a definitive angle to overturn a ruling means the call on the field stands.
"They have the opportunity to take that much time, and from appearances, it looks like they don't want to bring them [the players] back onto the field while they're here with this crowd," Matheny said. "It's just wrong and something has to be done about it."
The Sox were down 3-2 going into the ninth. They tied the score on a Yoan Moncada RBI single but Moncada was eventually thrown out at the plate by Whit Merrifield on a base hit to right by Yermin Mercedes. That sent Abreu to third after he was hit by a pitch earlier in the inning. Then Davis threw the wild pitch, bringing Abreu home.
"They said he was safe," White Sox right-fielder Adam Eaton said. "They even got replay. I had a pretty good view of it. Bang, bang play. Heck of a slide by Jose. We'll definitely take it."
Matheny disagreed: "You could see the jersey move when he tagged him on the body."
The result of the play meant the Sox and Royals split their four-game series.