Rockers Kings of Leon to perform on first night of NFL draft
CLEVELAND — Kings of Leon will help kick off NFL draft activities on a stage close to the Rock & Roll Hall of Fame later this month.
The Grammy Award-winning band will open the festivities on April 29 with a performance as the draft returns to a more normal state after being held virtually in 2020 because of the COVID-19 pandemic.
In addition to being a top-selling act, lead singer Caleb Followill, his brothers Nathan and Jared and cousin Matthew are also football fans and have closely followed Browns quarterback Baker Mayfield's career since he was a star at Oklahoma.
Hall of Fame rock singer Ann Wilson of Heart will sing the national anthem before NFL Commissioner Roger Goodell begins calling the names of the league's newest players. Goodell hosted the event last year from his home.
A massive stage is under construction near the Rock Hall and FirstEnergy Stadium, the Browns' downtown home.
Cleveland will be represented by the Cleveland Metropolitan School District's All-City Choir, which will sing a special rendition of "Lift Every Voice and Sing." The local cover band The Sunrise Jones will serve as the house band for the first two nights of the draft.
Headlining musical acts for the second and third days of the draft will be announced in the coming weeks.
The draft will be held from April 29-May 1.
Tom Brady Sr. says he's 'salivating' over Tampa Bay Buccaneers-New England Patriots Week 4 matchup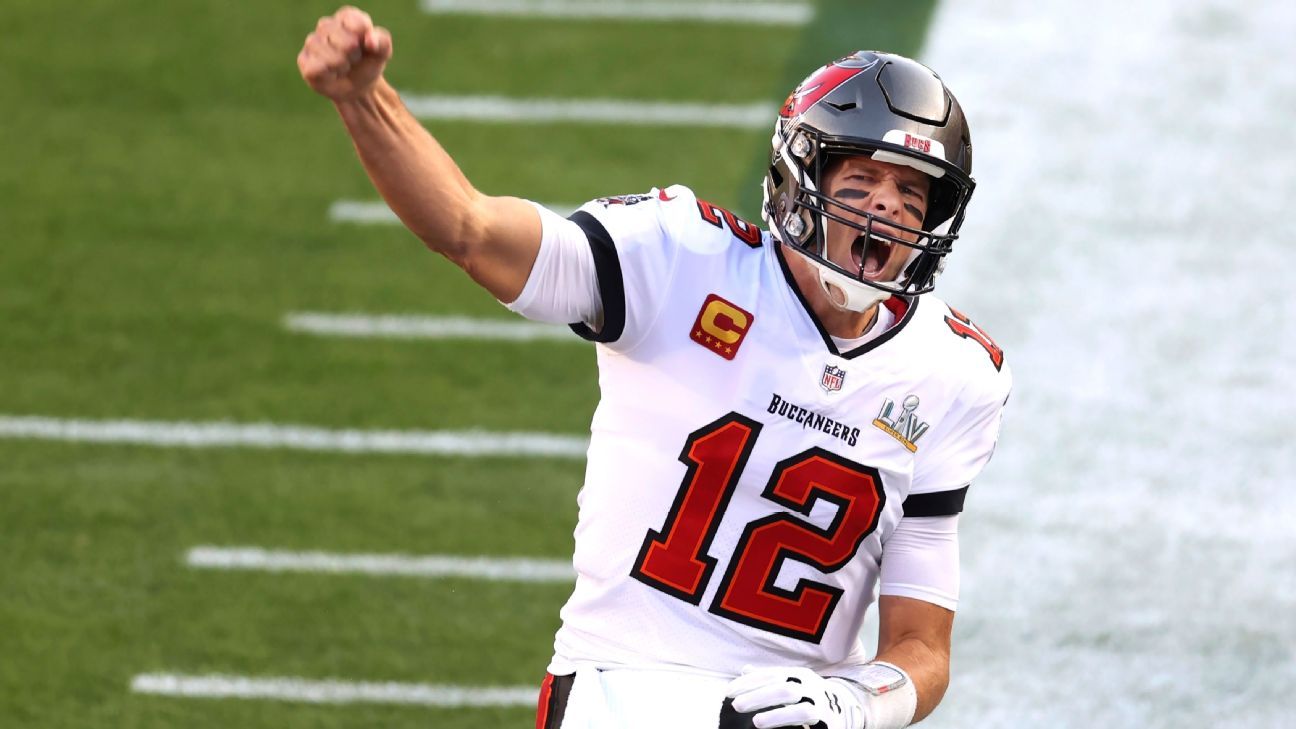 Tampa Bay Buccaneers quarterback Tom Brady couldn't contain his excitement with the NFL schedule release, posting on Instagram, "9/9 can't come soon enough" when it was announced the Bucs would play the Dallas Cowboys in the NFL Kickoff Game.
His father, Tom Brady Sr., is eyeing a different game though — Week 4 when the Bucs travel to play the New England Patriots, marking his son's return to Foxborough after leading the Bucs to a Super Bowl win in his first season after 20 seasons with the Patriots.
"I saw the schedule come out last night and I started salivating when I saw that we play the Patriots in the fourth game of the season, and that we're coming up here to make our record 4-0 after the fourth game," Brady Sr. said on the "Zolak and Bertrand" radio show on 98.5 The Sports Hub in Boston on Thursday morning.
Shortly after his father's surprise radio appearance, Brady tweeted about the game with a nervous grin, saying, "It's like when your high school friends meet your college friends."
It's like when your high school friends meet your college friends 😬 https://t.co/RF5zVB9rI1

— Tom Brady (@TomBrady) May 13, 2021
Brady Sr., who lives in California, called Boston their "second home" and called the Patriots their "second-favorite team," expressing love for the organization and its fanbase. But he didn't mince words, showing the apple doesn't fall far from the tree when it comes to being competitive.
"We expect to beat the Patriots rather handily, frankly," Brady Sr. said.
"It's not a matter of walking out of town and being unhappy. He had a happy 20 years there and most successful 20 years there. Now he's in another place with another opportunity to win. That's great. And the Patriots have reloaded and they're gonna be fit to bear as well," Brady Sr. said.
"From my take on it, I think it's gonna be great. I get to have a favorite team in the AFC and a favorite team in the NFC. And then they play on the fourth week of the year. It's been a really — I'm thrilled for this."
As far as the possibility of Brady breaking the single-season passing record at Gillette Stadium (Brady is currently 1,154 yards behind Drew Brees), Brady Sr. said, "I think that the fans at Gillette will embrace him until the opening kickoff, and then they're gonna boo the hell out of him, which is great.
"I think the fans appreciate everything he's done. I assume that the fans have appreciated everything he's done for them for 20 years, but at the same time they're Patriots' fans, they're not Buccaneers fans. So while you're rooting for Tommy, you're rooting against the Buccaneers."
Brady Sr. expressed great sentiment for his family's time in New England.
"How do you do anything but appreciate everything what the Krafts have done for him, and Belichick has done for him? The coaching staff — these guys have been in the trenches for 20 years together," Brady Sr. said.
But even dad isn't clear how long his son will continue playing. He signed a contract extension this offseason to free up cap space — which was largely responsible for the Bucs being able to return all 22 Super Bowl starters on offense and defense — and it will keep him in Tampa Bay for two more years. But father time waits for no one.
"While he's happy now, I think he's starting to realize that the end of the career is coming to an end and he's just savoring every moment as he walks down the final stretches — whether it's next one year, two years, or 12 years," Brady Sr. said.
According to Vivid Seats, the average ticket price for the game on Oct. 3 is $1,370 with prices as high as $12,000 on Ticketmaster.
Baltimore Ravens sign Donte Sylencieux, high school teammate of QB Lamar Jackson
OWINGS MILLS, Md. — It may be graduation season, but the Baltimore Ravens have a high school reunion planned for quarterback Lamar Jackson.
Wide receiver Donte Sylencieux, one of nine undrafted rookies signed by the Ravens on Thursday, was Jackson's favorite target when they played at Boynton Beach High School in Florida. Sylencieux caught 10 touchdown passes in two seasons with Jackson.
Sylencieux totaled 59 catches in three seasons at Graceland University — an NAIA school in Iowa – and is considered a long shot to make the Ravens. Baltimore selected two wide receivers in this year's draft, including first-rounder Rashod Bateman, and added Sammy Watkins in free agency.
The Ravens are doing and saying all the right things lately as they pursue a lucrative extension with Jackson. General manager Eric DeCosta said the team would work "tirelessly" after the draft to get a new deal done with Jackson, and he recently told the team's website that Jackson is "the kind of guy you'd be very proud of to have as a son."
This isn't the first time the Ravens have reunited Jackson with one of his former wide receivers. In 2019, the Ravens signed Jaylen Smith, Jackson's top target at Louisville, as an undrafted rookie. Smith was cut before the regular season that year.
Why Cardinals' first-round LB Zaven Collins may force out Jordan Hicks – Arizona Cardinals Blog
TEMPE, Ariz. — The Arizona Cardinals appear to be all in on Zaven Collins, but when they drafted the Tulsa linebacker with 16th pick in the first round of last month's NFL draft, they instantly created a log jam at inside linebacker.
On the night they drafted him, general manager Steve Keim said Collins would be the Cardinals' Mike linebacker and would line up next to Isaiah Simmons, last season's first-round pick.
One problem: Where would Jordan Hicks, a veteran leader who has started every game since joining the Cardinals in 2019, play? Keim dodged the question in post-draft news conferences, with coach Kliff Kingsbury only offering: "We will work through it as we go. Obviously, you don't take [Collins] with the 16th pick unless you expect him to play. He isn't a guy who is moving positions."
On Wednesday a report from NFL Network said the Cardinals were allowing Hicks to seek a trade.
• All 259 picks | Every team's class
• Kiper's draft grades for every team
• McShay's favorite pick for all 32 teams
• NFL Nation: Analysis for every pick
• Round 1: Kiper | McShay | NFL Nation
• Scouting reports | More draft coverage
If Arizona is able to move Hicks — or eventually release him if they can't trade him — it will field an inside linebacking corps with just one year of experience. And Kingsbury seems to be content with that.
"It's not a projection," Kingsbury said. "This is the position [Collins] played. So, I don't think the learning curve will be very steep for this young man. He was valedictorian at his high school, so we expect him to come in and play a lot immediately."
Keim added that when Collins lines up alongside Simmons, it'll be like "having two trees in the middle of the field."
Collins is the third linebacker the Cardinals have drafted in the first round in the past five years. The other two were Simmons and Haason Reddick in 2017. Arizona's other first-round picks during that span were both quarterbacks: Josh Rosen in 2018 and Kyler Murray in 2019.
Keim has stressed that Collins is not a hybrid linebacker like Reddick was and — to some degree — that Simmons is. Last season, Simmons played just 77 of his 360 snaps at inside linebacker, according to ESPN Stats & Information. Keim pointed out that Reddick was a pass-rusher in high school and college but was moved to play stacked linebacker in the NFL, which led to a long four years of playing different positions.
That, Keim said, won't be the case with Collins.
"This guy has played stacked linebacker, which is a whole different deal when you see the vision and the ability to play from that second level," Keim said. "I think he's a Mike linebacker. I think he's got all the traits you look for."
Arizona was high on Collins for a while, which led to him landing high on their draft board, Keim said.
"Size, football acumen, instincts, coverability," Keim said. "This guy has got rare and unusual movement skills for a guy who is almost 6-5, 265 pounds. You watched him at Tulsa and the way he covered smaller backs, tight ends, slot receivers at times. You don't see a lot of men like this, this size that have this type of range and athleticism. So, we really liked him."
When he watched Collins, Keim described Collins' ability to direct and communicate with his teammates before the snap as "excellent." Collins has "very high" expectations for himself, and wants to learn "every detail about every formation, about every scheme."
"Those are the big things for me," Collins said. "Those were the big things in college for me. Those are the huge things that I've incorporated into my game and the way I play. I think about those things every down, situational awareness and game awareness. Those things matter a lot to me and I think those matter a lot to organizations, teams, players because everyone at the next level is at a huge physical advantage over everyone else. So that's something that I look forward to and trying to take advantage of."
The plan is for Collins to be a three-down linebacker, but Arizona isn't concerned that he won't be able to handle it.
"I think knowing that he has played middle linebacker in a similar three-down scheme, it won't be completely foreign to him, and that's going to help," Kingsbury said. "He's a quick learner. He's going to get a lot of time on task, a lot of reps."
And Collins doesn't mind the pressure of starting as a rookie.
"I love pressure," he said. "I've felt pressure since I was knee high to a grasshopper. I love it. I love pressure. I loved pressure in college. I love pressure in the NFL. I love it. That's the thing that I strive for. I want to feel that going into the league. I want guys like J.J. Watt, Simmons, Kyler Murray, all those guys, to count on me to do a certain role."