Yasiel Puig denies accusations in sexual assault lawsuit
In a statement released on his Twitter feed Tuesday, free-agent outfielder Yasiel Puig has denied claims in a lawsuit that he sexually assaulted a woman in 2018 and said that the allegations have prevented him from continuing his Major League career.
"I am speaking out now to defend my name against false and malicious allegations by a woman who claims I assaulted her in 2018," Puig wrote. "These allegations are totally false, the evidence proves they are false, and I look forward to all the facts and the truth coming out."
The woman, identified in federal court documents only as Jane Roe, sued Puig last October, saying the former Dodgers outfielder followed her into a Staples Center bathroom after a Lakers game on Oct. 31, 2018, "pinned her with one arm" to prevent her from leaving, groped her and masturbated in front of her.
The woman did not file a police report. Puig has not been charged with any crime and he has previously denied the allegations in a court filing.
In his statement Tuesday, released by his attorneys, Puig said: "The fact is that I had consensual sex with a woman I met at a Lakers game after she propositioned me. Afterward we talked about going out together, but she said she did not want her fiancé to find out."
Attorney Taylor Rayfield, who is representing the woman, said in a statement to ESPN Wednesday, "The simple fact of the matter is that our client never engaged in consensual sexual activity with Mr. Puig — not at the Staples Center Chairman's Club, and not anywhere else."
In her own statement, released through Rayfield, the woman said, "I am an out and proud lesbian and have been during my entire adult life. My female fiancée and I were enjoying a Lakers game at the Staples Center when this attack occurred." She added that the notion that she would leave her fianceé for a sexual encounter in the bathroom with someone she'd just met "is demeaning and ridiculous."
Puig said Tuesday that he and the woman "messaged each other" after their encounter and planned to get together but never did.
Puig's Los Angeles-based attorneys, Alan Jackson and Caleb Mason, also said in their statement Tuesday that text messages between Puig and the woman help to confirm Puig's account of what happened.
"On November 2, 2018, two days after their encounter, when Mr. Puig wrote to ask her when they could see each other again, she replied "I['m] working it out! I didn't forget about you."
Puig's attorneys point out that the woman sent Puig heart emoji messages and that, on November 23, 2018, several weeks after the Lakers game, she messaged Puig asking him when he would be back in town.
ESPN has reviewed text message exchanges between Puig and the woman, which became public through an exhibit filed as part of the woman's federal lawsuit.
She did send the text messages Puig's legal team referenced but only after Puig had sent her several messages in an apparent attempt to meet privately.
Rayfield said the woman only sent those messages because she was "fearful of a further attack or retribution by Puig," and in an attempt "to de-escalate his behavior by providing curt responses."
In their statement Tuesday, Puig's attorneys did not include a text message Puig sent the woman hours after the Lakers game. In that text, Puig wrote: "Private between me and me [sic] everything that happens no one has to know," according to the transcript of text messages that appears in court documents.
Last month, ESPN reported that a number of teams had factored the allegations, as well as Puig's declining play, into their decision making when considering him as a free-agent signing.
"Nobody wants the headache," one front-office source told ESPN.
Puig said Tuesday he initially remained silent about the allegations against him on the advice of his attorneys and is speaking out now because of delays in the legal system and a civil case that has unfairly tarnished his image in baseball circles.
"With a mere unsupported accusation, the sports world has turned against me without ever hearing my side," Puig said in the statement from his attorneys.
"All I ask is that I be given the chance to prove these claims false, and in the meantime, play the game that I love so much."
Steven Matz placed on COVID-related IL by Toronto Blue Jays
BOSTON — Steven Matz was placed on the COVID-related injured list by the Toronto Blue Jays before Sunday's game against Boston, one day after the left-hander beat the Red Sox.
Matz (7-3) allowed one run and four hits in 5⅔ innings Saturday.
Right-hander Jeremy Beasley was recalled from Triple-A Buffalo, a day after he was optioned.
Seattle Mariners' Mitch Haniger leaves game after fouling pitch off knee
CLEVELAND — Seattle right fielder Mitch Haniger, who leads the team in home runs and RBIs, was helped off the field after fouling a pitch off his left knee in the first inning against Cleveland on Sunday.
Haniger went to the ground immediately after fouling off the pitch from Shane Bieber, and Cleveland catcher Austin Hedges waved to the Seattle dugout for help. Haniger slowly got to his feet and was assisted off the field by manager Scott Servais and a trainer.
He appeared to be putting some weight on the leg as he was helped from the dugout to the clubhouse.
Haniger's injury is another setback for Seattle, which has used a major-league-high 51 players this season. Haniger has 16 home runs and 40 RBIs.
Arizona Diamondbacks unveil gold City Connect jersey, referencing Sonoran Desert, Hispanic culture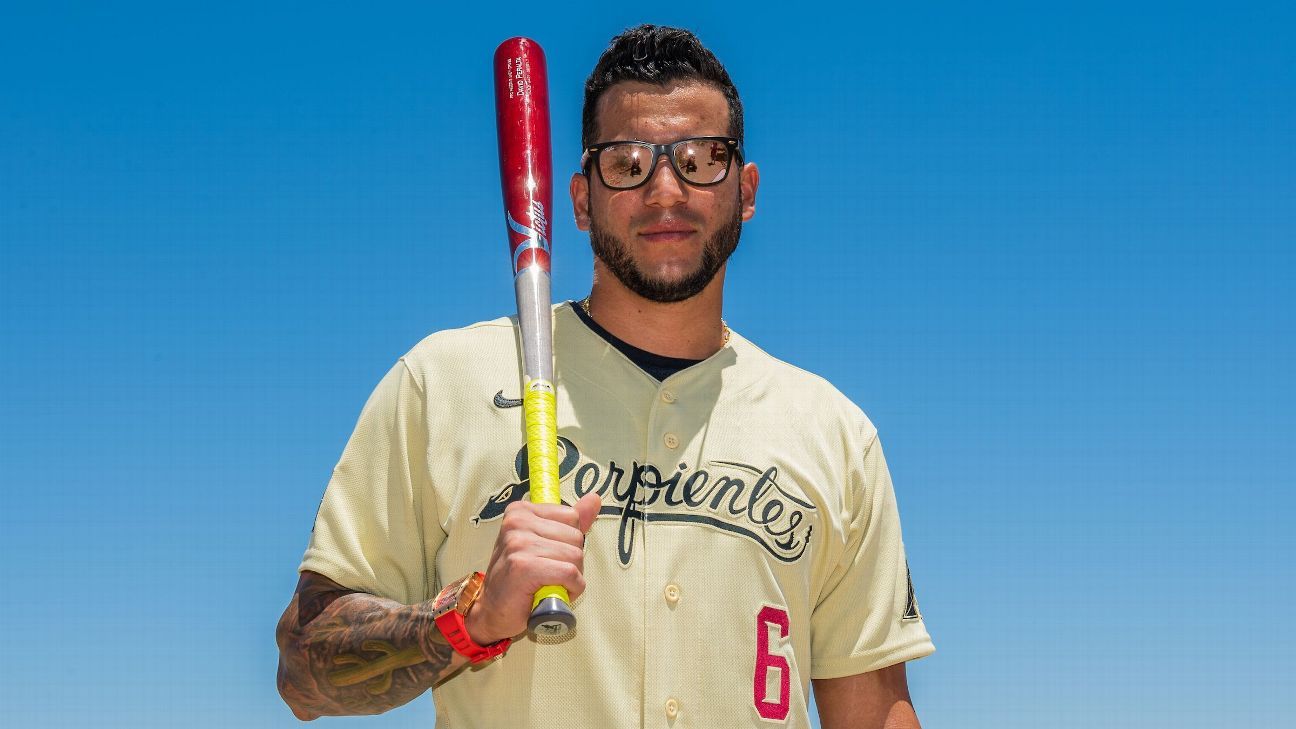 The Arizona Diamondbacks have unveiled a gold uniform referencing the Sonoran Desert and the state's Hispanic culture as the latest alternate jersey in the City Connect collection.
The jersey reads "Serpientes" across the front, intended to highlight Arizona's Hispanic culture, while the uniform patch features the Arizona state flag and a reference to Phoenix's nickname as The Valley of the Sun.
The Diamondbacks will debut the uniforms June 18 against the Los Angeles Dodgers and plan to wear them six more times: July 16 against the Chicago Cubs, July 30 against the Dodgers, Aug. 13 against the San Diego Padres and for a three-game series with the Dodgers on Hispanic Heritage Weekend from Sept. 25 to 27, which includes Roberto Clemente Day.
"I was really excited about that because we are involving the Spanish community in a special way. Arizona has a really big Hispanic community, and for me to be part of that, I am really proud and excited about it," said Diamondbacks outfielder David Peralta, who is Venezuelan. "We have Venezuelan guys, Dominican guys on our team to represent the Spanish community in Arizona. It really is a big deal for us, especially the way they're doing it with the team name."
Arizona will join the Boston Red Sox, Miami Marlins, Chicago White Sox and Cubs with a City Connect jersey.
The Diamondbacks conducted Zoom calls during the 2020 season to survey players on their thoughts about potential City Connect uniform designs. Peralta said that while many of the uniforms featured a nod to Arizona's Hispanic culture — according to the most recent U.S. census data, more than 42% of the state's residents identify as Hispanic — the gold design jumped off the page.
"I was looking at the colors in the computer and I thought it looked good, but when I saw the jersey, the way the colors come out, the contrast levels, it was like whoa, this is unique," Peralta said. "This is something different."
Diamondbacks president and CEO Derrick Hall said the jersey will replace the current alternative that reads "Los D-backs" and could become a regular part of the rotation depending on the reaction from fans and whether the team wins while wearing the uniforms.
"If we have an overwhelmingly favorable reaction to it, then we are going to start working them in a little more," Hall said. "If we see that the hoodies and the T-shirts and jerseys are flying off the shelf in the team shop, we'll know that fans want to see it more, and we'll get feedback from fans and players. Our players are extremely superstitious, and if we turn the season around, you'll see Serpientes out there a lot more, especially if we can rattle off some wins with it."
When approached by MLB and Nike regarding City Connect, the Diamondbacks immediately agreed to take part in the inaugural run of uniforms. When deciding on which colors to use, they decided to stick to their existing set.
"Our preference was to have more of a bright or loud color, but we thought that it was a reflection of the desert," Hall said. "It was a color that we already had, so it's not an escape from what we have already, but I think our fans would have been more shocked if we had completely abandoned our colors."
The Diamondbacks historically have been one of the more experimental teams when it comes to uniform designs. Ahead of the 2016 season, the team unveiled a complete redesign featuring a polarizing gradient snakeskin pattern on the uniforms and pants, widely considered among fans to be among the worst in the sport. When Nike took over as the uniform provider for MLB, Arizona once again redesigned its jerseys.
"We've been bold at times, maybe too bold, had too many options in the past, and we simplified," Hall said. "We were one of the first teams to completely abandon our original colors and we were purple and teal, and for years, we had MLB asking us to consider changing our colors. We already had the Rockies with the purple. The purple never really matched up, and on TV, it looked more blue. The purple and teal was somewhat outdated.
"There was no red in our division, and they put on an entire presentation for us where baseball was showing us that we should be the color red because of the Sedona Mountains and the sky and we said, no, thank you, but the more we thought about it, it made sense. We're such a young franchise, and you can do that."
Peralta said that while gold is not a typical color for a baseball uniform, he thinks the unique look will appeal to fans. During a photoshoot ahead of the jersey reveal, the outfielder noticed a similar shade of gold on a snake's skin to the one found on the jerseys.
"It's just all about doing something different," Peralta said. "The fans, the young guys, they like it, all of the kids. With these new uniforms, it's different, and I think that's the best part of that. People are going to be like, 'Wow, I've never seen something like that.'"