Tennessee State Tigers call hiring Eddie George 'right chase and investment'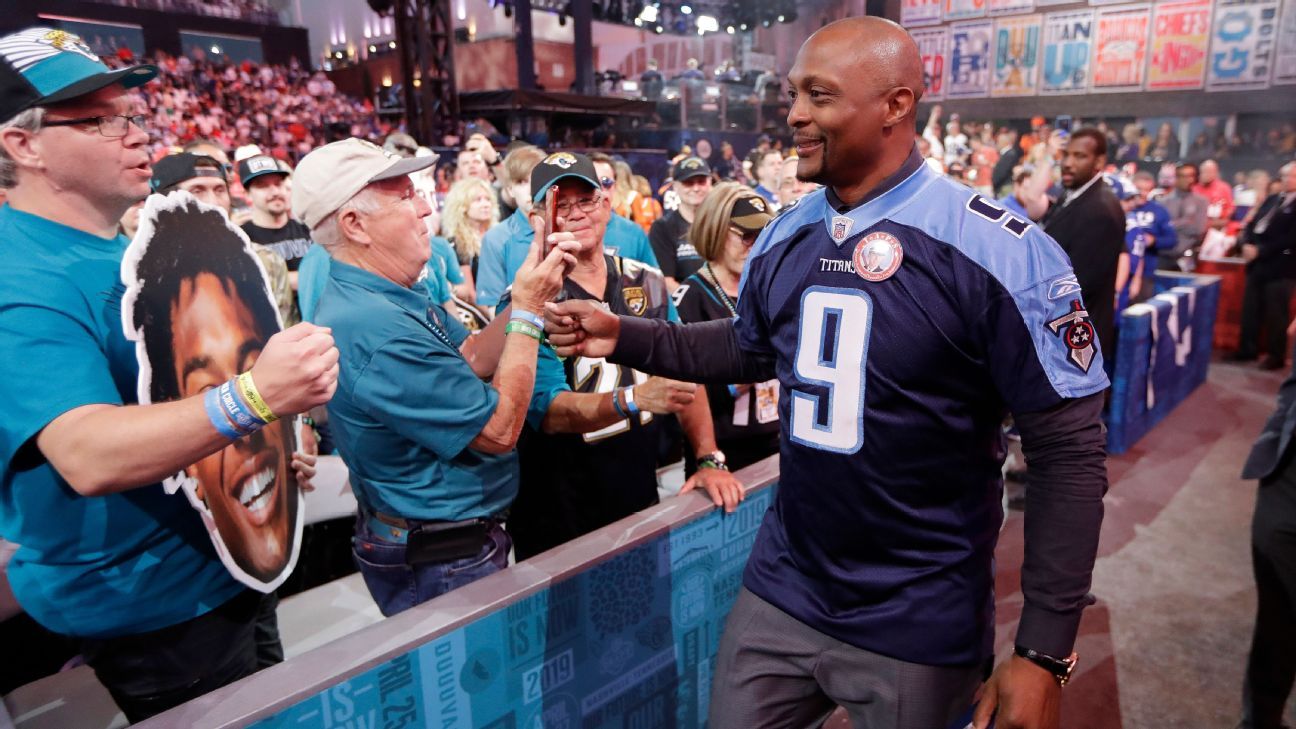 Tennessee State officially named Eddie George as its head football coach Tuesday, calling it "the right chase and investment" for the school and its football program.
"All I have done has prepared me for this moment, whether that's my football career, my entrepreneurial endeavors, my acting career," George said in a university statement.
"Coaching is a full commitment, a duty of service," he said. "I take that seriously. I've done a lot of soul searching and due diligence. The more I thought about it, I got more and more excited about it. It was like picking up an old guitar or getting back on a bike, it's familiar but in a different capacity."
"For decades, TSU has always made bold and strategic hires within our athletic programs that laid the foundation for our storied success in sports," said university president Glenda Glover, who made the initial call to gauge George's interest. "Eddie George, with the resources he will bring to TSU, is the right choice and investment for the future of the TSU football program and the TSU community."
George played for nine seasons in the NFL — eight of those with the Houston Oilers/Tennessee Titans. He was a four-time Pro Bowl pick and made one Super Bowl appearance (the Titans lost to the St. Louis Rams 23-16).
"Eddie George has been a winner in every facet of the game and we look forward to him bringing that same commitment to our players and having it translate into winning on and off the field," said athletics director Dr. Mikki Allen. "We are excited to have him join us and lead the next chapter of our storied football program."
George is the latest in a line of former NFL players who have gone on to coach at Historically Black Colleges and Universities. Deion Sanders is finishing his first season at Jackson State. Doug Williams coached at Grambling State. Ken Riley and Earl Holmes coaches at Florida A&M, Stump Mitchell at Southern and Tyrone Wheatley at Morgan State, Steve Wilson at Howard, Sam Washington at North Carolina A&T and Monte Coleman at Arkansas-Pine Bluff.
Said George: "It's exciting. I'm going to be innovative, creative and fun."
Robert Nkemdiche happy to have opportunity to play football again with Seattle Seahawks
RENTON, Wash. — Robert Nkemdiche let out a howl and pumped his arm in celebration after one of his turns in a drill Wednesday. After another, he did a running hurdle, then shouted something inaudible back at his fellow defensive linemen.
The 2016 first-round pick of the Arizona Cardinals is getting a chance to resurrect his career with the Seattle Seahawks after a year away from football, and he's enjoying it. That much has been clear from the first two practices of Seattle's mandatory minicamp.
"Being out here with these guys and competing and playing football, smelling the grass, all this, it's what I missed," he said. "This is the fun stuff."
In June 2019, Nkemdiche was arrested on an outstanding traffic warrant after he was pulled over for speeding on his way to a Cardinals practice. He arrived to training camp later that summer out of shape, according to coach Kliff Kingsbury, and was waived with a failed-physical designation before the season.
Nkemdiche then signed with the Miami Dolphins but was waived after playing in two games. While a free agent, he served a two-game suspension for a violation of the NFL's performance-enhancing drugs policy.
"It wasn't fun," the 26-year-old Nkemdiche said of his year away from football. "It wasn't a good time. But like I said, being back here, this is exciting for me. This is what I love to do. I'm just happy to have the opportunity to be back here and to be able to play football again."
The Seahawks signed Nkemdiche in April to a one-year deal for the veteran minimum of $990,000, none of which is guaranteed. It's a low-risk flier that reflects how Nkemdiche isn't assured of sticking with the Seahawks, but he has made a positive impression so far.
"He's got a really good spirit about him," coach Pete Carroll said. "He's upbeat, active, he's explosive and has really good quickness, he's over 300 pounds and he moves really well. He's going to be a real competitive part of this group and he's a little different than some of the other guys, so we see some flexibility in where we can play him and move him around."
Nkemdiche recorded zero sacks and zero starts in 17 games over his first two seasons in Arizona, then had 4.5 sacks in 10 games (six starts) in 2018 before a knee injury ended his season.
The Seahawks have Poona Ford locked into one starting spot at defensive tackle. They brought back 34-year-old Al Woods as an early-down option after Jarran Reed's bizarre departure. Woods was also out of football last year, having taken a COVID-19 opt-out. Seattle's defensive tackles behind Ford, Woods, Nkemdiche and Bryan Mone have played sparingly, if at all, in the NFL.
"Because he's been out of football for a bit, I'm hoping for his sake that everything just keeps moving along because he's applying himself, his mentality is like he has this second chance on his football life and he knows that, which is really important," Carroll said. "He's trying to seize every opportunity. He's been a real — not a surprise as much as just, we're really happy to have him as part of this and we think he's going to be a factor."
Nkemdiche said he feels like a rookie again and that he has a newfound respect for football, adding: "I never want the opportunity to be taken away from me again."
He was asked whether he's viewing this as his last chance.
"Yeah," he said. "It's the only chance I'll need, though."
Son of former Carolina Panthers TE Greg Olsen goes home after heart transplant
The 8-year-old son of retired Carolina Panthers tight end Greg Olsen went home on Wednesday less than two weeks after successfully undergoing a heart transplant.
But before TJ left Levine Children's Hospital in Charlotte, North Carolina, he fulfilled a promise made to his parents to ring the bell that patients often do when they are released.
As the elder Olsen has done throughout the process, he shared the moment on social media.
"Ever since TJ was admitted into the ICU a little less than a month ago in heart failure, he would lay in bed at night and talk about 'ringing the bell!'" Olsen wrote on Instagram. "We didn't know what that journey would look like or how long it would take, but he promised [his mother] @karenolsen29 and I that he was going to do it."
TJ was born in 2012 with a congenital heart defect that required four surgeries, including three open heart procedures and the installation of a pacemaker. The transplant was needed when his heart began to fail.
"TJ's positive attitude and selflessness throughout has been an inspiration to us all," Olsen continued in his message. "Never did he feel sorry for himself or play the victim. All he did was talk about what the future held and the things he looked forward to doing."
As he has throughout the process that began with a May 24 post in which Olsen wrote TJ's "heart is reaching its end," Olsen thanked everyone for their support, prayers and words of encouragement.
"Today we 'rang the bell,' and for the first time our family [is] whole again," Olsen wrote.
Vince Wilfork's son charged with stealing $300,000 of dad's jewelry, including New England Patriots Super Bowl rings
The son of former NFL defensive lineman Vince Wilfork was arrested last month and charged with stealing more than $300,000 of his father's jewelry, including two New England Patriots Super Bowl championship rings, according to a police complaint released by the Galveston (Texas) County District Attorney's Office.
Police allege that Wilfork's son, D'Aundre Holmes-Wilfork, 23, sold the rings and other jewelry after stealing them.
Wilfork, who played for the Patriots from 2004 to 2014 before finishing his career with the Houston Texans from 2015 to 2016, had contacted police on May 10. He said his two Super Bowl rings were missing, along with two AFC championship rings, and a 2001 Miami Hurricanes national championship ring, among other items including necklaces, bracelets and earrings.
Holmes-Wilfork was arrested May 22.
According to the police complaint, Wilfork told authorities that he did not report the jewelry missing or stolen immediately because he was unsure if it was packed in storage. On May 10, he said he received an email from a lifelong Patriots fan informing him of a post in a memorabilia group saying that his Super Bowl rings were for sale, which led to the filing of a police report.
Police made contact with the individual who posted the rings on the memorabilia group. The individual told police he purchased them from Wilfork's son for $62,000 in 2020. The rings have since been turned over to police, according to the complaint.
Police also discovered that eight other pieces of Wilfork's jewelry were sold in March of 2020, for $4,600.
Wilfork, 39, is considered one of the greatest defensive linemen in Patriots history. He was the team's first-round draft choice in 2004, and also was recognized for his off-field philanthropy in 2010 when he was presented the team's prestigious community service award. Wilfork, who lost his father to diabetes, raised hundreds and thousands of dollars for diabetes-related causes, and was also a strong supporter of charities that promote education and health for children.