Struggling Washington Nationals get back Kyle Schwarber, Josh Bell, Josh Harrison
WASHINGTON — Kyle Schwarber, Josh Bell and Josh Harrison were reinstated from the injured list Monday by the Washington Nationals, making the team's roster nearly whole again after a coronavirus outbreak sidelined nine players and caused postponement of four games.
That trio had been expected to be in Washington's opening day lineup — with Schwarber in left field, Bell at first base, Harrison at second — but they were part of the group kept away from the rest of the club because of COVID-19 protocols. Major League Baseball wound up rescheduling the Nationals' first four games of 2021.
Four players tested positive for the illness, while five others were put under quarantine after contact tracing determined they might have been exposed. The Nationals never announced which players fell into which category.
Now eight of the nine are back with the manager Dave Martinez's club, which took a 1-5 record and five-game losing streak into Monday night's opener of a three-game series at the St. Louis Cardinals.
The only player still missing is left-handed starting pitcher Jon Lester, who is expected to spend some time ramping up at the team's alternate training site in Fredericksburg, Virginia, before making his Nationals debut.
While the Nationals were in Los Angeles over the weekend, getting swept in three games by the reigning World Series champion Dodgers, catchers Yan Gomes and Alex Avila, starter Patrick Corbin, closer Brad Hand and infielder Jordy Mercer cleared COVID-19 protocols and rejoined the team.
The 2019 champs are hoping that Bell, Schwarber and Harrison can offer a bit of pop to the lineup, which has been scuffling and was shut out in three of the team's past four games.
Only two players have hit home runs for the Nationals so far this season: Juan Soto and Trea Turner, each with a pair deep shots.
In corresponding roster moves made by the Nationals before Monday's game:
•Infielder Luis García and outfielder Yadiel Hernandez were optioned to the alternate training site and added to the team's taxi squad for the current trip;
•Relievers Ryne Harper, a right-hander, and T.J. McFarland, a lefty, were returned to Fredericksburg;
•Catcher Jonathan Lucroy was designated for assignment.
Signed as a stop-gap measure with Gomes and Avila both unavailable, Lucroy showed up for his first day with the Nationals on April 6 — when they finally played their first game of the season.
Lucroy caught Max Scherzer against the Atlanta Braves that day and delivered a two-run double in Washington's 6-5 victory.
Los Angeles Dodgers officially sign Albert Pujols to major league deal
LOS ANGELES — Albert Pujols has signed a major league deal with the Los Angeles Dodgers, moving 30 miles north to extend his remarkable career after leaving the Los Angeles Angels.
The 41-year-old Pujols formalized his one-year deal Monday with the defending World Series champions after agreeing to make the move last weekend. The fifth-leading home run hitter in major league history likely will be in uniform during the Dodgers' home series with Arizona, which begins Monday night.
He posted on Twitter on Monday that he is ready to "embrace" his role with the Dodgers and and looks forward to contributing to the team as they attempt to repeat as World Series champions.
First, I would like to thank God for the opportunity he has given me to play this game. While this is not how I thought my time in Anaheim would end, I am truly grateful for the memories and friendships that have been created over the past 10 years. Thank you to my teammates pic.twitter.com/dI6rmb5OQl

— Albert Pujols (@PujolsFive) May 17, 2021
help the ballclub win a championship in 2021. I've seen up close just how talented this team is and I look forward to contributing.

— Albert Pujols (@PujolsFive) May 17, 2021
Pujols was unceremoniously cut by the Angels earlier this month in an abrupt end to his largely unsuccessful 10-year, $240 million tenure with the Orange County club. The struggling Halos will pay all but about $420,000 of Pujols' $30 million salary this season while he plays on with their dominant local rivals.
The Angels said they broke up with Pujols because he wanted to play every day, but they have two players at his positions — first baseman Jared Walsh and designated hitter Shohei Ohtani — with far superior offensive numbers.
Yet Pujols is joining the Dodgers as a clear backup and situational player, suggesting that playing on — and playing for a title contender again after nine mostly dismal seasons in Anaheim — were more important to the 10-time All-Star and two-time World Series champion.
Pujols, who began his career with 11 prolific seasons in St. Louis, has 667 career homers, and he is 13th in big league history with 3,253 hits. The most prolific hitter of his generation batted .198 with five homers and 12 RBIs this year while playing in 24 of the Angels' 29 games, and he is in a 7-for-43 slump since April 20.
The Dodgers are a perennial powerhouse, but they began Monday with a whopping 13 players on their injured list after losing World Series MVP shortstop Corey Seager over the weekend to a broken hand. Their recent lineups have featured more prospects and borderline major league players than the stars expected to lead one of the majors' most successful teams.
With former NL MVP Cody Bellinger still sidelined by a hairline leg fracture, Pujols could play first base to fill in for Max Muncy, who occasionally moves to third base to give a day off to Justin Turner. Muncy can even play second base, which will be fluid for at least four weeks with Gavin Lux moving to shortstop while Seager heals.
Pujols has made only 41 career plate appearances as a pinch-hitter, but the Dodgers must be hoping he will provide a threat in spot situations as well. And the right-handed-hitting Pujols conceivably could help the Dodgers to hit left-handed pitching, an area in which their lineup is below the major league average.
The Dodgers have been successful in recent seasons in getting contributions from several major league elder statesmen near the close of their careers, including Chase Utley and David Freese. Pujols' leadership and example have been praised by Mike Trout and other key Angels, even while his overall offensive numbers dipped to below-average levels.
Right-hander Tony Gonsolin was transferred to the 60-day injured list to make room on the 40-man roster for Pujols.
The Associated Press contributed to this report.
Miami Marlins' uniforms to honor former Triple-A team Cuban Sugar Kings
The Miami Marlins will use their "City Connect" uniforms to honor the Cuban Sugar Kings, a fleeting yet monumental former minor league organization with a special connection to the Cuban-American populace of South Florida.
The new uniforms were unveiled by the team on Monday morning and will be worn by their players for the first time on Friday, the day after Cuban Independence Day. The team will wear the uniforms throughout that weekend home series against the New York Mets, which features the team's Cuban Heritage Night, and in five other weekend series the rest of this season.
The Sugar Kings were a Triple-A team in the International League that was owned by Bobby Maduro and played out of Havana, Cuba, from 1954 to 1960. Maduro — revered so much in Miami that a baseball stadium was named after him — aspired to turn the Sugar Kings into a major league team based out of Cuba, an aspiration expressed through the team's popular motto of "Un Paso Mas Y Llegamos" ("One More Step And We Get There.") The team got close, winning the Junior World Series in 1959, but Fidel Castro's rise to power and Cuba's deteriorated relations with the United States forced the team to suddenly relocate to New Jersey and ultimately dissolve.
The older generation of Cubans in Miami — many of whom live in Little Havana, site of the Marlins' ballpark — still look back on that team with great reverence. Cookie Rojas, a Cuban-American who played for the Sugar Kings and went on to carve out a 16-year major league career, called the Marlins' uniforms "a very good, well-deserved representation of the ballclub in trying to give the Sugar Kings what they deserve."
"I believe it's one of the greatest things for the fans right now to remember," said Rojas, who believes Maduro should be honored by the National Baseball Hall of Fame. "You can very much dream on what could've happened."
The Marlins are one of seven teams — along with the Arizona Diamondbacks, Boston Red Sox, Chicago Cubs, Chicago White Sox, Los Angeles Dodgers and San Francisco Giants — to partner with Nike and Major League Baseball on the "City Connect Series" as a way to tap into the culture of their respective communities.
Designing the uniforms wound up being a two-year process. The Marlins quickly realized they should honor the Sugar Kings but wanted something more bold and more vibrant than the team's original uniforms. They sought jerseys that would pop on the field but could also be worn at events, Marlins vice president of experience and innovation Michael Shaw said, and ultimately decided on an inverse look with the red (Legacy Red) as the primary color.
The "Miami" script on the front is designed in a font similar to the one used by the Sugar Kings, but the white pinstripes on the jersey are noticeably wider. The cap's crest and the jersey's right sleeve feature the original Sugar Kings logo infused with two Ms to represent the Miami Marlins.
The Sugar Kings, affiliated with the Cincinnati Reds, were one of the sport's first multinational teams, an encapsulation of Miami's melting pot identity.
"When you think about the diversity and the sheer will and determination of a team that is seeking to break barriers and has bigger dreams to play Major League Baseball — we saw a lot of connectivity between our young guys and our team, that they seek to achieve and dream bigger, and achieve more and do more, against the odds sometimes," Shaw said.
The Sugar Kings' apex came in 1959, when they played their best season amid nationwide turmoil. Castro came into power to begin that year but initially showed support for the Sugar Kings, throwing out the ceremonial first pitch before the team's opening game. For Games 3, 4 and 5 of the Junior World Series, Castro sat directly behind home plate. For Game 6, he sat in the team's dugout. The series reached Game 7, and 35,000 people packed what is now called Estadio Latinoamericano in Havana. The Sugar Kings won on a walk-off single, clinching the title and sending a mob of people onto the field.
But relations between the U.S. and Cuba quickly soured; Communism and Nationalistic ideals swept the island. By the middle of 1960, the Sugar Kings had relocated to Jersey City, the Cuban government had confiscated Maduro's stadium and players were left with the difficult choice of abandoning their families to pursue their dreams of playing in the major leagues.
As they navigated through that fateful 1959 season, Rojas said, players held on to the faint hope that their success might help slow momentum and keep Maduro's dream of a major league franchise in Cuba alive. Cuba instead changed in every way imaginable, leaving Rojas with constant thoughts about what could have been.
He no longer has his old Sugar Kings uniform.
"I wish I still had it, to be honest with you," Rojas said. "I wish I had it. Because it would be something to really look at and remind you of all the things could've happened."
Joe Girardi, Jean Segura have confrontation as Philadelphia Phillies lose to Toronto Blue Jays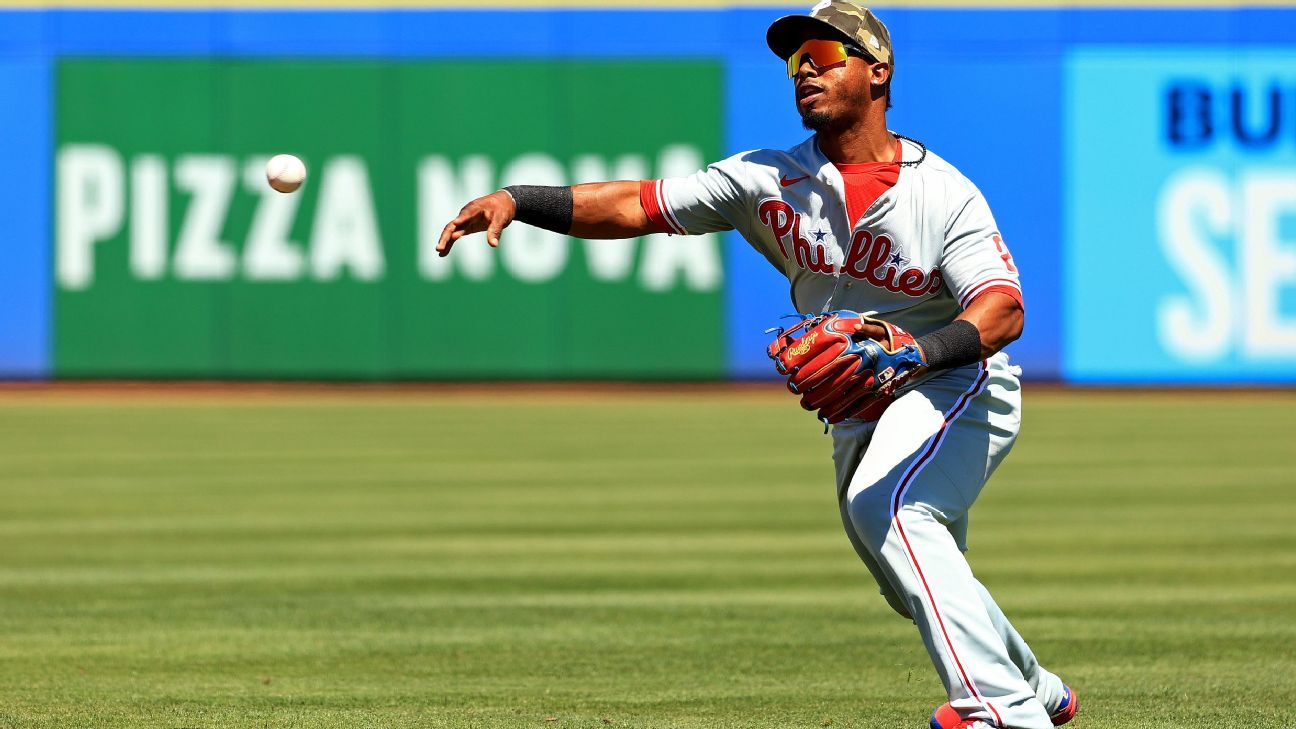 DUNEDIN, Fla. — The injury-depleted Philadelphia Phillies lost a game, another player and their temper.
Television cameras showed a confrontation in the dugout between Phillies manager Joe Girardi and second baseman Jean Segura during Sunday's 10-8 loss to the Toronto Blue Jays.
Segura committed two errors. One miscue came in the first inning when Segura misplayed a soft one-hopper by Randal Grichuk.
"That's a bench conversation, meant for the bench," said Girardi, who was asked about a half-dozen times about the incident. "You can ask all you want; you got everything you're going to get about it. I'm done with it."
At one point, Segura had to be restrained by coach Dusty Wathan.
"I didn't actually see it," Phillies first baseman Rhys Hoskins said. "Obviously, I heard it. It's heat-of-the-moment stuff, right. We're all competing. Everybody in the dugout wants to win the same amount. Sometimes that's what happens."
Marcus Semien and Bo Bichette hit consecutive first-inning homers, and Randal Grichuk had a two-run double in a five-run second as Toronto burst to an 8-0 lead.
Semien finished with three hits and three RBIs, and Vladimir Guerrero Jr. hit his 11th homer, a solo drive in the eighth that gave him home runs in three consecutive games.
"I feel comfortable with what I'm doing mechanically," Semien said. "That's always good when you don't have to worry about changing something every day. You're just able to focus on what you're looking for at the plate."
Toronto won for the sixth time in eight games, moving five games over .500 for the first time this season.
Philadelphia right fielder Bryce Harper (right shoulder soreness) and catcher J.T. Realmuto (sore left wrist) were both out of the lineup after leaving Saturday night's game early.
Harper replaced Scott Kingery in right in the sixth inning. Harper popped up a bunt for an out with two on and one out in the eighth with the Phillies down 9-4, then stranded two in the ninth with a game-ending strikeout on a full-count fastball from Jeremy Beasley, the eighth pitch of the at-bat.
Girardi said he talked with Harper about trying for a bunt hit in the sixth. The slugger took several big swings during his ninth-inning at-bat.
"I was concerned," Girardi said. "Talked about some different things. I talked to Bryce — he said he wanted to try and he was OK, so we let him do it. I trust the player. I thought he had some swings."
Kingery ran into the wall chasing a fly ball and later felt dizzy, and he will be evaluated.