Texas A&M Aggies QB Kellen Mond has 'upside' as intriguing Day 2 NFL draft option, scouts say
Texas A&M quarterback Kellen Mond is considered an intriguing Day 2 option for teams out of reach of the top quarterbacks in April's draft.
"There's upside there," said one longtime NFC scout. "If anything I would have liked to see him let loose a little more."
And teams are doing their research on the four-year starter. Texas A&M coach Jimbo Fisher tells ESPN that he's had extensive talks with about 10-to-15 teams about Mond. Those teams value his experience, ability to lead and win games, Fisher said. Mond helped A&M win 32 games on his way to a school-record 9,661 passing yards with 71 touchdowns and 27 interceptions.
Experience could be especially important to teams who saw Mitch Trubisky and Dwayne Haskins struggle after starting one season in college.
"He does all of the things you need to judge a first-round player," said Fisher, who has coached Mond since 2018. "He helped change the culture — winning more games, taking a stand, showing he's a guy who can fight through adversity, took criticism, eliminated any distractions and continued to get better."
Scouts say Mond has plenty of arm and athleticism but probably looked for the check down too often. They believe he can go vertical and play less conservative. Fisher said Mond's biggest area for improvement is timing on intermediate throws, but he's come a long way there. Fisher adds he gave Mond all the responsibility a quarterback could handle, from setting protections to audibles to deciphering third and fourth reads post-snap.
As a senior, Mond completed 188-of-297 passes (63.3 percent) for 2,282 yards and 19 touchdowns and three interceptions. Mond, Florida's Kyle Trask and Stanford's Davis Mills are part of the second tier outside the five surefire first-round quarterbacks.
"He's vastly improved every year," Fisher said. "Look at the body of work, the competition he's played against. He really worked his mechanics, has done a great job with his body, his core footwork and balance – that allows him to be so much more efficient. He studies the game, learns very well – an intelligent young man, understands concepts and attacks coverage. He started having fun with it once he grabbed a hold of the offense, where he was the first one on the plane breaking down film with me after a game."
Off-the-cuff Detroit Lions coach Dan Campbell jokes about bringing pet lion to practice
If bringing a Super Bowl to Detroit required losing an arm than new Lions head coach Dan Campbell says he would be armless. Although Campbell has yet to coach an actual game in Motown, the first-year sideline leader is already making an early case as one of the most entertaining coaches in the league with his off-the-cuff style.
On Sunday, Campbell made a guest appearance on the "Pardon My Take" podcast on which he shared an idea that he actually presented to Lions owner Sheila Ford Hamp about having a pet lion around the team's practice facility.
"I don't think we're going to be able to do it, but I would love to literally just have a pet lion. Just a legit pet lion on a chain, a big ass chain, and he really is my pet," Campbell said on the podcast. "We just walk around the building, we go out to practice, we're at seven-on-seven, we're behind the kicker when he's kicking. There we are."
Campbell further imagined that the lion would be "on command." Campbell joked that if a position group wasn't performing well, he could have the lion relieve itself in front of the group.
"I mean, think about it," he said. "That would be outstanding."
Campbell also made national headlines during his introductory news conference in January, notably with his impromptu answers that included his vision for the team being tough enough to "bite a kneecap off." The lion reference was just the latest example, although he doubts it'll ever happen.
"The problem is I don't know if PETA's gonna to allow that, though. It's gonna be hard," Campbell said. "Believe me though we would take great care of it. It would be fed well, it would be petted, it would be manicured. I might end up losing an arm because of it, but that would be even better because it would validate what, this is a freaking, this a creature now. This is an animal. This thing, this is from the wild."
Firefighters rescue kitten that became stuck in New York Giants CB Isaac Yiadom's car
FORT LAUDERDALE, Fla. — Firefighters in Florida were called to rescue a cat — not out of a tree, but from the undercarriage of a car owned by New York Giants cornerback Isaac Yiadom, officials said.
Rescue workers responded to Yiadom's home Sunday morning, according to a Facebook post by the Fort Lauderdale Fire Department.
Firefighters jacked up the Maserati and partially disassembled the car to reach the small tabby, which was stuck above the rear differential. The cat didn't appear to be injured.
Yiadom was drafted by the Denver Broncos in 2018 and then traded to the Giants in September.
Jacksonville Jaguars waive RB Ryquell Armstead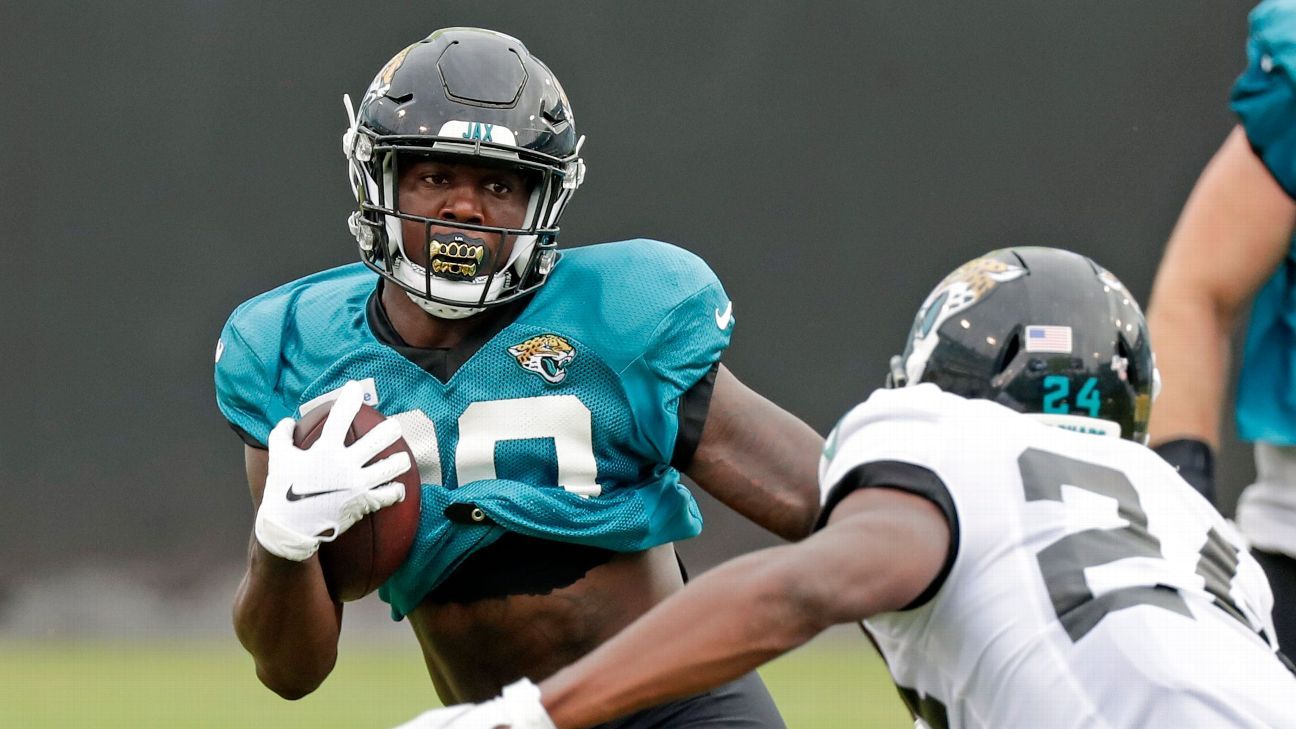 JACKSONVILLE, Fla. — The Jacksonville Jaguars waived running back Ryquell Armstead, who missed the entire 2020 season because of complications related to COVID-19.
Armstead, 24, was twice placed on the reserve/COVID-19 list last season. He spent 19 days on the list the first time, then dealt with a groin injury and another illness before going back on the list. Players are placed on the reserve/COVID-19 list if they test positive for the virus or have been in close contact with someone who has.
Armstead was a fifth-round pick in 2019 and ran for 108 yards on 35 carries as a rookie. He was likely to have a larger role on offense last season with the team's decision to cut Leonard Fournette, but undrafted rookie James Robinson went on to win the starting job and ran for 1,070 yards and seven touchdowns, and catch 49 passes for 344 yards and three TDs.
The Jaguars drafted former Clemson running back Travis Etienne 25th overall last month.
Also on Monday, the Jaguars announced they've signed sixth-round draft pick Jalen Camp, a wide receiver from Georgia Tech.