Milwaukee Brewers 2B Kolten Wong lands on 10-day IL with oblique strain
The Milwaukee Brewers have placed second baseman Kolten Wong on the 10-day injured list with a left oblique strain, the team announced Saturday.
Wong aggravated the injury while batting during Thursday's loss to the St. Louis Cardinals.
The 30-year-old Wong had received a standing ovation leading off Thursday's game. Wong spent eight years with the Cardinals before St. Louis declined his option last fall. He became a free agent and signed a two-year, $18 million deal with the Brewers.
Wong, a Gold Glove winner at second base the past two seasons, is hitting .105 in 19 at-bats this season.
The Brewers also selected utility man Jace Peterson from their alternate training site and moved right-hander Bobby Wahl to the 60-day injured list.
Information from The Associated Press was used in this report.
Can either of these teams win the AL East? How Red Sox, Yankees are overachieving — and underachieving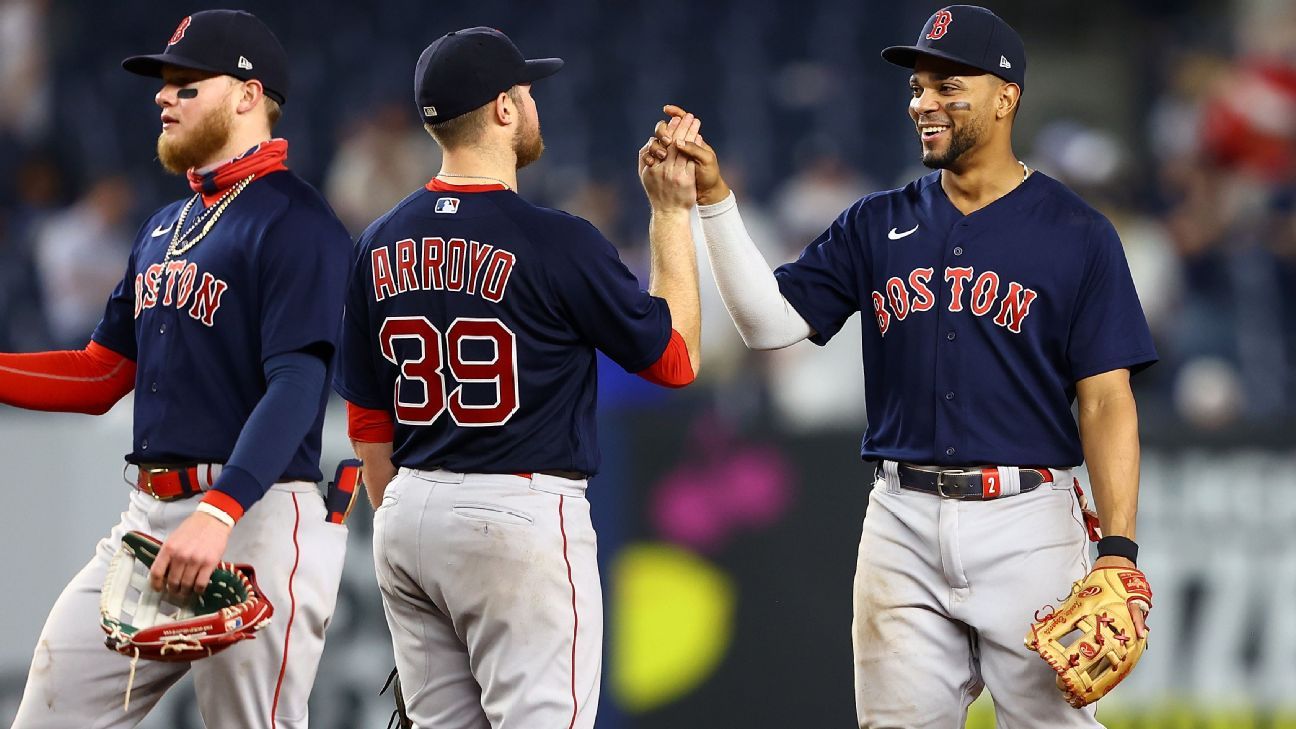 Expectations are only expectations.
Coming into the 2021 MLB season, many baseball observers considered the American League East the New York Yankees' division to lose. Fast forward two months and New York is looking up in the standings at three teams — the Toronto Blue Jays, Boston Red Sox and Tampa Bay Rays. The Yankees' lineup on paper looked to be the team's strength, with question marks surrounding their rotation.
Instead, the opposite has played out. New York ranks among the lowest-scoring teams in the majors and has had to lean heavily on its starting pitching, behind strong performances from Gerrit Cole, Domingo German, Jordan Montgomery and the now-injured Corey Kluber. The Yankees head into Sunday just three games over .500 — with a run differential of minus-3.
Meanwhile, Boston is in the heart of the race for the division, trailing the first-place Rays by just one game, something very few had predicted. Fueled by the rebound performance of J.D. Martinez and Rafael Devers in addition to the slugging of Xander Bogaerts, who is playing like the best offensive shortstop in baseball, Boston's offense ranks fourth in the majors in runs scored. The rotation has so far been anchored by its depth, with Nick Pivetta, Garrett Richards and Martin Perez currently providing consistent outings every time out.
As they wrap up their first series of 2021 with Boston eyeing a potential three-game sweep, here's how each team got here, what's real and what's not, and whether the division will continue looking like this moving forward.
---
Yankees
Record heading into Sunday Night Baseball: 31-28 (.525), fourth place in AL East
How they've overachieving so far: The Yankees' pitching staff was a wild card coming into the season, with the return of German (3.27 ERA, 1.04 WHIP in 55 innings in 2021) from a yearlong suspension for violating the league's domestic violence protocols, and the offseason acquisitions of Kluber (3.04 ERA in 53.1 innings, not to mention the franchise's first no-hitter since David Cone's perfect game in 1999) and Jameson Taillon (5.09 ERA in 53 innings), each of whom hadn't pitched a full season since 2018.
But the Yankees rank second in the American League and sixth in baseball in team ERA — trailing only the Padres, Mets, Dodgers, Giants and White Sox — with Cole (2.26 ERA, 0.87 WHIP, 104 strikeouts in 75.2 innings) remaining the unquestioned ace and one of MLB's best pitchers. Injuries — particularly the loss of Kluber for potentially two months due to a shoulder strain — puts the pitching staff on much shakier ground heading into the summer.
"Our pitching has been everything we could've hoped for at this point. I think the starters have been really solid," Yankees manager Aaron Boone said. "The bullpen has been excellent, and we've seen guys emerge and create larger roles for themselves. We look forward to getting guys like [Zack Britton] and [Justin Wilson] and [Darren O'Day] back, but in the meantime, some guys have really stepped up in the bullpen. Overall, I think the pitching has been excellent."
Closer Aroldis Chapman, who sports a 0.41 ERA with 42 strikeouts in 22 innings this season, continues to anchor a strong bullpen, one of the team's consistent strengths over the past few seasons. Even with Britton, Wilson and O'Day on the injured list, Boone has relied on Jonathan Loaisiga (2.08 ERA, 1.09 WHIP in 30.1 innings) and Chad Green (3.14 ERA, 0.87 WHIP in 28.2 innings) for strong performances.
How they're underachieving so far: Given the number of sluggers on the roster, the Yankees certainly did not expect to rank among the lowest-scoring teams in baseball. The Bronx Bombers rank fifth to last in baseball in runs scored so far this season, ahead of only the Mets, Pirates, Nationals and Tigers.
Boone said he does not expect the team's offensive struggles to last the entire season.
"The offense, after getting off to a slow start, is trending up a little bit, and then we've had our struggles again, so that's the area where we're looking to find more consistency," Boone said. "I think I feel like over the long haul, it's going to be an overwhelming strength for this team."
"You see the guys on our team? That gives me a lot of confidence," Boone said when asked what made him confident about the team's offense turning around. "Guys that are really talented, really care about what they're doing and have a track record of doing. It's been a grind so far, but that's all part of the team. It's not always going to be easy, and hitting in 2021 is probably as hard as it's ever been, but I have a lot of faith in those guys that eventually we're going to really get it rolling, and I feel like that's starting to happen now."
According to Red Sox manager Alex Cora, that sense of calm and lack of panic is what makes Boone the right personality to manage the Yankees and help course-correct the ship in a market with extreme scrutiny from the media and fans.
"Booney never panics," Cora said. "He's been very calm, and I know they've had their ups and downs. In Boston and New York, it can get very heavy, and he doesn't deviate from who he is. I think he's done an amazing job the last few years of staying the course and doing his thing, and this is the same guy, he did it on TV too. You listen to him on Sunday Night Baseball and it was very calm and very relaxed and sending the message to the audience, and that's what he's doing with the Yankees and I'm very proud of that."
Player to keep a close eye on: DJ LeMahieu set the bar high during his first two seasons with the Yankees, earning two Silver Slugger Awards and two top-four MVP finishes. That version of LeMahieu has not shown up so far for New York this season, hitting .259/.339/.329 with just three homers and six doubles in 216 at-bats. That's a steep drop-off from his 2020 performance, when he hit .364/.421/.590 with 10 homers and 27 RBIs and joined Lou Gehrig, Joe DiMaggio and Mickey Mantle as the only Yankees to lead the majors in batting average.
What needs to happen for the Yankees to win the division: Simply put, the offense needs to live up to its potential. The injury to Kluber illustrates the fragility of the rotation, and the team will struggle to find success if Aaron Judge is the only player consistently producing. The trio of LeMahieu, Giancarlo Stanton and Gleyber Torres needs to step up at the plate.
The team's frustration with the offense is starting to boil over into the public.
"It'd be nice to pitch with a lead, but that's how it's going right now," Taillon said after a recent loss to the Rays. "It's my job to go out there and put up zeroes."
---
Red Sox
Record heading into Sunday Night Baseball: 35-23 (.603), second place in AL East
How they're overachieving so far: In a rotation with Nathan Eovaldi and Eduardo Rodriguez, the Red Sox starter currently sporting the team's best ERA is — *wipes glasses* — Perez (3.09), who entered the season as the team's fifth starter.
That surprising turn of events sums up the current state of the team's pitching rotation. Boston continues to lean on the depth of its rotation: Perez, Pivetta (3.77) and Richards (3.75) all sport better ERAs than Eovaldi (3.78) and Rodriguez (5.59).
"We felt like our pitching was solid. We felt like the rotation was going to give us a chance throughout the season to be in ballgames. There were a lot of question marks coming in from outside of our world," Cora said. "Rightfully so. I get it. But if you actually break it down, our rotation, you've got Eduardo, who right now is struggling. He's done it before. Nate is solid. Richards with upside, Pivetta with upside and Martin, a solid big leaguer. We felt like coming into the season, five or six innings, we were expecting this from them."
The team also continues to get solid performance out of its bullpen, with Rule-5 pick Garrett Whitlock looking like one of the team's best acquisitions of the offseason, with a 1.63 ERA and 29 strikeouts in 27.2 innings over 15 appearances. Other bright spots include closer Matt Barnes, who has a 2.49 ERA and 0.63 WHIP in 25 games, Adam Ottavino, who has a 2.78 ERA in 26 games and Hirokazu Sawamura, who has a 2.78 ERA in 21 games this season after coming over from Nippon Professional Baseball.
How they're underachieving so far:
While Boston boasts one of baseball's best offenses so far this season, ranking fifth in runs scored behind the Dodgers, Astros, Rays and White Sox, Cora believes the team is not performing up to its full potential at the plate. Heading into the Yankees series, Boston dropped three of four to the Astros, scoring just four runs over the first three games before putting up a five-spot in the finale. Since May 21, lineup anchor Martinez has knocked in just two runs, emblematic of the team's recent inability to put itself in a position to score.
"We're expanding too much to the edges of the strike zone," Cora said. "That's a recipe for disaster at this level. In [the Astros] series, we chased 38% of pitches, and that's not good. We gotta get back to swinging at strikes and keeping the lineup moving. That's something we did earlier in the season, and we know we can do it."
Despite his current RBI drought, the bounce-back of Martinez — who is hitting .321/.389/.569 with 12 homers after a 2020 season in which he hit just .213/.291/.389 in 54 games — is a major reason why Boston has been a formidable force at the plate. Additionally, Bogaerts continues to be among the top offensive forces at the shortstop position, hitting .313/.371/.534 with 10 homers and 16 doubles in 55 games, while Devers also continues to impress, leading the team in homers with 15 while hitting .282/.351/.587.
Boone said that despite Boston's recent offensive struggles, the team's attention to detail will make it a force to be reckoned with throughout the rest of the season.
"I think [Cora has] created a culture where it's a team that pays really close attention to the details," Boone said. "He sees the game really well. He's fearless. I think he's really good at what he does. I think his players certainly reflect that and play with a confidence that he kind of sets that tone for them on a daily basis."
Player to keep a close eye on: Rookie first baseman Bobby Dalbec, who hit a tape-measure home run on Saturday night, has been a disappointment overall at the plate so far, hitting .199/.248/.384 with six homers in 46 games. Dalbec garnered hype as a potential Rookie of the Year candidate after impressing in his 23-game stint with Boston in 2020, hitting .263/.359/.600 with eight homers.
Dalbec is beginning to lose playing time to utility man Danny Santana and has been unable to find his rhythm. With top prospect Triston Casas also a first baseman, Dalbec's performance over the rest of the season could determine whether he has a role in the organization moving forward.
What needs to happen for the Red Sox to win the division: Boston needs better performances out of Eovaldi — the kind they got in Friday night's series opener — and Rodriguez, their two most established starters. With the injury history of Richards and with Pivetta and Perez outperforming their track records, the success of Eovaldi and Rodriguez would alleviate some of the pressure on the back end of the rotation to carry the Red Sox to the playoffs.
New York Mets' Jacob deGrom is in rare company after another scoreless start drops his ERA to 0.62
On June 6, 1968, St. Louis Cardinals ace Bob Gibson shut out the Houston Astros on three hits. On June 5, 2021, New York Mets ace Jacob deGrom threw seven shutout innings in a 4-0 win over the San Diego Padres.
The connection? Ask us again in a couple of months just how relevant it is, but the way deGrom has been dealing lately, expect him and Gibson to be linked with each other again and again over the summer to come. Not that deGrom is thinking about any of that.
"I try not to think about [the ERA]," deGrom said. "I try to go out there and put us in position to win."
When prodded to think about the ERA, deGrom said, "I'm still not going to think about it."
Fine. It's up to us.
After two straight outings under a pitch limitation spurred by an injured list stay for muscular issues in his side and back, deGrom was unleashed on Saturday night. The possible storylines entering the game were tasty: deGrom versus fellow National League MVP candidate Fernando Tatis Jr.; deGrom versus breakout Padres starter Joe Musgrove. But it didn't take long for deGrom to establish himself as the one and only suitable headline from a game that ended well after midnight on the East Coast.
DeGrom was in command throughout. He rolled through the first inning on nine pitches. The first eight were fastballs that averaged over 99 mph. The ninth was a slider — a 93 mph slider — that Jake Cronenworth had no chance at.
The Padres threatened deGrom in the second thanks to a first-pitch opposite-field double off the bat of Tatis, who dove across the plate to poke a 100 mph offering up the right-field line to start the inning.
Tatis was stranded on third, as the inning ended when deGrom raced over to field a bouncer by Tucupita Marcano and kept right on going, stepping on first base himself to save first baseman Pete Alonso the trouble of fielding a toss. Tatis was 0-for-3 against deGrom so far in his career entering the game. He later drew a walk off deGrom, who has walked just eight batters in 58 innings this season.
The Padres loaded the bases on two singles and an error in the fourth, but deGrom whiffed Wil Myers and Marcano to extinguish the threat.
Those were the offensive highlights for San Diego against deGrom. The righty departed for pinch hitter Brandon Drury in the eighth after 85 pitches, which doesn't sound like that many, but it's his most since April 28. Still, deGrom doesn't require many pitches to rack up the accolades. And believe it or not, despite the dazzling velocity readings throughout his outing, deGrom thought he was running out of gas near the end of it.
"I felt pretty good," deGrom said. "I noticed there in the seventh I started to get a little tired, actually the sixth."
DeGrom struck out 11 to record his 50th career game with double-digit strikeouts. He has now struck out 1,452 batters in his career. Two weeks shy of his 33rd birthday, deGrom passed Sid Fernandez for fourth on the Mets' career strikeout list.
Really, though, it's the zeros. The absolute inability of teams to score on deGrom this season, which is the precise reason he's threatening the standard of Gibson, the late Hall of Famer who recorded a 1.12 ERA in 1968, the lowest mark of the live-ball era (since 1920).
DeGrom has not allowed more than one earned run during any of his nine starts this season, and with his seven shutout frames at San Diego on Saturday, he lowered his ERA for the season to 0.62 — a full half-run lower than the legendary figure Gibson recorded so long ago. It's the lowest ERA ever for a pitcher through nine starts.
The main point to fixate on here is that a pitcher who entered a game with an ERA of 0.71, which was already spurring chatter about beating Gibson, actually managed to lower that number even more.
How hard is that to do? Consider that deGrom's ERA stood at 0.31 after he threw a complete-game shutout against the Nationals on April 23. Next time out, he gave up one run in six innings at Boston — and his ERA rose to 0.51. He allowed one run in each of his two subsequent outings and his ERA rose to 0.68 and 0.80, respectively.
In other words, DeGrom is pitching at a level where the only way he can lower his ERA is to put up all zeros. Against the Padres, he looked like a pitcher capable of doing just that as long his stuff looks like it did at Petco Park on Saturday.
The tracking machinery that feeds Statcast said that deGrom averaged 100.4 mph on 44 four-seamers against the Padres. That's not only his personal best in a game, but it's tied for the fastest average heater for any starter during the pitch-tracking era.
DeGrom has 93 strikeouts, while allowing four earned runs this season. According to ESPN Stats & Information research, that is the second-most strikeouts over a nine-game span, while allowing fewer than five earned runs since 1913. Only Chris Sale had more, doing so in 2018.
So you have a pitcher in deGrom who has an ERA that looks like a typo, and even as we know that Gibson's hallowed 1.12 mark could be put out of reach with one or two bad innings during a season that still has months to go, you can't help but dream. You can't help it because deGrom was already largely anointed as baseball's best pitcher entering the season and somehow seems to be getting better and better with each outing.
Gibson, 53 years ago minus one day, shut out the Astros. He then shut out in order the Braves, Reds, Cubs and Pirates. It was the start of perhaps the most amazing run of any pitcher in baseball history: Over 11 starts from June 6 to July 30, 1968, Gibson allowed three earned runs (for a 0.27 ERA), won all 11 decisions and completed every outing.
At the end of all that, Gibson's ERA for the season stood at 0.96. It's a different era with different expectations for pitchers and a very different league context. But Jacob deGrom is into June with a 0.62 ERA. Who is willing to set a ceiling on the expectations for what he's going to do over the next two months?
Anyone? Didn't think so. DeGrom and Gibson. The comparisons are only just beginning.
Todd Frazier's 4 hits, including a solo HR, help U.S. qualify for Olympic baseball tournament
PORT ST. LUCIE, Fla. — Todd Frazier and his American teammates celebrated, dousing each other as if they had won the World Series.
"Playing for your country, it's the coolest thing in the world," the 35-year-old third baseman said.
The United States qualified for the Olympic baseball tournament on its second try, beating Venezuela 4-2 Saturday behind Frazier's 4-for-4 night that included a solo homer, RBI double and two singles.
Frazier even stole a base, started a key double play to get the U.S. out of trouble in the first inning and fielded the grounder for the final out.
"He's a guy that has kind of cemented the team. He's the keystone," U.S. manager Mike Scioscia said.
Before a pandemic-limited crowd of 2,202 at the New York Mets' spring training ballpark, Frazier was spurred on by chants of "U-S-A!"
"I had one of my better games I've had in a long time," Frazier said. "And I just kept telling myself I'm not letting this slip away."
Players did without the advanced video and computer metrics that have come to dominate the major leagues and determine who plays and what matchups to create.
"It goes to show you, you really don't need most of that stuff," Frazier said. "It's baseball at the end of the day. You play for your country. You play for pride. We didn't hit on the field. We just hit in the batting cage — until our hands bled, to be honest with you. So we brought it back to youth days. Hit it. It doesn't matter who's throwing. Next guy up in line. And it really does go to show you guys that, honestly, that guys really don't need video. All we need is a bat and a ball and a glove and the determination to be the best player you can be."
Frazier thought back to memories of winning the 1998 Little League World Series with Toms River, New Jersey.
"I did my job at 12, dominated at 12, and now I'm 35 and it's putting America on our backs again," Frazier said. "I pinch myself every day."
The U.S. finished 4-0 to win the Americas qualifying tournament and joined Japan, Israel, Mexico and South Korea in the Olympic tourney, to be played in Japan from July 28 to Aug. 7 in Fukushima and Yokohama.
"Every pitch was intense," Scioscia said, comparing it to "playing five elimination games in the playoffs or a pennant race, and you can't stub your toe, at all."
A two-time All-Star, Frazier singled leading off the fourth against loser Aníbal Sanchez and scored on Eric Filia's two-run homer onto the right-field berm. Frazier hit an RBI double in the fifth for a 3-1 lead off Danny Rondon and homered in the seventh against Erick Leal, a drive off the facing of the bar behind the left-field wall.
Frazier was 3-for-35 for Pittsburgh this season before he was released on May 13.
"Was I upset? Sure. You want to play Major League Baseball as long as you can. But you move on. I had a Plan B," Frazier said. "I can still play the game. I know it's surprising to many people."
Edwin Jackson, a 37-year-old veteran of a record 14 major league teams, pitched two hitless innings for the win.
David Robertson, who last pitched in the major leagues for Philadelphia in 2019, struck out two in a hitless ninth around a walk for his second save of the tournament. He retired pinch hitter Alexander Palma, a Milwaukee prospect, on a grounder to Frazier for the final out.
Venezuela advanced to a final qualifying tournament scheduled June 22-26 in Puebla, Mexico, that will determine one more qualifier from a field that also includes Australia, the Dominican Republic, Netherlands and Taiwan.
Venezuela went ahead on a third-inning home run by Hernan Perez, who signed a minor league contract with Milwaukee last month after he was released by Washington. Perez's home run came off Cardinals prospect Matthew Liberatore.
Venezuela loaded the bases with one out in the first before Oakland Athletics minor leaguer Carlos Perez hit a grounder to third, where Frazier started an inning-ending 5-4-3 double play.
Brandon Dickson, who wasted a ninth-inning lead against Mexico in November 2019 when the U.S. was three outs from qualifying at the Premier12 tournament, escaped a two-on situation in the fifth when Juniel Querecuto grounded to Frazier, then allowed an RBI double in the sixth to Washington Nationals prospect Ramon Flores that cut the lead to 3-2.
Liberatore, in his second start of the tournament, allowed one run and four hits in 4⅔ innings
Perez had three of Venezuela's seven hits.
Japan, which is stopping the Central and Pacific League seasons to make its top players available, is considered the Olympic favorite. Major League Baseball doesn't allowed its big league players to participate, and MLB general managers often discourage the use of top eligible prospects.
Teams can change their roster before heading to Japan.
Baseball is returning to the Olympics after being dropped for 2012 and 2016. Cuba won the gold medal in 1992, 1996 and 2004, the United States in 2000 and South Korea in 2008.
"To finish maybe my career, maybe winning the gold medal," Frazier said, "God Almighty, that would be the best icing on the cake."